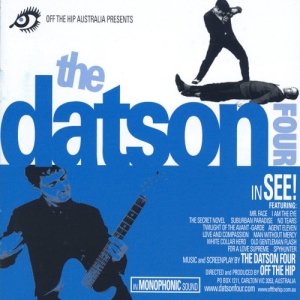 After their debut album being a similar effort, on the second one, the former Datsons get back even further in the past, exploring the mod/beat/pop legacy through a contemporary "eye", for you to "see!".
According to the overall concept, the record opens with the appropriately titled Mr. Face, a Jam-packed story about a character worthy of joining the likes of David Watts, Mr. Clean, Happy Jack or Mr. Pleasant, to be continued with I Am The Eye and The Secret Novel, an imaginary pair of Quick One … excerpts. Also, considering the background vocals, it seems that The Datson Four couldn't afford the cellos either.
The following is Suburban Paradise, a jangly, power-poppin' blend of Pete Townshend and Gene Clark, while No Tears sounds like an audio-mosaic made of bits'n'pieces of the DC5's Come Home, Arthur Alexander's Anna/Baby It's You and Doris Troy's Just One Look (with the Hollies' harmonies, of course).
In some cases, the sound comes out like the white boys' take on Motown cuts, like in Love And Compassion and Old Gentleman Flash, being the Supremes/Temptations tracks that they've never recorded, or, if you prefer Northern Soul, there's For A Love Supreme.
Man Without Mercy will surely remind you of the "taxman that keeps on running through the cross-town traffic, which I just can't explain", the album closer Spyhunter takes it to the psych/freakbeat area and White Collar Hero proves my suspicion that the Datsons fully agree with Damon Albarn's opinion that "modern life is rubbish".
Shortly, this is a mid-sixties fan's dream-come-true. So, if you feel like one, this is something you just gotta gotta gotta (as Otis would've put it) "see!" in your shelf !!!
[Released by Off The Hip 2002]