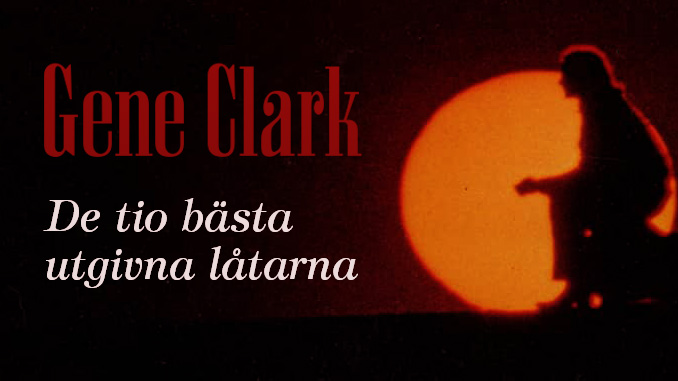 Om ni mot förmodan inte sett introduktionen, läs gärna första delen av den (fram tills jag skriver om Marissa Nadler), så får ni en bra grund att stå på innan det är dags att lyssna på nedanstående favoriter.

Hear The Wind [1977]
Den förtjusande men bräckliga melodin på Hear the Wind – beskrivningar som också passar in på Genes röst i detta fall – låter helt enkelt så mycket bättre än nästan all annan musik och frågan är om detta inte är min ögonsten i hans omfångsrika låtkatalog. Här får vi också ett utmärkt exempel på den totala närvarokänslan som jag kommer att nämna mer än en gång. Det känns som om han under årens lopp fyllt lungorna med all lidelse som gått att uppbringa och plötsligt beslutat sig för att låta allt välla ut.
Hear the Wind handlar om Genes havererade äktenskap med Carlie McCummings, trots att hon hävdat att han aldrig skrev en text om henne. Men visst låter delar av texten självupplevda, för hur ska en röst annars kunna förmedla så mycket sorg och smärta?

Won't Let You Down [1980]
På Won't Let You Down – en ironisk titel för övrigt med tanke på karriären – är Gene i sitt esse. Det är helt enkelt en exalterad sextiotalspastisch, draperad i ett modernt powerpop-sound, som ändå låter tidlöst! Jag får känslan att han hade kunnat skriva fler låtar i samma genre när som helst, men så lätt skulle inte skivköparna komma undan!

Echoes [1966]
Echoes är en hisnande odyssé i Clarks dåtid; en krönika över tilldragelser sedan The Byrds tidiga dagar.
Låten saknar vers och refräng; en sorts stringens som skulle kunnat hålla ihop den. Vi andra – som helt och hållet ignorerar vers, refräng, stick, stringens och allt vad det heter utan bara njuter av ett fulländat arrangemang, signerat Leon Russell – låter oss svepas med på hans fascinerande resa i okända musikaliska trakter, kringgärdad av klassiska instrument samt Genes skugglika, något dövande men icke desto mindre iögonfallande röst. Remixversionen från 1972 är kanske ännu mer fängslande.

Rain Song [1984]
Gene hade inte varit King of Melancholy utan en sång, fulltankad med just mollackord och tungsint tillvägagångssätt, och på Rain Song får vi vårt lystmäte. I själva verket blir det nästan för smärtsamt att lyssna på låten. När Rain Song tonar bort redan efter tre minuter känner sig ändå lyssnaren en aning bedragen.

She Don't Care About Time [1965]
Ett signum för She Don't Care About Time är den deliciösa symbiosen mellan sologitarr och kompgitarr. Ljudbilden blir så praktfull och solid att jag får en vision där Phil Spector tågar in med ett gäng gitarrister i bakhasorna. Addera delikat stämsång och en struktur utan vare sig vanliga verser eller refränger och resultatet blir ett av Genes största ögonblick som låtskrivare.
Problemet när jag ska välja är att det finns två helt andra versioner av She Don't Care About Time, här [inspelad 1970, men utgiven först 1973] och här [inspelad 1972, men inte utgiven förrän 2016] som är lika bra.

Gypsy Rider [1987]
Svårmodiga Gypsy Rider innehåller inga Bm-, Em- eller F#m-ackord, utan B²m -, E²m- och F²#m-ackord. Låten tränger djupt in i huden och får den att skälva både av välbehag och sorg, när Genes röst, text och musik skapar ett vakuumliknande tillstånd i rummet och får världen utanför att stanna upp för ett tag. Gypsy Rider tränger in i lyssnarens känslomässiga epicentrum, samtidigt som den ritar sorgkanter runt högtalarna.
Det finns också ett TV-framträdande, där Gene ser mer fräsch ut än på skivomslaget. Året därpå gav engelska fanzinet Bucketfull of Brains ut en snabbare och kanske om möjligt ännu bättre version.

Silent Crusade [1977]
Om det fortfarande finns någon som tvivlar på Gene Clarks förmåga att hitta nya musikaliska infallsvinklar, lyssna i så fall på avslutningsspåret på albumet Two Sides to Every Story, den metafysiska expeditionen Silent Crusade. Den spartanska bakgrunden med akustisk gitarr och orgel som huvudinstrument och Genes kvalfyllda röst på slutet som grädde på moset, fulländar plattan.

The Radio Song [1968]
Hemligheten med albumet The Fantastic Expedition of Dillard & Clark är kanske just faktumet att det handlar om en klassisk låtskrivare som närmar sig countrymusiken, men i stället för att luta sig mot tradition och känsla väljer han att utgå från en popmusikers eller singer-songwriters musikaliska referensramar. Eller rättare sagt: som stor konstnär var Gene ute efter crème de la crème, oavsett genre, och därför lutar han sig mer mot melodier, kombinerat med kärlek till traditionell countrymusik.
Ovanstående accentueras ytterligare på skivans sjätte spår, The Radio Song – ett fulländat verk med så brett musikaliskt spektrum att det borde ha kunnat förföra både pop- och countryfans.

Shooting Star [1973]
Avslutningsspåret på albumet Roadmaster, Shooting Star, är en segerkandidat, vilket mottagaren inser redan när Gene Clarks älskvärda men ändå något sköra stämma ljuder över den begärliga melodin. Då har vederbörande ändå ingen aning om vad som väntar efter cirka hundra sekunder – när ett kärnfullt och majestätiskt stick ännu en gång skapar musikalisk trolldom.

Something's Wrong [1968]
Bäst, eller åtminstone vackrast på nästan fullödiga albumet The Fantastic Expedition of Dillard & Clark, är avslutningsspåret Something's Wrong, med sublimt mandolinspel av Chris Hillman. I inledningen tar Gene oss tillbaka till sin barndom när livet var betydligt mer enkelt och oskyldigt.

Bubbling under:
American Dreamer [1971]
I Remember The Railroad [1973]
Why Not Your Baby [1969]
For A Spanish Guitar [1971]
Why Did You Leave Me Today [1987]
From A Silver Phial [1974]
Sister Moon [1977]
I'll Feel A Whole Lot Better [1965]
Something About You [1984]
Life's Greatest Fool [1974]