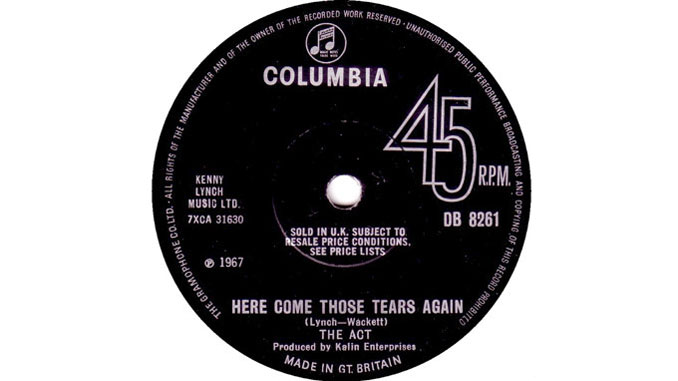 De som följt "Olofssons Lost Treasures" kanske undrar om undertecknad känner motvilja mot brittisk sextiotalsmusik, eftersom bidragen från öriket hittills har lyst med sin frånvaro. Men nu får alla vänner av brittisk sextiotalsmusik sitt lystmäte i form av The Acts högklassiga singel.
Första gången jag hörde gruppens andra singel, den magnifika poplåten Here Come Those Tears Again (utgiven i september 1967), höll högtalarna på att välta av upphetsning. De underbara verserna, framför allt nummer två och tre, där sångaren harmoniserar med sig själv, tar låten till episka höjder. Skivköparna var dock inte intresserade, trots att låten testades i TV-programmet Juke Box Jury, där dåtidens popstjärnor och andra kändisar fick bedöma låtarnas potential. I ärlighetens namn låter det snarare 1966 än hösten 1967 om låten. Ja, det var ett problem i och med att nya genrer hade vuxit fram bara under det senaste året.
Olofssons Lost Treasures
The Act1967
Here Come Those Tears Again
(Lynch – Wackett)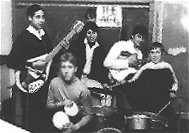 The Act kom från Essex, nordost om London, och efter att ha vunnit en talangtävling i Londonförorten Walthamstow fick de skivkontrakt med Columbia. Mångsysslaren Kenny Lynch, som tidigare hade haft flera hits på den engelska singellistan och bland annat skrivit Sha-La-La-La-Lee till The Small Faces, blev gruppens manager och kom också att skriva A-sidorna på deras andra och tredje singel. Lynch blev för övrigt historisk i ett annat sammanhang, nämligen den första artist som gjorde en cover på en Beatleslåt.
I början på sjuttiotalet inledde Kenny Lynch ett samarbete med The Hollies sologitarrist Tony Hicks och paret kom att leverera flera låtar till gruppens album, bland annat denna förstklassiga låt från 1971.
The Acts debutsingel, Cobbled Streets, är en speciell skapelse, allt ifrån den smått enerverande men ändå smittsamma "na na na na na-na na-na na"-sången, till texten. Introt påminner om Friday On My Mind och låten känns text- och musikmässigt som en sorts inverterad version av det positiva helgbudskapet i The Easybeats klassiska låt. Den inledande textraden, "Cobbled streets and terraced houses. Dirty kids in ragged trousers. I was born into this world, where everyone was sad to me", kanske inte var så passande om en helt okänd grupp ville hamna på singellistan …
Cobbled Streets skrevs av Brian Trusler, som just då var medlem i gruppen Force West. De bytte senare namn till Shakane och blev smått populära i några länder på kontinenten. De lyckades dessutom få en ganska stor hit i Sverige 1971 med Big Step. Lyssna också på Love Machine. Jag är lite småförtjust i båda låtarna; som om Stealers Wheels Stuck In The Middle With You parat sig med Steve Harley & Cockney Rebels Make Me Smile (Come Up And See Me), kryddat med en dos T. Rex. Shakane existerade som grupp ända till 2014!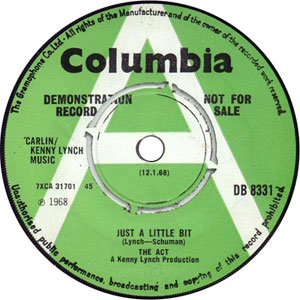 Jag har redan hyllat Here Come Those Tears Again, men det är gruppens tredje och sista singel, Just A Little Bit, som räknas som deras bästa stund. Jag håller inte med, även om låten är en mycket bra representant för freakbeatsoundet. Det är ju onekligen ett minst sagt spännande sound, men när singeln gavs ut i januari 1968 kändes soundet en smula daterat.
The Act skrev alltså ingen av A-sidorna själva, men B-sidorna, One Heart, Without You och The Remedies Of Doctor Brohnicoy, är gruppkompostioner. Den kommersiella potentialen är inte stor, men det är ändå låtar vars spännande sound och arrangemang understryker gruppens styrka.
The Act upplöstes i slutet av 1968. Efter att ha bildat familj och ägnat sig åt en civil karriär startade gruppens gitarrist John Dennis rhythm 'n' blues-gruppen The Elevators 1993. När de upplöstes efter något år bildade han gruppen Off The Rails, som var inspirerade av Dr. Feelgood.