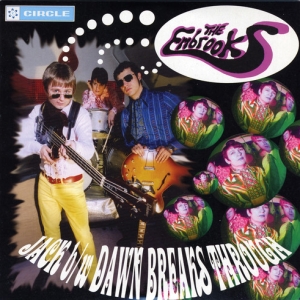 The world's greatest power-trio comes back with yet another piece of plastic, heavier than ever. Actually it's so heavy that, each time you listen to it you'll need someone to help you put it on the turntable, and on the other hand, it'll be good to have someone around to dance with, cuz this one's sure to make you move!
The sound is just as heavy, staying in line with the band's recent freakbeat leanings. The a-side tells a story of "a strange young man" named Jack, making a perfect sequel, soundwise and storywise, to the one about his namesake (or is the same guy?) who's got famous for eating sugar lumps.
Also, this one would have fitted so nicely on the 2000's Our New Day album, that it makes me wonder if it comes from the same session as the album opener Standing Upside Down.
Continuing their mission of re-introducing groovy sixteez classics of the genre, slipping them through their own sound-prism, the b-side finds The Embrooks beating the freak out of The Barrier's own debut 7" b-side Dawn Breaks Through.
Though it seems strange that The Embrooks are still looking for the next longplaying record deal, considering the colourful '60s influenced picture sleeve coming with every release of theirs, it would be a shame not to have them every now and then, which comes as a result of frequent single releases.
[Released by Circle 2002]