Introduction
The Nomads' long journey to the here and now via their recorded work is presented here, in chronological order, for your listening and collecting pleasure. These elder statesmen of Scandinavian rock don't strike me as being old enough to be called that, but think of the acts that couldn't have existed without them. They're a very crucial link in an important chain and one of the only acts in the world that has retained and that keeps on building on their status. Like a special cask malt, they've gotten even better. I have to thank Ulf Lindqvist (Four-Eyed Thomas) for sending me the records all those decades ago. His action cemented a life-long friendship. Aside from considering these guys as family, I will always be a fan and if I'm at a show, I will endeavour to be 'doon the front' (that means at the front of the stage to non-Scots) despite my advancing years.
They've achieved far more than many acts that had 'hits' and at this point there is no better night out than one spent in the company of The Nomads. I hope that might become a thing again as we wait for the covid soap opera to be cancelled. Meanwhile though, brush up on songs might shout for when that happens. I'm in awe of this exhaustive investigation into what makes them tick.
Listen to Solna's Sonics go boom.
Lindsay Hutton
How it all began
Lindsay discovered The Nomads after The Cramps Fan Club (Legion Of The Cramped) that he ran was closed down by the band. He saw the same thing in The Nomads as he'd previously seen in The Dictators and The Fleshtones – the mix between Pebbles compilation series (first ten volumes) and Blue Öyster Cult. He heard about The Nomads through his friend Ulf Lindquist in Stockholm who was a record dealer with a nose for garage gold. Then Lindsay spread the word worldwide via his phenomenal fanzine Next Big Thing. Now, The Nomads may not really become NBT, but they have long been a much respected band in international rock circuits.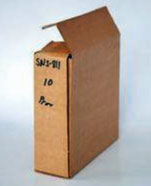 But we'll take it from the beginning. The Nomads debuted on record with Psycho, which was a Sonics original. Today, many music lovers know about The Sonics, but in the early 80s they were relatively unknown, if not obscure. But The Nomads knew about them since they scrutinized music journalist Lennart Persson's Swedish fanzine Larm, in which he had written a declaration of love for The Sonics. The Nomads grabbed the classic and made it their own in guitarist Hasse Östlund's dad's studio (the father had previously been a member of the famous Swedish 60s' pop group The Hep Stars). The single had no regular distribution and was mostly sold at concerts. It was also circulated to journalists, most of whom did not take notice. But one who understood was of course Lennart Persson. He took the 7″ to his heart and stopped people on the street to tell about this excellent band that started putting Solna on the garage rock map.
Ulf Lindqvist also became infected by Lennart Persson's enthusiasm and soon he had arranged for distribution of the last 300 copies, which sold out quickly. In his new capacity for the Amigo Records he asked the singer, Nix Vahlberg, for a meeting. At this meeting a new cover was presented, The Strangeloves' slightly wimpy Night Time – but The Nomads did it with more boom, more rock & roll, more umph. Ulf signed them right away. The ball started to roll.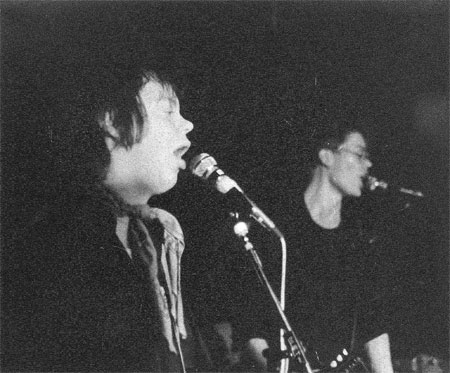 I was floored by their first gig outside Stockholm at Malmö's first record fair in 1982, which I arranged with Larm's editor Gert-Olle Göransson, where they performed together with the Malmö band Problem. And Ulf transformed into 4-eyed Thomas. But it's a different story than the one you are about to read.
Many of us traveled to Madrid to celebrate Lindsay Hutton's 60th birthday in November 2017. He'd gathered friends, family and favourite musicians at the Wurlitzer Ballroom, located in the heart of the city, just a stone's throw from the tourist trails. It's party until six in the morning in Spain and the stramash lasted three days. The Nomads were an obvious part of any such celebration.
And now it's The Nomads' turn to be celebrated by this 40-year anniversary review of no less than 46 seven-inches they released between 1981 and 2021. Enjoy!
Per Hägred
Acknowledgement: Thanks to Björne Fröberg, Hasse Östlund, Nix Vahlberg and Joakim E. Werning (formerly Ericson) for sharing your memories/photos and for reviewing the text.
I would like to express special thanks to the following contributors: Lindsay Hutton (Introduction and Part 2), Per Hägred (How it all began), Andy Shernoff (Part 2), Chips Kiesbye (Part 3), Carl von Schewen (Part 5), Marco Padin (Part 6), Ron Sanchez (Part 7). Finally, thanks to Lars Wenker (layout), Bengt Persson (featured images) and to Ann Dahlén for using the photo in the introduction.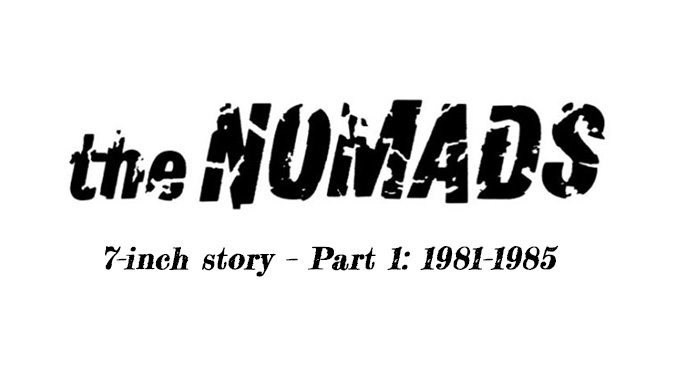 After the illuminating opening descriptions by Lindsay Hutton and Per Hägred, there is not much more newcomers need to know about The Nomads to take part in this appraisal of them. Either way, why not let Seth Bovey summarize it for us all with an appropriate appreciation of The Nomads in his book Five Years Ahead of My Time – Garage Rock From The 1950s To The Present:
Out of the many '80s garage-revival bands across the world, the greatest is probably Sweden's Nomads; not only did they play hard-rocking yet atmospheric garage music, both covers and originals, but they did some of the most moving and satisfying interpretations of American roots ever recorded.
Amen! But please, by all means, do not think of The Nomads as an '80s band of revivalists. They are still touring and recording in all supreme prosperity with an ability to constantly renew themselves. What is more, their accumulated record output during their, up to now, 40-year career, is impressive: a dozen (mini)albums and about 50 singles and EPs, plus a handful of contributions to different compilations with various artists as well as their own anthologies.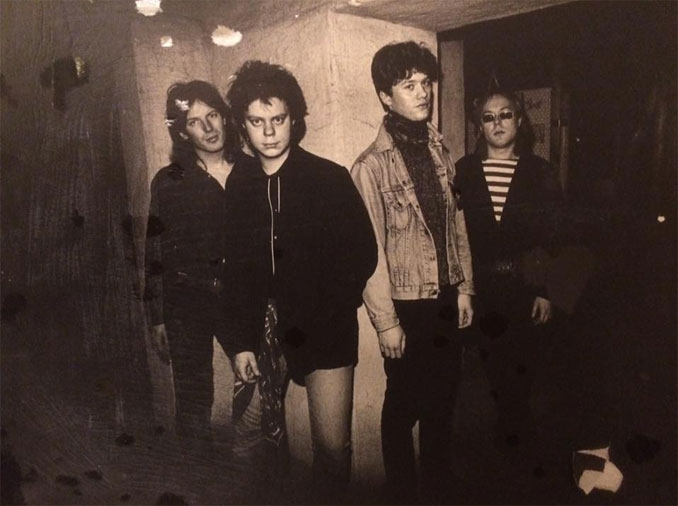 Because such a large quantity is tough to describe in one sweep, PopDiggers will therefore make a cross section of The Nomads' production by focusing solely on their 7-inch format releases – heterogeneous in many way, not least concerning record labels involved. We will compensate for being so selective by trying to give you in chronological order an in-depth account of every 7" – including singles, flexis, EPs and splits – from their 1981 debut onwards.
To enable such a thorough investigation, we are proud to benefit from direct testimony from the eye- and earwitnesses who made the recordings.
Each 7" will be explored according to this winning three-piece formula:
Discographic facts (title(s), composer(s), record company, year of release, and other facts of interest – according to a cross-check between discogs.com, 45cat.com and the discography on The Nomads' website;
Content description (details relevant to the songs on the 7" in question);
Testimony (selected memories that The Nomads want to share with PopDiggers).
The testimony section is the largest and most essential of these, as it is in this section that the members of The Nomads provide information on what actually happened behind the scenes by offering reports on the conditions that prevailed when the 7" in question was made.
Although we "only" are dealing with The Nomads' 7-inches here, the material is still extensive, so that is why we chop it up into digestible pieces, making this the first part of seven. Our witnesses this time are the original band members Nix Vahlberg and Hans Östlund who will tell the truth and nothing but the truth about the first six items; starting with Psycho and ending with Rockin' All Through The Night.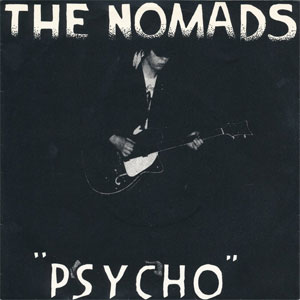 Discographic facts
A. Psycho (G. Roslie)
B. Come See Me (J.J. Jackson, P. Tubbs and S. Barnes)
[Noon Records l SNS-811 / 1981]
Printed in a limited edition of 500 (whereof 50 copies were off-center due to a pressing error).
Content description
The debut single consists of two covers; Psycho originally recorded by The Sonics (B-side on their second single, 1965) respectively Come See Me by The Pretty Things (a 1966 single).
Testimony
In fact, this single could have been done quite differently six months earlier. Hans Östlund's father had at that time a mobile studio and it was planned that he would record us where we rehearsed, but we overslept and missed that opportunity. At that time, we did not have any Sonics' songs yet. Instead we played The Seeds' Pushin' Too Hard, and some covers of The New York Dolls, MC5 and The Stooges. Things like that.
Our debut was eventually recorded at Montezuma Studios in Stockholm. Some friends of Hans' father ran the studio and that is why we had easy access to it.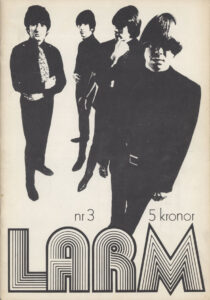 We had found The Sonics via the Swedish music fanzine LARM – the issue # 3 about garage rock was particularly important to us. Our guitarist at that time, Joakim Tärnström, was so enterprising that he ordered a 6 LP box named The Northwest Collection directly from Etiquette Records in Tacoma, WA, which included both Sonics' albums and The Wailers' Out Of Our Tree. It felt like we – together with the editor in chief of LARM, Lennart Persson – were very early in Sweden to introduce this kind of music. Getting to know The Sonics was like discovering a hidden treasure. Great songs that very few knew about and were easy enough to figure out, even for beginners like us. Nowadays these songs are classics, but they were really obscure in the early '80s.
The Pretty Things cover on the flipside was taken from The Vintage Years 2 LP collection on Sire Records, compiled by Greg Shaw. Cut-outs of The Vintage Years series could then be found for almost nothing. The Pretty Things – The Vintage Years was a great source of inspiration for us.
Our own songwriting was a bit slow in the beginning, but it did not bother us too much, since there were so many good songs to cover. During our marathon rehearsals, usually on Saturday afternoons with beers and enduring friends, we tested recently found songs we liked, such as from the first album by The Cramps.
The picture on the front cover is from one of our first gigs at Café Apromus in Solna Centrum, where we also rehearsed. Hans is for the occasion playing on Rock Ragge's, guitar; real name Ragnar Nygren – one of the first artists to introduce rock'n'roll in Sweden in the late '50s. There is also a glimpse of his Shangri-Las T-shirt with a dimly seen Mary Weiss. The back cover is even more intriguing. Among the kids with obscured faces on the picture we have Ed Johnson, our drummer at that time, standing to the far left. Ed made the cover and used this old photo from his childhood without any particular intention.
Instead of taking the big step approaching established record labels, we agreed on a package offer that included the entire production line – recording, mix, mastering, and vinyl pressing of a run of 500 with picture cover. Noon Records, founded by Hans Östlund's father, then released the single, which included taking the necessary but tricky contacts with Nordisk Copyright Bureau (n©b) for handling royalties and such.
Since the demand was higher than the supply, we decided to print a new batch, but it backfired because the matrix numbers had been mixed up in some way, which resulted in completely different songs appearing on the test press, but the labels were correct. Such a great way to create a collector's item, ha ha…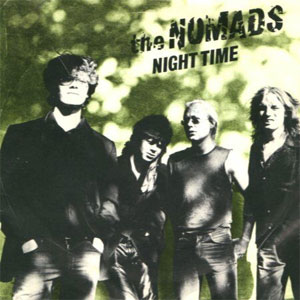 Discographic facts
A. Night Time (B. Feldman, J. Goldstein and R. Gottehrer)
B. Boss Hoss (G. Roslie)
[Amigo l AMS 164 / 1982]
Originally pressed in four consecutive batches of 1,000 copies – each edition with a different sleeve color. The following colors in chronological order: Green, Purple, Blue and Brown. Re-issued by Spanish Munster Records in 2006.
Content description
Boss Hoss is another Sonics cover (from the B-side of Sonics' fourth single, 1965) that also shows up here as a flip side, while the A-side is a cover of The Strangeloves' 1965 moderate US chart hit.
Testimony
We recorded these two songs about six months after the Psycho session, in May 1982, again in Montezuma Studios and with Hans' father because of our past good experience, but this time as a trio, since Joakim Tärnström had left.
Before that, Lennart Persson had picked up the Psycho single and recommended it to Ulf Lindqvist at Amigo Records who said he wanted Amigo to distribute it. We recognized him as the grumpy clerk at the record store Gamla Stans Skivhandel in Stockholm when we met at his office for the first time. But this time he seemed very pleased and cheerful. Moreover, he liked our new tape with Night Time and Boss Hoss so much that he wanted to release it as a single immediately. Shortly after, Amigo released it in the fall of 1982.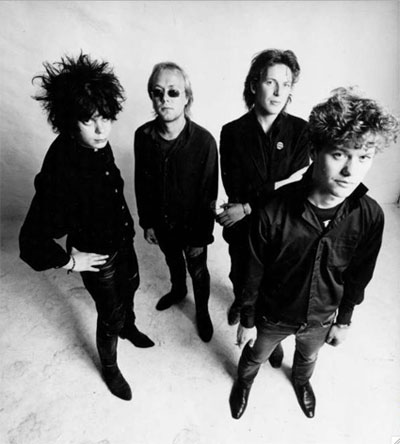 Night Time also came from the department store Domus' record sales bin that contained 2 LPs cut-outs by Sire Records sold for a pittance, this time we consulted the Nuggets compilation. But we also had heard Night Time with Wayne County and The Electric Chairs (1978).
Due to a lack of other viable alternatives, we continued to exploit the treasures from The Sonics very strong song catalog and put Boss Hoss on the flipside.
Before we closed the deal with Amigo Records, we tried to peddle this tape to a few other record companies. The best response we got, came from Greg Shaw of Bomp! Records in California. For us, that was very rewarding since Bomp! stood for everything that we thought was cool. We were thus very pleased with his praise because in our book Greg Shaw together with Lennart Persson personified the role model for all that good music stands for. Greg Shaw also encouraged us to write our own songs.
Although only three of us recorded the single, four people show up on the cover. Our new bass player, Tony Carlsson, joined The Nomads during the summer 1982, shortly after we recorded this single. Since he became a regular band member straightaway, we saw it as natural that he would also be included on the cover.
The first round of 1,000 copies sold out quickly, which resulted in that a total of four equally large batches had to be pressed to meet the high demand.
Rockin' All Through The Night was also recorded as the third song during this session. (We will return to that song at the end of this article.)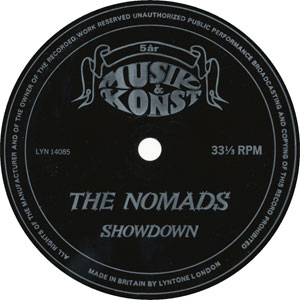 Discographic facts
A. Showdown (D. Jay & T. Casanova)
[Musik & Konst l LYN 14085 / 1984]
One sided flexi.
Content description
Special edition to celebrate the five-year anniversary of Musik & Konst (one of Sweden's finest record stores). A cover of Tony Casanova's 1959 rock'n'roller.
Testimony
Showdown was recorded at the same session as the six tracks that made up Where The Wolfbane Blooms mini-album. It was an out-take from these sessions – maybe deliberately in order to have something exclusive to offer when an opportunity arose. So when Lennart Persson asked for something to release to celebrate the five-year anniversary of his and Peter Thulin's record shop Musik & Konst in Malmö, it was great to be able to present him this previously unreleased song. In addition, we happily accepted the invitation to play live in the record store and at the celebration gig in Malmö in March 1984.
It was Ulf Lindqvist at Amigo who suggested to record Showdown. He had an amazing record collection and constantly fed us cassettes with songs that he thought would fit The Nomads. We always have had a soft spot for rockabilly and we were inspired by how The Cramps seized the rockabilly concept.
It was cool to mix garage rock and rockabilly. And we would also throw in a Blue Öyster Cult number into our sets now and then. We felt that we did not need any restrictions regarding genres but we needed the freedom to play whatever we wanted. The songs we appreciated were not limited to a particular style – a good song is a good song wherever you find it.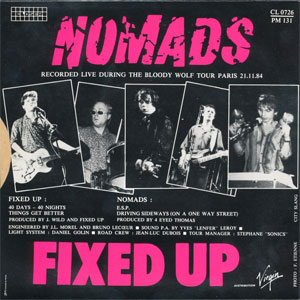 Discographic facts
B1. E.S.P. (Self, Ciebiera)
B2. Driving Sideways (On a One Way Street) (M. Fankhauser)
[Closer Records l CL 0726 / 1985]
Split EP (with the French band Fixed Up).
Content description
The Nomads contributes with two covers to this EP, which were recorded live in Paris, France (November 1984). E.S.P., originally recorded by Rain and released as the A-side of a single on A.P.I. Records late 1966 – but also comped on, for instance, Boulders # 2. E.S.P. was in fact a flagrant remake of The Pretty Things' LSD 1966 single.
Driving Sideways (On a One Way Street) was originally released by Merrell Fankhauser and (His Trusty) HMS Bounty as a track on their only LP, Things! (1968).
Testimony
Our first mini-LP, Where the Wolf Bane Blooms (1983), was very well received outside Sweden and Amigo got quite a few offers for license deals, especially from France – New Rose and Skydog were some of the interested parties. The reason why Closer Records finally landed the deal was most probably that they included a French tour with the French band Fixed Up in the bid. Another part of the deal with Closer Records was to record a live show in Paris to put out on vinyl.
It was a bit strange, though, as they had only brought ten minutes' worth of tape with them in Paris. We did not understand the reason why they did not bring enough tape to record the whole concert to archive for potential future releases. Therefore, we were in the awkward situation to decide in advance which songs to include and mark them in the set list so that the precious tape was only wasted on these two. But it went well anyway. The story does not tell how many minutes of tape Fixed Up was allocated to their songs…
We liked The Pretty Things' LSD and we alternated between singing "LSD" and "E.S.P" at live performances. Our version of E.S.P. was inspired by The Beaver Patrol's version which we found on some garage rock compilation. It had a tough sound, but we were very well aware of that it originated from The Pretty Things' LSD.
Driving Sideways was found and suggested by our drummer Ed Johnson. He was very fond of psychedelia and those kind of things as well as a big fan of the band Spirit. He called himself "Ed" – his real first name is Per-Olof – after the drummer for Spirit, Ed Cassidy. There is a musical connection between Merrell Fankhauser and Ed Cassidy since they have played together. That is the reason that Ed Johnson wanted us to do this song. We are very satisfied with our cover and we still perform it live now and then.
This, our first larger tour with 15 gigs, drew large crowds everywhere so we went down extremely well in France. At that time, France was a real rock'n'roll nation. Records by The Stooges and MC5 were in print in France, but nowhere else. They had early punk festivals and Skydog Records. Johnny Thunders and Willie Alexander, who were forgotten in the US, got record deals in France. Unfortunately, this French upper-hand position faded out in the '90s. Anyway, we eventually got very tired of baguette, Camembert and red wine. That was all we got during the entire tour. And Kronenbourg… The tour was rounded off in London with a couple of concerts arranged by one of our greatest supporters, Mike Spenser of The Cannibals whom we had met some years earlier in Stockholm.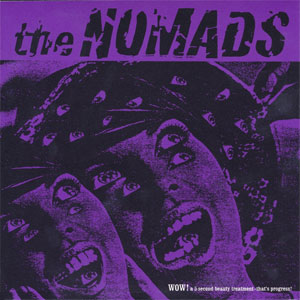 Discographic facts
A. She Pays The Rent (J. Conolly)
B. Nitroglycerine Shrieks (The Nomads)
[Amigo l AMS 166 / 1985]
Released also in parallel in the UK by Wire, in the USA by Homestead (as a three song 12"), and in France by Closer.
Content description
The A-side is a version of a song written by Jeff "Mono Mann" Conolly, allegedly during his time with DMZ. Despite this, She Pays The Rent appeared for the first time officially on Conolly's subsequent band Lyres' 12" EP (1985) sometime after The Nomads released their version. Another version is found on Lyres' second album, Lyres Lyres, (1986). However, a rough and unofficial version of She Pays The Rent circulated before 1985. But, to be honest, She Pays The Rent owes a lot to Bobby Patterson and The Mustangs' soul raver Soul Is Our Music, the B-side of a 1967 single on Jetstar Records.
The flipside Nitroglycerine Shrieks is The Nomads' first self-penned 7" song; an excursion into the center of noise.
Testimony
Before this single we had a very good relationship with Jeff Conolly and Lyres. We played a few shows together in the Netherlands before the French tour, the Pandora's Box festival in Rotterdam and a show at Melkweg in Amsterdam, which both went down fantastic. Nix knew about She Pays The Rent from a live cassette and when Jeff said it wasn't part of Lyres' set anymore, we agreed that we would record a version of it. Jeff mailed the lyrics to Ulf Lindqvist and we decided to make it our next single. Things then turned a bit sour as Jeff wasn't aware of the fact that there would be a US release and then reacted badly to the fact that certain US fanzines deemed The Nomads' version superior to Lyres'. Jeff is a sensitive person and this would be a cause of animosity for quite some time – but luckily we're all friends again now.
We got the idea to use a horn section from The Saints' Know Your Product (1978) – a mix of rhythm'n'blues and punk rock, which we think is a very worthwhile combination. We are not sure if we succeeded to the same extent as The Saints, though. Anyway, it was fun to try something new.
Nitroglycerine Shrieks is a jam that was fun to do as a B-side. It is a sound experiment with the lyrics taken from Allen Ginsberg's Howl, but we didn't want to be too obvious with it, so we buried the vocals in bizarre song effects. It only got one chance to be performed live (in Oslo, Norway).
In 1985 we started working with a new management which led to some new licensing agreements in different territories. For the UK, we started working with Harry Magee and Wire Records (who has since moved up in the music industry and is now the manager of One Direction). Harry was great for us and got us a lot of press in the UK weeklies. For France it was natural to continue with Closer Records, but this turned out to be our last project together as they failed to pay the agreed 5,000 Francs advance and didn't even send us copies of the record! For the US we went with Homestead that released a 12" version with an extra track, a cover of Chan Romeros's My Little Ruby – another suggestion from Ulf Lindqvist.
Discographic facts
A. Rockin' All Through The Night (The Nomads)
[Nineteen l NIT 19001 / 1985]
One sided flexi. Came with the (French) Nineteen Magazine # 18.
Content description
Rockin' All Through The Night is an original song that on the flexi is a little bit rougher than the re-recorded version that officially first showed up as one of the six tracks on The Nomads' first 12" – the mini-album Where The Wolf Bane Blooms released by Amigo respectively Closer Records in 1983.
Testimony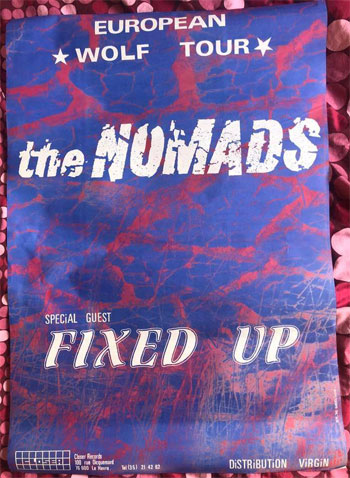 Nineteen Magazine made a big thing of our 1984 French tour we talked about earlier. They had their head quarter in Toulouse and asked if they could get a song for a flexi. They were really nice people and we had this unreleased version of Rockin 'All Through The Night sitting on the shelf since before, so it was pretty consequential that we passed it on to them. Why not? It felt like good promotion.
As mentioned before, this flexi version of Rockin' All Through The Night belonged to the same session as the single Night Time/Boss Hoss. This was our first original composition we ever recorded. Rockin' All Through The Night was one of the three songs on the tape that we sent around to different record companies. Because Rockin' All Through The Night was self-composed, Greg Shaw at Bomp! Records gave it extra attention. He said it reminded him of Black Flag meets rockabilly – that is a tough combination and an honorable description! Rockin' All Through The Night is the reason why he wanted to include us in his Battle Of Garages compilation series, but for various reasons, the deal did not go through.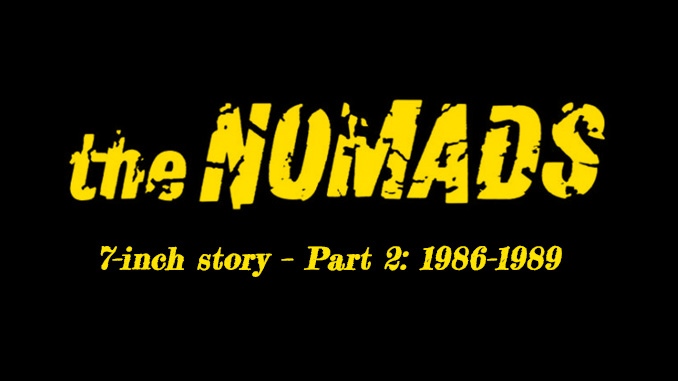 Our current batch of chronologically arranged 7" to examine begins with This Ain't The Summer Of Love (1986) and ends with My Deadly Game (1989). Which is a natural subdivision and end marker for the first twelve 7-inches, since the completion of Part 2 coincides with The Nomads' last single released by Amigo Records.
This time, too, PopDiggers have the pleasure to find out what the founding members Nix Vahlberg and Hans Östlund have to say about this second batch. PopDiggers are privileged to expand the group of spokesmen since last time with the members Joakim E. Werning (formerly Ericson) and Björne Fröberg. As if that was not enough, Andy Shernoff and Lindsay Hutton also generously provide informative comments to this part.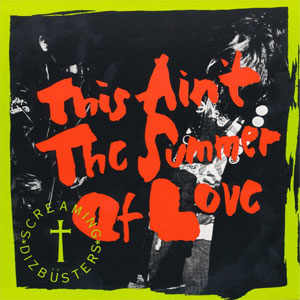 Discographic facts
A. This Ain't The Summer Of Love (A. Bouchard, M. Krugman, D. Waller)
B. Out Of The Frying Pan, Into The Fire (D. Van Vliet)
[Amigo Records I AMS 169 / 1986]
Content description
This is the first time that The Nomads released a record under the band's moniker Screaming Dizbüsters – a name taken from the Blue Öyster Cult song 7 Screaming Diz-Busters which is found on their second album Tyranny And Mutation (1973). With this background, it should come as no surprise that this single contains a cover of a Blue Öyster Cult song; This Ain't The Summer Of Love – a single from their 1976 album Agents Of Fortune. However, it is a truth with modification that This Ain't The Summer Of Love is a Blue Öyster Cult original. In fact, the proto punk band The Imperial Dogs did This Ain't The Summer Of Love already in 1974 and quite differently from Blue Öyster Cult's version. Don Waller, the front man of The Imperial Dogs, does share writing credits here (as opposed to some "Fitario" mentioned on the label of the 1978 The Imperial Dogs single on Back Door Man Records), although there is not much left of the original version besides the title and a few lines of lyrics in the Blue Öyster Cult re-make of it.
The B-side, Out Of The Frying Pan, Into The Fire, is a cover of Frying Pan by Captain Beefheart And His Magic Band. It was their second single, released in 1966 on A&M Records. Later on, Screaming Dizbüsters contributed with this song to the 1988 tribute to Captain Beefheart (Fast'N'Bulbous).
Testimony
We had an idea somewhere to record a heavy metal single just for fun. But it did not turn out that way because we did not know how to get the heavy metal sound. Instead we ended up with our usual rock'n'roll sound. In other words, we sounded just as we always did. The reason why Nix's guitar sounds unusually raw at the beginning of both songs is that his Hiwatt amplifier was about to give up. It did not sound that way normally. Pretty cool effect just the same. Blue Öyster Cult would never accept such a guitar sound, even though they are not strictly heavy metal when it comes to the guitar sound.
The first four–five albums with Blue Öyster Cult are highly esteemed by us, among the best there are in all categories. But somewhere around their album Agents Of Fortune, on which This Ain't The Summer Of Love is included, we think that Blue Öyster Cult began to lose their charm. Shortly after, they got a hit record that they tried to exploit, which meant that their subsequent output got mainstreamed and not so interesting. A great pity.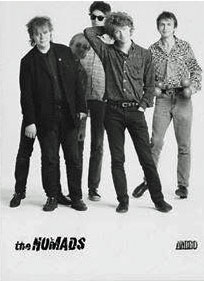 Frying Pan is an early Captain Beefheart song, recorded at a time when he played rather straightforward garage rock/rhythm and blues. A tough song that we are quite happy with how we handled. The first albums with Captain Beefheart And His Magic Band are in our opinion very good. We even appreciate his masterpiece Trout Mask Replica – in small doses…
Nome, the singer of Pushtwangers – a band that was on the Amigo Records' roster at the same time as us – was in advertising and keen on making the sleeve for us. It is not us pictured on the fishy sleeve, though. Instead we have some faint memory that we heard that it is some longhaired Irishmen, or something like that. None that we are familiar with, anyway. Nome got free hands and we think it turned out well. By the way, Pushtwangers did background vocals on This Ain't The Summer Of Love.
There was no deeper thought or strategy behind using the moniker Screaming Dizbüsters on this single. It was a fun thing; a whim, that's all. Our producer, Ulf Lindqvist at Amigo Records, liked to be impulsive and encouraged us to be creative in every way. But we actually did some gigs as Screaming Dizbüsters. It was convenient to have an alias if you for some reason wanted to play under another name.
The sleeve tells that the single is produced by Arthur Comics at The Workshop of Telescopes. Arthur Comics is a song by Stalk-Forrest Group, a pre-cursor to Blue Öyster Cult, the B-side of their one and only single from 1970, while The Workshop Of Telescopes refers to a song on Blue Öyster Cult's first album.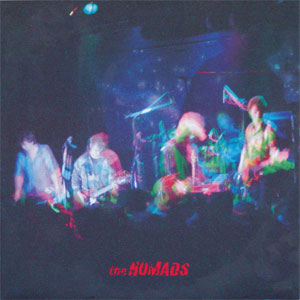 Discographic facts
A. 16 Forever (A. Shernoff, S. Kempner, R. Friedman)
B. Salvation By Damnation (H. Östlund, T. Jonsson)
[Amigo Records I AMS 171 / 1987]
Wire (UK) and LD Records (Belgium) released 16 Forever as a 12" maxi single with the B-side containing two songs other than the 7″ flip side.
Content description
16 Forever is Included on The Nomads first full-length album Hardware [Amigo, 1987], but was mixed differently compared to the single. The song is written by three of the founding members of The Dictators. Their original version was not officially released until 2007, although it was recorded as early as 1978 – shortly after the completion of their third album (Bloodbrothers) – at Bearsville Studios (Woodstock, N.Y.), intended for their next single. This was probably their last recording in the '70s before The Dictators was put on ice for a couple of years. Consequently, 16 Forever went no further than a board mix. After almost thirty years in the can, The Dictators' 16 Forever eventually became a single and a track on The Dictators' compilation Every Day Is Saturday (both on Norton Records).
Salvation By Damnation was originally recorded for the soundtrack to the horror comedy Blood Diner.
Testimony
We got to know about 16 Forever thanks to Lindsay Hutton (PopDiggers comment: Lindsay Hutton is famous for starting the Next Big Thing fanzine among other things; see his personal comment on The Nomads' The Next Big Thing 7" below.) Since he knew The Dictators well, Lindsay had received cassettes from them with demos and outtakes that he shared with us. One of the songs was 16 Forever and we thought that it would be cool to do a cover of an unreleased Dictators' song. Lindsay Hutton put us in contact with Andy Shernoff, one of the composers of 16 Forever. Andy Shernoff then faxed over the lyrics and granted us permission to record the song. The Dictators are high on our list of favorite bands and has been on our map since the mid-70's when their first album Go Girl Crazy! (1975) came.
A full circle was ended when The Dictators re-recorded 16 Forever 2003 for the CD 20 Years Too Soon – A tribute to The Nomads; a compilation otherwise mostly contains covers of Nomads' songs. We were deeply touched by all the effort that was put into that tribute.
Particular for this single is that it is mixed by Micke Herrström, making this version of 16 Forever different from the one on the album Hardware.
Hans and his friend "Tummen" Jonsson wrote the B-side, Salvation By Damnation – originally titled Sex And Guts. We got a request from Art Fein, the music coordinator of Blood Diner and manager of The Cramps for a time, to be included in the soundtrack to Blood Diner – a film inspired by the '60s horror splatter Blood Feast. But it fizzled out and just as good. Blood Diner is a lightweight comedy after all. The only group on the final soundtrack that has the slightest resemblance to The Nomads is Big Guitars From Texas.
Such a request did not come from thin air since other band in our genre, The Cramps and Roky Erickson had been engaged in the Return Of The Living Dead soundtrack; with Burn The Flames respectively Surfin' Dead. Even though Salvation By Damnation did not end up as a soundtrack to Blood Diner, it was too good a song not to use in other contexts. Shortly afterwards we incorporated it in our live shows.
The single was recorded at the Mistlur studio in Stockholm. A wonderful studio that we used for practically all our Amigo releases. It was housed in an 18th century building that was tragically demolished in the late eighties. The studio had a special sound that was a big reason why our '80s' recordings sound like they do.
There is also a 12" (a popular format at that time) which on the B-side instead has a cover of The Atlantics' Come On from 1967 and another cover – our used to be ultimate showstopper You're Gonna Miss Me by The Thirteen Floor Elevators – that we found on Lenny Kaye's Nuggets compilation. Both songs are recorded live by Swedish National Radio in 1985. From their tape we purchased these songs and put them out here.
Discographic facts
A. Where The Wolf Bane Blooms (The Nomads)
B. Rat Fink A Boo-Boo (The Nomads)
[Marilyn I M-023 / 1987]
Content description
Originally, both songs are from The Nomads' second mini album, the seven track Temptation Pays Double [Amigo, 1984]. Where The Wolf Bane Blooms was together with three other tracks from Temptation Pays Double included in the Spanish compilation Rat Fink A Boo Boo [Marilyn, 1987].
The instrumental Rat Fink A Boo Boo is only on the B-side of this single, not on the compilation (despite the name of the compilation).
Testimony
It is a little surprising for us in retrospect that this single came out as late as 1987. The A-side is from our first Spanish album release which was a compilation of our first two mini-albums and complemented with this single. We did our first Spanish tour in 1987, so these were released in conjunction with that.
One of the founders of the Marilyn Records was Frenchman Patrick Boissel who nowadays runs Alive Records in California with his wife Suzy Shaw (who was formerly married to Greg Shaw); small circles indeed in the record business! We never met Patrick in person because Amigo Records handled all details of the licensing deal. We noticed that this compilation went down well in Spain because when we were touring there, everyone we met seemed to own a copy.
It is a licensed single with the same versions as on the original mini albums. We believe this single has stood the test of time as two of our strongest early self-penned songs were picked as A- and B-sides.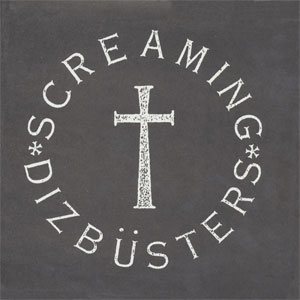 Discographic facts
A. The Next Big Thing (A. Shernoff)
B. He's Waitin' (G. Roslie)
[The Next Big Thing I NBT 4502 / 1988]
Content description
This second single under the signature Screaming Dizbüsters came with the eminent fanzine The Next Big Thing (issue 24). Things converge really nicely here, since the fanzine (and the associated record label) had been named by a song on The Dictators' first album Go Girl Crazy! (1975), which consequently matches the song Screaming Dizbüsters cover on the A-side.
The reverse side is also a cover, in this case of He's Waiting – a track on The Sonics' second album Boom (1966).
Testimony
This is the first record on which Joakim E. Werning (formerly Ericson; drums) and Björne Fröberg (bass) play. It was also our last recording in Mistlur Studios, just before the building were torn down.
The single was made for Lindsay Hutton's fanzine The Next Big Thing as a service in return to him since he had previously helped us in so many ways. It was the least thing we could do. The Next Big Thing was a part of our live set list since before, so we were quite comfortable recording it. On our live shows we skipped the subtle intro on the Dictator's original, which was tricky to play, and exchanged it for the more uncomplicated intro to Aerosmith's Back In The Saddle. We kept the Aerosmith intro on this studio version, which puzzled many.
Concerning the flipside, He's Waitin', another staple from The Sonics' catalogue – performing it may appear easier than it really is. Although all Sonics' songs appear quite straightforward, they require a lot from all band members – especially from Joakim, the drummer – to allocate the appropriate attack in the right places in this and similar type of hard-driving numbers in order to make them sound right.
Just as This Ain't The Summer Of Love, this Screaming Dizbüsters' sleeve drops, and adds, references to Blue Öyster Cult. The sleeve maker's name, Charles The Grinning Boy, is taken from the lyrics of Dominance And Submission, a Blue Öyster Cult song on their album Secret Treaties while "There Goes Tokyo" (Studios) is a line repeated in Godzilla from the Spectres album. Furthermore, Transmaniacon MC is another song title, this one from their debut album.
Everyone who was interested in this kind of music subscribed to The Next Big Thing, which meant that this single targeted an admittedly rather limited but, on the other hand, deeply devoted group of passionate music listeners. In fact, we are still in contact with many rock 'n' roll fans who were subscribers to The Next Big Thing.
It felt very rewarding for us to get the opportunity to follow up the previous great single released by The Next Big Thing with this one.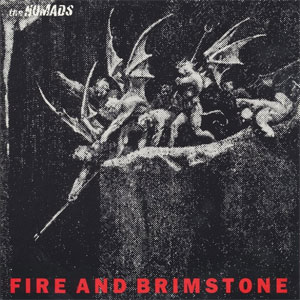 Discographic facts
A. Fire And Brimstone (edit) (L. Wray)
B. Beyond The Valley Of The Dolls (H. Östlund)
[Amigo Records I AMS 174 / 1989]
Fire And Brimstone 7" is an edited version (3m 55s) of the full 5m 05s recording released on the 12" single (which also contains an extra track).
Content description
The Nomads make a Link Wray cover on the A-side. Fire And Brimstone is originally the first single from Link Wray's self-titled first Polydor album (1971), recorded at Wray's (Chicken) Shack Three Track.
Beyond The Valley Of The Dolls is self-penned and features Johnny Thunders on guitar. This song also shows up on The Nomads' second full length album All Wrecked Up (1989) in a different mix with an extra distorted guitar in the intro and the lead vocals reinforced with an extra dub by Björne.
Testimony
We were pretty much on the road 1987–88, and after that it was time for new recording sessions. Nix had found this Link Wray album as a cut-out way back in the seventies and he has liked Fire And Brimstone since then. And when we got the chance to use the classic Atlantis Studio in Stockholm, Fire And Brimstone came to mind and that it would be fun to cover.
The mid-section of Fire And Brimstone is left out on the 7". This was done through traditional manual cutting of the tape, which was the way things were done in those days. It also fades out earlier than on the 12" version. By shortening the song, we thought that it would become more radio friendly. And using Ebba Forsberg on vocals was another move to increase its commercial appeal. But instead of getting much air play and becoming a cash cow, Fire And Brimstone became an unexpected floor filler at Stockholm's then major rock club Ritz. Always something…
For the B-side, Hans Östlund's Beyond The Valley Of The Dolls, had a title that made us think about the connection to Johnny Thunders since The New York Dolls were according to the legend formed at movie theater during a screening of the film Valley Of The Dolls. Johnny Thunders plays solo guitar on Beyond The Valley Of The Dolls.
At this time, Thunders lived in Hägersten, a suburb of Stockholm, as a parent with a young child. We called him up and he agreed to participate in our session. Björne and Hans picked him up in Hägersten and drove him to the studio while digging a tape with Roky Erickson and The Aliens in the car. He was in a good mood and really excited to do this song that alluded to one of his favorite films. Maybe it helped that he was a little bit bored by the mundane suburban life…
The situation got a little bit nerve-wracking when he could not find any amplifier that suited him. He was extremely careful with his guitar sound and discarded five, six amplifiers before he finally found a dusty old Ampeg stashed away in a corner of the studio. After about four takes he said "Now you got enough for the final mix". Hans added another bunch of Thunders-fills imitating the original's way of playing. At the end of the song, Hans and Johnny excel in intertwining Thunders-licks in tandem.
The picture of us on the back of the sleeve was taken at the entrance to the rather wore down Carlos Biljard salon in Stockholm, a place where you could play pinball and pool for cheap money. This was the first time Joakim and Björne attended a photo session for a record cover. The front picture shows a detail of one of Gustave Dore's illustrations to Dante's Inferno.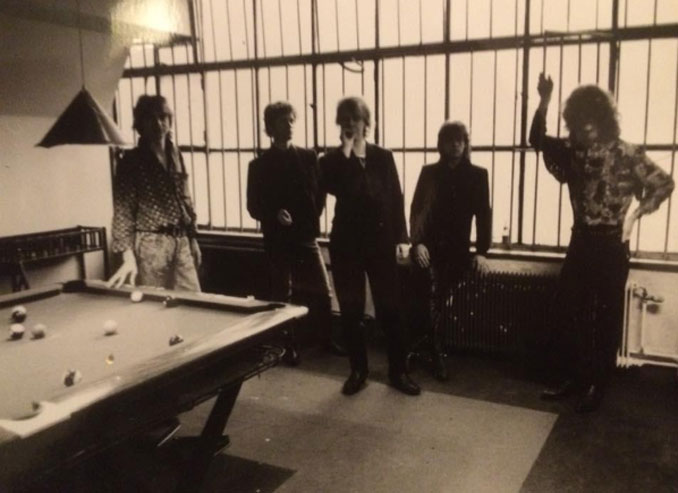 The extra song on the 12" single is a cover of The Weirdos' Solitary Confinement. We used the B-side of their second single We Got The Neutron Bomb from 1978 on one of our favorite labels, Dangerhouse Records, because we did not want to make a cover of the well-known and already perfect A-side.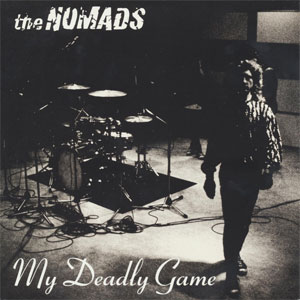 Discographic facts
A. My Deadly Game (edit) (H. Östlund)
B. I Have Always Been Here Before (R. Erickson)
[Amigo Records I AMS 180 / 1989]
My Deadly Game 7" fades out about 40 seconds earlier than the full length version.
Content description
My Deadly Game is written by Hans Östlund. The full length version of this song can be heard on The Nomads' album All Wrecked Up (1989).
The B-side is a cover of one of Roky Erickson's earliest attempts to start a solo career. Roky's I Have Always Been Here Before is just him and his acoustic guitar the first time it was released (French Sponge EP, 1977) – reminding of a demo recording.
Testimony
My Deadly Game was selected as single from the All Wrecked Up sessions we did in the Atlantis Studio; another composition by productive Hans. And I Have Always Been Here Before was an outtake from the sessions to that album – considering the benefit to have an extra and exclusive song for a single and a bonus track for the CD version of the album. Ulf Lindqvist produced, but we had a non-musician engineer who did not seem to take the session seriously nor fully understanding what we were trying to achieve.
Joakim is on the front sleeve, leaving his drum set during a session in the Atlantis Studio (and Björne can be dimly seen in the background). We thought that it was an amusing picture since there are no drums on My Deadly Game, just cymbals. It is due to that we wanted a Suicide beat and invited our friend Magnus Gehlin from the band In The Colonnades and collector of old synthesizers to work out the rhythm background for us. The end result became a nice amalgamation of Suicide and The Jesus And Mary Chain.
Roky's four song Sponge EP with Two-Headed Dog; Click Your Fingers, Applauding The Play; Mine, Mine, Mind and I Have Always Been Here Before is according to us among the best he ever recorded – together with the Bermuda single. I Have Always Been Here Before is different from the others on the EP in that it is acoustic yet atmospheric. We thought it would be an exciting challenge to see where we could take it with a bigger arrangement – with drums, bass and electric guitars. Backing up Roky Erickson at the Peace And Love Festival in Borlänge 2008 was one of our finest moments as a band.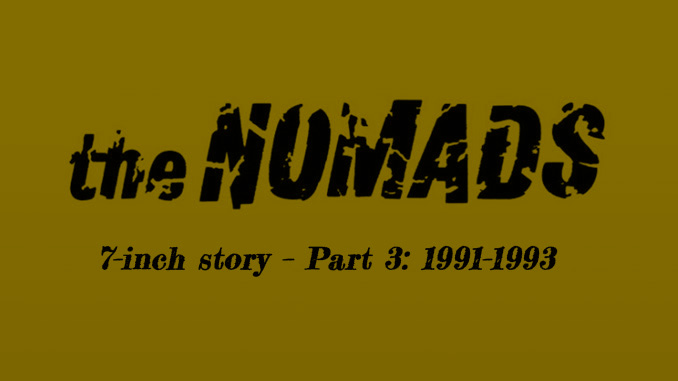 This third round of PopDiggers' thorough review of The Nomads' massive 7-inch catalogue continues with their releases after the time period with Amigo Records at the same time.
A brief hiatus in the 7-inch production occurred in 1990 due to extensive touring and because Sonet after the last Amigo album All Wrecked Up (1989) offered The Nomads to sign this much larger label. Although the relation with Amigo was consistently good, the prospect of signing Sonet seemed appealing because new collaboration constellations provide fertile ground for new ideas. Furthermore, the transition created breathing space for re-calibration of the musical direction. Of course, the studio budget also became significantly larger under the wings of Sonet, which consequently opened up new possibilities.
Current set of seven 7" – which was released within a relatively short time interval on several labels – is as chronologically arranged as it can be, starting with Red Temple Prayer (Two Headed Dog) (1991) and ending with Magdalena 93 (1993).
This time, too, PopDiggers have the pleasure to find out what all the members – Björne Fröberg, Hans Östlund, Nix Vahlberg and Joakim E. Werning (formerly Ericson) – have to say about this third batch. This part is also kindly enhanced by a testimonial from their producer at the time, Chips Kiesbye.
Discographic facts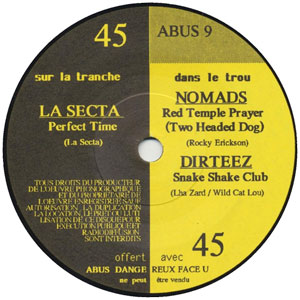 A. Red Temple Prayer (Two Headed Dog) (R. Erickson)
[Abus Dangereux I ABUS 9 / 1991]
Content description
This split single came with the ninth issue of the still going strong French journal rock Abus Dangereux (≈ dangerous abuse in English), established in 1987. The Nomads share this 7" with the French Voodoo Rock'n'Rollers The Dirteez and La Secta: Grupo de Power Rock de Bilbao.
The Nomads cover Roky Erickson's Red Temple Prayer (Two Headed Dog), originally released as a lo-fi pressed single in 1975 by R. Ericson (sic!) & Bleibalien (Mars Records), produced by Doug Sahm and coupled with Starry Eyes. Red Temple Prayer was later re-recorded by Roky Erickson and appeared for the second time (of many) on the seminal French Sponge EP (1977) that also contains I Have Always Been Here Before (B-side of The Nomads' 7-inch My Deadly Game from 1989, see The Nomads' 7" story Part 2).
Testimony
Abus Dangereux is a French music magazine that supported us very much at the time. We were even on two of their covers. We had built a steady fan base in France since the mid-'80s and played quite a few gigs there until the early '90s, but somehow the interest faded a bit after that. Since Abus Dangereux had been so supportive, it was natural to give one of our recordings to them as a service in return. A good fanzine with nice people working for it.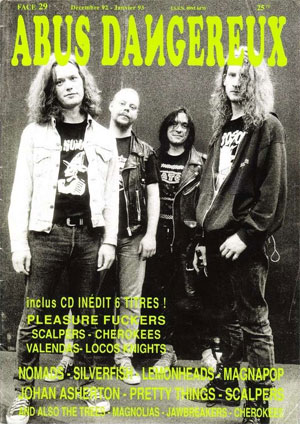 Our cover of Red Temple Prayer (Two Headed Dog) is a live recording, probably from around 1990. It can be a recording that we somehow got hold of from a radio station abroad. Although exact time and location are unknown, it is definitely the line-up with Nix, Hans, Björne and Joakim on this one, because we did not perform Two Headed Dog with the previous line-up. During the '90s we got many requests from record companies for tracks for them to release on singles. Since our stock of studio material was not inexhaustible, we sometimes had to rely on live recordings on cassettes with good sound quality, like this one.
The Dirteez, that we split this record with, are unknown to us, but we are very familiar with the other group, La Secta. They are from Basque Country in Spain and led by the singer Gorka. With his brother Iñigo Pastor, he started a fanzine (La Herencia De Los Munster) in the mid-´80s, which later developed into a record label (Munster Records) that we had quite a lot to do with in the following years. Today Gorka manages Bang! Records. It is a label that re-releases punk and garage rock and stuff like that. It was Bang! that re-released our Showdown collection on a 3LP set and our early Stagger In The Snow compilation, first issued on cassette. La Secta have been warming up for us several times. Later on our producer, Chips Kiesbye, got an offer to produce La Secta and actually traveled down there to do that.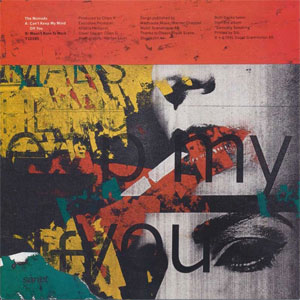 Discographic facts
A. Can't Keep My Mind Off You (B. Fröberg, N. Vahlberg, H. Östlund, P. Ahlén)
B. Wasn't Born To Work (B. Fröberg, N. Vahlberg, H. Östlund, T. Johnson)
[Sonet I T10385 / 1991]
Content description
Both-sides are original compositions taken from The Nomads' first album on Sonet – Sonically Speaking (1991).
Testimony
This single marks some kind of breaking point between the old and the new Nomads. The Sonically Speaking studio sessions were our first recordings with a large budget that allowed us to try out new things in the studio without any pressure of time. This single, especially Can't Keep My Mind Off You, thus came out quite differently compared to how we sounded on record before. The combination of a good producer and engineer, a first-class equipped studio and working under less financial constraints than before resulted in this new type of somewhat heavier sound.
By this time, the newest members Joakim and Björne had long since been assimilated and made their mark in the band to such an extent that we for some time had acted as a really well-integrated unit. Extensive touring certainly helped us hone our way into becoming this tight-knit team. All this made it so much easier for us to know what we were capable to accomplish in the studio.
Our studio technician, Robert Wellerfors, also contributed to a popular album by The Creeps, Blue Tomato. Our publisher at the time, Jon Gray, had this smash hit with their Ooh I like it! and he hoped that some of their success would rub off on us. As a matter of fact, we had very little in common with The Creeps. Still, Robert Wellerfors proved to be an excellent engineer also in this context. Our producer, Chips Kiesbye, also pushed us to develop the song arrangements and work more on vocal harmonies, which further added a new dimension to our sound.
Annoyingly, our logotype did not show up on the cover. Sonet hired a young designer who wanted to fulfill his own ideas, including skipping the logo – which was a way to display the new direction we had taken. However, the logo reappeared on the 25th anniversary release of Sonically Speaking in 2016. Ha! But we got at least half a victory against Sonet back then when we refused to be pictured on the front cover – which was the standard procedure that Sonet demanded from all their artists – as a consequence of that our logotype wasn't allowed to be shown on it. Since we did not want our image on the cover, the collage contains parts of a fashion model's face in our place. On tour, we later learned from one of our lighting technician that she was married to his brother, the bassist of Gyllene Tider – a band that was fronted by Per Gessle (also singer, guitarist and songwriter in Roxette). It's a small world.
For the song writing, we took a little help from some of our friends, Per Ahlén was singer in Wayward Souls, one of the popular bands in the mid-'80s garage boom. He later joined The Bottle Ups and The Rumblers. Tommy "Tummen" Johnson is a close friend who helped us with some lyrics during this time period. The lyrics of Wasn't Born To Work drew from his own experiences. Few loathed working more than him. At the time he was employed at a company that sold consumer electronics – a situation he wasn't pleased with at all. Maybe he was somewhat inspired by The Byrds' Wasn't Born To Follow…
Since this single was also released in the fairly new and competitive CD format with identical covers and songs, we were after all quite pleased that also vinyl singles were pressed. Sonically Speaking coincided with the end of that vinyl era among the major Swedish record companies. Consequently, the album was released on LP, CD and on a cassette which is very hard to find these days.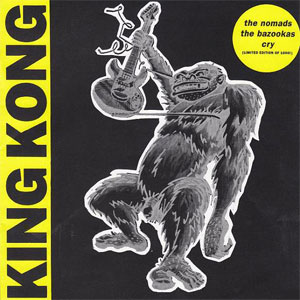 Discographic facts
A. Chinese Rocks (D.D. Ramone, (J. Nolan, J. Thunders,) R. Hell).
[King Kong I KK 001 / 1992] (The year is determined wrong or right by "920325" etched in the runout groove.)
Content description
King Kong was a short-lived Swedish 20-page 7"-format fanzine. In all, five issues were released between 1992–1994. Each issue came with an EP on the King Kong label that had exclusive tracks in a limited edition of 1,000 copies. This first issue featured The Nomads together with two other Swedish bands: Los Bazookas and Cry. The booklet contains an obituary for Johnny Thunders written by Nix Vahlberg.
On this split three-track EP, The Nomads cover the well-known Chinese Rocks, composed by Dee Dee Ramone with a little help from Richard Hell (at the time a member of The Heartbreakers). Since The Ramones initially refused to engage in such an obviously drug-related song, The Heartbreakers instead made the original recording in 1977 – released as a single from their debut album L.A.M.F. (unjustly adding Johnny Thunders and Jerry Nolan as composers on that one). The Ramones eventually included Chinese Rock on their 1980 album End Of The Century (without Thunders and Nolan credited as composers).
Testimony
Johnny Thunders died on 23 April, 1991. Two weeks later we honored him by playing what had become his signature, Chinese Rocks, at a gig in Strömsborg, Stockholm, at Galaxy. It was the only time we did Chinese Rocks on stage, so it was very attentive of Kenta the Taper to record it. On the other hand, he recorded all our concerts at that time. Kenta was always in a non-conversational mode embedded in the audience and equipped with hi-tech microphones, which guaranteed good sound quality on every recording he did. We got many top notch live recordings from Kenta.
King Kong magazine was made by people in our social circle at the time. Gittan Öhman who also worked at the record shop Freak Scene in Stockholm and Cosmo Koroly who worked at Amigo Records' warehouse and also singer in a hard-core band called The Sun. We thought that their concept of King Kong was worth supporting and we did that by giving them this song to the premiere issue. King Kong magazine released a string of interesting and a little bit odd singles with the overarching theme that all the bands included should do a cover.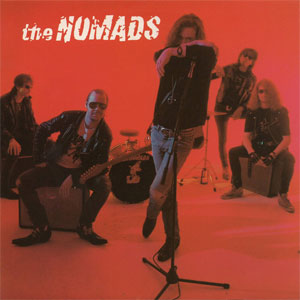 Discographic facts
A. Primordial Ooze (B. Fröberg, N. Vahlberg, H. Östlund, J. Ericson, P. Ahlén)
B1. Showing Pictures To The Blind (H. Östlund)
B2. I'm Branded (L. Wray)
[Sympathy For The Record Industry I SFTRI 189 / 1992] (Black or translucent blue vinyl.)
Content description
Primordial Ooze and Showing Pictures To The Blind are two original compositions, while the instrumental on the reverse side is a cover of I'm Branded which appeared for the first time on the A-side of a Link Wray And The Ray Men 7" from 1965 on Swan Records. Primordial Ooze was – unlike the two other tracks – first released on The Nomads' album Sonically Speaking (1991).
Sympathy For The Record Industry later included Primordial Ooze on their 10-year anniversary 2 LP compilation Their Sympathetic Majesties Request – A Decade Of Obscurity And Obsolescence 1988–1998 (1998).
Testimony
With this single, we reconnected with the US after our successful period over there in the mid-'80s with the album Outburst. Outburst became immediately very well-known, especially to American bands into the same kind of music as us. But since we didn't manage to put together a US tour to go along with Outburst and, in addition, stopped to work together with the label What Goes On Records – and thereby also with their US reciprocal Homestead Records – , we weren't able to follow up Outburst with a new record while Outburst was hot. Neither Hardware nor All Wrecked Up was released in the United States. Between Outburst and Primordial Ooze, our only in US release was a cover of Cinderella on the Sonics tribute compilation Here Ain't The Sonics from 1989 which Estrus Records was behind.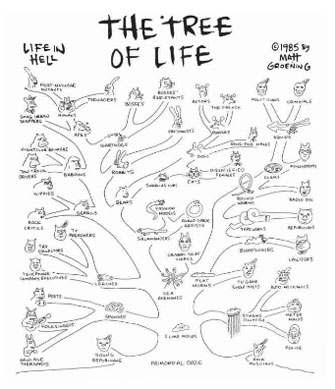 Things started to pick up speed again in the United States first when L-P Andersson – then singer in the Swedish band Cry and more recently a music writer – and his connection with Long Gone John at Sympathy For The Record Industry opened doors for us in the US. So, when Long Gone John, who singlehandedly operated Sympathy For The Record Industry, learned that L-P knew us, he got very enthusiastic and got in touch. This was crucial because it allowed us to take the first steps to experience some kind of revival in the United States. After this, we started touring the States backed by Estrus Records and SFTRI. Long Gone John was very helpful in every way. He visited all our concerts in Los Angeles and invited us to his home, which was more of a museum filled with bizarre artefacts than anything else. Later on we released a number of records on several different labels there in the 90's and we always had a great time during our visits in the US.
This single contains three recordings from the Sonically Speaking sessions from the previous year. Showing Pictures To The Blind and I'm Branded are consequently out-takes from the Sonically Speaking album. Showing Pictures To The Blind was originally planned to be included on the album, but for some reason was omitted in the end. It did make it to the CD single, though.
I'm Branded was a staple in our set-list when we played live, so we managed to nail it in the studio in less than fifteen minutes. The original is included on the fantastic Ace compilation album Link Wray – Early Recordings which came in the late seventies.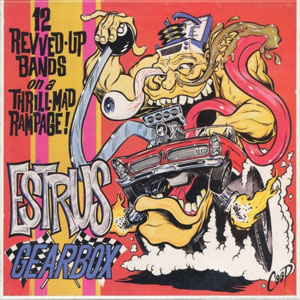 Discographic facts
3A2. Boss Hoss (G. Roslie)
[Estrus Gearbox. Estrus Records I ESBX4 / 1992]
3 × 7" EP Box Set, Limited edition compilation. Came with a luminous keychain, an Estrus sticker and an uncommonly useful mini calendar for January 1966.
Content description
On this Estrus EP-compilation, The Nomads recycle their cover of The Sonics' Boss Hoss, which was released for the first time as the B-side of their first Amigo 7" from 1982 (see The Nomads' 7-inch story – Part 1: 1981–1985).
Of the twelve like-minded combos included in this Box Set, The Nomads is the only band that does not hail from North America. The entire contents of the Estrus Gearbox are shown through the list on the back of the Gearbox below. In addition, PopDiggers provides a fact box with links to songs recorded by the eleven other bands included in the Estrus Gearbox, supplemented with brief information about each of them.
Testimony
Dave Crider of Estrus Records wanted Boss Hoss because it would fit nicely into Estrus Gearbox's hot rod theme. He didn't mind it was a recording we made ten years ago and that it was released as the B-side of our second single (see The Nomads' 7" story – Part 1).
Boss Hoss was actually a replacement for Count Five's Double Decker Bus that we originally planned to put out. We had to shelve that idea because the break was too complicated for us to play back then. Anyway, The Sonics' Boss Hoss was also a good song from one of the bands that influenced us the most in the beginning. More straightforward and therefore somewhat easier to play.
Dave Crider and Estrus Records did very much to promote us in the US. Almost every time when we toured the US, we did that with his band Mono Men. The Nomads toured a lot in the US during the Nineties; starting in 1994 and then once a year for the rest of the decade. Nix connected with Mono Men for the first time when they made a gig in Copenhagen at Loppen in 1993. In fact, Nix joined Mono Men that night and sang Boss Hoss as an encore. After that, we had a lot of contact with each other. It was Dave who suggested that we should go to Seattle and do our next record, Powerstrip (1994), at Egg Studio. This information, and our other interactions with Mono Men will be included in the forthcoming giant book about Estrus Records, Shovelin' The Shit Since '87, by the way.
In the 1990s, this music scene in the US was very inviting and relaxed regarding the relationships between bands and involved record companies. That's why Estrus Gearbox without too many legal obstacles could contain a really nice cross section of the vivid garage punk scene in the beginning of the '90s. The Nomads did not sign any regular contracts with any of the record companies that put out our records in the US. It was more of a handshake agreement. Our type of bands was seldom strictly loyal to a particular label. Instead, bands jumped between labels without raised eyebrows or any problems. For example, in our case, between Sympathy For The Record Industry and Estrus. Dave Crider and Long Gone John were in addition good friends, so neither of them had hard feelings towards each other's labels in any respect.
Apart from Mono Men, we later on had some collaboration with a few of the other bands that were represented on the Estrus Gearbox. We toured with Cheater Slicks in the US and in Switzerland. Untamed Youth was always present at Estrus' yearly garage rock festival in Bellingham, a small town located between Seattle and Vancouver, and they really did some good performances there.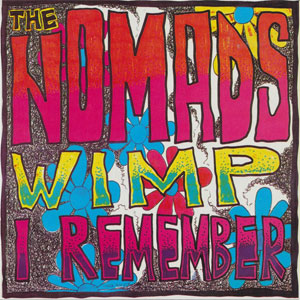 Discographic facts
A. Wimp (J. Escovedo).
B. I Remember (J. Hodgson, G. Jones).
[Munster Records I 7047 / 1993]
Content description
This A-side is a cover of the B-side Wimp of The Zeros' first single from 1977 (on Bomp! Records) featuring Don't Push Me Around on the A-side, while the B-Side of this Nomads' single, is a cover of the UK band Cult Figures' I Remember, which is the A-side of their three-track 7" 45 from 1980.
Testimony
The Zeros are an influential '70s Californian punk band that we became friends with later on. They played in Stockholm several times in the '90s, much because our producer Chips Kiesbye's group Sator covered their songs. And when we toured in the US, various members of The Zeros often showed up at our concerts in California. One of the members at the time, was Robert Lopez – El Vez, The Mexican Elvis. Javier Escovedo leads The Zeros and is a really good song writer. Wimp is on their very first single and a damn good song.
Here we have hardened our sound even more. Wimp was even tuned a half step down in order to enhance the rawness. This was the first time we used Sunlight Studio in Stockholm which was known for recording classic death metal bands like Entombed. We knew the members in Entombed by common friends who had House Of Kicks, a record shop in Stockholm. Entombed got interested in punk and garage rock through us, and most likely recommended us to try out this studio that they were happy with. Tomas Skogsberg, who ran Sunlight Studio, managed to get a guitar sound that we liked, which also added to why we wanted to test the capabilities of this studio. Sunlight studio was far down in a basement without the best air circulation. Six years later we recorded the album Big Sound 2000 in the same studio with Skogsberg as engineer.
The B-side, I Remember, is a completely different story. Chips Kiesbye suggested that we should do this song during the Sonically Speaking sessions. But it did not really qualify for the album or for the subsequent singles. Then the Hultsfred Festival wanted to do a compilation record with bands that had performed at Hultsfred during these years. One of the founders of the Hultsfred Festival, Per Alexandersson, liked this song very much. He knew that we had recorded it and insisted that our cover should be included on this compilation. I Remember is on a rather obscure British single with Cult Figures. Two years after our original recording and before we sent it on, we added new vocals in order to refresh it a little bit.
Freak Scene Records was probably involved – it was a label and record shop in Stockholm where Nix worked at the time. A Spanish guy, Juan Capel, was then in charge of Freak Scene. He had contacts with everyone in Spain who was interested in this kind of music. It may be that he made the necessary connections to carry out this release. It was probably Gorka who a bit offhand made the drawing on the cover to this double-sider that we think has aged with dignity.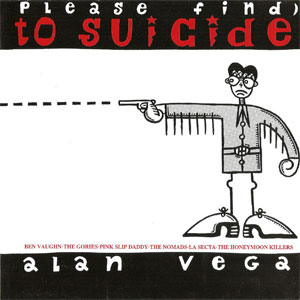 Discographic facts
C. Magdalena 93 (A. Vega).
[Your invitation To Suicide. Get Hip Recordings I GH 153 / 1993]
2 × 7" Set, compilation (33 ⅓ RPM).
Content description
This Get Hip Recordings' double 7" contains six tracks from the (at the time) forthcoming compilation Your Invitation To Suicide – A Tribute To The Songs Of Martin Rev, Alan Vega [Munster Records, 1994]. In addition to The Nomads, following artists are included: Ben Vaughn, The Gories, Pink Slip Daddy, La Secta and The Honeymoon Killers.
There are actually two original versions of Magdalena on Collision Drive; Alan Vega's second solo album from 1981: Magdalena 82 and the more primal hard-driving Magdalena 83 that probably inspired The Nomads' cover the most.
Testimony
Although Magdalena has a totally different sound, it is most probably recorded at the same session as Wimp, because it is less likely that we went to Sunlight Studio twice to record one song on each occasion.
Alan Vega and Suicide are among our favorites, and we named our version Magdalena 93, just to refer to our update of Alan Vega's own two originals. This is from his second solo album. His first, self-titled, is of a very high standard throughout. Rockabilly style. But Collision Drive is rather uneven and sometimes unnecessarily complicated. It has some bright spots, though. Like Magdalena.
Get Hip Recordings was, and still is, a good label. Freak Scene imported lots of records from Get Hip at the time this was released. Gregg Kostelich, guitarist in The Cynics, founded Get Hip in the mid-´80s. His wife, Barbara, is from Madrid. She was in constant contact with the Spanish underground scene, which explains that this double 7" was included in the compilation Munster Records made the year after. By the way, Gorka did a better job with this cover.
The Nomads warmed up for Alan Vega in Stockholm as early as 1983, when he toured with his third solo album, Saturn Strip. This album is somewhat patchy, but contains a few killers, like Wipeout Beat – one of his best ever. We were in any case totally fascinated by his concert even if some of the background accompaniment was pre-recorded. He is a real hero and sadly missed.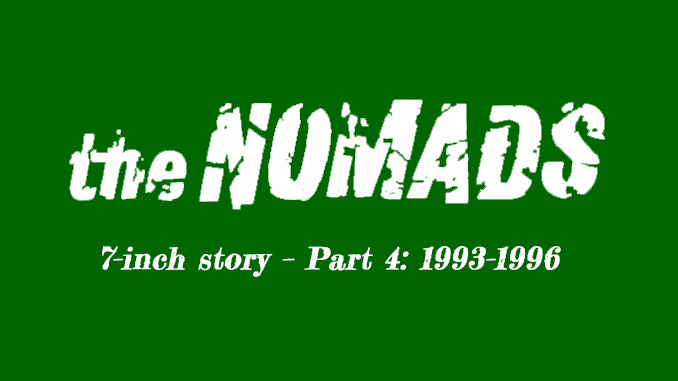 Here we are: half way through the huge Nomads' 7-inch catalogue. In this fourth round we set out to investigate the subsequent bunch – seven 7-inches to be exact – starting with Wasn't Born To Work (1993) and ending with Iron Dream (1996).
This part coincides with the 1990s' peak of The Nomads' 7-inches release rate. The Nomads churned out no less than twenty singles during this decade – distributed on almost as many record companies, which represents a small part of the plethora of labels that participated in the resurrection of the vinyl single at the time. When it comes to The Nomads, their peak equates to the impressive rate of one 7" released every six months!
Because The Nomads were approached by many labels at the time, they had the advantage that they could be selective and, consequently, to choose only the most interesting offers. Around this time, The Nomads became free to make a number of handshake agreements with the labels around the globe that they felt most attracted to. This became possible because their contractual restrictions terminated with the agreement The Nomads made before the recording of the album Powerstrip (1994). So, instead of being contracted as before by Amigo and Sonet, they negotiated a deal with Sonet which meant a rather generous advance (which would be used to cover the cost of the recording) combined with that The Nomads retained the master rights to their upcoming recordings
This time, too, PopDiggers have the pleasure to investigate what the members Nix Vahlberg, Joakim E. Werning (formerly Ericson) and Hans Östlund have to say about the present fourth batch.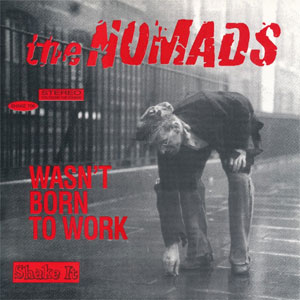 Discographic facts
A. Wasn't Born To Work (B. Fröberg, N. Vahlberg, H. Östlund, T. Johnson)
B1. A Certain Girl (N. Neville)
B2. Rat Fink A Boo Boo (live) (The Nomads)
[Shake It Records I Shake 706 / 1993]
Content description
Both Wasn't Born To Work and A Certain Girl are from the album Sonically Speaking (1991). Wasn't Born To Work is also the B-side of their first Sonet single with Can't Keep My Mind Off You on the A-side (previously presented in part 2) of this series.
A Certain Girl was first recorded by Ernie K-Doe in 1961 (Minit). It is written by Allen Toussaint (1938–2015), but this song belongs to those he credited to his parents by using his mother's name, "Naomi Neville", as a pseudonym. (No kinship with the Neville Brothers, even though they also come from New Orleans). A Certain Girl was also covered by The Yardbirds in 1964.
Testimony
Shake It Records contacted us from out of nowhere and wanted to do a single with us. We thought that was cool because Shake It Records released two great singles by The Customs around 1980. Especially Long Gone is fantastic. Peter Greenberg, formerly with DMZ and then Lyres, played that scorching guitar in The Customs. It wasn't until later we found out that Shake It also has a very respected record store.
A Certain Girl ended up with a really good arrangement, we think. It was a song that we knew of since long. Primary inspiration was the version by The Yardbirds – one of the few occasions when Eric Clapton uses a fuzz box. But we also knew the Ernie K-Doe original through Ulf Lindquist, our former producer at Amigo Records.
The title Rat Fink A Boo Boo was taken from the Ray Dennis Steckler '60s' low budget movie Rat Pfink A Boo Boo. We thought it was a funny word sequence. That's all. Our Rat Fink A Boo Boo has nothing to do with the film itself, which none of us has endured to watch until the end, by the way. Rat Fink A Boo Boo was recorded live at Ritz in Stockholm in 1992, most probably by Kenta The Taper (mentioned in Part 3 of this series).
The back cover shows a photo of us in Basque Country. The photo was taken by "Äckel-Olle" (≈ "Disgusting Olle" in English). He is a dear friend of ours, who wanted to be called just that at the time. Maybe he thought the name was appropriate since he was involved in the records by the below-the-belt band Onkel Kånkel. He helped us on some of our tours, selling merchandise and such. And he was also one of the founders of Freak Scene Records in Stockholm.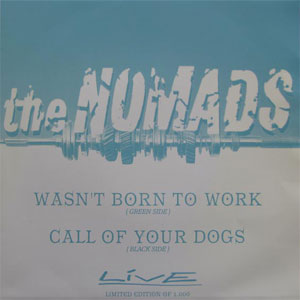 Discographic facts
A. Wasn't Born To Work (live) (B. Fröberg, N. Vahlberg, H. Östlund, T. Johnson)
B. Call Off Your Dogs (live) (J. L. Pierce, P. Case)
[Munster Records I Ref. 7061 / 1994]
Freebie with the Munster edition of the LP Powerstrip (1994). Plain black and green labels. Limited edition of 1,000.
Content description
Live recordings of two previously released songs that had been released as studio recordings before. Wasn't Born To Work was originally on the album Sonically Speaking (1991) and as well the B-side of the first Sonet single (see Part 3).
The Nomads' Call Off Your Dogs first appeared on the album Hardware (1987). It is composed by Jeffrey Lee Pierce of The Gun Club fame and Peter Case (The Nerves, The Plimsouls and The Breakaways). Call Off Your Dogs was also recorded by The Droogs about the same time and included on their album Kingdom Day (1987). On the Droogs' album, Steven Soles is credited as the third composer of Call Off Your Dogs.
Testimony
Since we wanted to be a little bit cautious and save the studio recordings from the Powerstrip session for later releases, we instead contributed with two live recordings on this bonus single. It came free with the LP Powerstrip, which resulted in it being a fairly low-budget edition with plain labels and a non-fancy record cover. It is merely a give-a-way to provide the buyers of the LP an extra treat.
Call Off Your Dogs was a live favorite of ours for a long time, perfect for wrapping up the main show or as an encore. We got that song from Peter Case in 1986 when he played in Sweden, but we knew about Call Off Your Dogs sometime before that. Every time we met Jeffrey Lee Pierce from The Gun Club during the mid-'80s, he suggested that The Nomads should do this song that he had written with Peter Case. "Someday we let you hear it", he said. But nothing came to fruition. It was not until Nix more or less pushed Peter Case into a corner when he visited Stockholm, something started to happen when Nix asked him to play this elusive piece once and for all. Finally, Peter Case backed down and strummed Call Off Your Dogs on his acoustic guitar and basically came up with the lyrics ad lib. After many ifs and buts, Nix left Peter Case's hotel room at five in the morning with a demo cassette with the template for this track that first emerged on the Hardware album.
As for the Call Off Your Dogs track on The Droogs' album Kingdom Day – this is best explained by the fact that members of The Droogs hung out with Peter Case in Los Angeles, which led to The Droogs were also offered Call Off Your Dogs. Their version has practically the same lyrics as those Peter Case came up with in his Stockholm hotel room. Kingdom Day was made virtually simultaneously with Hardware, but we actually think The Nomads were the first to release Call Off Your Dogs on record. When The Droogs visited Sweden in 1989, we spent a day with them which ended with all of us playing Call Off Your Dogs together.
Because this single was released a long time ago, we have forgotten where or when these recordings took place. They are either recordings that we happened to get from someone here in Sweden or from some live performance abroad that was floating around.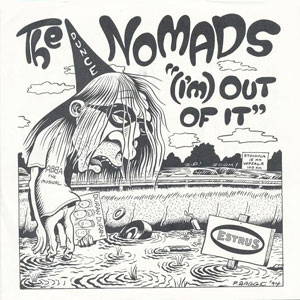 Discographic facts
A. (I'm) Out Of It (S. McCaughey, The Nomads)
B. Fan Club (B. James)
[Estrus Records I ES754 / 1994]
Estrus Crust Series. A limited run of green vinyl copies was pressed along with a black one.
Content description
The A-side, (I'm) Out Of It, is taken from The Nomads' album Powerstrip (1994). It is written by The Nomads together with Scott McCaughey, singer and songwriter of the Washington state based groups The Young Fresh Fellows and The Minus 5.
The B-side, Fan Club, is a cover of an original first included on The Damned's debut album, Damned Damned Damned (1977). Fan Club was written by Brian James and recorded during his rather short stint with The Damned before he formed the ephemeral group Tanz Der Youth.
Testimony
When Dave Crider, founder of Estrus Records and singer/guitarist of The Mono Men, visited us in Conrad Uno's Egg Studios in Seattle during our recording of the album Powerstrip, we decided to cut an Estrus single from this session that would become included in the Estrus Crust Club – a subscription series for the most dedicated fans of Estrus Records. Such agreement became natural since Dave Crider had recommended Egg Studios to us. He had also been supportive in many other ways. Other recordings that were important to our decision to use Egg were especially The Devil Dogs' Saturday Night Fever as well as stuff by Mudhoney and The A-Bones.
Egg was our first studio session abroad. Even though the financial advance that we had negotiated with Sonet covered studio time, travel and lodging, it still corresponded to less than the costs of a standard recording in Stockholm.
Before we went to the States, we prepared ourselves by recording a demo session with Chips Kiesbye in Thunderload studio located in the Solna Centrum subway station – ran by the Wahlquist brothers of '70s metal legends Heavy Load. But we did not really manage to gather all the parts needed for completion of a full-length album. In particular, not all lyrics were well developed and elaborated. When we mentioned our dilemma to Conrad Uno after we arrived at Egg, he told us to talk with Scott McCaughey: "Scott is very prolific and has no problem coming up with great lyrics". Scott McCaughey (pronounced "McOi", by the way) was a new and really nice acquaintance. He worked at Egg Studios and was also band booker at Crocodile Café in Seattle, where we made our live debut on American soil. And he really was as good as Conrad Uno has told us. The day after we asked him, Scott gave us these hilarious lyrics to (I'm Out) Of It. Scott is a wonderful guy and we are very happy that he seems to be well on his way to recovery after the stroke he suffered some time ago.
Our covers, on the other hand, were not in short supply. We had quite a lot of covers in our repertoire with the intention of putting them out as exclusive tracks, B-sides on singles and such. Fan Club was one of them. The choice came naturally, since we are great fans of The Damned. Especially their first album was like an explosion at the time. The Damned released the first British punk album and debuted with the punk-narrative single (New Rose).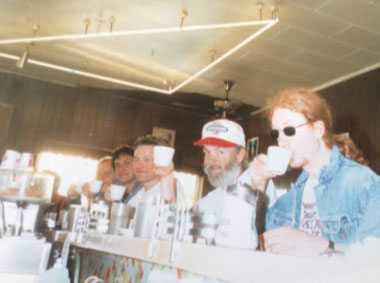 Regarding Egg Studios, it was – it is now closed down – a fairly unpretentious studio, located in the basement of Conrad Uno's detached house in an ordinary residential area. The session was characterized by a friendly and intimate atmosphere. When the inspiration did not flow as it should, we and Conrad went to a nearby bowling alley and relaxed for a while or loosened up with Margaritas and watched TV sports in his living room. Our visit lasted in total of about two weeks, of which the actual recording corresponded to ten days. After the recording, Hans and Nix helped with the mastering on site.
We were very pleased that Dave Crider managed to recruit Peter Bagge to make the black and white picture sleeve, since we liked his cartooning works, especially the comic book Hate. His drawing on the back of the record sleeve was based on a promo image from our photo session with the famous Sub Pop photographer Charles Peterson.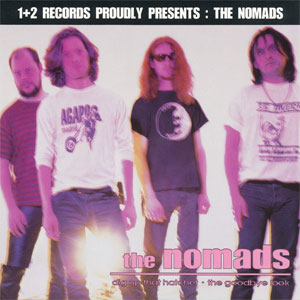 Discographic facts
A. Dig Up The Hatchet (The Nomads, C. Kiesbye)
B. The Goodbye Look (The Nomads, T. Johnson)
[1 + 2 Records I 45-062 / 1995]
Content description
This single contains two original songs that are also album tracks. Dig Up The Hatchet is picked from Powerstrip (1994) and The Goodbye Look from Sonically Speaking (1991). The Nomads had help with the songwriting from Chips Kiesbye regarding Dig Up The Hatchet and from Tommy Johnson on The Goodbye Look.
Testimony
This was our first Japanese release. Kunio Yoshiwara runs the record store Barn Homes in Tokyo and also this label, 1 + 2 Records. He showed interest in releasing a single with us and we thought it was a good idea. For a while, we had a distant hope that this maneuver would open the doors for us to tour Japan. Instead of, and some compensation for it, 1 + 2 Records released the live CD Made In Japan (Recorded in Sweden) in 1995.
Dig Up The Hatchet and The Goodbye Look are two songs that previously had been released as album tracks. Dig Up The Hatchet is from Powerstrip and, since Kunio was particularly fond of The Goodbye Look, we asked Sonet for permission to use it for inclusion on this single. That way, it became a solid two-sider.
Interestingly enough, Chips Kiesbye wrote lyrics for Dig Up The Hatchet. This may be the first time Chips was involved in The Nomads' songwriting. On the Sonically Speaking album a few years earlier, his collaboration with us was limited to production. Dig Up The Hatchet was the beginning of a long songwriting teamwork with Chips that continues to this day, Chips and Björne are particularly active together in this respect.
"Tummen" Johnson helped out with the lyrics to The Goodbye Look. But our collaboration began to wane a little bit after that as his inspiration had dried up after writing a series of really good lyrics to both the Hardware and Sonically Speaking albums. At Egg Studios we sometimes waited in frustration by the fax machine for his lyrics to show up for some of the Powerstrip tracks. A few times, a poor transmission resulted in that parts of the text sent was unreadable, which increased the aggravation even more. It was certainly a different world then in terms of communication technology.
The photo on the front sleeve is from the Charles Peterson session we mentioned earlier in this part in connection to (I'm) Out Of It. Joakim is sporting a Dead Moon T-shirt and Nix advertises the shady music bar Agapo that we always frequented when we were in Madrid.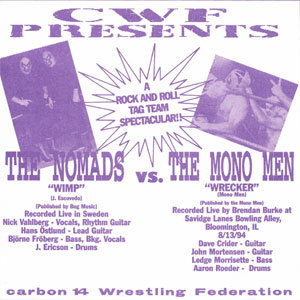 Discographic facts
A. Wimp (live) (J. Escovedo)
[Carbon 14 I U-4476M / 1995]
Carbon 14 Wrestling Foundation Presents A Rock And Roll Tag Team Spectacular!
EP compilation (33 ⅓ RPM). Free with # 6 of Carbon 14 fanzine.
Content description
On this EP, The Nomads perform a live version of Wimp; a cover of a The Zeros' song that The Nomads had previously released a studio version of on a single (see Part 3) in 1993. The sleeve only tells that the current Wimp track was recorded "live in Sweden".
Carbon 14 was a Philadelphia based fanzine of art, film, music and wrestling (!). About 25 7" came free with the fanzine between 1995 and 2004. The other three groups represented on this EP are: Mono Men, Southern Culture On The Skids and The Friggs.
Testimony
Carbon 14 was a cool fanzine with an enthusiastic crew that wrote about bands that played our kind of music – The Lazy Cowgirls, Jeff Dahl and stuff like that. Although we never met the people behind Carbon 14, the fanzine supported us through the years. They sent some copies of the fanzine and asked us if we were interested in participating on a record that came with the fanzine. Since we were also interviewed in Carbon 14, this EP became a way for us to reach out.
Unfortunately, we do not remember more about our live version of Wimp than the sleeve says: "Recorded live in Sweden". The demand for studio recordings from different labels was greater than our supply and we had to root out a live recording for this one. We only played Wimp live during a rather short time period around the mid-'90s, but Wimp was on our radar long before that. Nix produced a mini album with The Spanks in 1988 – a Belgian garage rock combo to which Nix successfully proposed to include Wimp in their set list.
Speaking of Wimp, there is an amusing link between Wimp and Call Off Your Dogs. When Peter Case conceived the lyrics to Call Off Your Dogs during his stay in Stockholm (see the testimony for Call Off Your Dogs earlier in this part), Case then became aware of the similarity between the prolonged "i" in The Zero's "W-i-i-i-m-p" and the stretch of vowels in the chorus of the song in making; "Call Off Your D-o-o-o-g-s". Wimp made an imprint on Call Off Your Dogs that way. Peter Case's The Nerves and Javier Escovedo's The Zeros shared the same Los Angeles music scene in the mid-´70s, so the influence may have crept in that way.
Regarding the other bands on this EP, all-girls Friggs did some really good songs. Mono Men and The Nomads warmed up for Southern Culture On The Skids during a short US tour in 1995, about the time this record was released.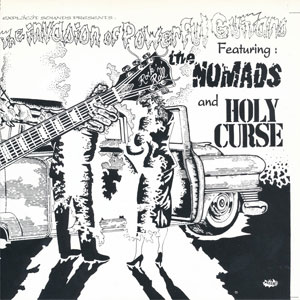 Discographic facts
A. Kinda Crime (N. Vahlberg, H. Östlund, B. Fröberg, T. Johnson)
[Explicit Sounds I ES 002 / 1996]
Split single. The Invasion Of Powerful Guitars – Featuring: The Nomads and Holy Curse. (Clear vinyl.)
Content description
Kinda Crime is a track from The Nomads' album Powerstrip (1994) – which together with Dig Up The Hatchet composes a Sonet CD single. Kinda Crime on this 7" is, however, a demo version The Nomads recorded in Stockholm (November, 1993) as a memorandum for the upcoming session in the USA leading up to the Powerstrip album.
Explicit Sounds was a short-lived French label that existed long enough to release five or six 7-inches between 1994 and 1997. This single is split between The Nomads and Holy Curse, a garage rock band from Paris, France.
Testimony
This version of Kinda Crime is from the demo session Chips Kiesbye produced at Thunderload Studios (mentioned earlier in this part, see (I'm Out) Of It/Fan Club) just a month before we went to the US to record Powerstrip. Explicit Sounds probably pressed it in 500 copies, which was the standard batch for this type of release.
Hans' guitar has a very heavy sound for a demo. The intro riff is definitely inspired by how Don Gardner kicked off his 1966 soul raver My Baby Likes To Boogaloo, but here the riff is played a little faster and is moreover used with ingenuity in a completely different setting.
Holy Curse is French still going on strong veterans of Radio Birdman style garage rock and very much into the same type of music as us. We have met them a few times in Paris.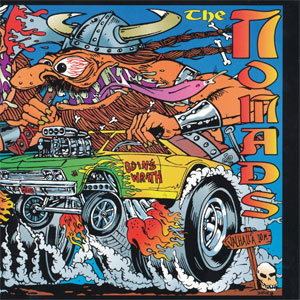 Discographic facts
A. Iron Dream (J. Gann)
B. Edvin Medvind (bob hund)
[Man's Ruin Records I MR-023 / 1996]
(Clear vinyl.) Edition of 2,000.
Content description
The A-side is a cover of Iron Dream, originally recorded by the short-lived Los Angeles punk rock group Kaos in 1980. It was first released as one of three songs on their only 7″ on What Records?, named Product Of A Sick Mind. Iron Dream is written by the guitar player and singer of Kaos, Johnny Stingray, also known as Jim Gann.
Edvin Medvind (≈ Edwin Tailwind in English) was among the first recordings that the Swedish indie rock group bob hund made in 1992. It was eventually released on a limited edition three song 7" in 1994.
Man's Ruin Records (based in San Francisco, California) was founded by graphic design artist Frank Kozik with the slogan "Empty Pleasures and Desperate Measures since 1994". This label managed to release more than 200 titles in small editions (less than 5,000) before it folded in 2001.
Testimony
These are two outtakes from the Powerstrip session in January 1994. Iron Dream is a cover of a song that we found on a bootleg LP that included the little known group Kaos, which belonged to the Los Angeles punk scene together with bands such as The Germs and The Weirdos.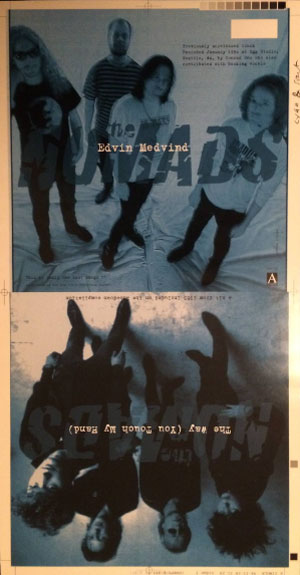 But Edvin Medvind stands out from our ordinary choice of covers. The story behind it is that we got to know the members of bob hund, particularly Tomas Öberg, in the beginning of the '90s. We went to bob hund's first gig ever and quickly became their fans and watched their shows as much as we could. When they threw a release party for their first album on Silence Records in 1993, bob hund did not want to play themselves. Instead, they wanted bands that they knew to play bob hund's songs. The Nomads had the honor to be one of these specially invited bands. We played Edvin Medvind live and we learned it from an early demo cassette and from bob hund's shows. Conrad Uno helped with singing on our version. Must have been the first and last time Conrad Uno sang in Swedish…
We met Frank Kozik when we did two sold out concerts at his home ground in San Francisco in 1995. Then it took a while until this single came out. His label Man's Ruin was just up and running then. Frank Kozik was a highly sought after graphic artist, especially by grunge bands. But since he was an old punk, he was also into our type of music and eager to release something with The Nomads.
However, it was a bit unfortunate that Frank used Viking platitude in combination with a hot rod concept as a marker for The Nomads as Swedes at a time when the Viking theme was also used by Swedish white power rock bands. Although the risk of connecting us to that questionable scene was small, it still felt a little uncomfortable.
When these two outtakes were put back to back, they really made a nice two-sider.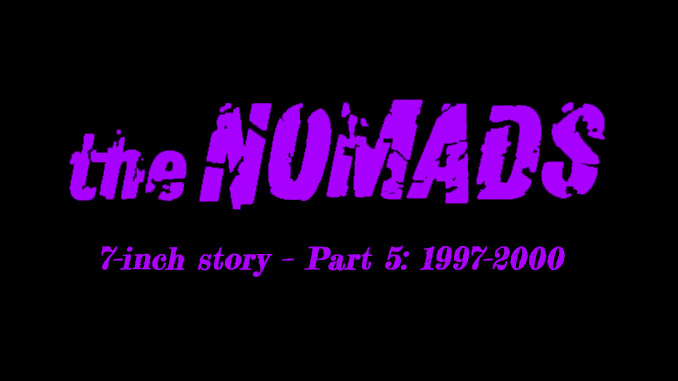 In the late 90's, The Nomads continued to participate in the intense era of 7″ releases, which can be attributed to the surge of the vinyl single revival that many small and independent labels were engaged in at the time. The absence of a strict contractual arrangement during this time period continued to enable The Nomads to close a number of selective one-off deals with the labels they were most interested in, before they landed the contract with White Jazz Records with the album Big Sound 2000 (released in 1999), which the later 7" of this part was recorded in connection with. As an enthusiastic independent label, White Jazz Records did not mind The Nomads continuing to spread their 7" on multiple labels, in much the same way as before.
This fifth part covers the years 1997 to 2000, during which seven 7" were put out on the same number of labels. In this part we will give an account of the next bundle of 7-inches by opening our report with Pack Of Lies (1997) and closing it with The King Of Night Train (2000) lined up in the most probable chronological order after releases.
PopDiggers have as usual the pleasure to investigate the present fifth batch with the help of testimonies from the members Björne Fröberg, Hans Östlund, Nix Vahlberg, and Joakim E. Werning (formerly Ericson). We also welcome the insights from Carl von Schewen, who managed White Jazz Records during the time some of the singles in this part were released.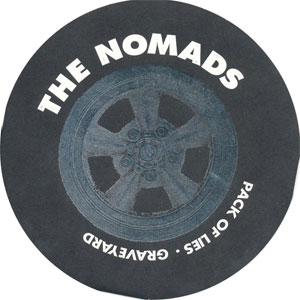 Discographic facts
A. Pack Of Lies (B. Fröberg, N. Vahlberg, H. Östlund, J. Ericson)
B. Graveyard (F. Cole)
[Estrus Records I ES7104 / 1997]
(Die cut circular sleeve)
Content description
Pack Of Lies is an original composition recorded exclusively for this A-side. It was later included in the Estrus compilation Excellent 26 Estrus Spicey Sizzlers Sampler (1999).
The B-side – another non album track – Graveyard, is a cover of a Fred Cole song that first appeared on Dead Moon's first album, In The Graveyard [Tombstone Records, 1988]. The Nomads' version of Graveyard is also one of the tracks on the compilation Tribute To Dead Moon that Chaputa!/Ghost Highway Recordings released in 2019.
Testimony
Following a suggestion from Estrus Records manager Dave Crider, this single is the result of a stopover in Chicago that we made on our way to an Estrus tour on the west coast of the United States. Dave Crider asked us to record with Brendan Burke who had previously recorded many Estrus bands. We flew in and nailed these two tracks and also managed to do a gig in Chicago during our 36 hour stay before continuing to San Francisco where we joined the Estrus package tour, The 1996 Estrus Invitationals, which was the main reason for our visit over there. We wrote Pack Of Lies for this particular occasion just before the recording.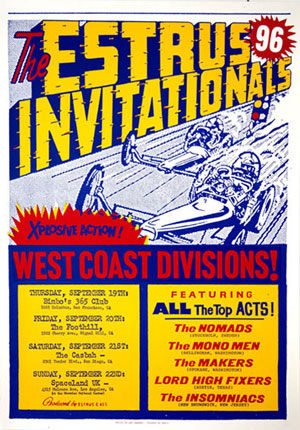 Brendan Burke was a new and pleasant acquaintance to us, he was in the excellent rock'n'roll band, Bouncing Balls, that warmed up for us at the gig in Chicago. He also had this really superb studio that was located in a Cuban neighborhood of Chicago where you could find delicious West Indian food. His Überstudio had high ceilings and Jane Fisher's paintings decorated the walls, which made the backdrop inspiring. A giant Orange amplifier from the '70s was dragged out of the shadows in order to get the guitar sound right. It was the loudest thing that we ever had come across. When Hasse turned the amp up to 11, the whole building shook. But we managed to get a really good fuzzed up resonance tone with it.
Speaking of Graveyard, we had become friends with the members of Dead Moon when we played together in 1994. At one point, we talked about doing a split single together on which one side would be a Nomads' cover of a Dead Moon song and vice versa on the other side. That is why we had rehearsed Graveyard beforehand and knew it inside out. The split single never happened, but we kept in touch with Dead Moon and did more shows together, both in the US and in Stockholm.
Art Chantry's cover design stems from a poster printed on old LPs (instead of on paper) that he happened to have lying around. In that way, the vinyl medium was utilized to promote The Nomads' gig with The Mono Men in Seattle 1995. Nix has this vinyl poster printed on a LP with The Ventures, for instance. Later, Estrus Records used said illustration idea for the circular Pack of Lies 7" cover (check out Thomas Lindberg's photo). Estrus also used this die cut technique on other 7" sleeves with The Mono Men and The Quadrajets.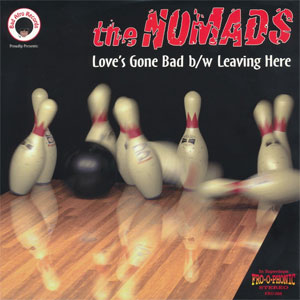 Discographic facts
A. Love's Gone Bad (B. Holland, L. Dozier, E. Holland)
B. Leaving Here (B. Holland, L. Dozier, E. Holland)
[Bad Afro Records I FRO-004 / 1997]
Content description
This single consists of two covers of songs written by the famous Motown songwriting and producing team Holland-Dozier-Holland. The A-side, Love's Gone Bad, was first recorded by Chris Clark in 1966 (V.I.P. Records; a neglected next of kin label to the "Big Three" Motown labels: Tamla, Motown and Gordy). The garage band The Underdogs covered Love's Gone Bad the year after (also V.I.P. Records, 1967).
First recording and release of Leaving Here was made by Eddie Holland [Motown, 1963]. The song quickly became popular, peaking at number 27 on the Billboard R&B chart. Leaving Here has since then been covered by numerous artists, including The High Numbers/Who (1965), Tages (1966) and Motörhead (1977).
Testimony
Just as for the previous single, Pack Of Lies, this single we also did a separate recording session for. This time in bob hund's studio in Solna – at Filmstaden, in Ingmar Bergman's former private movie theatre. We hung out a lot with bob hund at the time and they had this sound engineer Zqaty (his real name Daniel Lundin shows on the cover) who was eager to record us. We struggled for an entire night with the details – much of the hairsplitting can be attributed to our new engineer's self-imposed performance anxiety. Although the process was rather time consuming, the result turned out pretty crude in the end, as it should.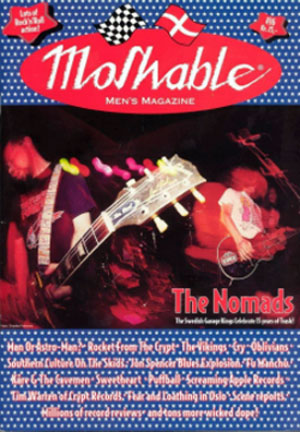 After we had decided to cover the obscure Motown song Love's Gone Bad, we reasoned that we could just as well record another Motown tune and put it on the B-side in order to make a Motown theme single. Leaving Here is more well-known. It is rather straightforward and therefore not so difficult to learn. Motörhead's version is of course most well-known to us. But Love's Gone Bad was a little bit trickier to complete and more challenging to record because it needed some kind of arrangement to sound proper. By the way, Chris Clark, who recorded the original Love's Gone Bad, was one of the few white Motown singers.
Danish Bad Afro Records was a great label that put out many cool records in the garage rock category, mainly from Scandinavian bands. Bad Afro's first releases were delivered to its customers in the form of a singles club. Connected to Bad Afro was the great late Moshable Magazine, an underground fanzine that focused on punk and garage rock. The business was run by Lars Krogh and Peter Markham, among others. Nice guys that we still meet occasionally at concerts.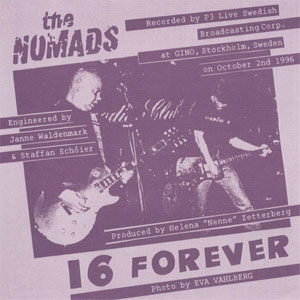 Discographic facts
B. 16 Forever (live) (A. Shernoff, S. Kempner, R. Friedman)
[Next Big Thing I NBT 4527 / 1997]
Double single exclusively available with the music magazine Next Big Thing # 27 (20th Anniversary Edition). Limited run of 1,000 copies.
Content description
The Nomads contribute to one of the four sides with a live recording of The Dictators' 16 Forever. Their studio version of 16 Forever was released in 1987 (see Part 2 for details).
Interestingly, The Dictators presents here a live performance of Next Big Thing – the song that gave rise to the name of Lindsay Hutton's seminal music magazine. Earlier, The Nomads released the song in question as a Next Big Thing single in 1988; see Part 2 for more information. The Dictators' and The Nomads' contributions were recordings made from a joint gig in Stockholm in October 1996.
The two other tracks on this double single are the Aussies Magic Dirt's rendition of MC5's Kick Out The Jams backed with a cover of The Dictator's Sleeping With The TV On performed by Angel Corpus Christi (Andrea Ross).
Testimony
This single connects very well in time to the first single of this part, Pack Of Lies, because we toured with The Dictators and Hellacopters shortly after we came back to Sweden from our Estrus package trip. One of the Swedish National Network's radio channels, P3 Live, recorded our gig at Gino in Stockholm only a few weeks after we recorded Pack Of Lies.
The Nomads did five or six gigs in Sweden with The Dictators and Hellacopters. It was a great tour with three highly motivated bands. Hellacopters were not so well-known at the time, but they had begun to gain a reputation, while The Nomads certainly kept up the momentum earned from the recent US tour. The Dictators were also in really good shape and were represented by a lineup that consisted of almost all the original members.
It was some kind of three-generation show with an age gap of about ten years between the members of the included bands. Carl von Schewen of White Jazz Records came up with the idea of calling this tour Three Generations Of Master Race Rock. Handsome Dick Manitoba, the singer of The Dictators, was not totally amused about it. He let us know that he felt a little bit uncomfortable with the concept, asking: "Does this mean that The Dictators are the grandfathers in this company?", and calling us and Hellacopters half-jokingly "meine Kinder".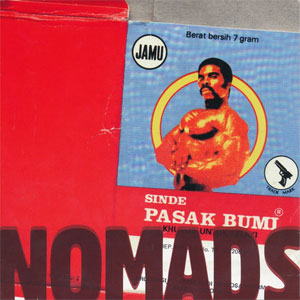 Discographic facts
A. She'll Always Be Mine (F. Bivens, J. Cole, P. Greenberg)
B1. (I'm) Out Of It (live) (The Nomads, S. McCaughey)
B2. I've Seen Better (live) (B. Fröberg, N. Vahlberg, H. Östlund, J. Ericson)
[Screaming Apple Records I SCAP 059 / 1999]
Content description
The A-side is a cover of a song written and recorded by The Customs. She'll Always Be Mine appeared for the first time on the B-side of their second and last single [Shake It! Records, 1980].
Two previously unreleased live recordings show up on the B-side of this 7". First, (I'm) Out Of It, of which a studio version was released as the A-side of the first single from The Nomads' album Powerstrip (1994; see Part 4. The second song is also a Nomads original. I've Seen Better is not credited on this 7" as taken from the album Big Sound 2000 (released in 1999) – maybe due to that Big Sound 2000 had not been fully completed when this 7" was in the works.
Testimony
This and the subsequent three singles are interrelated because all non-live tracks on them were recorded in connection with the making of the album Big Sound 2000, which was our first album on White Jazz Records – released in the spring of 1999. While we were recording Big Sound 2000, we also recorded some extra songs in order to have some exclusive material to offer when we got invitations from labels that wanted to release a single with us, like the A-side on this Screaming Apple single.
Screaming Apple Records is a German label with headquarters in Cologne that concentrates on release and distribution of garage rock records. We met Ritchie Apple and some other rockin' guys from his company at the rock club Underground in Cologne when we toured Germany. And, since we clicked, we obviously wanted to make a single with Screaming Apple.
Considering that we cherish The Customs and even proudly released our single Wasn't Born To Work on their record company, Shake It Records in 1993 (see Part 4, it was a small step for us to cover their She'll Always Be Mine. It was recorded in the Sunlight Studio in Stockholm with Chips as producer and on background vocals.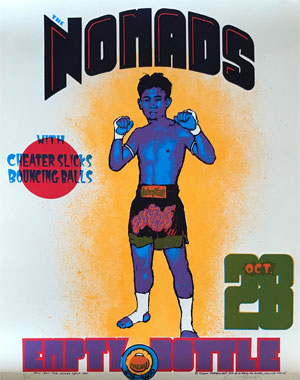 Sometimes, as here, we put live recordings on the B-side – but we are not sure of when or where these two were recorded.
A US graphic artist, Colin McFrangos, designed the cover. He was married to the painter Jane Fischer who we told about previously in this part when we described Brendan Burke's Überstudio in Chicago. Colin McFrangos made a nice poster for one of our gigs in Chicago and got free hands to design our cover for this single. Screaming Apple was not entirely convinced that this somewhat experimental design with the Indian muscleman was the best one. Such a concept did not quite fit into their way of thinking how to visualize their label's garage bands in a uniform way. Eventually, they backed down. We thought it was a nice cover then and we are even happier with it now because it has proven to stand out from the rest.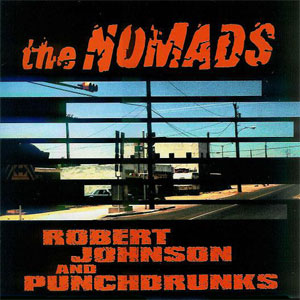 Discographic facts
A. Trucker Speed (B. Fröberg, N. Vahlberg, H. Östlund, J. Ericson)
[Bang! Records I BANG-5 / 1999]
Split single, blue vinyl.
Content description
A split with two back-to-back instrumentals of which the A-side is an original composition of The Nomads, whilst the B-side is a cover of The Ventures' The 2,000 Pound Bee performed by the Swedish instrumental band Robert Johnson And Punchdrunks.
Instrumental excursion: The 2,000 Pound Bee is credited to The Ventures' drummer Mel Taylor and originally released as a single in 1962 (Dolton). Actually, this Ventures' single has 2,000 Pound Bee – Part 1 on the A-side and Part 2 on the Bee(sorry!)-side (the flip is credited to Don Wilson, guitarist and founding member of The Ventures). 2,000 Pound Bee Part 2 peaked at chart position # 91 on Billboard's Hot 100 in 1963 and may have influenced The Sonics (another Tacoma (Washington) based band) when they came up with the guitar riff to Boss Hoss.
Testimony
This is a split instrumental with our old Solna buddies Robert Johnson And Punchdrunks. In the late '70s, Robert Johnson, Nix and Hasse had three parallel punk bands going in Solna before The Nomads and The Bottle Ups crystalized.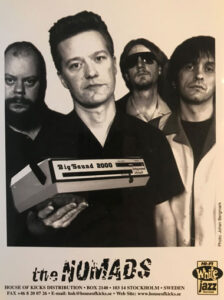 "Trucker speed" is an ephedrine based substance that truckers buy at gas stations in order to stay alert behind the wheel. It has been a while since we played it live, but it is a cool song that somehow evokes the manic feeling of being on that stuff.
This is one of the first releases from Spanish Bang! Records, number five, and the label is still enormously active. The Nomads and Bang! Records go back a long way. We have been in constant contact, and just a couple of years ago Bang! Records re-released our first Showdown compilation as a 3 LP set.
Per Thorsell designed the cover. He played guitar in Punchdrunks and was also in this terrific rockabilly band, The Hi-Winders. Per also made the covers for Punchdrunks' records and posters for the rockabilly scene.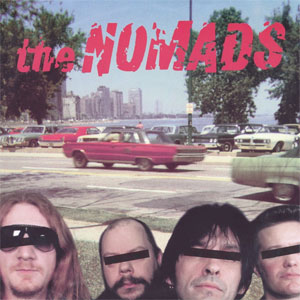 Discographic facts
A. I'm Gone (S. Bingham, J. Buell)
B. Ain't Yet Dead (A. Caroll, B. Stark, C. Burt)
[Safety Pin Records I SP-021 / 1999]
Content description
The printed information on the sleeve and label of this single is scarce and does not let you know much more than the titles of the songs that The Nomads cover. While the background to the non-album A side I'm Gone can be traced through some minor detective work, the story of what lies behind the cover of Ain't Yet Dead remains a mystery – as long as we do not consult The Nomads themselves, that is (see their account below). Ain't Yet Dead is one of the tracks on their album Big Sound 2000.
I'm Gone was originally released by the Californian garage punkers The Sons [Coastline, 1966]. I'm Gone was however re-released later that year under the more challenging and time typical band name The Magic Mushroom (Warner Brothers).
Safety Pin Records was a Spanish underground label – managed by the late Kike Turmix (The Pleasure Fuckers) – that put out about 80 titles during its active years (1997–2004).
Testimony
We met Kike Turmix in Toulouse when we toured France for the first time in 1984 and he really made a difference for us in his home country Spain where he was very influential. He was DJ-ing at hip underground clubs in the Malasaña district of Madrid and simply knew everyone who was active in the garage punk scene there. In the late '90s, he was working fulltime booking bands and releasing stuff on his Safety Pin label. The Nomads did a lot of projects together with Kike.
Around the time when this single was recorded, information on songwriters to obscure songs, like I'm Gone, was hard to obtain. It is always nice to have a name to refer to when you cover an original otherwise it gives a sloppy impression. In the case of I'm Gone, we made great efforts to find the name of the composers. Nix even contacted Greg Shaw and asked him if he knew anything about I'm Gone, but he did not have this single and he could not provide the names asked for. Greg Shaw directed us to another collector of '60s' garage, possibly Mike Stax of the music magazine Ugly Things, again without any luck. It was Chips Kiesbye, producer of Big Sound 2000, who suggested us to include a cover of I'm Gone as a part of the preparations for Big Sound 2000. Chips probably found it on a garage compilation without information about the songwriters. Hasse contributes to I'm Gone with the meanest fuzz tone guitar.
Regarding Ain't Yet Dead, we got that from Lindsay Hutton. Lindsay's girlfriend at the time, Avy Carroll, co-wrote Ain't Yet Dead, originally performed by the totally cool Scottish garage band the Sinister Urge in 1995. Since it was unreleased at the time, The Nomads version was the first on record. Aint' Yet Dead has since then become a real live favorite of ours which we cherish like it was our own composition. Whenever a representative of the language police brings up criticism of the unconventional phrase "Ain't Yet Dead" – instead of the commonly used "Ain't Dead Yet" – we always refer comfortably to the fact that someone whose mother tongue is English came up with this title, and not us. (PopDiggers' note: Ain't Yet Dead with The Sinister Urge finally qualified to be released on record with the 2007 CD compilation Gardyloo! Edinburgh's Detritus 1983–2003.)
The cover was designed by Ollie, who also made the cover of Wasn't Born To Work (see Part 4). He designed the sleeve completely according to his own sense of taste and without interference from us. The Big Sound 2000-machine with some singles scattered around it on the back cover, is an outtake from the photo session for Big Sound 2000. Joakim's then girlfriend Anette arranged this picture at home by decorating the record player with a representative selection of the household's single collection. For some strange reason Ollie de-identified us on the front cover. Wearing shades obviously did not qualify as an exception…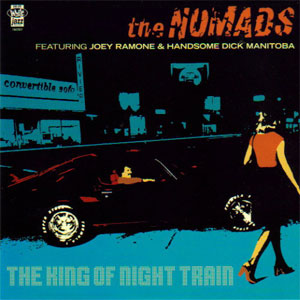 Discographic facts
A. The King Of Night Train (N. Vahlberg, H. Östlund, B. Fröberg, J. Ericson, S. McCaughey)
B. Top Alcohol (N. Vahlberg, H. Östlund, B. Fröberg, J. Ericson, O. Ahlgren)
[White Jazz Records I 7 JAZZ027 / 2000]
Content description
Two original compositions recorded in Sweden and the USA (The King Of Night Train) and in the US only (Top Alcohol). The King Of Night Train is originally found on the album Big Sound 2000. This 7" version, however, features backing vocals added by Joey Ramone (The Ramones) and Handsome Dick Manitoba (The Dictators). The King Of Night Train is produced and re-mixed by Daniel Rey (best known for his production work with The Ramones.
The King Of Night Train is backed with Top Alcohol – a previously unreleased song recorded at GLEA Studio in 1999. Top Alcohol returned later in a new recording on The Nomads' album Up-tight (2001).
Testimony
As soon as we had laid down the drum tracks for our album Powerstrip at Conrad Unos Egg Studios in Seattle in December 1993, it was time for Joakim to go out and buy something to celebrate this achievement with. Unaware of the prevalent pecking order between the various wine brands in the United States, Joakim returned with a bottle of Night Train. For everybody's information, Night Train is a cheap sweet US bum wine with high alcohol content by volume which should preferably be consumed secretly in a brown paper bag. Scott McCaughey was at the studio when Joakim showed his bargain and found it extremely amusing that someone could even consider buying this type of wine, but was also a bit excited to know someone who actually drank that stuff. This incident became the origin of his lyrics to The King Of Night Train. Night Train is by the way also known from the film The Blues Brothers, in which "Joliet" Jake passes out right after having a swig of that mean liquid. We did a video at Kafé 44 in Stockholm to accompany The King Of Night Train with Johan Bååth acting as main bum.
One of the many bright ideas that Carl von Schewen of White Jazz Records came up with, was to do a new mix of The King Of Night Train – originally recorded for Big Sound 2000 – and getting Joey Ramone and Handsome Dick Manitoba to join with backup vocals. The Nomads and Carl had no problem recruiting them because we knew them before. It also helped that Daniel Rey already had agreed to record their background vocals. Nix personally handed over the master tape to Daniel Rey in New York City for Daniel to flesh out the remix from. Daniel Rey was a member of The Dictators when they did their latest Swedish tour. He is in this great, but rather unknown, New York City band, The Martinets, which is still going strong.
There is an early recording of Top Alcohol on the other side of the single. It was recorded during a US tour with The Hellacopters in 1999. In order to get the right finish to it, we consulted our friend Rob Sanchez (of Donovan's Brain) in Bozeman, Montana. Rob has a studio in the basement of his house, GLEA (God's Little Ear Acre) and since we had an invitation from him to make a stopover in Bozeman, this led to our first recording of Top Alcohol – and with a supreme result! The other track we laid down at GLEA was No Cops, Haul Ass, which was released many years later as one side of our split single with Donovan's Brain.

Dave Walker joined us in the studio. He is originally from England, but relocated to Bozeman in the late nineties. Dave Walker is a real legend, famous for being guitarist in Fleetwood Mac and Savoy Brown and also for replacing Ozzy Osbourne in Black Sabbath for a short while in the late seventies. A real cool guy who probably appreciated to get a break from his everyday life by rattling the tambourine on Top Alcohol. At this occasion, Joakim took the opportunity to join Donovan's Brain on their song Tiny Crustacean Light Show, later released on the album with the same name.
"Challenge Custom" mentioned on the sleeve is actually Henrik Walse, who was the in-house designer for White Jazz Records. He managed to conceptually unite the cover art work for the label, which made White Jazz products easily identifiable.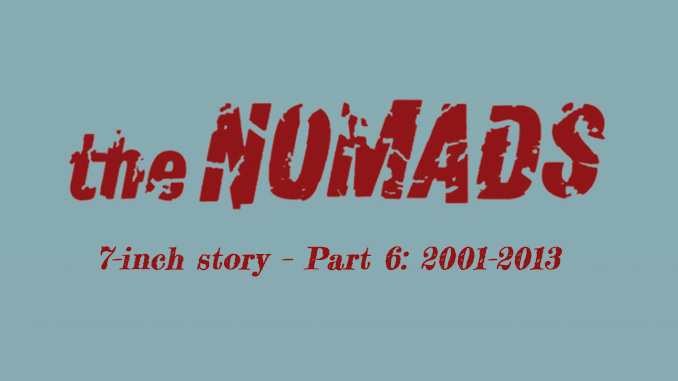 As we enter the present millennium in this part, the surge of the vinyl single revival led by independent record labels had begun to wane somewhat. This, together with longer interval between The Nomads' album sessions in question – Up-Tight (2001) and Solna (2012) –, meant that The Nomads' 7" momentum was lost to some extent during this time period compared to the previous ones. After the Up-Tight album, White Jazz Records shut down its business. It took some time before The Nomads hooked up with Sonet/Universal Music, which explains the hiatus in 7" releases between the Up-Tight and Solna sessions that also coincided with a period of time when The Nomads had decided to hold back a little.
This sixth part covers the years 2001 to 2013, during which six 7" were put out on the same number of labels (not counting the re-release of the Nighttime/Boss Hoss 7" by Munster in 2006, mentioned in part 1).
In this part, we will un-cap the succeeding six-pack of 7-inches by opening our report with Crystal Ball (2001) and closing it with Hangman's Walk (2013).
PopDiggers have as usual the pleasure to investigate the present sixth batch with the help of testimonies from the members Björne Fröberg, Hans Östlund, Nix Vahlberg, and Joakim E. Werning (formerly Ericson). We are particularly pleased that Marco Padin, Ghost Highway Recordings, accepted the invitation to make a statement.
Discographic facts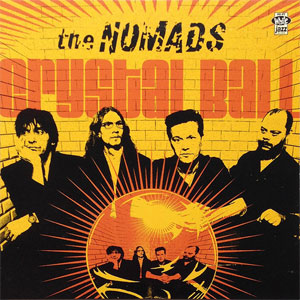 A. Crystal Ball (B. Fröberg, C. Kiesbye)
B. Mirrors (B. Fröberg, B. Bartell, K. Stringfellow)
[White Jazz Records I 7 JAZZ039 / 2001
Content description
Crystal Ball is an original written by Björne Fröberg and Chips Kiesbye taken from The Nomads' album Up-Tight (2001).
The B-side – Mirrors – is a non-album track written by Björne Fröberg, Bill Bartell (White Flag's Pat Fear) and Ken Stringfellow (mostly known from The Posies), which The Nomads were the first to put out on record.
Testimony
We recorded Crystal Ball in the prestigious Decibel Studio in Stockholm. It would turn out to be the last time we recorded an album in such a prominent studio. After this, most of our recordings have taken place in our rehearsal room. With software like Pro Tools, it is possible to achieve approximately the same result anywhere – with the important exception of the drums, which still need an acoustically suitable space for recording.
As all the songs on Up-Tight and Solna, Crystal Ball started with Björne and Chips sitting at home at Chips recording ideas on his computer and developing them to demos, which lay the foundation for the full-band rehearsals when the typical Nomads sound was added. Carl von Schewen (see part 5) chose between Crystal Ball and the equally poppy I Can't Wait Forever to pick as the first A-side from the Up-Tight album.
Mirrors – the flip side – is an outtake from the Up-Tight sessions. Chips Kiesbye was friend with the late Bill Bartell – Sator and White Flag made records together – and that is probably how we got hold of his and Ken Stringfellow's lyrics, and then Björne put music to it. Funny how songs can evolve in such unexpected ways. Since Ken Stringfellow was among the flexible roster of White Flag's band members, there existed a connection between him and Bill Bartell which explains that the duo shares the songwriting credits here. We actually met Ken Stringfellow in Seattle already during our recording of Powerstrip in 1994 and he joined us on stage once when we played Alex Chilton's Bangkok. Bill Bartell was moreover in Chariot with Javier Escovedo and Ken Stringfellow. Another member of The Posies, Jon Auer, was also a member of the White Flag at some time. We still collaborate with Javier Escovedo a bit, by the way. Backstage, after a gig when The Posies backed Alex Chilton, Jon Auer's first question to Joakim was whether he was the much talked about King Of Night Train (see part 5) – the question shows how well informed everyone was about each other's doings within this tight circle of musicians. We do not know of any other version of Mirrors, so it is probably the only one available on record.
The sleeve for Crystal Ball shows the White Jazz Record's in-house art designer Henrik Walse's original idea to the album Up-Tight, but we wanted the background to be white instead of orange as he suggested for the album – a wish which Henrik was not at all overwhelmed by. It ended with some kind of compromise, with the orange design selected for the single and the white for the front cover of the album. (The orange design reappeared on the Record Store Day 2020 re-issue of Up-Tight.) The photo was taken at the pub Kvarnen in Stockholm. As we rehearsed in the basement at Kvarnen, it became convenient to also make the photo session there with the nice clinical looking white tile as background.
Discographic facts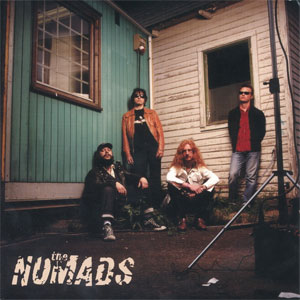 A. In A House Of Cards (B. Fröberg, C. Kiesbye)
B. Think Of As One (R. Erickson)
[Sympathy For The Record Industry I SFTRI 681 / 2001]
Content description
The A-side, In A House Of Cards, is an original by Björne Fröberg and Chips Kiesbye taken from The Nomads' album Up-Tight (2001), while the B-side is a cover of Roky Erickson's Think Of As One, which is not on the Up-Tight album. Think Of As One is an obscure Roky Erickson song that his mother recorded during his time at Rusk State Hospital in the beginning of the 1970s. This acoustic version from 1971 became well-known to Roky-fans much later through the CD compilation Never Say Goodbye (1999). Even later, Roky did a studio recording of Think Of As One with Okkervil River in 2010 which was released as a track of his album True Love Cast Out All Evil.
Testimony
Both songs on this single are from the Up-Tight sessions. In fact, it can turn out to be our last single on Sympathy For The Record Industry. Some years after In A House Of Cards, Long Gone John, the owner of Sympathy For The Record Industry, put things on ice for a good while. But SFTRI seems to have picked up speed again recently, although it can not be compared with the label's intense release schedule in the '90s.
We found Roky Erickson's Think Of As One on the CD Never Say Goodbye, which contains a string of obscure and rather primitively recorded songs by Roky. Those who were behind this release encouraged other musicians to record their own interpretations since Roky Erickson owned all rights to the songs (which was unusual). It was a message we paid attention to. And the connection to Sympathy For The Record Industry is not far-fetched in this context since Long Gone John knew Roky Erickson and his mother, Evelyn, too. SFTRI has accordingly released and re-released several records with Roky Erickson.
The picture for the front cover was meticulously arranged (the stand for the light is visible to the right) by Pär Bäckstrand, and taken at the Hultsfreds Festival in Sweden where we celebrated our 20th anniversary.
Discographic facts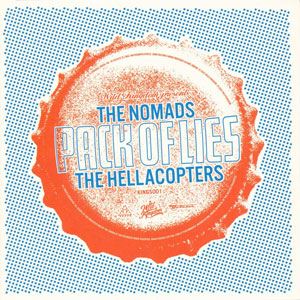 AA. Pack Of Lies (B. Fröberg, N. Vahlberg, H. Östlund, J. Ericson)
[Wild Kingdom I KINGS001 / 2003]
Split single with The Hellacopters. Limited run of 1,000 copies.
Content description
A split single on which The Nomads and The Hellacopters perform Nomads' original Pack Of Lies which The Nomads first put out on the Estrus label as a single in 1997 (see part 5). The split was released in connection with the compilation 20 Years Too Soon – A Tribute To The Nomads [Wild Kingdom, 2003].
Testimony
The Hellacopters recorded a cover for our Pack Of Lies to 20 Years Too Soon, a tribute compilation to The Nomads while our own original version was released as an Estrus single in 1997. Carl von Schewen (see part 5, the manager of the label in question, Wild Kingdom, thought that it would be cool idea to put two versions of Pack Of Lies back to back on a split single with us and The Hellacopters.
Carl von Schewen launched Sound Pollution after House Of Kicks (which included White Jazz Records) was sold in 2000. Wild Kingdom became the rock label under the umbrella of Sound Pollution, just as White Jazz was House Of Kicks' rock outlet. That is why Wild Kingdom can be regarded as some sort of a continuation of White Jazz Records.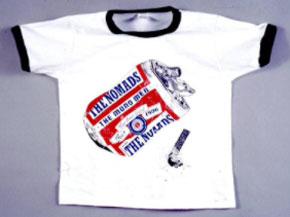 The bottle cap on this cover is a sly nod to our previous circular Estrus cover with the tire, and the rest of the design is also clearly inspired by Art Chantry. That is why this cover also connects a little bit of the Mono Men/Nomads T-shirt that Art Chantry designed.
The rock club Debaser (at Slussen in Stockholm) is mentioned on the cover because Wild Kingdom had a monthly arrangement there with a house band that consisted of Chips Kiesbye and Heikki Kiviaho from Sator and Robban Eriksson from The Hellacopters. They invited guests to play with them and Carl von Schewen, Nicke Andersson from The Hellacopters and others were DJ-ing on those nights.
Discographic facts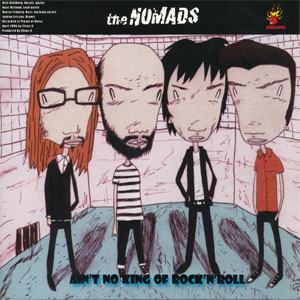 A. Ain't No King Of Rock'n'Roll (B. Fröberg, C. Kiesbye)
[Devil's Jukebox Records I DJB666-04 / 2006]
666 numbered copies on pink vinyl.
Content description
Split single with the UK band The Sweet Zeros on side AA.
The Nomads perform Ain't No King Of Rock'n'Roll – an original song written by Björne Fröberg and Chips Kiesbye, which would later become included in the compilation Little Steven's Underground Garage Presents The Coolest Songs In The World! Vol. 6 [Wicked Cool Record Co., 2008].
Testimony
Björne Fröberg's and Chips Kiesbye's Ain't No King Of Rock'n'Roll was originally intended for the Swedish rock band Backyard Babies. Backyard Babies had at that time some sort of writer's block, and asked around for original songs for their new album. Björne and Chips was among those Backyard Babies contacted and Björne and Chips came up with Ain't No King of Rock 'n' Roll, but it was rejected. Perhaps they felt uncomfortable about the title of the song…
However, The Nomads did not mind recording Ain't No King Of Rock'n'Roll. Later on Little Steven picked it as "the coolest song in the World this week" on his Underground Garage radio show. Ain't No King Of Rock'n'Roll also ended up on one of Little Steven's compilations. If the contractual terms had been better, we might have released more of our stuff on Wicked Cool.
This split single started off thanks to an English guy called Pilly (Alan Pilsworth) who got in touch with us on Myspace (a then popular social network). He turned out to be a great rock'n'roll fan and asked if we wanted to do a split single with his band, The Sweet Zeros. Unusually, we were promised some money up front to do this – instead of getting a part of the edition, which is the normal outcome of these types of deals. This agreement triggered us to do a stand-alone recording of Ain't No King Of Rock'n'Roll in our rehearsal room by utilizing Chips Kiesbye's mobile studio, Planet of Noise, and his capacity as supervisor. Since this was the first time we recorded outside a conventional studio, it also became a litmus test of whether we could generate high quality recordings under unsophisticated circumstances. The weak link in making these kinds of non-studio recordings is the quality of the microphones. To get a good result, high-performance microphones must therefore be used – the output finally heard on the record can never be manipulated to sound better than the originally recorded input signal. Chips Kiesbye owned a set of carefully selected microphones for occasions like these and he also had extensive experience handling such recordings. Afterwards, Ain't No King Of Rock'n'Roll got mixed and mastered in Music-A-Matic Studio by Henryk Lipp. This procedure paved the way for how the upcoming Solna recordings would be conducted.
Daniel Novakovic made the drawing of us on the cover. Lennart Persson recommend Daniel Novakovic to Ulf Lindqvist when Ulf was in the process of putting together a best of album of ours, Nomadic Dementia: The Best of the 25 First Years, before he left Amigo Records. Daniel Novakovic designed one of the covers in the "Feber" series on Amigo Records, compiled by Lennart Persson. The drawing ended up on the covers to both the Ain't No King Of Rock'n'Roll single and Nomadic Dementia.
Discographic facts (UK release with different B-side)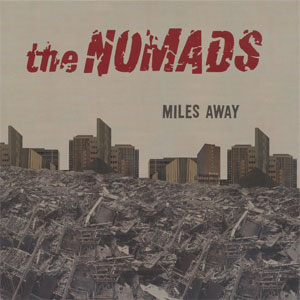 A. Miles Away (B. Fröberg, C. Kiesbye)
B. Something Else, Something New (T. F. Andersson)
[Sonet/Universal Music I LC 01846 / 2012]
B. American Beat (P. Zaremba)
[Devil's Jukebox Records I DJB666-98 / 2012]
Devil's Jukebox Records released a limited edition of 333 copies on pink vinyl and 333 copies on white vinyl. This UK edition should have been released on Record Store Day 2012 (21 April), but it was delayed until June due to problems at the pressing plant.
Content description
Miles Away is an original composition taken from the then upcoming album Solna.
The B-side of the Sonet single does not appear on the Solna album, but Something Else, Something New was later included as one of two extra songs present on the digital release of The Nomads' Loaded Deluxe 10" EP [Sonet/Universal Music, 2013], which otherwise predominantly was recorded after the Solna album.
American Beat on the B-side of the single on Devil's Jukebox Records was recorded prior to the Solna session and features Handsome Dick Manitoba (The Dictators) on vocals. It is taken from the compilation album Vindicated! A Tribute To The Fleshtones (2007). American Beat is accordingly an original by The Fleshtones. It is the A-side of The Fleshtones' debut single [Red Star Records, 1979]. American Beat was later released as one of the tracks on their Blast Off! album (ROIR, 1982; cassette only – but Blast Off! has been re-released several times on LP and CD since then).
Testimony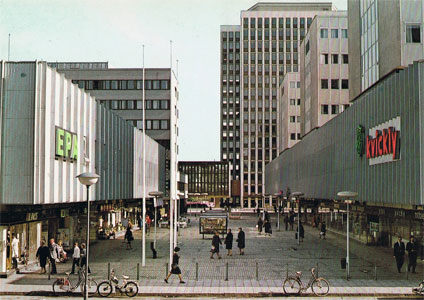 The Miles Away single was released as a teaser for the Solna upcoming album and was one of the first songs we recorded for that album. Miles Away became our second "coolest song in the World this week" on Little Steven's Underground Garage radio show. And furthermore, Pilly at Devil's Jukebox Records showed interest in releasing a special UK 7" edition of Miles Away. Devil's Jukebox Records also released Solna on license for the UK market.
The B-side of the British single was chosen from a tribute to The Fleshtones that we had contributed to a couple of years earlier. American Beat was recorded as another one off song, this time in fact in a real studio in Stockholm; Stefan Brändström's Dustward Studio – a compact down-to-earth studio. We sent the master to Handsome Dick Manitoba who added vocals. We just love The Fleshtones!
Something Else, Something New on the flipside of the Swedish 7" is written by Tommy Ferdi Andersson who was in The Turpentines, which was another band on the White Jazz label that also warmed up for us on the Up-Tight tour in 2001. Before The Turpentines, Ferdi was in The Hijackers. Like us, Ferdi is a big fan of The New York Dolls – which you can easily hear in Something Else, Something New.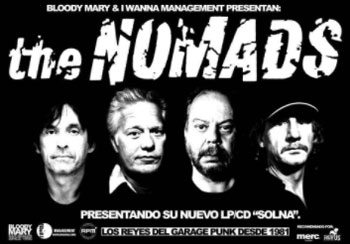 Henrik Widén (The Duke of Honk) played with Diamond Dogs and was enrolled on piano and organ for a couple of songs on the Solna album in order to revive the early sound that Frank Minarik stood for. Afterwards, Henrik Widén also joined in part of the tour for the Solna album.
The illustration on the sleeve of Miles Away is in a way a continuation of the Solna album cover, which utilized an old postcard of Solna Centrum as template. Hanna Werning, Joakim's wife, designed both the 7" and the album sleeves. The Miles Away sleeve is in the same grey color scale as the one of the album and plays with the legend that the city of Solna was built on top of a garbage dump. The image in the forefront symbolizes this dump, although a closer inspection of it reveals that it actually shows old aircraft wrecks from World War II, which are contrasted with some well-known landmarks in the background, like Hotell Flamingo.
Discographic facts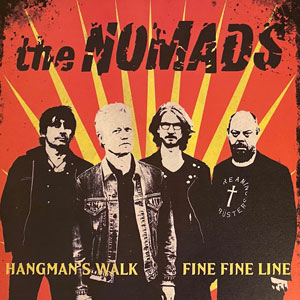 A. Hangman's Walk (B. Fröberg, C. Kiesbye)
B. Fine Fine Line (B. Fröberg, C. Kiesbye)
[Ghost Highway Recordings I GHR-056 / 2013]
A Record Store Day release in 2013 in the form of four times hundred copies in four different colors of vinyl/cover. Another batch of 300 numbered copies (black vinyl) was pressed to coincide with The Nomads' Spanish tour in November 2014.
Content description
Two original songs from the album Solna, whereof Fine Fine Line is a bonus track of the Swedish LP and also an extra track on the digital version of Loaded Deluxe 10" EP [Sonet/Universal Music, 2013]. Liner notes on the back of the 7" sleeve by Lindsay Hutton.
Testimony
The Hangman's Walk 7" was our first release on the Spanish label Ghost Highway Recordings, a small independent label which is basically a one-man venture operated by Marco Padin. Our experience with Ghost Highway Recordings is very good, and it became even more positive in conjunction with the making of the live album ¡Demolición! Live At El Sol, Madrid (2015) – a gig included in our tour that prompted the second pressing of the Hangman's Walk single.
Hangman's Walk is picked from our Solna album. Fine Fine Line is basically a rockabilly song, but we had some ideas to make it sound like '70s bubblegum pop, like Mud) or something else on RAK Records. Not sure if we managed to achieve that though. We added Fine Fine Line to the Solna LP as a bonus track at the end of the album, just for fun and travesty to the fact that extras are usually found on CDs, not LPs.
As part of the promotion package for the Solna album, Hanna Werning took the cover photo of us outside the place where we rehearsed.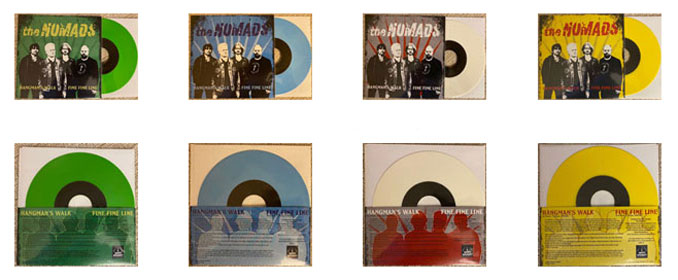 Fine Fine colorful Line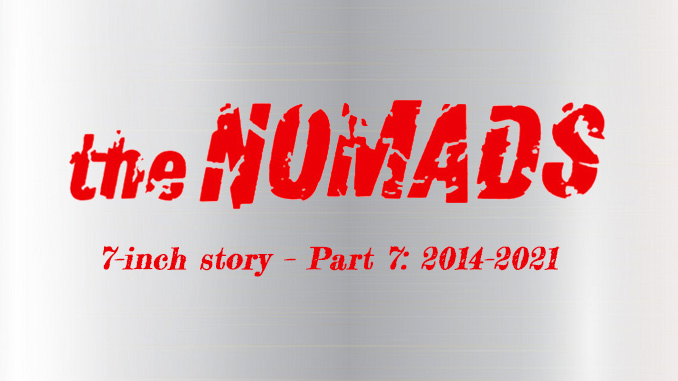 This last part in the series covers the years 2014 to 2021, during which The Nomads put out seven 7" on six different labels. A shortage of recording sessions for major projects after the album Solna (2012) and the Loaded Deluxe EP (2013) meant that newly recorded original material is rare in recent years. Despite this, The Nomads has released a steady stream of 7-inches since 2013. Consequently, the absence of new recordings implies that the content of the 7-inches from 2014 onwards – at least so far – consists mainly of previously recorded material. On the other hand, most of the material from this time period is attractive and interesting because it is only available on the 7-inches presented in this part.
In the present part, we will cover the last seven 7-inches by opening with No Cops, Haul Ass (2014) and closing the whole shebang with Ain't Yet Dead (2021) after no less than a total of 46 separate 7".
PopDiggers have as usual the pleasure to investigate the present batch with the help of testimonies from the members Björne Fröberg, Hans Östlund, Nix Vahlberg, and Joakim E. Werning (formerly Ericson). In addition, frontman of Donovan's Brain, Ron Sanchez, generously contributes with a report.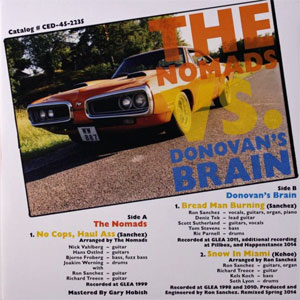 Discographic facts
A. No Cops, Haul Ass (R. Sanchez)
The Nomads vs. Donovan's Brain
[Career Records I CED-45-2235 / 2014]
Red vinyl.
Content description
No Cops, Haul Ass is a hot rod instrumental written by Ron Sanchez. It is presently not available with The Nomads anywhere else but here. Ron Sanchez is the frontman of Donovan's Brain, owner of Career Records and GLEA studio in Bozeman, Montana. Donovan's Brain contributes with two songs on the B-side of this split EP.
A few years after this EP was released, Donovan's Brain's own version of No Cops, Haul Ass became available on their Convolutions Of The Brain – a 3CD with previously unreleased recordings and other rarities (2018).
Testimony
This is one of the songs we recorded during our visit to Ron Sanchez's home studio in 1999. Ron Sanchez and The Nomads have a common history that goes back a long way. For example, our relationship led to that Ron released the Solna album on his Career label in 2013 for the US market.
No Cops, Haul Ass was recorded on the same day as Top Alcohol (see Part 5) in 1999. We developed No Cops, Haul Ass in the studio guided by Ron Sanchez, who wrote the song originally for Donovan's Brain, but it was unreleased at the time. The title was inspired by a message on a road sign Ron passed in the desert that invited free speed by hinting the absence of patrolling by the traffic police.
Richard Treece visited the studio at the same time to do a recording with Donovan's Brain and he joined us on guitar on No Cops, Haul Ass. Richard was an old friend to Ron and included in the flexible line-up of Donovan's Brain. He was a former member of Help Yourself, an eponymous London band formed in the early 1970s.
A couple of students of the university in Bozeman made a ski film, 99 Sense, which needed some background music. They had all the reasons in the world to make such a film, because there are some really nice skiing resorts around Bozeman. They asked Ron for advice on suitable music and he suggested No Cops, Haul Ass to be included in the sound track. We have 99 Sense on a VHS tape lying around somewhere. It is great if there is someone going off-piste somewhere listening to The Nomads in the headphones…
Joakim owned the 1970 Dodge Coronet Super Bee on the picture sleeve for a couple of years. The Dodge was lent for a fashion photography session and Joakim asked the photographer for some extras only on the car – a pedal to the metal model which fits well with the title. The original license plates were photoshopped, though.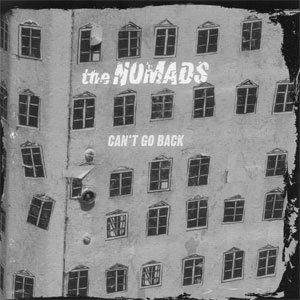 Discographic facts
A. Can't Go Back (B. Fröberg, C. Kiesbye)
B. Up, Down Or Sideways (B. Fröberg, C. Kiesbye)
[Pitshark Records I RIK 043 / 2014]
Included in Pitshark Records Single Club. Limited edition of 100 hand-numbered copies.
Content description
Both songs are originals taken from the Solna album (2012). This single is one of those included in the French label Pitshark Records' Single Club 2014 whose members received twelve exclusive 7" by mail.
Testimony
Gilles Martin of the French label Pitshark Records had been keen on releasing something by us for some time, but this was the only occasion we actually made it happen. The single was prompted by that Gilles had decided to launch a very selective single club driven by the idea that he would send a limited edition 7" by mail to a small number of subscribers for a period of time. Can't Go Back and Up/Down and Sideways was among the first of the dozen or so 7" that was circulated this way.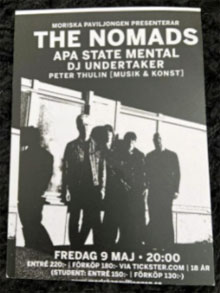 As for the songs, both are from the recording sessions produced by Chips Kiesbye that led to the album Solna. But Can't Go Back and Up Down and Sideways were not exclusively set aside for this single, since they had already appeared on the Solna album two years earlier.
We were not engaged in the design of the front cover, but the black and white photo of the band on the back was taken by Hanna Werning, Joakim's wife.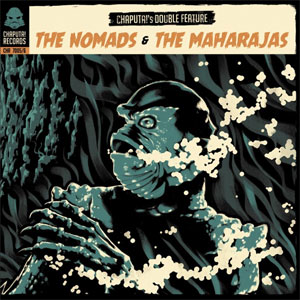 Discographic facts
C. She Ain't No Use To Me (D. Bingham, R. Mayne)
D. The Fire Of Love (J. Reynolds, S. Sturdivant)
Chaputa!'s Double Feature Vol. 1. Double single, split between The Nomads and The Maharajas.
[Chaputa! Records I CHR 7005/6 / 2016]
Content description
The Nomads bring two covers to life on this double single put out by the Portuguese label Chaputa! She Ain't No Use To Me is a cover of the minor hit originally recorded by the Canadian garage band The Ugly Ducklings and released on their second single in 1966 (Yorktown Records). The cover in question here is taken from The Nomads' mini-album The Cold Hard Facts Of Life (1996) on which they cover eight Canadian original garage punk songs.
The Nomads back She Ain't No Use To Me with a cover of Jody Reynolds' The Fire Of Love – his second single [Demon Records, 1958], "written together" with the fictitious Sonja Sturdivant. The Fire Of Love is an outtake from The Nomads' Powerstrip session (1994) and was before that also immortalized by The Gun Club in 1982.
The Maharajas are a Swedish garage rock band that also contributes with two covers to this double single.
Testimony
Chaputa! Records is a small Portuguese independent label that has released several albums with The Maharajas that we share this split with. Chaputa! Records contacted us after they came up with the idea to release a series of split double singles with different bands doing covers only. We were totally free to choose covers from our discography for this one. We finally agreed to pick She Ain't No Use To Me and Fire Of Love.
It was extra pleasant to do something together with The Maharajas, who we know from way back, and even share the same rehearsal space with. Jens Lindberg, frontman of the still going on strong The Maharajas, has been in the garage rock circuit since the 1980s and member of a number of bands, like The Stomach Mouths and Crimson Shadows. And Mathias Lilja, who also sings in The Maharajas, is with The Strollers – another great Swedish garage band.
She Ain't No Use To Me is taken from our mini-album The Cold Hard Facts Of Life on which we cover The Ugly Ducklings and seven other Canadian garage bands from the 1960s.
The idea of doing a cover record with Canadian bands was hatched during a cruise from Vancouver to Victoria along the scenic coast of British Columbia for a show together with our Canadian friends in Bum. Jack Tieleman of Lance Rock Records was with us on the trip, as were Ron Sanchez and his wife Karen. Jack loved the concept and suggested a couple of originals for us to cover. We recorded all covers during an intense and effective session in the Music-A-Matic studio in Göteborg, December 1995, under the supervision of Chips Kiesbye.
Fire Of Love is a bonus song from the Powerstrip session we did in 1994. We were inspired by the cover The Gun Club released in the beginning of the 1980s but we like Jody Reynolds' atmospheric original '50s recording too. To the merits of Fire Of Love also belongs that MC5 covered it live in 1970.
Nix' wife, Eva Vahlberg, took the photo of us at the Brighton Pier, England, in conjunction with a gig we made there around 2005. This visit to Brighton not only brings back fond memories, for it was at this concert that Joakim was exposed to an intense noise peak from which he still suffers complications of.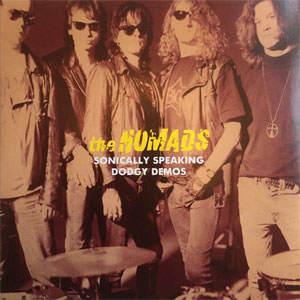 Discographic facts
A. Can't Keep My Mind Off You (B. Fröberg, N. Vahlberg, H. Östlund, P. Ahlén)
B. Primordial Ooze (B. Fröberg, N. Vahlberg, H. Östlund, J. Werning, P. Ahlén)
[Universal Music/Sonet (no cat #) I / 2016]
Free 7" with 25th anniversary Record Store Day edition reissue of Sonically Speaking.
Content description
Two "dodgy demos" from February 1991. The final versions of both tracks were later included in the album Sonically Speaking and also released as A-sides on two singles in 1991 and 1992, respectively (see Part 3).
Testimony
These two songs were newly written and still on the drawing board at the time so we wanted to run them through and hone them in the Sonet Studio with Chips Kiesbye before we began the real-thing recordings for Sonically Speaking. Christer Mellström, a veteran of Sonet/Universal Records and an infinitely dedicated supporter of The Nomads, found these tapes in the archive – all other demos for Sonically Speaking are probably lost. Christer was also involved in the work with our Solna album. He excavated and prepared this bonus material for the Sonically Speaking 25th anniversary, released as a Record Store Day special edition.
Can't Keep My Mind Off You was so new that we did not have any words for it yet so we used lyrics from whatever came to mind, trying to find the right accentuation and phrasing for the vocals. Alex Chilton had recently made a cool cover of Slim Harpo's Te-Ni-Nee-Ni-Nu which happened to become the template for the final lyrics – that our friend Per Ahlén, singer of the Wayward Souls, co-wrote with us. This dodgy demo of Can't Keep My Mind Off You gives an interesting insight in how a song develops and the creative process behind it – it is really a "work in progress".
Mårten Levin was responsible for all photos connected to the Sonically Speaking album. This one is from the photo session we did for the video of Can't Keep Mind Off You, which was taken at the same day as the cover of the 7" Primordial Ooze (cf. Part 3).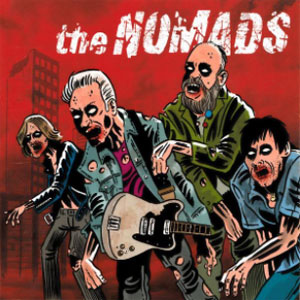 Discographic facts
A. Better Off Dead (Live) (G. Sage)
B. Wasn't Born To Work (Live) (B. Fröberg, N. Vahlberg, H. Östlund, T. Johnson)
[Ghost Highway Recordings I GHR-143 / 2017]
Split 7" EP with Sator. First edition: 240 copies (black vinyl); 100 copies (green vinyl); 100 copies (yellow vinyl). Second edition: 300 copies (white vinyl); 60 copies (red vinyl) and 66 copies (red vinyl with puzzle cover artwork). Hand numbered.
Content description
Better Off Dead is written by Greg Sage and recorded by his Portland (Oregon) punk group The Wipers. It was released on a three track 7" EP on Sage's own Trap Records in 1978 (which has been reissued several times since). The Nomads released Better Off Dead first time as a track on the Powerstrip album (1994).
Wasn't Born To Work is a Nomads original included on the Sonically Speaking album (1991). It was also released as the A-side of a 7" in 1993 (see Part 4).
Both tracks are outtakes from the live album ¡Demolición! Live At El Sol, Madrid, recorded at Sala El Sol in Madrid, November 20, 2014 (Ghost Highway Recordings).
Testimony
These tracks were two strong unreleased leftovers from the recording of the live album ¡Demolición! that we did 2014 in Madrid.
Better Off Dead was originally recorded by an old all-time favorite band of ours, Greg Sage and The Wipers – which we learned about from the renowned music writer Lennart Persson, who mentored us in the beginning. The Wipers were a band that often expressed explicit desperation with their music. Better Off Dead is on their first 7". Because it is perfect as it is, it is also hard to do it full justice – although Better Off Dead fits The Nomads' line-up and mentality really well. Hence, it is both demanding and fun to play. First time we put it out on record was the studio version on Powerstrip, but it took a while before we picked it up again. We had to rehearse Better Off Dead a lot before we considered it ripe enough to be included in our live set. Particularly this cover cannot be done half-hearted – it is all in, like a knuckle sandwich in order to reach an intensity level close to that of the original.
Hasse took on the task of mixing these songs. The boost that the mixing results in becomes obvious when the raw tape is compared with the end result we hear on the single. The original live recording amounted just to the bare sound picked up by the microphones on stage. In the mixing process, Hasse added a number of carefully selected effects which highlights and reflects our live performance and presence.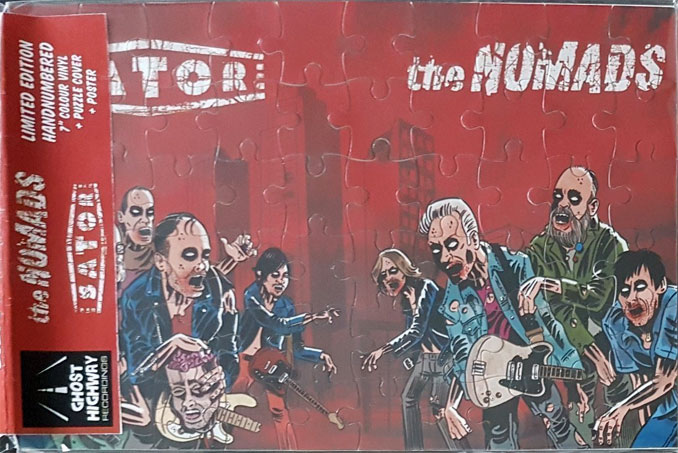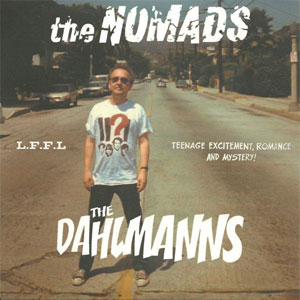 Discographic facts
A. Working For The Man (B. Fröberg, C. Kiesbye)
[Ghost Highway Recordings I GHR-169 / 2017]
A split single with The Dahlmanns. Limited edition (250 black and 250 green copies) available at Lindsay Hutton's 60th birthday party at Wurlitzer Ballroom, Madrid, November 4th 2017.
Content description
The Nomads perform their own Working For The Man, which is only available here on this special edition released to honor Lindsay Hutton, founder of The Next Big Thing fanzine (1977) and label (1984).
Lindsay Hutton and Andy Shernoff (on backing vocals on Working For The Man) have previously contributed with statements to The Nomads' 7" story.
The single is split with The Dahlmanns, a power pop rock group hailing from Norway.
Testimony
This split single became a suitable birthday present for Lindsay Hutton after he had invited people from all over the world to his fantastic 60th birthday party held in Madrid. Lindsay was presented this 7" on the afternoon before The Nomads and a number of other guests made performances that evening.
Marco Padin of Ghost Highway Recordings was out early in the planning process, at least six months in advance. For our contribution to the release we chose Working For The Man that Chips and Björne had written especially for this event. We recorded Working For The Man in our rehearsal room with Chips Kiesbye's mobile studio Planet Of Noise a few months in advance of the release and then we recruited Andy Shernoff to add backing vocals to the audio file from the other side of the pond before we sent the final recording to Marco.
The Dahlmanns is the husband and wife team of Andre and Line Dahlmann, great friends whom we have shared a stage with several times. The Dahlmanns also performed that evening in Madrid, November 2017, along with Wreckless Eric & Amy Rigby, Reine Laken, Amy Allison and Suzy & Los Quattro.
"L.F.F.L." on the cover alludes to the The Dictators slogan "D.F.F.D." (Dictators Forever, Forever Dictators) and should be interpreted to "Lindsay Forever, Forever Lindsay" as a tribute to Lindsay Hutton and also a nod to the Dictators' song 16 Forever (see Part 2). "L.F.F.L." is shown along with "Teenage Excitement, Romance and Mystery!" on the cover – the slogan of Lindsay Hutton's fanzine Next Big Thing.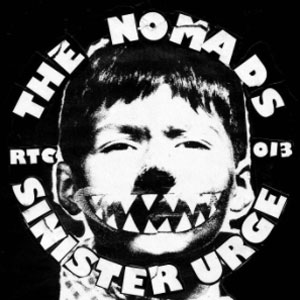 Discographic facts
A. Ain't Yet Dead (A. Carroll, B. Stark, C. Burt)
[Reduced To Clear Records I RTC 013 / 2021]
Limited edition of 25 copies (with T-shirt and badge) in a hand screen printed sleeve.
Content description
A split single with Ain't Yet Dead on both sides. The Nomads' cover is back to back with Sinister Urge's original (for the first time on vinyl), while The Nomads' version was previously released as the B-side of I'm Gone (see Part 5) in 1999.
Testimony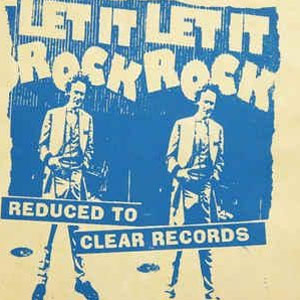 Reduced To Clear Records has focused on releasing a string of exclusive singles recently. The latest ones are with The Phobics and Los Coyote Men. The releases are exclusive not only in the sense of a very limited edition (25 copies) but also the whole product is classy. The 7" comes with a T-shirt and a badge nicely packed in something resembling a pizza box, but decorated with a stylish silk screen print.
As it sold out in just a few minutes on April 30, 2021, a second pressing of 35 copies was made (which is an exception from what Reduced To Clear Records normally do).
The main driving force behind this release was to make Sinister Urge's original of Ain't Yet Dead available on vinyl for the first time (the full story behind Ain't Yet Dead is found in Part 5). We were then asked to contribute with our version as a fine complement to go along with it.