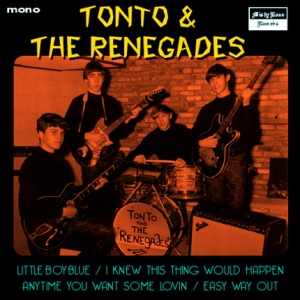 Michigan's Tonto & The Renegades are well known for their fuzzed out punk classic Little Boy Blue, which gets you like a "raider" comin' outta garage, but this EP really does them justice, pulling "back from the grave" the rest of their recordings.
The DJs seem to have misunderstood the meaning of the term "A-side", cuz what they did with the intended sunny-side of their '67 debut single, is that they pushed it a-side, in favour of the mentioned "boy" … understandably though, when you come to think of it.
Still, I Knew This Would Happen (Hey, maybe they really knew it 'll happen?!?!) is a great sounding ballad, comin' out like a rawer version of Don't Let The Sun Catch You Crying, recorded by a bunch of garage punks. By the time of their second single, The Renegades were in the skilful hands of Bossman Dick Wagner, who also provided them with two of his songs for the occasion, and, if you ask me, this is where it really started to happen.
Anytime You Want Some Lovin' (… which is a beautiful thing …) is a piece of blue eyed soul of the highest order, with another Bossman, Danny Hartman, replacing the expected horn-section with his soulful harp, and then, there's Easy Way Out, a possible highlight, in the form of a pioneering power-pop effort.
Too bad that the band's Columbia deal wasn't realized, cuz I'm sure we would've had another recognizable sign of the times.
[Released by Misty Lane 2002]