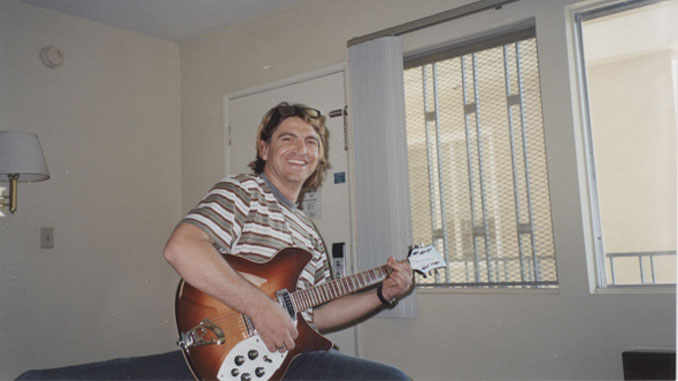 Tell us about your musical background.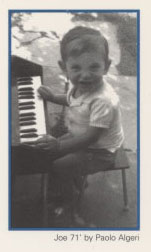 – I'm a self-taught singer/song-writer/guitarist (oh what a cliché!) My first instrument was the piano-accordion at 8 or 9 years of age, I really hated it.
At what point did you begin to compose songs?
– After one year of playing the guitar, before I could even play the chords of the song properly actually.
Can you describe your method of composing songs?
– Normally it's a little lyrical phrase that I like that triggers more words and maybe a melody. Sometimes it's also ripping off or try to regurgitate an idea that you really like from another song. In my opinion, that in itself is how popular music has evolved.
Can you envisage how the songs would sound beforehand or do you work out the arrangements while recording?
– Both, I generally I have an idea in my head on how I'd like a song to be recorded and sound as a finished product. Most of the songs I've recorded have my own preconceived arrangement and production ideas. Sometimes it's good to let someone else have some input to create something a little differently as well.
What part of the creative process do you enjoy the most, coming up with a song or listening to the final result?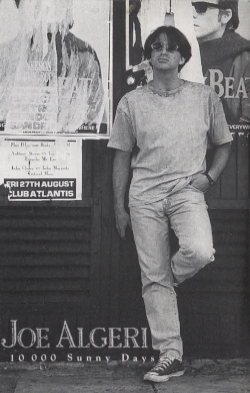 – Both, I like trying to be clever with the song-writing (well, I try) but then I listen to new recordings over and over again until I'm sick of them.
I remember Michael Jackson being quoted as saying "…writing a song is like conceiving a child". What a pretentious load of bullocks, anyone could write a song, sure it's still exciting for me but I don't think it's as 'artistic' as some people would like you to believe.
Can you remember the first time you heard your music on the radio, and your feelings at that time?
– Naturally, I was quite excited, it was only on a small public station in Perth and I felt as though it was a really big achievement. I was excited, my friends were excited, my family was excited.
Years later everything becomes a bore, it takes a really big step to get you excited after a few years of dealing with the machinations of the 'music bis'. In fact, you end up bemoaning all the other radio stations for not playing you because it still is that same little station that's playing your songs!
Does songwriting come easier to you now?
– Not really, I work hard at it. Sometimes I really struggle and become quite anxious about writing a load of crap. I don't really think there is such a thing as a genius born writer. Inspiration is always good, without it you write garbage. You've just got to have the time and the inclination to write.
Do you ever recycle your song writing ideas?
– Yeah, all the time. I like the idea of having little trademark riffs and sounds.
Who would you say influenced your songwriting and sound?
– Really when I think back, to this day it's not anyway you would know but an old high school friend called Paul. He first got me onto this Beatles/Byrds trip and I was fascinated by his High School band called "the Cherrytones".
No matter how much I feel I have progressed (or not progressed) since then so much of the way I play guitar and write songs originates from him.
Later, I got a lot of my ballad/acoustic style from Gene Clark, a lot of my arrangement ideas from Lee Hazlewood (God, I wish I could afford to have an orchestra hanging around the studio!), the humorous/paradoxical lyrical style from Morrissey and a lot of the band/guitar sounds we use from the Stems/Dom Mariani.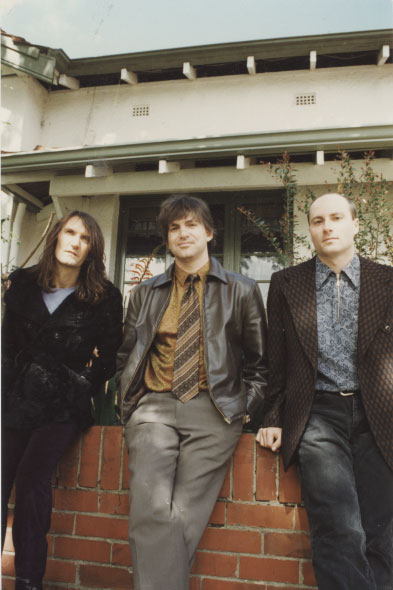 How did the Jack And The Beanstalk get together?
– For fun originally, it only become serious when David Hughes-Owen from Spinning Top Records in Perth got involved. That's how the whole European and US thing started for us.
Who came up with the name of the group?
– I did, it's perfect, it's so dumb and obvious that no one has ever used it! Occasionally, cover bands try and be a little bit more clever with something like "Jack & the Bluesdogs" or something.
What are the group's musical intentions?
– To keep travelling and drinking at someone else's expense! I'm serious, I just want keep doing it, keep recording. I would like to amass a collection of recordings that, even if their quality wasn't super hi-fi, people still say are great songs years from now.
Do the Jack And The Beanstalk prefer being in a studio to playing live?
– We don't play live as often as we'd like to so gig performances can be erratic. But that's ok because when we do hit the spot I feel as though we really hit it these days. The current line-up has proved to be a real hit in the studio too.
This was really apparent to me when we recorded the Lime Spider's "Slave Girl" for the Citadel tribute comp. I think a lot has to do with the fact that Kev and myself have been playing together for years, you definitely develop some form of chemistry.
Where did you record the album?
– Pet Rock Studios (Perth) which is run by Toni Italiano formerly of DM3. It's definitely not a mega-bucks studio, we generally always record onto 1/2inch analogue tape through 16 track desks if that makes any sense to you, quite budget. I have done a lot of recording there over the years, Toni digs the style of music and is a really efficient engineer.
How long did it take to record?
– A few months over different sessions. There was actually a lot of different people involved.
What do you remember most about the recording of the album?
– We had a temporary drummer (Jason Barfoot from the Stonemasons). The band was really only Gerry (McAvoy – bass) and myself. I found this gave me a lot of freedom in some ways because I was uninhibited to use whoever for what ever song I felt I needed them or their instrument.
My solo album was also recorded like this. I feel our new album will be more of a band effort because we've already played a lot of these songs live. The sound will be a little more 'live' now, more rock n' roll.
What kind of music do you listen to these days?
– Well, not much into contemporary or fashionable music because, whether you realise it or not, it does directly or in-directly influence your own music. The problem is that you end up sounding like something that people are familiar with you will be 5 years too late by the time you produce it.
A lot of original bands fall into this trap. I don't make a point of trying to be retro, I just have a lot of older and more obscure influences. The mainstays in my record collection are Nancy Sinatra & Lee Hazlewood, Gene Clark, Gram Parsons, etc. Whilst some of these are certainly trendy in 'indie' circles it's not that apparent when you listen to Jack And The Beanstalk.
Top ten albums of all time!!
Oh God, this is hard, there is a lot of good songs that I like that aren't necessarily from good albums. This is no particular order:
Mr Tambourine Man – The Byrds
Cowboy In Sweden – Lee Hazlewood
12 Days To Paris – Huxton Creepers
Pet Sounds – The Beach Boys
Days Without Stations -The Dangtrippers
Revolver – The Beatles
My Generation – The Who
Village Green – The Kinks
After The Siesta – Happydeadmen
Sweetheart Of The Rodeo -The Byrds
After doing their favourite album list both Joe and Jan Hedin from Happydeadmen complained and said they much more prefered to do a song list – so here are Joe's ten favourite songs the day he made the list:
01 Different Drum – Linda Rhondstad
02 Sugar Town – Nancy Sinatra
03 It's All Over Now Baby Blue – The Byrds (the unreleased demo version)
04 Television Addict – The Victims
05 Zanzibar – The Hoodoo Gurus
06 At First Sight – The Stems
07 Orgasm Addict – The Buzzcocks
08 French Girl – Gene Clark
09 Berlin Chair – You Am I
10 God Only Knows – The Beach Boys