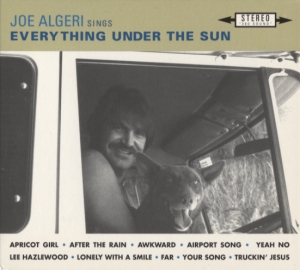 Everything Under The Sun was the third release on Torpedo Records out on the 12th of July 1998 [TPCD3]. Again 1 000 copies were pressed in digipak, all hand numbered. This was a joint release with Parasol in the US of A and Joe's own Egomaniac Music in Australia.
You can hear short snippets of some of the songs, just click on the blue link. Copies are available.
Songs:
01. Awkward
02. The Airport Song
03. Yeah…No
04. Apricot Girl
05. Lonely With A Smile
06. Lee Hazlewood
07. Endless Summer
08. After The Rain
09. Your Song
10. Far
11. Unreal
12. Truckin' Jesus
13. "Radio Free Europe" Edits
Bonus Track:
14. Outlaw Song

SHORT BIOGRAPHY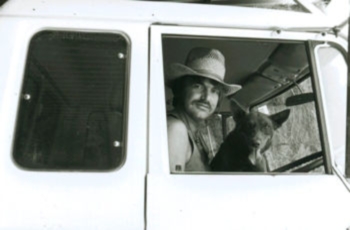 Joe Algeri – vocals/guitar
With the release of Everything Under The Sun Joe Algeri detours off the rock n' roll freeway and takes the old dirt track back home.
The 13 songs are delicately delivered with a homespun folky-ness… simple, sparse, melancholic and crooning.
So why does Joe temporarily shut down the generator on Jack & the Beanstalk's familiar power-pop? Well this is the type of trip back to the country that Joe has been taking ever since he started playing music. This disc represents a collection of highlights from his early solo releases, available for the first time ever on CD, together with 10 new recordings.
After the spilt of his former band the Stonemasons in 1994, Joe pleasantly surprised everyone with his first solo release 10,000 Sunny Days. Only available locally on cassette, we can now hear for the first time ever a clear re-mastering of After The Rain and a new, live-in-the-studio version of a long time favourite, Apricot Girl.
After his first European trip in 1995, Joe then produced a 18 song cassette called The Summerhouse Bootlegs which featured many demos for what was to become the new Jack & the Beanstalk album plus some more acoustic gems like Your Song and Far which are both represented here
In 1997, Joe recorded 10 new tunes, live and solo for the somewhat darker The Loneliest Man Alive cassette. Lee Hazlewood has been re-recorded here with a strings arrangement, however the listener is still no closer to finding out what the song is actually about.
Following Jack & the Beanstalk's European tour in 1998, Joe grabbed an acoustic guitar and hung around to play more solo concerts. He also recorded a number of live demos in a French studio, the haunting Unreal is featured here. Later that summer he headed to the US and a chance meeting with Adam Schmitt resulted in Yeah…No written and recorded during the same warm day at Adam's house in Illinois.
Back down under, Joe reminisces his northern adventures with new tracks, Endless Summer and Lonely With A Smile. The highlight however, is the Beanstalk's easy going beat to the serene Awkward and The Airport Song.
So this is Everything Under The Sun, over 4 years in the making, in 5 different countries. Now it's time to relax, listen and bring it all back home. Enjoy your weekend in the countryside too.
REVIEWS
Joe Algeri is the mastermind behind one of the finest Aussie powerpop outfits of recent times, Jack & the Beanstalk.
Significantly enough, the debut single from Jack and the Beanstalk was called Gram Parsons. Which explains why this solo odds and sods collection contains the purest strain of Cosmic Americana.
Apart from his wonderful taste in musical influences and inspirations (basically country-inflected pop), Algeri boasts a wicked lyrical wit, which certainly makes listening to his work that much more interesting.
"I want to bite you, my apricot girl" (Apricot Girl), "You say you've never hit a woman/So why do you beat me on the inside?" (Lee Hazelwood), "There's no one here when I hold you down" (After the Rain), "You fuck me up you're so unreal" (Unreal) and "I thought you were a toy in just another one of my games" (Your Song) indicates Algeri's deft skill at turning a phrase.
Blend this with Algeri's more obvious tunesmithing prowess and the end product is an album of high quality country-folk songs that warrant closer scrutiny.
(8)
Kevin Mathews
Power of Pop
**********
Jack and the Beanstalk's front man and ex-stonemason Algeri presents his first solo CD, having previously released a couple of cassette-only sets.
Everything Under The Sun is so named because as the sleeves states, it is made up of 'acoustic solitude, live demos and other silly things' – a comment which to say it sells the album short is the mother of all understatements.
With the possible exception of the Norwegian Wood pastiche Yeah…No (which was recorded with Adam Schmitt) this is a beautifully full and satisfying album.
The arrangements are spare but never thin, and Algeri fills each song with a warmth and humanity that is both mellow and spirited.
His voice and playing bring to mind Go-Betweens Grant McLennan and the more acoustic side of Weird Summer, and the production values are exemplary.
The album closes with a brief but stirring take on Gene Clark's Outlaw Song which is for me is cue to return to the CD player and push the play button again.
Terry Hermon
Bucketful Of Brain
**********
Jack & the Beanstalk's resident songwriter gets mellow with his collection of lilting acoustic snap shots, recorded in his native Australia as well as France and America.
Sweetheart of the Rodeo-era Byrds would be a good reference point or '60s pop music in general. Yeah No is a conscious Norwegian Wood cop, both melodically and in the guitar riff, that blows by swiftly and sweetly like a cool breeze or the vanishing scent of a lover's perfume.
Lonely With A Smile is pure Nick Drake referring to Northern Sky one of Drake's most sublime songs. Endless Summer brings to mind the Beach Boys – if not in style than in substance.
Algeri is in a frame of mind to acknowledge his influences, but not once does the music become cloying or resort to post-modern posturing. While the tunes average a scant 2 minutes each none the less they are fully realized pieces.
Imagine a cabin in the woods, a bottle of wine, an acoustic guitar and lone troubadour pouring his heart on the corner of the porch.
Lovely stuff.
Larry O. Dean
Amplifier magazine (US) Vol.4, No.5
**********
A dual release from American and Swedish labels by the front man of the power popping Aussie band Jack and the Beanstalk.
Everything Under the Sun is Algeri unplugged, as he delivers 13 heartwarming, acoustic numbers that allow his fine voice to take center stage. Dylan fans will love the harmonica based Apricot Girl and the cover of Gene Clark's Outlaw Song.
Lonely With a Smile has a very pretty string section. There's also a track filled with radio edits of Algeri and Jack and the Beanstalk appearances from all over the world.
Very cool!
David Bash
**********
Hanging out a bit more in Perth we have a solo album from Joe Algeri (mainman of Jack & the Beanstalk), …Sings Everything under The Sun [Torpedo/Egomaniac/Parasol].
As it's subtitle says this is a collection of "acoustic solitude, live demos and other things" from the last half or so of this decade.
But it is not really just Algeri alone with his guitar and voice, there is a range of accompaniment from cello to pedal steel to various percussion. Mostly recorded by former DM3 bass player and recordist Tony Italiano these are not lo-fi home recordings.
The acoustic and melancholic nature of most of these songs give a late '60s/early '70s Southern Calif singersongwriter feel to most of them. (And I think this is implicitly acknowledged by the inclusion of a rendition of Gene Clark's Outlaw Song at the end.)
Apricot Girl seems to nod towards the British equivalent of the time. And After The Rain comes closest to feeling like something the Beanstalk might work up.
It's all quite pretty, and just right for those lonely, foggy, rainy days we seem to be in the midst of here.
David M. Snyder
The Bob # 57
**********
Joe Algeri har flyttat från Perth till Stockholm och lagt sitt band Jack & The Beanstalk i malpåse. Till skillnad från powerpoppiga Beanstalk är Everything Under the Sun en sympatisk singer/songwriter-platta.
Låtarna har skrivits under en femårsperiod och titlar som Lee Hazlewood och Outlaw song (Gene Clark-cover) ger en vink om vilka som är Algeris stora husgudar.
PM JÖNSSON
GP
**********
Med sitt band Jack And The Beanstalk spelar han Byrdsinfluerad jingle-janglepop med alla de rätta komponenterna, fast bandets två år gamla album Serial skvallrade mer om killens raffinerade smak än om någon utvecklad begåvning eller personlighet.
Då är faktiskt detta intressantare, en skafferilänsning till soloplatta som fått undertiteln Acoustic solitude, live demos and other silly things 1994-99. Fånigt är det alls inte, och musiken ger ett mer samlat intryck och verkar sikta betydligt högre än denna anspråkslösa programförklaring antyder.
På egen hand hamnar Joe Algeri någonstans mellan John Wesley Harding och ett akustiskt R.E.M. De mer genomarbetade inspelningarna är smidigt arrangerade små folkpopsånger, luftiga saker där cello, steel guitar eller munspel färgar musiken. Elgitarren är inte portad, men den håller sig alltid i bakgrunden.
Till höjdpunkterna hör Yeah…No där Algeri på ett lekfullt vis tar avstamp i Norwegian Wood. Se det som ett finurligt skämt, men låten har ett värde långt efter att skrattet tonat ut.
Håkan Engström
Sydsvenskan