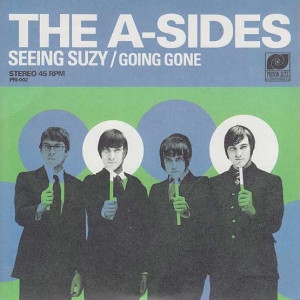 In all the reviews of this single, I notice a slight confusion regarding the A/B side thing, which isn't that surprising actually, considering the band name and the non-suggestive duplicate cover artwork …
… BUT, if you're a detail freak, as much as you're a '60s beat freak (which I assume, if you plan to get this one), then you should take a better look at the vinyl itself, which will make it clear that the above sequencing is the right one.
Anyway, none of it really matters, since you'll be flipping it so many times, that after a while you'll forget which one came first. The A-Sides are a bunch of moptopped Americans (from Philadelphia), re-creating the British way of re-creating the American rhythm'n'blues in the early sixties.
While both songs sound like genuine Brit-beat-boom artifacts, Seeing Suzy provides a bit adventurous freakbeat action and Going Gone, with it's opening guitar-line leading the way towards "Clarksville" via an early Kinky r'n'beat, is something of a "garage bubblegum"prototype.
Let's hope it won't take too long until they come up with the long player … a double A-side LP anyone?
[Released by Prison Jazz 2003]