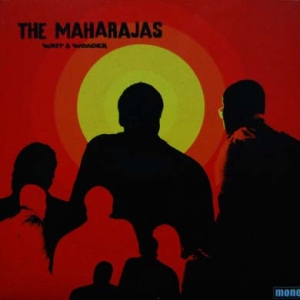 Here comes Jens Lindberg again, adding a brand new chapter to the Swedish garage/beat legend.
Just like on The Maharajas' Misty Lane 10" release from a few years aback, what they're offering here is "something moody … and groovy", staying inside the frames of the concept they've started … it's just that these four songs would've been the album's highlights, had they been released back then.
Also, there's no physical division this time, the opening and the closing numbers, Wait & Wonder and Open My Eyes (not a cover!), are the ones that fit what they used to call "the moody side", exploring those mid sixteez folky punk soundz and throwing in a coupla familiar references just for the fun of it, such as the gloria-ous guitar solo at the end of the latter .
"My personal fave" title goes to You've Gone Your Way, which adds a bit of a groove to set the mood. The time machine moves only horizontally here, staying in the usual '66-zone, so that you can almost taste the sweetness of the "psychedelic lollipop", and the one that's left is a song written by Jens' German friend, The Fool (the song, not the friend!), mixing the garageland balladry with some early love-ly jangle and also throwing in a surf-solo.
So, if you like it groovy, or if it's moody that you prefer, either way you don't have to "wait and wonder" anymore cuz The Maharajas are back in/on time.
[Released Loser Records 2002]