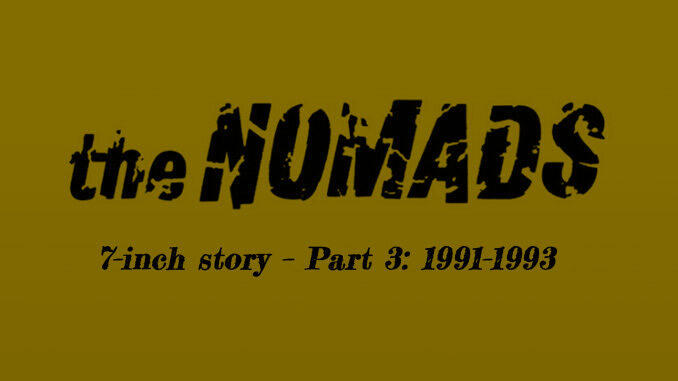 Welcome to the third round of PopDiggers' thorough review of The Nomads' massive 7-inch catalogue. We reported about the first six plus six 7-inches a while ago in Part 1 and in Part 2, respectively. In that way we covered the '80s and The Nomads' time period with Amigo Records at the same time.
A brief hiatus in the 7-inch production occurred in 1990 due to extensive touring and because Sonet after the last Amigo album All Wrecked Up (1989) offered The Nomads to sign this much larger label. Although the relation with Amigo was consistently good, the prospect of signing Sonet seemed appealing because new collaboration constellations provide fertile ground for new ideas. Furthermore, the transition created breathing space for re-calibration of the musical direction. Of course, the studio budget also became significantly larger under the wings of Sonet, which consequently opened up new possibilities.
With this short background we steadfastly continue The Nomads 7" story here in Part 3 in the same manner as before. Current batch of seven 7" – which was released within a relatively short time interval on several labels – is as chronologically arranged as It can be, starting with Red Temple Prayer (Two Headed Dog) (1991) and ending with Magdalena 93 (1993).
As before, we explore each 7" according to this winning three-piece formula:
Discographic facts (title(s), composer(s), record company, year of release, and other facts of interest – according to discogs.com, 45cat.com and the discography on The Nomads' website);
Content description (details relevant to the songs on the 7" in question);
Testimony (selected memories that The Nomads want to share with PopDiggers).
The testimony section is the largest and most important of these, as it is in this section that the members of The Nomads provide information about what actually happened behind the scenes and report on the circumstances that prevailed when the 7" in question was made.
This time, too, PopDiggers have the pleasure to find out what all the members – Björne Fröberg, Hans Östlund, Nix Vahlberg and Joakim E. Werning (formerly Ericson) – have to say about this third batch. This part is also kindly enhanced by a testimonial from their producer at the time, Chips Kiesbye.
Discographic facts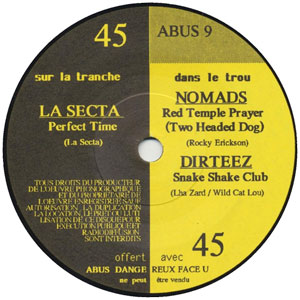 A. Red Temple Prayer (Two Headed Dog) (R. Erickson)
[Abus Dangereux I ABUS 9 / 1991]
Content description
This split single came with the ninth issue of the still going strong French journal rock Abus Dangereux (≈ dangerous abuse in English), established in 1987. The Nomads share this 7" with the French Voodoo Rock'n'Rollers The Dirteez and La Secta: Grupo de Power Rock de Bilbao.
The Nomads cover Roky Erickson's Red Temple Prayer (Two Headed Dog), originally released as a lo-fi pressed single in 1975 by R. Ericson (sic!) & Bleibalien (Mars Records), produced by Doug Sahm and coupled with Starry Eyes. Red Temple Prayer was later re-recorded by Roky Erickson and appeared for the second time (of many) on the seminal French Sponge EP (1977) that also contains I Have Always Been Here Before (B-side of The Nomads' 7-inch My Deadly Game from 1989, see The Nomads' 7" story Part 2).
Testimony
Abus Dangereux is a French music magazine that supported us very much at the time. We were even on two of their covers. We had built a steady fan base in France since the mid-'80s and played quite a few gigs there until the early '90s, but somehow the interest faded a bit after that. Since Abus Dangereux had been so supportive, it was natural to give one of our recordings to them as a service in return. A good fanzine with nice people working for it.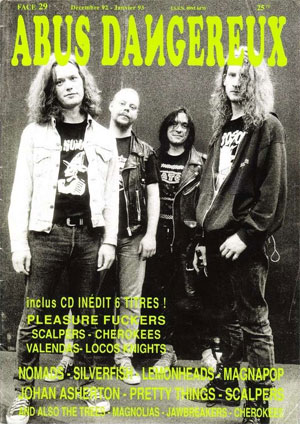 Our cover of Red Temple Prayer (Two Headed Dog) is a live recording, probably from around 1990. It can be a recording that we somehow got hold of from a radio station abroad. Although exact time and location are unknown, it is definitely the line-up with Nix, Hans, Björne and Joakim on this one, because we did not perform Two Headed Dog with the previous line-up. During the '90s we got many requests from record companies for tracks for them to release on singles. Since our stock of studio material was not inexhaustible, we sometimes had to rely on live recordings on cassettes with good sound quality, like this one.
The Dirteez, that we split this record with, are unknown to us, but we are very familiar with the other group, La Secta. They are from Basque Country in Spain and led by the singer Gorka. With his brother Iñigo Pastor, he started a fanzine (La Herencia De Los Munster) in the mid-´80s, which later developed into a record label (Munster Records) that we had quite a lot to do with in the following years. Today Gorka manages Bang! Records. It is a label that re-releases punk and garage rock and stuff like that. It was Bang! that re-released our Showdown collection on a 3LP set and our early Stagger In The Snow compilation, first issued on cassette. La Secta have been warming up for us several times. Later on our producer, Chips Kiesbye, got an offer to produce La Secta and actually traveled down there to do that.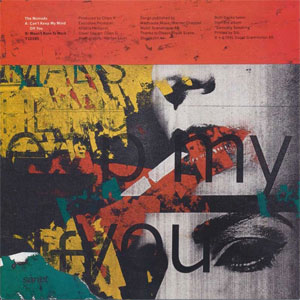 Discographic facts
A. Can't Keep My Mind Off You (B. Fröberg, N. Vahlberg, H. Östlund, P. Ahlén)
B. Wasn't Born To Work (B. Fröberg, N. Vahlberg, H. Östlund, T. Johnson)
[Sonet I T10385 / 1991]
Content description
Both-sides are original compositions taken from The Nomads' first album on Sonet – Sonically Speaking (1991).
Testimony
This single marks some kind of breaking point between the old and the new Nomads. The Sonically Speaking studio sessions were our first recordings with a large budget that allowed us to try out new things in the studio without any pressure of time. This single, especially Can't Keep My Mind Off You, thus came out quite differently compared to how we sounded on record before. The combination of a good producer and engineer, a first-class equipped studio and working under less financial constraints than before resulted in this new type of somewhat heavier sound.
By this time, the newest members Joakim and Björne had long since been assimilated and made their mark in the band to such an extent that we for some time had acted as a really well-integrated unit. Extensive touring certainly helped us hone our way into becoming this tight-knit team. All this made it so much easier for us to know what we were capable to accomplish in the studio.
Our studio technician, Robert Wellerfors, also contributed to a popular album by The Creeps, Blue Tomato. Our publisher at the time, Jon Gray, had this smash hit with their Ooh I like it! and he hoped that some of their success would rub off on us. As a matter of fact, we had very little in common with The Creeps. Still, Robert Wellerfors proved to be an excellent engineer also in this context. Our producer, Chips Kiesbye, also pushed us to develop the song arrangements and work more on vocal harmonies, which further added a new dimension to our sound.
Annoyingly, our logotype did not show up on the cover. Sonet hired a young designer who wanted to fulfill his own ideas, including skipping the logo – which was a way to display the new direction we had taken. However, the logo reappeared on the 25th anniversary release of Sonically Speaking in 2016. Ha! But we got at least half a victory against Sonet back then when we refused to be pictured on the front cover – which was the standard procedure that Sonet demanded from all their artists – as a consequence of that our logotype wasn't allowed to be shown on it. Since we did not want our image on the cover, the collage contains parts of a fashion model's face in our place. On tour, we later learned from one of our lighting technician that she was married to his brother, the bassist of Gyllene Tider – a band that was fronted by Per Gessle (also singer, guitarist and songwriter in Roxette). It's a small world.
For the song writing, we took a little help from some of our friends, Per Ahlén was singer in Wayward Souls, one of the popular bands in the mid-'80s garage boom. He later joined The Bottle Ups and The Rumblers. Tommy "Tummen" Johnson is a close friend who helped us with some lyrics during this time period. The lyrics of Wasn't Born To Work drew from his own experiences. Few loathed working more than him. At the time he was employed at a company that sold consumer electronics – a situation he wasn't pleased with at all. Maybe he was somewhat inspired by The Byrds' Wasn't Born To Follow…
Since this single was also released in the fairly new and competitive CD format with identical covers and songs, we were after all quite pleased that also vinyl singles were pressed. Sonically Speaking coincided with the end of that vinyl era among the major Swedish record companies. Consequently, the album was released on LP, CD and on a cassette which is very hard to find these days.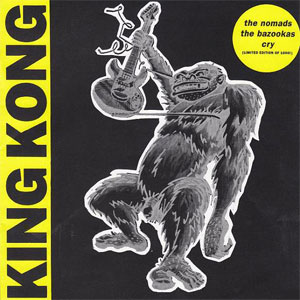 Discographic facts
A. Chinese Rocks (D.D. Ramone, (J. Nolan, J. Thunders,) R. Hell).
[King Kong I KK 001 / 1992] (The year is determined wrong or right by "920325" etched in the runout groove.)
Content description
King Kong was a short-lived Swedish 20-page 7"-format fanzine. In all, five issues were released between 1992–1994. Each issue came with an EP on the King Kong label that had exclusive tracks in a limited edition of 1,000 copies. This first issue featured The Nomads together with two other Swedish bands: Los Bazookas and Cry. The booklet contains an obituary for Johnny Thunders written by Nix Vahlberg.
On this split three-track EP, The Nomads cover the well-known Chinese Rocks, composed by Dee Dee Ramone with a little help from Richard Hell (at the time a member of The Heartbreakers). Since The Ramones initially refused to engage in such an obviously drug-related song, The Heartbreakers instead made the original recording in 1977 – released as a single from their debut album L.A.M.F. (unjustly adding Johnny Thunders and Jerry Nolan as composers on that one). The Ramones eventually included Chinese Rock on their 1980 album End Of The Century (without Thunders and Nolan credited as composers).
Testimony
Johnny Thunders died on 23 April, 1991. Two weeks later we honored him by playing what had become his signature, Chinese Rocks, at a gig in Strömsborg, Stockholm, at Galaxy. It was the only time we did Chinese Rocks on stage, so it was very attentive of Kenta the Taper to record it. On the other hand, he recorded all our concerts at that time. Kenta was always in a non-conversational mode embedded in the audience and equipped with hi-tech microphones, which guaranteed good sound quality on every recording he did. We got many top notch live recordings from Kenta.
King Kong magazine was made by people in our social circle at the time. Gittan Öhman who also worked at the record shop Freak Scene in Stockholm and Cosmo Koroly who worked at Amigo Records' warehouse and also singer in a hard-core band called The Sun. We thought that their concept of King Kong was worth supporting and we did that by giving them this song to the premiere issue. King Kong magazine released a string of interesting and a little bit odd singles with the overarching theme that all the bands included should do a cover.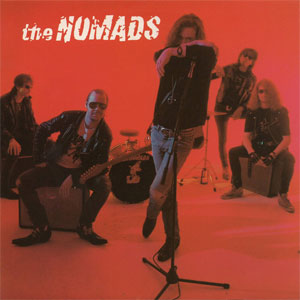 Discographic facts
A. Primordial Ooze (B. Fröberg, N. Vahlberg, H. Östlund, J. Ericson, P. Ahlén)
B1. Showing Pictures To The Blind (H. Östlund)
B2. I'm Branded (L. Wray)
[Sympathy For The Record Industry I SFTRI 189 / 1992] (Black or translucent blue vinyl.)
Content description
Primordial Ooze and Showing Pictures To The Blind are two original compositions, while the instrumental on the reverse side is a cover of I'm Branded which appeared for the first time on the A-side of a Link Wray And The Ray Men 7" from 1965 on Swan Records. Primordial Ooze was – unlike the two other tracks – first released on The Nomads' album Sonically Speaking (1991).
Sympathy For The Record Industry later included Primordial Ooze on their 10-year anniversary 2 LP compilation Their Sympathetic Majesties Request – A Decade Of Obscurity And Obsolescence 1988–1998 (1998).
Testimony
With this single, we reconnected with the US after our successful period over there in the mid-'80s with the album Outburst. Outburst became immediately very well-known, especially to American bands into the same kind of music as us. But since we didn't manage to put together a US tour to go along with Outburst and, in addition, stopped to work together with the label What Goes On Records – and thereby also with their US reciprocal Homestead Records – , we weren't able to follow up Outburst with a new record while Outburst was hot. Neither Hardware nor All Wrecked Up was released in the United States. Between Outburst and Primordial Ooze, our only in US release was a cover of Cinderella on the Sonics tribute compilation Here Ain't The Sonics from 1989 which Estrus Records was behind.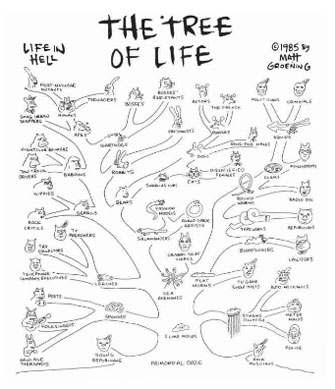 Things started to pick up speed again in the United States first when L-P Andersson – then singer in the Swedish band Cry and more recently a music writer – and his connection with Long Gone John at Sympathy For The Record Industry opened doors for us in the US. So, when Long Gone John, who singlehandedly operated Sympathy For The Record Industry, learned that L-P knew us, he got very enthusiastic and got in touch. This was crucial because it allowed us to take the first steps to experience some kind of revival in the United States. After this, we started touring the States backed by Estrus Records and SFTRI. Long Gone John was very helpful in every way. He visited all our concerts in Los Angeles and invited us to his home, which was more of a museum filled with bizarre artefacts than anything else. Later on we released a number of records on several different labels there in the 90's and we always had a great time during our visits in the US.
This single contains three recordings from the Sonically Speaking sessions from the previous year. Showing Pictures To The Blind and I'm Branded are consequently out-takes from the Sonically Speaking album. Showing Pictures To The Blind was originally planned to be included on the album, but for some reason was omitted in the end. It did make it to the CD single, though.
I'm Branded was a staple in our set-list when we played live, so we managed to nail it in the studio in less than fifteen minutes. The original is included on the fantastic Ace compilation album Link Wray – Early Recordings which came in the late seventies.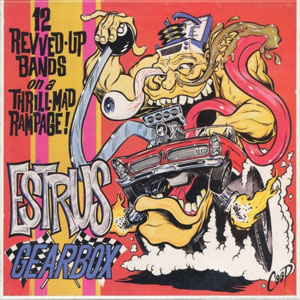 Discographic facts
3A2. Boss Hoss (G. Roslie)
[Estrus Gearbox. Estrus Records I ESBX4 / 1992]
3 × 7" EP Box Set, Limited edition compilation. Came with a luminous keychain, an Estrus sticker and an uncommonly useful mini calendar for January 1966.
Content description
On this Estrus EP-compilation, The Nomads recycle their cover of The Sonics' Boss Hoss, which was released for the first time as the B-side of their first Amigo 7" from 1982 (see The Nomads' 7-inch story – Part 1: 1981–1985).
Of the twelve like-minded combos included in this Box Set, The Nomads is the only band that does not hail from North America. The entire contents of the Estrus Gearbox are shown through the list on the back of the Gearbox below. In addition, PopDiggers provides a fact box with links to songs recorded by the eleven other bands included in the Estrus Gearbox, supplemented with brief information about each of them.
Testimony
Dave Crider of Estrus Records wanted Boss Hoss because it would fit nicely into Estrus Gearbox's hot rod theme. He didn't mind it was a recording we made ten years ago and that it was released as the B-side of our second single (see The Nomads' 7" story – Part 1).
Boss Hoss was actually a replacement for Count Five's Double Decker Bus that we originally planned to put out. We had to shelve that idea because the break was too complicated for us to play back then. Anyway, The Sonics' Boss Hoss was also a good song from one of the bands that influenced us the most in the beginning. More straightforward and therefore somewhat easier to play.
Dave Crider and Estrus Records did very much to promote us in the US. Almost every time when we toured the US, we did that with his band Mono Men. The Nomads toured a lot in the US during the Nineties; starting in 1994 and then once a year for the rest of the decade. Nix connected with Mono Men for the first time when they made a gig in Copenhagen at Loppen in 1993. In fact, Nix joined Mono Men that night and sang Boss Hoss as an encore. After that, we had a lot of contact with each other. It was Dave who suggested that we should go to Seattle and do our next record, Powerstrip (1994), at Egg Studio. This information, and our other interactions with Mono Men will be included in the forthcoming giant book about Estrus Records, Shovelin' The Shit Since '87, by the way.
In the 1990s, this music scene in the US was very inviting and relaxed regarding the relationships between bands and involved record companies. That's why Estrus Gearbox without too many legal obstacles could contain a really nice cross section of the vivid garage punk scene in the beginning of the '90s. The Nomads did not sign any regular contracts with any of the record companies that put out our records in the US. It was more of a handshake agreement. Our type of bands was seldom strictly loyal to a particular label. Instead, bands jumped between labels without raised eyebrows or any problems. For example, in our case, between Sympathy For The Record Industry and Estrus. Dave Crider and Long Gone John were in addition good friends, so neither of them had hard feelings towards each other's labels in any respect.
Apart from Mono Men, we later on had some collaboration with a few of the other bands that were represented on the Estrus Gearbox. We toured with Cheater Slicks in the US and in Switzerland. Untamed Youth was always present at Estrus' yearly garage rock festival in Bellingham, a small town located between Seattle and Vancouver, and they really did some good performances there.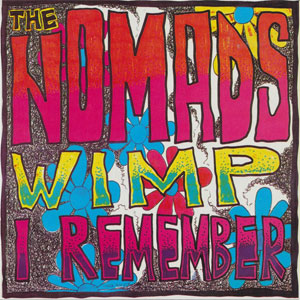 Discographic facts
A. Wimp (J. Escovedo).
B. I Remember (J. Hodgson, G. Jones).
[Munster Records I 7047 / 1993]
Content description
This A-side is a cover of the B-side Wimp of The Zeros' first single from 1977 (on Bomp! Records) featuring Don't Push Me Around on the A-side, while the B-Side of this Nomads' single, is a cover of the UK band Cult Figures' I Remember, which is the A-side of their three-track 7" 45 from 1980.
Testimony
The Zeros are an influential '70s Californian punk band that we became friends with later on. They played in Stockholm several times in the '90s, much because our producer Chips Kiesbye's group Sator covered their songs. And when we toured in the US, various members of The Zeros often showed up at our concerts in California. One of the members at the time, was Robert Lopez – El Vez, The Mexican Elvis. Javier Escovedo leads The Zeros and is a really good song writer. Wimp is on their very first single and a damn good song.
Here we have hardened our sound even more. Wimp was even tuned a half step down in order to enhance the rawness. This was the first time we used Sunlight Studio in Stockholm which was known for recording classic death metal bands like Entombed. We knew the members in Entombed by common friends who had House Of Kicks, a record shop in Stockholm. Entombed got interested in punk and garage rock through us, and most likely recommended us to try out this studio that they were happy with. Tomas Skogsberg, who ran Sunlight Studio, managed to get a guitar sound that we liked, which also added to why we wanted to test the capabilities of this studio. Sunlight studio was far down in a basement without the best air circulation. Six years later we recorded the album Big Sound 2000 in the same studio with Skogsberg as engineer.
The B-side, I Remember, is a completely different story. Chips Kiesbye suggested that we should do this song during the Sonically Speaking sessions. But it did not really qualify for the album or for the subsequent singles. Then the Hultsfred Festival wanted to do a compilation record with bands that had performed at Hultsfred during these years. One of the founders of the Hultsfred Festival, Per Alexandersson, liked this song very much. He knew that we had recorded it and insisted that our cover should be included on this compilation. I Remember is on a rather obscure British single with Cult Figures. Two years after our original recording and before we sent it on, we added new vocals in order to refresh it a little bit.
Freak Scene Records was probably involved – it was a label and record shop in Stockholm where Nix worked at the time. A Spanish guy, Juan Capel, was then in charge of Freak Scene. He had contacts with everyone in Spain who was interested in this kind of music. It may be that he made the necessary connections to carry out this release. It was probably Gorka who a bit offhand made the drawing on the cover to this double-sider that we think has aged with dignity.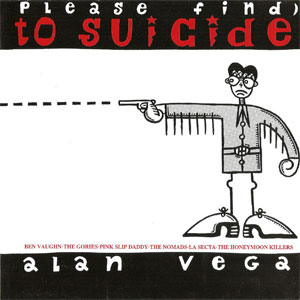 Discographic facts
C. Magdalena 93 (A. Vega).
[Your invitation To Suicide. Get Hip Recordings I GH 153 / 1993]
2 × 7" Set, compilation (33 ⅓ RPM).
Content description
This Get Hip Recordings' double 7" contains six tracks from the (at the time) forthcoming compilation Your Invitation To Suicide – A Tribute To The Songs Of Martin Rev, Alan Vega [Munster Records, 1994]. In addition to The Nomads, following artists are included: Ben Vaughn, The Gories, Pink Slip Daddy, La Secta and The Honeymoon Killers.
There are actually two original versions of Magdalena on Collision Drive; Alan Vega's second solo album from 1981: Magdalena 82 and the more primal hard-driving Magdalena 83 that probably inspired The Nomads' cover the most.
Testimony
Although Magdalena has a totally different sound, it is most probably recorded at the same session as Wimp, because it is less likely that we went to Sunlight Studio twice to record one song on each occasion.
Alan Vega and Suicide are among our favorites, and we named our version Magdalena 93, just to refer to our update of Alan Vega's own two originals. This is from his second solo album. His first, self-titled, is of a very high standard throughout. Rockabilly style. But Collision Drive is rather uneven and sometimes unnecessarily complicated. It has some bright spots, though. Like Magdalena.
Get Hip Recordings was, and still is, a good label. Freak Scene imported lots of records from Get Hip at the time this was released. Gregg Kostelich, guitarist in The Cynics, founded Get Hip in the mid-´80s. His wife, Barbara, is from Madrid. She was in constant contact with the Spanish underground scene, which explains that this double 7" was included in the compilation Munster Records made the year after. By the way, Gorka did a better job with this cover.
The Nomads warmed up for Alan Vega in Stockholm as early as 1983, when he toured with his third solo album, Saturn Strip. This album is somewhat patchy, but contains a few killers, like Wipeout Beat – one of his best ever. We were in any case totally fascinated by his concert even if some of the background accompaniment was pre-recorded. He is a real hero and sadly missed.
Thanks to Björne, Chips, Hasse, Joakim and Nix for sharing your memories and for reviewing the text.