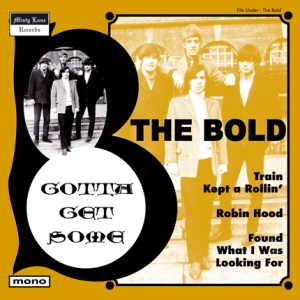 As for The Bold, it's perfectly clear why their bold-sounding debut single is what they're known for among garage fans.
If someone wants to be introduced to the sixteez punk origins, Gotta Get Some is as good a starting point as any. Thanks to another great re-release comin' down the "misty lane", you're about to hear the rest of the band's recorded output.
Besides another one that you may be familiar with, and it's the wyldest version of Train Kept A Rollin, which is sure to make you "take a trip", there are the two B-sides, of which the first one could be filed under the imaginary "Sherwood vocal-surf" genre, while Found What I Was Looking For sounds maybe a bit out of place, in it's pretty ordinary bluesy kinda way, among all the buzz'n'fuzz around it.
Anyway, it sure can't spoil the fun that you're about to experience … you just "gotta get some of this !!! … in fact, get it all !!!
[Released by Misty Lane 2002]