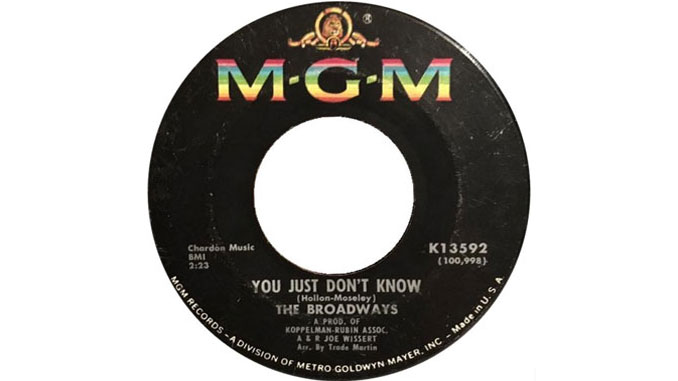 Det är snabba ryck på Olofssons Lost Treasures mellan genrer och åldrar, när vi tar steget från unga tösabitar till vuxna pojkar med hår på brösten och löd i rösten.
Efter att ha hängt på YouTube under drygt tio års tid, har jag insett två saker: dels verkar det finnas hur mycket gammal musik som helst från genrer som rockabilly, doo wop, northern soul och garagerock, dels förstår man efter att ha lyssnat på tusentals låtar att det rådde mycket stor konkurrens om att hamna på singellistorna i USA och England.
Det hjälpte inte ens om man gav ut en singel med samma potential som The Beatles klassiska singel Strawberry Fields Forever / Penny Lane, vilket blev soulgruppen The Broadways öde.
Naturligtvis överdriver undertecknad när det gäller jämförelsen med The Fab Four, då han tydligen är beredd att ta till alla medel för att fånga läsaren redan från början. Men förutom den suveräna musiken hittar jag fler likheter med The Beatles singel, när jag lyssnar på The Broadways andra och sista singel, Sweet And Heavenly Melody / You Just Don't Know.
Sweet And Heavenly Melody är nästan för lättlyssnad. Det blir för mycket Paul McCartney på gott och ont; som en Gott & blandat-påse med bara gott men inte blandat eller som att lyssna på för många Supremes-låtar på raken. Det smakar eller låter förträffligt de första gångerna, men därefter infinner sig en viss mättnadskänsla.
You Just Don't Know känns som en mullrande urkraft från berggrunden i jämförelse, med något utöver det vanliga som höjer låten från att bara vara ett gott hantverk. Det vill säga som John Lennon när han var som bäst. Sångaren Billy Browns entusiastiska kärleksförklaring samt arrangemanget, som går på uppåtjack och förstärker styrkan och glädjen i låten, gör You Just Don't Know till en av de bästa B-sidor jag någonsin hört.
Olofssons Lost Treasures
The Broadways1966
You Just Don't Know
(Drake Hollon – Ronald Moseley)
(Alla Macca-fans, som nu ser rött framför skärmen efter att ha läst min halvsågning, bör veta att Paul McCartney ska ha en stor eloge för att han försökte hålla ett stadigt grepp om rodret efter Brian Epsteins död. Hade det inte varit för honom hade The Beatles kanske upplösts redan hösten 1967. Med undantag för The Beatles vita album, där Lennon hittade hem igen mellan sina drogperioder, anser jag dessutom att McCartney redan på albumet Revolver hade blivit gruppens bästa låtskrivare.)
The Broadways kom från Ashbury Park NJ, men när jag försöker hitta information om gruppens tidiga år stöter jag på patrull. AllMusic skriver att gruppen bildades som The Uniques och fortsätter: "As The Uniques, they recorded for Selsom Records in 1960 but disbanded when Brown was drafted in 1963."
Men när jag går in på sajten 45cat visar det sig att bolaget bara gav ut skivor mellan 1964 och 1966. Jag hittar förvisso singeln Fool Number Two med The Uniques från 1965, men det verkar vara en annan grupp. På B-sidan, en version av evergreenklassikern Over The Rainbow, står Nickie Addeo som solosångare.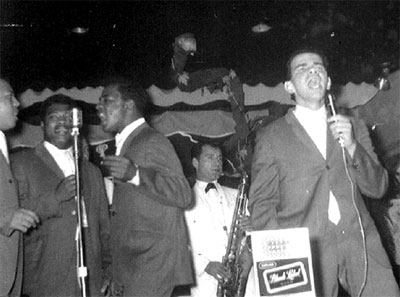 Skam den som ger sig och svaret kom så småningom. Det visade sig att AllMusic hade fel – men ändå rätt, eftersom Nickie (eller Nicky som han stavar sitt artistnamn), var sångare i gruppen en kort tid medan Billy Brown befann sig i armén.
Artikelförfattaren, som nu lyser av stolthet efter att ha löst mysteriet, kan inte undgå att ge Nicky Addeo lite extra uppmärksamhet. Han är för övrigt något av en legend i hemtrakten, vilket andra musiker insett.
Efter att Brown lämnat armén återbildades gruppen som The Broadways och skivdebuterade i mars 1966 på MGM med småljuvliga balladen Goin' Goin' Gone.
Dessvärre har låten ett mycket underligt intro, vilket inte förbättrade chansen att nå hitlistorna. Därefter får vi nämligen ett ljuvligt stråkarrangemang, som ger mig associationer både till Percy Faiths klassiska instrumentalhit The Theme From 'A Summer Place' och The Impressions I'm So Proud.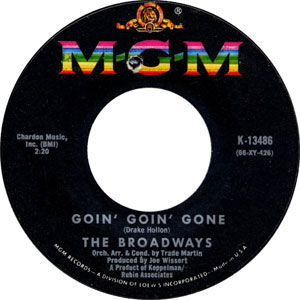 Goin' Goin' Gone tar ett strupgrepp på lyssnaren redan när Billy Brown öppnar munnen, men låten saknar möjligtvis en röd tråd under fortsättningen som skulle ha kunnat attrahera en hittörstande publik. Men visst borde lyssnaren ha fallit pladask för Billy Browns röst och hans mannars bakgrundssång. Det hade publiken kanske gjort om de fått chans att höra låten i större utsträckning, för skivbolaget struntade i att lansera singeln.
B-sidan, Are You Telling Me Goodbye?, föll mig inte i smaken första gången, men ge den fler chanser och njut ännu en gång av Billy Browns röst och arrangemanget.
Båda singlarna producerades av Joe Wissert. Han var inte så känd just då, men redan året därpå skulle Wissert producera hits åt The Turtles. Det blev startskottet för en framgångsrik karriär, med klienter som Gordon Lightfoot, Earth, Wind & Fire, Helen Reddy, Boz Scaggs och The J. Geils Band.
När varken Goin' Goin' Gone eller Sweet And Heavenly Melody blev hits, ville inte MGM förnya skivkontraktet och The Broadways gick skilda vägar.
Några år senare blev Billy Brown ny sångare i gruppen The Moments och fick sin belöning 1970 när Love On A Two-Way Street blev en stor hit.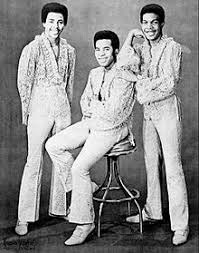 The Moments fick flera mindre hits under första halvan av sjuttiotalet men bytte namn till Ray, Goodman & Brown 1979 på grund av kontraktsskäl. Året därpå fick Billy Brown och hans mannar en ny stor hit med Special Lady. Gruppen fortsatte att existera under många år med olika medlemmar.
Det är ganska lustigt, för när jag lyssnar på Love On A Two-Way Street och Special Lady, inser jag att dessa populära låtar påminner en del om Goin' Goin' Gone och Are You Telling Me Goodbye?. The Broadways var nog före sin tid.
Gamla gubbar ger sig inte så lätt och cirka 45 år efter att The Broadways upplöstes skapades magi igen. (Jag tror att det är Nicky Addeo som introducerar medlemmarna.) Några år senare återförenades gruppen ännu en gång för att spela in en julvideo.