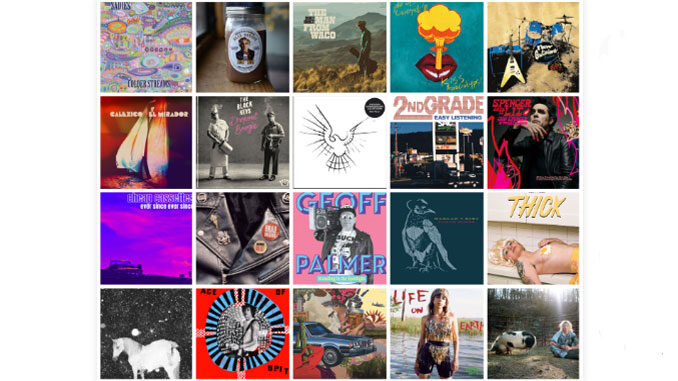 Here I share my twenty personal favorites among newly recorded albums released in 2022 with some short comments to go along each one of them. Usual suspects mixed with newcomers in one big unholy mess. Hopefully, the spread between genres provide a blend that will allow everyone to absorb something new, no matter what kind of music you happen to be into.
20. The Sadies – Colder Streams
The Sadies' Good brothers belong to a solid Canadian music family and are joined on this album by their parents. RIP Dallas Good.
19. Jeremy Scott – Bear Grease
Although many know that Jeremy Scott plays bass on Reigning Sound's final album (Memphis In June), his enjoyable and easy-going debut album may have gone under the radar. Here's a longer appreciation of it.
18. Charley Crockett – The Man From Waco
Charley Crockett continues to record approachable country at a pace worthy George Jones. Crockett expresses himself succinctly in a manner not very different from the way Willie Nelson "tunefully talks" his way through his songs.
17. John Wesley Coleman III – Kiss Apocalypse
After a four-year intermission in the record flow from John Wesley Coleman, Kiss Apocalypse is bursting with creativity. He sure is a true eccentric Texan maverick.
16. New Brutarians – Hysteria
Debut album by this White Stripes-shaped duo features delightfully sloppy glam-oriented Rock And Roll. Gino Bambino from all-time favorites Gino And The Goons is guest guitarist, and Alex Chilton is name-dropped in (Rock Me) I'm A Dadaist.
15. Calexico – El Mirador
Although Calexico took its name from the California border town with Mexico, it's fair to say that the band is based in Arizona and that they play desert impregnated music interwoven with lots of Latin vibes.
14. Black Keys – Dropout Boogie
The duo of singer/guitarist Dan Auerbach and drummer Patrick Carney's new album features original songs after last year's hat-tip to their roots with Delta Kream; Dropout Boogie is guested by Billy Gibbons (ZZ Top).
13. North Mississippi Allstars – Set Sail
Jim Dickinson's prodigy continues to guide the legacy of the melting pot of music that Memphis is known for; guest appearance by William Bell!
12. 2nd Grade – Easy Listening
Well, even if you take 2nd grade at their word when they advertise this album as "Easy Listening" it doesn't have to downgrade this straight pop content.
11. Jon Spencer & The Hitmakers – Spencer Gets It Lit
Even after Blues Explosion, Jon Spencer has made songs that never quite settle down. With Spencer Gets It Lit, he continues on that path with quirky, rhythmically complex songs full of surprises.
10. Cheap Cassettes – Ever Since Ever Since
Seattle trio's second album is filled with eleven catchy power pop songs. On Rum Bar Records – check it out this label if you haven't already. And if you feel like overdosing on recent power pop, please go ahead and consult The Power Popaholic Top 25 albums of 2022.
09. Brad Marino – Basement Beat
Brad Marino camps with drummer Beau Basement on his fourth album. Since no upstrokes were made on this record, it is not unexpectedly reminiscent of how the early Ramones sound.
08. Geoff Palmer – Standing In The Spotlight
What might initially be considered pointless on paper may can sometimes turn out to be unexpectedly enjoyable in reality, as here: Geoff Palmer's track-by-track re-make of Dee Dee King's (also known as Ramone) first solo studio album from 1989 of the same name.
07. Harlan T Bobo – Porch Songs
As the title suggests, these songs are mostly acoustic, north Catalonia recorded in more or less one sweep and packed by life wisdom of various kinds.
06. Thick – Happy Now
The second album from this Brooklyn-based trio reeks of a positive attitude and shows a predisposition to be influenced by the way real pop stuff was made in the 90s.
05. Black Lips – Apocalypse Love
The Black Lips continue to live in a world of their own after being around almost two and a half decades. With only two original members left, this presumably makes it easier for them to make greater departures from their original home of melodic garage-punk.
04. Ace Of Spit – Ace Of Spit
An utterly refreshing anachronistic (we even get a couple of instrumentals!) rock and roll album coming out from nowhere. Or St. Louis anyway.
03. El Camino Acid – Sunset Motel
Garage and power pop in perfect combination on this sophomore album which lands not far from the rowdier side of Big Star.
02. Hurray For The Riff Raff – Life On Earth
When Alynda (Lee) Segarra isn't doing Ronettes' covers, she's doing alright with her own version of "nature punk"; a passionate recipe for survival in turbulent times.
01. The Bobby Lees – Bellevue
Bellevue, their third album, hits you in the ear with edgy, almost out of control garage punk of the finest brand. It got its name from Bellevue Psychiatric Hospital in New York City by which singer/gutiarist Sam Quartin used to live before heading upstate to form The Bobby Lees in Woodstock.