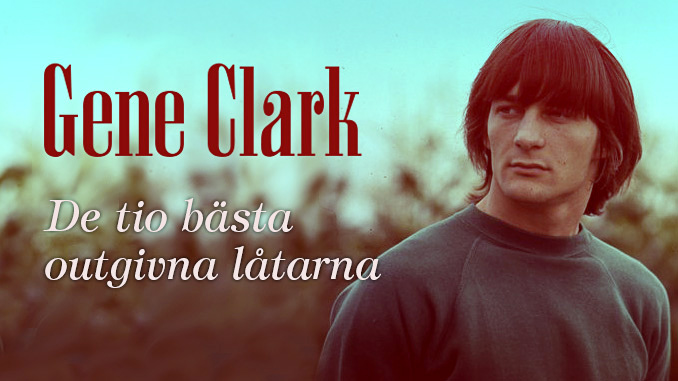 Om ni mot förmodan inte sett introduktionen, läs gärna första delen av den (fram tills jag skriver om Marissa Nadler), så får ni en bra grund att stå på innan det är dags att lyssna på nedanstående favoriter.
När ni lyssnar på låtarna från åttiotalet, tänk på att det i mångt och mycket handlar om demoinspelningar och att vissa av dem har ganska sterila och uppblåsta produktioner (med undantag för de akustiska varianterna). Tänk också på att Genes röst försämrades på grund av tilltagande problem med tänderna (han hade smärta och började dessutom tappa dem), vilket dock inte hörs förrän under hans sista år i livet.
Låtarna från sextiotalet har också demokaraktär, vilket förstås drar ner betyget en aning, men föreställ er hur de hade kunnat låta i riktiga studioinspelningar.
Dessutom innehåller nedanstående lista några kompositioner som bara finns i liveversioner, vilket sällan plockar fram deras riktiga kvalitet.

My Marie [1987?]
Om man velat flytta berg med hjälp av musik hade My Marie varit ett givet hjälpmedel. Ni förstår säkert vad jag menar redan under de inledande sekunderna av första versen. Kompositionen är i själva verket helt fläckfri.
My Marie är inget annat än en musikalisk hole-in-one, som borde fått åskådarna att jubla av hänförelse. Den skulle naturligtvis ha lanserats på ett större bolag och blivit en stor hit, även om det inte hade stått "Gene Clark" på skivetiketten.

Only Yesterday's Gone [1970?]
Only Yesterday's Gone (excerpt)
På
Only Yesterday's Gone
tar det inte många sekunder innan vi angör ett förtrollande musikstycke, som faktiskt blir ännu bättre efterhand och fortplantar sig till något som påminner om en storslagen hymn. Jag undviker att skriva om Genes röst denna gång, eftersom adjektiven som hade krävts för att beskriva den när han glider in textraderna "Grace of peace come over us. Spread you freedom over us. And I'll be satisfied", ännu inte har uppfunnits … Han "förolämpar" dock oss, i och med att den inte ens är två minuter lång.
När jag lyssnar på outgivna låtar som Only Yesterday's Gone, och hör nya sinnrika ackordbyten och melankoliska toner från ett parallellt universum, tänker jag ännu en gång på hur mycket talang som bara gick till spillo.

Dark Of My Moon [1988–1989]
Den som tvivlar på att sorg och lidande inte kan förmedlas på fler sätt via Genes vemodiga melodier och sårbara röst, tvingas revidera sin uppfattning när Dark of My Moon dyker upp och undanröjer alla tvivel! Han är kanske ensam i sitt slag när det gäller att kunna författa emotionella stålbad som Dark of My Moon.
Här finns makalösa textrader, som "Midnight hour and the eyes of passion go flashin' out of those ivory towers" och "When I'm gone you sell your time to anyone who can afford. To foot the bill for the way you carry on".
Det finns också en vacker coverversion med sångerskan Carrie Ashley Hill.

Straight From The Heart [198?]
Redan i inledningen på Straight from the Heart hamnar vi i ännu ett musikaliskt begravningståg, med Genes röst som handelsresande i sorg, medan tårarna rinner i strida strömmar. Straight from the Heart är helt enkelt en av hans bästa outgivna låtar – och jag förbannar ännu en gång att vår man inte skärpte till sig, eller åtminstone hade en manager som kunde ha sålt låten till en känd artist.

Pledge To You [1990?]
En av Genes sista inspelningar. Det är ytterligare ett tillfälle – och de börjar bli många nu – när adjektiven inte räcker till.
När Clarks inledande bönestund övergår till en orkan av tårdrypande haranger 48 sekunder in i låten, med textraderna "For if the world we know should end without warning. I want one thing to be true. I pledge my love to you my darling, and I will be there with you", inser jag hur omöjligt det egentligen borde vara att kunna skriva ett så storstilat och romantiskt stycke.
För även om jag använder ordet "tårdrypande" trillar Gene aldrig i den sentimentala fällan.

A Long Time [1966]
Om Gene varit ute efter en hit känns A Long Time som klippt och skuren. Han tar helt enkelt lyssnaren med storm trots det spartanska kompet, när molltonerna haglar redan efter ett tiotal sekunder in i versen. Alltmedan Genes bevekande och vädjande röst vilar över anrättningen.

Your Fire Burning [198?]
Det händer, när jag ännu en gång lyssnar på en gripande låt av Gene, att jag får känslan att det måste handla om samma låt gång efter gång, för det borde vara omöjligt att kunna variera ett molltema på så många olika sätt. Finns det ackord som bara han men inga andra musiker känner till? Your Fire Burning är en sådan låt. Försök tänka er hur den hade kunnat låtit med en riktig produktion och med Gene i bättre form.
Ett par av kommentarerna under låten summerar det jag kommer att tjata om under sex delar:
"The master of melancholy they call him, but he was so much more than that – melodies that go straight to the heart and a voice with a timbre that carried so much emotion. Gone way, way too early but his fire keeps on burnin'" och "To me being known as 'master of melancholy' is about the highest compliment you could pay a musician. Heartache we all suffer it but Gene was one of the very few who could truly sing it."

The Hurting Game [198?]
The Hurting Game doftar åttiotalsdemo lång väg, men de två rösterna – antingen med is i ådrorna, eller med hjärtat på rätta stället – skapar en förtätad atmosfär. Artisten som ständigt överraskar slår dock en musikalisk strike i refrängen och all kyla är plötsligt bortblåst.

On The Run (With A Loaded Gun) [1987?]
När det gäller den liveversion som finns av On The Run (with a Loaded Gun) har Gene varit ute på reservlagret och rensat förrådet på svartsynthet. Och ännu en gång har han bjudit in oss och låtit oss få ta del av hans sargade men ändå trollbindande sfär. Trots det något risiga ljudet är det ytterligare ett musikstycke som måste finnas nedladdat på alla datorer.
Genes dåvarande låtskrivarpartner Pat Robinson har kommenterat under videon, vilket så här i efterhand känns lite sorgligt eftersom han inte lever längre: "This is one of the better CRY songs that Geno and I wrote in 1987 … it sounded great with the band live … Nicky Hopkins loved it … he called it a 'Bonnie and Clyde love song …'"

I Saw A Dream Come True [1984]
En liveversion av I Saw a Dream Come True från 1984 dök upp som bonusspår på CD-utgåvan av Two Sides to Every Story. Det är bara att tacka och ta emot, för här hör vi Gene när han är som bäst; fulladdad med tungsinta mollackord och en röst som tar oss med på en smärtsam och strapatsliknande resa. Dysterheten blir så omfattande till slut att man nästan förväntar sig att en psykolog ska komma in och ta hand om spillrorna efter Gene.

Bubbling under:
The Sparrow [1970?]
Where Does The Love Go [198?; sång: Pat Robinson]
Doctor, Doctor [1966]
For No One [1971]
One Way Road [1967]
Mary Sue [198?]
On Tenth Street [1966]
I Need To Fly [198?]
7:30 Mode [1967]
After The Storm [1987]