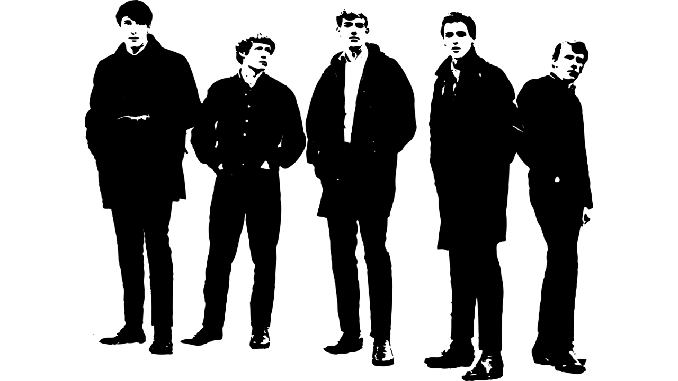 Om det nu är någon som har sökt den felande länken mellan Little Richard och MC5, så har jag den här…
Mina damer och herrar och alla små punks, ni är förlåtna om ni aldrig hört talas om The Sonics från Seattle. Men har ni en gång hört dom, så kommer ingen annan musik att låta riktigt som förut.
På många sätt är Sonics den ultimata rockgruppen. Sångaren Gerry Roslie är en "screamer" som går utanpå Mitch Ryder och låter som en ung, förbannad Little Richard. På de flesta av deras inspelningar låter det dessutom som om han trillat ner från ett sextonvåningshus, knaprat i sig två magnecyl och gått direkt in i studion.
Gitarristen Larry Parypa tar avstamp i Dave Davies otroliga solo på You Really Got Me och trummisen Bob Bennett kan närmast liknas vid en kulspruta. Basisten Andy Parypa och saxofonisten Rob Lind kompletterar gruppen och tillsammans gör dom vild och totalt kompromisslös rockmusik. Musik som svettas, svär, spottar och fräser. Tro det eller ej, men deras version av Louie Louie får Kingsmens att låta som Henry Manzini…
Gruppen bildades 1963 och redan året därpå skivdebuterade man. Det gjorde man på bolaget Etiquette, som startats i samma veva av musikern Kent Morrill, en av medlemmarna i gruppen The Wailers. Sonics fick lokala hits med låtar som The Witch och Psycho, men eftersom Etiquette var ett i trängsta bemärkelse lokalt bolag, så lyckades det aldrig för gruppen att slå igenom på nationell bas. Och deras musik hade säkerligen ändå varit alldeles för rå och brutal för att platsa hos några disc jockeys.
Tre LP-plattor blev det i varje fall, två för Etiquette och en sista för bolaget Jerden. Endast den sista fick nationell distribution, men då var det redan försent. Gruppen var i upplösningstillstånd och hade sin formtopp långt bakom sig.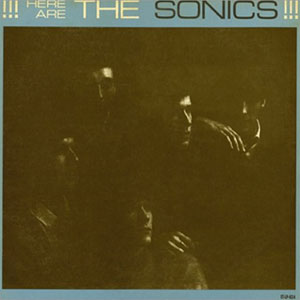 Första plattan, Here Are The Sonics, är gruppens bästa och ett fint exempel på den utmärkta blandning av eget material och 50-talslåtar som Berrychucks Roll Over Beethoven och Little Richards Good Golly Miss Molly som utgjorde gruppens repertoar.
Om man vill kan man naturligtvis plocka ut influenser: rock, den engelska vågen (i början Kinks och längre fram Yardbirds), Paul Revere & the Raiders och den tidens alla amerikanska garagerockare.
Det kan emellertid inte bli annat än små guppande fyrar på det stormiga hav som Sonics musik var. Ingen del är klart avskiljbar och helheten överskuggar helt de enskilda beståndsdelarna.
På den här plattan finns också flera av gruppens allra bästa egna låtar. De lär vara gruppkompositioner, men Roslie står som kompositör på de flesta. Psycho beskrivs bäst av titeln. The Witch handlar om tjejen som ger dig saker du helst vill vara utan – "she's gonna make you itch.., cause she's a witch" blir åtminstone i Roslies mun en varning för gonorré.
Boss Hoss är en bil-låt, som får en att känna hjulen under sig och Strychnine… ja, Roslie spottar ut textraden "some folks like wine, but I like the taste of straight Strychnine" så att man nästan tror honom! Dessutom finns här suveräna versioner av bl a Contours Do You Love Me och Richard Berrys Have Love Will Travel.
Uppföljande The Sonics Boom har självfallet svårigheter att hävda sig i jämförelse, men är ändå… kanon.
Cinderella är något av det mest hämningslösa gruppen spelat in och Cinderellas öde kvids fram med den mest obeskrivliga fuzz-ton jag hört. Även Roslies röst trotsar all beskrivning.
He's Waiting är en "Kinks-låt" fullt i klass med både You Really Got Me och All Day And All Of The Night. Deras Louie Louie är min favoritversion av en låt som inte ens Frank Zappa skulle kunna sabba…
Introducing The Sonics slutligen, kom på Jerden 1966 och innehåller förutom två ljudmässigt dåliga inspelningar av The Witch och Psycho ett par verkligt fina Yardbirds-pastischer. Speciellt You Got Your Head On Backwards, Maintaining My Cool och deras version av I'm A Man förtjänar att höras.
Men trots att det är en i och för sig skit-fin platta, så når den aldrig riktigt upp till de båda andra. Här finns inte alls det vansinne på gränsen till det okontrollerbara, som finns på de andra.
Och då hjälper det inte att Larry Parypa plockar toner ur sin gitarr som om han vore Jeff Beck själv…
Alla tre plattorna förtjänar mer än väl sin plats i den kräsnaste skivhylla. Mellan Little Richards Grooviest Original Hits och MC5:s Back In The USA. OK?
Lennart Persson
Ursprungligen publicerad i Larm #6, 1977.
[Torpedopop 2005-04-03]
Here is a YouTube playlist with 14 songs from the article.