Problems was the sixth release on Torpedo Records out on the 30th of July 2001 [TPCD6]. 888 copies were pressed in paper sleeve, all hand numbered. [BUY]
Songs:
01. Problems
02. Everybody Knows
03. Odé To A Nightingale
SHORT BAND BIOGRAPHY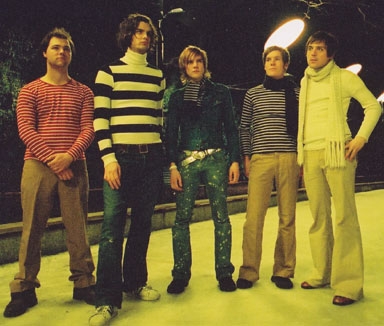 Erik Hallmer – guitar/vocals
Kristoffer Jonzon – piano/vocals
Lars Gustavsson – Fender Rhodes organ, acoustic guitar, vocals
Rasmus Berggrensson – bass/vocals
Fredrik Berg – drums
The Pendletones were formed in the southern city Malmö in 1996, when Kristoffer and Erik got together. Although they started out as a cover band playing at parties etc. They soon realised they had songwriting talent and decided to go for it under their own steam.
The band released a demo featuring That Girl and two other tracks in 2000, and have also released two tracks for the Japanese label Dodgie Disc compilation album Hemma hos mig. The single Problems was released in 2001 and the debut album Move Along, is just out here in Sweden.
REVIEWS
Kända från ett av Febers radioprogram, men det är säkert bara början för det här unga bandet. Som gör öppenhjärtad, nästan naiv, definitivt älskvärd och slösande melodisk popmusik.
Som tar in allt från Beatles och Bacharach till Brian Wilson och Roger Nichols och hans lilla grupp av vänner. Jocke Täck i Dundret-studion har dessutom gjort storverk med att skapa ett sound som slipar bort de allra "gulligaste", någon skulle säkert säga mesiga, dragen i gruppens musik.
Annars väntar jag fortfarande på att få höra gruppens The Perfume That You Wear, som av någon anledning alltid får mig att tänka på Audrey Hepburn, på skiva.
Men Ode To A Nightingale, extraspåret på den här singeln, är också ett sofistikerat stycke pop, nästan i samma klass.
Det här kan bli hur bra som helst.
Lennart Persson
Feber / Bäst Just Nu v 32
**********
Nya singeln på Malmöbolaget Torpedo är den poplåt som visar att det finns ett liv för stans popmusik vid sidan om Tambourine-musiken.
Per Hägred
Kvällsposten / Listan 3/8