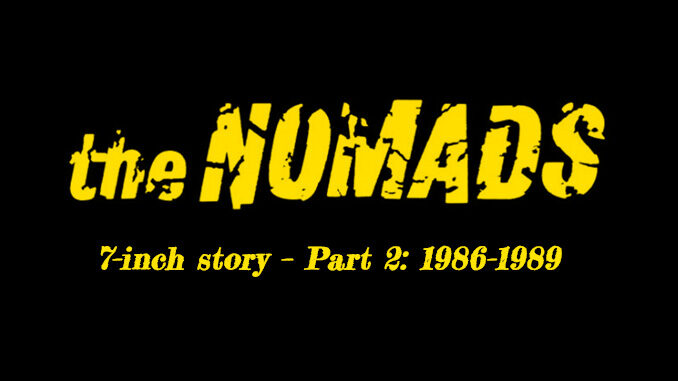 Here is the second close inspection of the extensive stock of The Nomads' 7-inches. We reported thoroughly about the six first ones a while ago in Part 1. The first part covered the time period 1981–1985 and we intend to continue this investigation in the same way here in Part 2. Our current batch of chronologically arranged 7" to examine thus begins with This Ain't The Summer Of Love (1986) and ends with My Deadly Game (1989). The current batch makes a natural subdivision and end marker for the first twelve 7-inches, since the completion of Part 2 coincides with The Nomads' last single released by Amigo Records.
Some things do not change, however; we stubbornly continue to explore each 7" according to this winning three-piece recipe:
Discographic facts (title(s), composer(s), record company, year of release, and other facts of interest – mainly according to discogs.com and 45cat.com);
Content description (details relevant to the songs on the 7" in question);
Testimony (selected memories that The Nomads want to share with PopDiggers).
The testimony section is the largest and most important of these, since it is in this section that members of The Nomads tell what actually happened behind the scenes when the 7" in question was made.
This time, too, PopDiggers have the pleasure to find out what the founding members Nix Vahlberg and Hans Östlund have to say about this second batch. PopDiggers are privileged to expand the group of spokesmen since last time with the members Joakim E. Werning (formerly Ericson) and Björne Fröberg. As if that was not enough, Andy Shernoff and Lindsay Hutton also generously provide informative comments to this part.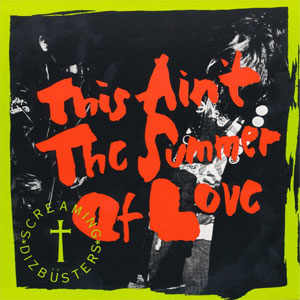 Discographic facts
A. This Ain't The Summer Of Love (A. Bouchard, M. Krugman, D. Waller)
B. Out Of The Frying Pan, Into The Fire (D. Van Vliet)
[Amigo Records I AMS 169 / 1986]
Content description
This is the first time that The Nomads released a record under the band's moniker Screaming Dizbüsters – a name taken from the Blue Öyster Cult song 7 Screaming Diz-Busters which is found on their second album Tyranny And Mutation (1973). With this background, it should come as no surprise that this single contains a cover of a Blue Öyster Cult song; This Ain't The Summer Of Love – a single from their 1976 album Agents Of Fortune. However, it is a truth with modification that This Ain't The Summer Of Love is a Blue Öyster Cult original. In fact, the proto punk band The Imperial Dogs did This Ain't The Summer Of Love already in 1974 and quite differently from Blue Öyster Cult's version. Don Waller, the front man of The Imperial Dogs, does share writing credits here (as opposed to some "Fitario" mentioned on the label of the 1978 The Imperial Dogs single on Back Door Man Records), although there is not much left of the original version besides the title and a few lines of lyrics in the Blue Öyster Cult re-make of it.
The B-side, Out Of The Frying Pan, Into The Fire, is a cover of Frying Pan by Captain Beefheart And His Magic Band. It was their second single, released in 1966 on A&M Records. Later on, Screaming Dizbüsters contributed with this song to the 1988 tribute to Captain Beefheart (Fast'N'Bulbous).
Testimony
We had an idea somewhere to record a heavy metal single just for fun. But it did not turn out that way because we did not know how to get the heavy metal sound. Instead we ended up with our usual rock'n'roll sound. In other words, we sounded just as we always did. The reason why Nix's guitar sounds unusually raw at the beginning of both songs is that his Hiwatt amplifier was about to give up. It did not sound that way normally. Pretty cool effect just the same. Blue Öyster Cult would never accept such a guitar sound, even though they are not strictly heavy metal when it comes to the guitar sound.
The first four–five albums with Blue Öyster Cult are highly esteemed by us, among the best there are in all categories. But somewhere around their album Agents Of Fortune, on which This Ain't The Summer Of Love is included, we think that Blue Öyster Cult began to lose their charm. Shortly after, they got a hit record that they tried to exploit, which meant that their subsequent output got mainstreamed and not so interesting. A great pity.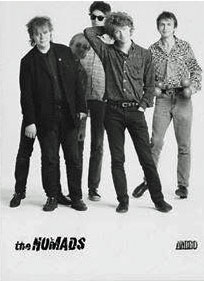 Frying Pan is an early Captain Beefheart song, recorded at a time when he played rather straightforward garage rock/rhythm and blues. A tough song that we are quite happy with how we handled. The first albums with Captain Beefheart And His Magic Band are in our opinion very good. We even appreciate his masterpiece Trout Mask Replica – in small doses…
Nome, the singer of Pushtwangers – a band that was on the Amigo Records' roster at the same time as us – was in advertising and keen on making the sleeve for us. It is not us pictured on the fishy sleeve, though. Instead we have some faint memory that we heard that it is some longhaired Irishmen, or something like that. None that we are familiar with, anyway. Nome got free hands and we think it turned out well. By the way, Pushtwangers did background vocals on This Ain't The Summer Of Love.
There was no deeper thought or strategy behind using the moniker Screaming Dizbüsters on this single. It was a fun thing; a whim, that's all. Our producer, Ulf Lindqvist at Amigo Records, liked to be impulsive and encouraged us to be creative in every way. But we actually did some gigs as Screaming Dizbüsters. It was convenient to have an alias if you for some reason wanted to play under another name.
The sleeve tells that the single is produced by Arthur Comics at The Workshop of Telescopes. Arthur Comics is a song by Stalk-Forrest Group, a pre-cursor to Blue Öyster Cult, the B-side of their one and only single from 1970, while The Workshop Of Telescopes refers to a song on Blue Öyster Cult's first album.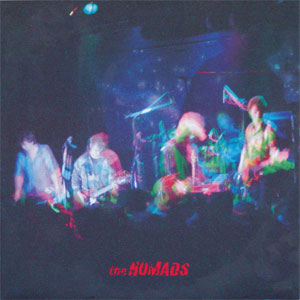 Discographic facts
A. 16 Forever (A. Shernoff, S. Kempner, R. Friedman)
B. Salvation By Damnation (H. Östlund, T. Jonsson)
[Amigo Records I AMS 171 / 1987]
Wire (UK) and LD Records (Belgium) released 16 Forever as a 12" maxi single with the B-side containing two songs other than the 7″ flip side.
Content description
16 Forever is Included on The Nomads first full-length album Hardware [Amigo, 1987], but was mixed differently compared to the single. The song is written by three of the founding members of The Dictators. Their original version was not officially released until 2007, although it was recorded as early as 1978 – shortly after the completion of their third album (Bloodbrothers) – at Bearsville Studios (Woodstock, N.Y.), intended for their next single. This was probably their last recording in the '70s before The Dictators was put on ice for a couple of years. Consequently, 16 Forever went no further than a board mix. After almost thirty years in the can, The Dictators' 16 Forever eventually became a single and a track on The Dictators' compilation Every Day Is Saturday (both on Norton Records).
Salvation By Damnation was originally recorded for the soundtrack to the horror comedy Blood Diner.
Testimony
We got to know about 16 Forever thanks to Lindsay Hutton (PopDiggers comment: Lindsay Hutton is famous for starting the Next Big Thing fanzine among other things; see his personal comment on The Nomads' The Next Big Thing 7" below.) Since he knew The Dictators well, Lindsay had received cassettes from them with demos and outtakes that he shared with us. One of the songs was 16 Forever and we thought that it would be cool to do a cover of an unreleased Dictators' song. Lindsay Hutton put us in contact with Andy Shernoff, one of the composers of 16 Forever. Andy Shernoff then faxed over the lyrics and granted us permission to record the song. The Dictators are high on our list of favorite bands and has been on our map since the mid-70's when their first album Go Girl Crazy! (1975) came.
A full circle was ended when The Dictators re-recorded 16 Forever 2003 for the CD 20 Years Too Soon – A tribute to The Nomads; a compilation otherwise mostly contains covers of Nomads' songs. We were deeply touched by all the effort that was put into that tribute.
Particular for this single is that it is mixed by Micke Herrström, making this version of 16 Forever different from the one on the album Hardware.
Hans and his friend "Tummen" Jonsson wrote the B-side, Salvation By Damnation – originally titled Sex And Guts. We got a request from Art Fein, the music coordinator of Blood Diner and manager of The Cramps for a time, to be included in the soundtrack to Blood Diner – a film inspired by the '60s horror splatter Blood Feast. But it fizzled out and just as good. Blood Diner is a lightweight comedy after all. The only group on the final soundtrack that has the slightest resemblance to The Nomads is Big Guitars From Texas.
Such a request did not come from thin air since other band in our genre, The Cramps and Roky Erickson had been engaged in the Return Of The Living Dead soundtrack; with Burn The Flames respectively Surfin' Dead. Even though Salvation By Damnation did not end up as a soundtrack to Blood Diner, it was too good a song not to use in other contexts. Shortly afterwards we incorporated it in our live shows.
The single was recorded at the Mistlur studio in Stockholm. A wonderful studio that we used for practically all our Amigo releases. It was housed in an 18th century building that was tragically demolished in the late eighties. The studio had a special sound that was a big reason why our '80s' recordings sound like they do.
There is also a 12" (a popular format at that time) which on the B-side instead has a cover of The Atlantics' Come On from 1967 and another cover – our used to be ultimate showstopper You're Gonna Miss Me by The Thirteen Floor Elevators – that we found on Lenny Kaye's Nuggets compilation. Both songs are recorded live by Swedish National Radio in 1985. From their tape we purchased these songs and put them out here.
Discographic facts
A. Where The Wolf Bane Blooms (The Nomads)
B. Rat Fink A Boo-Boo (The Nomads)
[Marilyn I M-023 / 1987]
Content description
Originally, both songs are from The Nomads' second mini album, the seven track Temptation Pays Double [Amigo, 1984]. Where The Wolf Bane Blooms was together with three other tracks from Temptation Pays Double included in the Spanish compilation Rat Fink A Boo Boo [Marilyn, 1987].
The instrumental Rat Fink A Boo Boo is only on the B-side of this single, not on the compilation (despite the name of the compilation).
Testimony
It is a little surprising for us in retrospect that this single came out as late as 1987. The A-side is from our first Spanish album release which was a compilation of our first two mini-albums and complemented with this single. We did our first Spanish tour in 1987, so these were released in conjunction with that.
One of the founders of the Marilyn Records was Frenchman Patrick Boissel who nowadays runs Alive Records in California with his wife Suzy Shaw (who was formerly married to Greg Shaw); small circles indeed in the record business! We never met Patrick in person because Amigo Records handled all details of the licensing deal. We noticed that this compilation went down well in Spain because when we were touring there, everyone we met seemed to own a copy.
It is a licensed single with the same versions as on the original mini albums. We believe this single has stood the test of time as two of our strongest early self-penned songs were picked as A- and B-sides.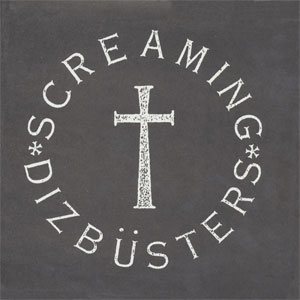 Discographic facts
A. The Next Big Thing (A. Shernoff)
B. He's Waitin' (G. Roslie)
[The Next Big Thing I NBT 4502 / 1988]
Content description
This second single under the signature Screaming Dizbüsters came with the eminent fanzine The Next Big Thing (issue 24). Things converge really nicely here, since the fanzine (and the associated record label) had been named by a song on The Dictators' first album Go Girl Crazy! (1975), which consequently matches the song Screaming Dizbüsters cover on the A-side.
The reverse side is also a cover, in this case of He's Waiting – a track on The Sonics' second album Boom (1966).
Testimony
This is the first record on which Joakim E. Werning (formerly Ericson; drums) and Björne Fröberg (bass) play. It was also our last recording in Mistlur Studios, just before the building were torn down.
The single was made for Lindsay Hutton's fanzine The Next Big Thing as a service in return to him since he had previously helped us in so many ways. It was the least thing we could do. The Next Big Thing was a part of our live set list since before, so we were quite comfortable recording it. On our live shows we skipped the subtle intro on the Dictator's original, which was tricky to play, and exchanged it for the more uncomplicated intro to Aerosmith's Back In The Saddle. We kept the Aerosmith intro on this studio version, which puzzled many.
Concerning the flipside, He's Waitin', another staple from The Sonics' catalogue – performing it may appear easier than it really is. Although all Sonics' songs appear quite straightforward, they require a lot from all band members – especially from Joakim, the drummer – to allocate the appropriate attack in the right places in this and similar type of hard-driving numbers in order to make them sound right.
Just as This Ain't The Summer Of Love, this Screaming Dizbüsters' sleeve drops, and adds, references to Blue Öyster Cult. The sleeve maker's name, Charles The Grinning Boy, is taken from the lyrics of Dominance And Submission, a Blue Öyster Cult song on their album Secret Treaties while "There Goes Tokyo" (Studios) is a line repeated in Godzilla from the Spectres album. Furthermore, Transmaniacon MC is another song title, this one from their debut album.
Everyone who was interested in this kind of music subscribed to The Next Big Thing, which meant that this single targeted an admittedly rather limited but, on the other hand, deeply devoted group of passionate music listeners. In fact, we are still in contact with many rock 'n' roll fans who were subscribers to The Next Big Thing.
It felt very rewarding for us to get the opportunity to follow up the previous great single released by The Next Big Thing with this one.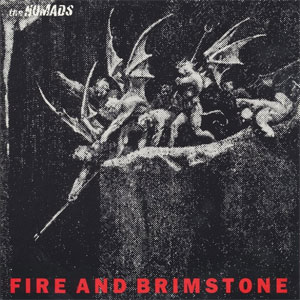 Discographic facts
A. Fire And Brimstone (edit) (L. Wray)
B. Beyond The Valley Of The Dolls (H. Östlund)
[Amigo Records I AMS 174 / 1989]
Fire And Brimstone 7" is an edited version (3m 55s) of the full 5m 05s recording released on the 12" single (which also contains an extra track).
Content description
The Nomads make a Link Wray cover on the A-side. Fire And Brimstone is originally the first single from Link Wray's self-titled first Polydor album (1971), recorded at Wray's (Chicken) Shack Three Track.
Beyond The Valley Of The Dolls is self-penned and features Johnny Thunders on guitar. This song also shows up on The Nomads' second full length album All Wrecked Up (1989) in a different mix with an extra distorted guitar in the intro and the lead vocals reinforced with an extra dub by Björne.
Testimony
We were pretty much on the road 1987–88, and after that it was time for new recording sessions. Nix had found this Link Wray album as a cut-out way back in the seventies and he has liked Fire And Brimstone since then. And when we got the chance to use the classic Atlantis Studio in Stockholm, Fire And Brimstone came to mind and that it would be fun to cover.
The mid-section of Fire And Brimstone is left out on the 7". This was done through traditional manual cutting of the tape, which was the way things were done in those days. It also fades out earlier than on the 12" version. By shortening the song, we thought that it would become more radio friendly. And using Ebba Forsberg on vocals was another move to increase its commercial appeal. But instead of getting much air play and becoming a cash cow, Fire And Brimstone became an unexpected floor filler at Stockholm's then major rock club Ritz. Always something…
For the B-side, Hans Östlund's Beyond The Valley Of The Dolls, had a title that made us think about the connection to Johnny Thunders since The New York Dolls were according to the legend formed at movie theater during a screening of the film Valley Of The Dolls. Johnny Thunders plays solo guitar on Beyond The Valley Of The Dolls.
At this time, Thunders lived in Hägersten, a suburb of Stockholm, as a parent with a young child. We called him up and he agreed to participate in our session. Björne and Hans picked him up in Hägersten and drove him to the studio while digging a tape with Roky Erickson and The Aliens in the car. He was in a good mood and really excited to do this song that alluded to one of his favorite films. Maybe it helped that he was a little bit bored by the mundane suburban life…
The situation got a little bit nerve-wracking when he could not find any amplifier that suited him. He was extremely careful with his guitar sound and discarded five, six amplifiers before he finally found a dusty old Ampeg stashed away in a corner of the studio. After about four takes he said "Now you got enough for the final mix". Hans added another bunch of Thunders-fills imitating the original's way of playing. At the end of the song, Hans and Johnny excel in intertwining Thunders-licks in tandem.
The picture of us on the back of the sleeve was taken at the entrance to the rather wore down Carlos Biljard salon in Stockholm, a place where you could play pinball and pool for cheap money. This was the first time Joakim and Björne attended a photo session for a record cover. The front picture shows a detail of one of Gustave Dore's illustrations to Dante's Inferno.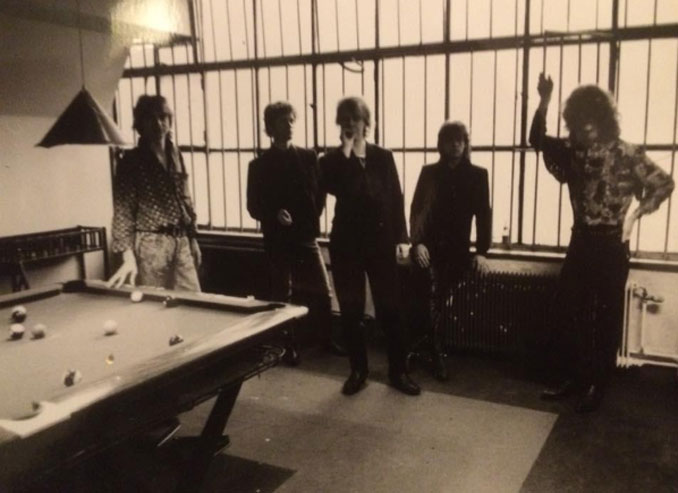 The extra song on the 12" single is a cover of The Weirdos' Solitary Confinement. We used the B-side of their second single We Got The Neutron Bomb from 1978 on one of our favorite labels, Dangerhouse Records, because we did not want to make a cover of the well-known and already perfect A-side.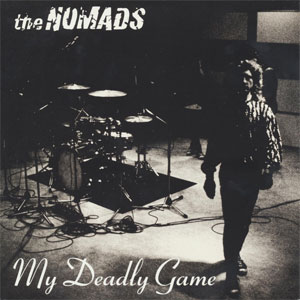 Discographic facts
A. My Deadly Game (edit) (H. Östlund)
B. I Have Always Been Here Before (R. Erickson)
[Amigo Records I AMS 180 / 1989]
My Deadly Game 7" fades out about 40 seconds earlier than the full length version.
Content description
My Deadly Game is written by Hans Östlund. The full length version of this song can be heard on The Nomads' album All Wrecked Up (1989).
The B-side is a cover of one of Roky Erickson's earliest attempts to start a solo career. Roky's I Have Always Been Here Before is just him and his acoustic guitar the first time it was released (French Sponge EP, 1977) – reminding of a demo recording.
Testimony
My Deadly Game was selected as single from the All Wrecked Up sessions we did in the Atlantis Studio; another composition by productive Hans. And I Have Always Been Here Before was an outtake from the sessions to that album – considering the benefit to have an extra and exclusive song for a single and a bonus track for the CD version of the album. Ulf Lindqvist produced, but we had a non-musician engineer who did not seem to take the session seriously nor fully understanding what we were trying to achieve.
Joakim is on the front sleeve, leaving his drum set during a session in the Atlantis Studio (and Björne can be dimly seen in the background). We thought that it was an amusing picture since there are no drums on My Deadly Game, just cymbals. It is due to that we wanted a Suicide beat and invited our friend Magnus Gehlin from the band In The Colonnades and collector of old synthesizers to work out the rhythm background for us. The end result became a nice amalgamation of Suicide and The Jesus And Mary Chain.
Roky's four song Sponge EP with Two-Headed Dog; Click Your Fingers, Applauding The Play; Mine, Mine, Mind and I Have Always Been Here Before is according to us among the best he ever recorded – together with the Bermuda single. I Have Always Been Here Before is different from the others on the EP in that it is acoustic yet atmospheric. We thought it would be an exciting challenge to see where we could take it with a bigger arrangement – with drums, bass and electric guitars. Backing up Roky Erickson at the Peace And Love Festival in Borlänge 2008 was one of our finest moments as a band.
Thanks to Andy, Björne, Hasse, Joakim, Lindsay and Nix for sharing all these memories and for reviewing the text.