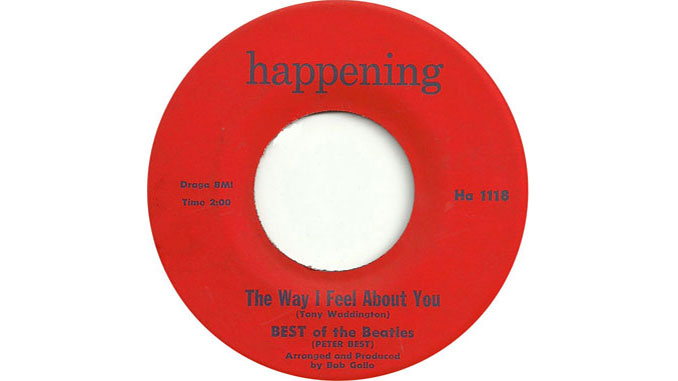 Veckans artikel handlar om personen som likt Fantomen kunde gå omkring på gatorna som en vanlig man, personen som blev mångmiljonär efter bara två års arbete och personen som hann lämna skutan i tid och därför slapp stå till svars för enformiga barnvisor, långa terapisessioner och plågsamma durförsök.
Visst är ovanstående ingress friserad, men ibland måste en hårt pressad skribent försöka hitta på en säljande inledning. Å andra sidan hittar jag ett par låtar, inklusive veckans featurelåt, från mitten av sextiotalet med Pete Best och hans mannar, vars vilda framtoning tidvis får The Fab Four att låta som en bossanovaorkester på ett sommarhotell i Blackpool.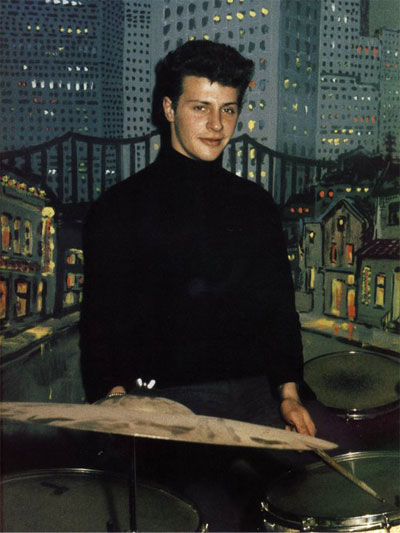 Det lustiga i sammanhanget är att det faktiskt går att skriva en ganska intressant artikel om pophistoriens störste förlorare, utan att man för den skull måste göra långa analyser om varför han fick sparken från The Beatles. Fortsätt gärna läsa, så får ni den äkta historien om oäktingen och den gemensamma nämnaren mellan Pete Best och denna landsplåga, med betoning på plåga.
Hur som helst ska jag inte dra Pete Bests hela livshistoria. Jag upptäckte dock att The Beatles chaufför, Neil Aspinall (som ju steg i graderna efterhand), gjorde Petes mor Mona på smällen redan 1961, även om det dröjde många år innan han erkände detta snedsteg. Historien är säkert känd bland många av The Beatles fans, men jag tycker ändå att den bör nämnas.
Jag återkommer med resultatet av snedsteget i slutet på artikeln, för det finns ytterligare en intressant historia kring denna händelse.
När det gäller anledningen till varför Pete Best fick sparken från The Beatles är min huvudteori att hans personlighet skar sig gentemot de övriga medlemmarna. Det finns nämligen väldigt många olika åsikter om Bests kapacitet som trummis.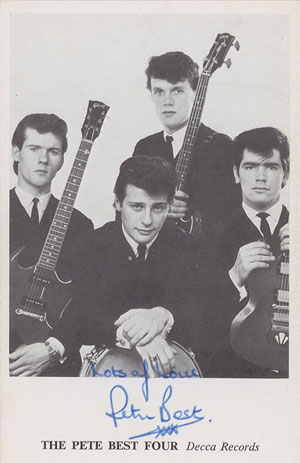 Ovanstående resonemang om Pete Bests personlighet understryks av hans gästspel 1964 i den amerikanska TV-showen I've Got A Secret, samtidigt som Beatlemania nådde sin kulmen. Detta måste ha varit en av de svåraste stunderna i hans liv. I programmet får vi även höra Petes fabricerade version om varför han slutade i gruppen. Det kan mycket väl ha skett på order från kretsen kring The Beatles.
Ni som har sett Ringo Starr agera i Beatlesfilmerna A Hard Day's Night och Help!, kan ju försöka föreställa er hur filmerna hade sett ut med Pete Best i stället för Ringo …
Man pekar även på att de övriga gruppmedlemmarna var avundsjuka för att Pete var mest populär bland de kvinnliga fansen och att han vägrade kamma ner luggen (vilket inte alltid är så lätt för personer som har lockigt hår). Historien med Neil Aspinall och Mona Best kunde också ha urartat till något otrevligt i media.
Det sägs också att The Beatles manager, Brian Epstein, ansåg att Mona Best var för dominant och använde gruppen som redskap för att lansera sin son. I filmen Birth Of The Beatles från 1979 får vi dock en helt annan version, men då ska man veta att Pete Best agerade som teknisk rådgivare till filmmakarna.
Efter att Pete Best fått sparken från The Beatles i augusti 1962, drabbades ändå Epstein av dåligt samvete. Efter att Best tackat nej till att bli medlem i Rory Storm & The Hurricanes (där en viss Ringo Starr tidigare varit trummis) och The Merseybeats, gjorde Epstein en deal i hemlighet med en bokningsagent, vilket innebar att Pete Best blev medlem i ett av Liverpools mest populära band, Lee Curtis & The All Stars.
Trots att gruppen hamnade på andra plats i tidningen Mersey Beats årliga omröstning om Liverpools mest populära band floppade deras båda singlar, medan The Merseybeats trots allt fick några stora hits.
Så småningom bytte Lee Curtis & The All Stars både medlemmar och namn och fastnade till sist för The Pete Best Four. Den mest kände medlemmen blev dock något av en bifigur, eftersom flera av gruppens låtar skrevs av gitarristen Tony Waddington och basisten Wayne Bickerton stod för sången på merparten av dem.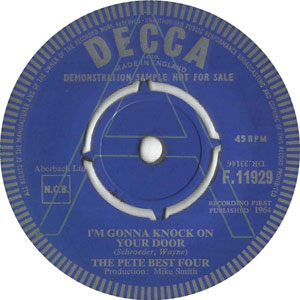 The Pete Best Four erhöll skivkontrakt med Decca, vilket är smått ironiskt med tanke på att det var samma skivbolag som hade tackat nej till The Beatles knappt två år tidigare.
Debutsingeln, en onödig version av den redan onödiga låten I'm Gonna Knock On Your Door (i Sverige känd som den första listettan på Tio i topp, men originalet gjordes av The Isley Brothers), floppade dock.
På B-sidan hittar vi gruppens första egna komposition, Tony Waddingtons småtrevliga beatlåt Why Did I Fall In Love With You.
När jag tittade närmare på gruppens skivutgivning, blev jag förvånad att ovanstående singel var den enda singel som de gav ut i hemlandet. Anledningen var att The Pete Best Four åkte till USA för att försöka skapa sig ett namn (de turnerade även i Kanada). Gruppen bytte också namn till The Pete Best Combo, även om det namnet aldrig förekom på någon skiva.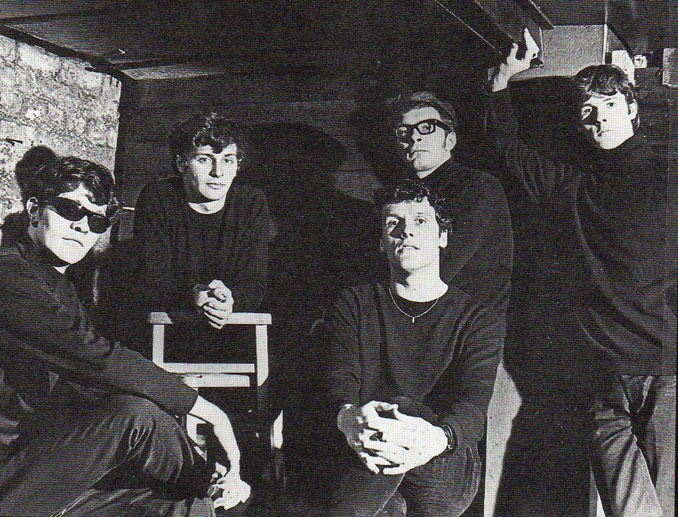 Under de kommande två åren skulle Pete Best och hans grupp ge ut fem singlar i USA. Man anar en viss desperation hos skivbolagen när två av singlarna gavs ut under namnet Best Of The Beatles (Pete Best).
Ett par av singellåtarna Don't Play With Me (Little Girl), If You Can't Get Her, (I'll Try) Anyway, I Can't Do Without You Now och Keys To My Heart har ett sound som i viss mån attraherar undertecknad, men man förstår varför de försvann i mängden. Singlarna gavs också ut på småbolag, vilket inte förbättrade oddsen. Wayne Bickerton är heller inte världens mest karismatiske sångare.
Ett undantag, förutom The Way I Feel About You, är dock I Wanna Be There, vars pumpande rytm och uppkäftiga sound, där saxofon och orgel ingår i det smakfulla receptet, lätt hade platsat på någon av de senaste decenniernas många garagerocksamlingar.
Olofssons Lost Treasures
Best Of The Beatles (Pete Best)1966
The Way I Feel About You
(Tony Waddington)
Tänk er The Young Rascals debutsingel I Ain't Gonna Eat Out My Heart Anymore, med ett råare sound, eller ännu hellre Chocolate Watch Bands Are You Gonna Be There (At The Love-In), så får ni lämpliga referensramar.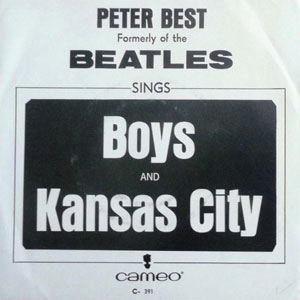 På tal om The Way I Feel About You hörde jag låten första gången 1984 med amerikanska garagerockgruppen The Lyres. Då kunde jag förstås inte ana att originalet hade spelats in av Pete Bests grupp.
Ett lustigt singelval, om vi återgår till Beatleskopplingen, är att Pete Best spelade in både Boys och Kansas City, som The Fab Four ju spelade in på skiva och de ingick dessutom i den berömda gruppens liverepertoar fram till och med 1964. Det är troligtvis också de enda tillfällena som Best sjöng solo på singlarna.
Om skivköparna kände sig lurade eller förvirrade över namnet Best Of The Beatles (Pete Best), var det nog inget i jämförelse med hur lurade de som köpte albumet Best Of The Beatles kände sig. På konvolutet hittar vi en bild på just The Beatles, taget i Hamburg före gruppens glansdagar, men på skivspåren lyser The Fab Four förstås med sin frånvaro. Pete Best ska dock inte lastas för detta tilltag, eftersom han var kritisk mot marknadsföringen.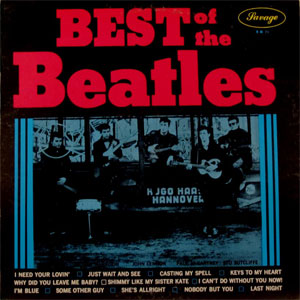 Best Of The Beatles låter som om The Rolling Stones har bjudit in ett lokalt garagerockband till en källarstudio och någon råkat trycka på inspelningsknappen efter att medlemmarna i banden tömt ölförrådet. Det doftar lågbudgetproduktion och råder stor brist på disciplin, vilket är synd då The Way I Feel About You och I Wanna Be There tyder på att det fanns viss potential. Nobody But You är dock inte så dum.
Efter att ha tillbringat en längre tid i USA återvände Pete Best till Liverpool. Han började arbeta på ett bageri men kom senare att bli arbetsförmedlare. Även om Best avancerade inom yrket är det ironiskt att en man som själv fått sparken började arbeta med människor som mist sina jobb.
På musikfronten gick det bättre för de före detta gruppmedlemmarna Wayne Bickerton och Tony Waddington. De inledde ett samarbete och 1969 fick tjejtrion The Flirtations en hyfsad hit med deras Nothing But A Heartache, som sedan dess har blivit en northern soul-klassiker.
I början av sjuttiotalet skrev de låten Sugar Baby Love, som först var tänkt att ingå i en rockmusikal eller lanseras i Eurovision Song Contest. Efter att den populära gruppen Showaddywaddy tackat nej bildades The Rubettes – och resten är historia! Konstellationen Bickerton–Waddington skrev ytterligare några av gruppens hits.
Efter att ha tackat nej till att uppträda under många år lyckades några av Pete Bests vänner övertala honom att göra comeback på scen, i samband med en konsert på ett hotell i Liverpool. Pete samlade ihop ett band, där hans halvbror Vincent "Roeg" Best – tillika Neil Aspinalls son – ingick på trummor. Det blev startskottet för Bests andra karriär. Han bildade The Pete Best Band, som fortsatt att turnera under många års tid.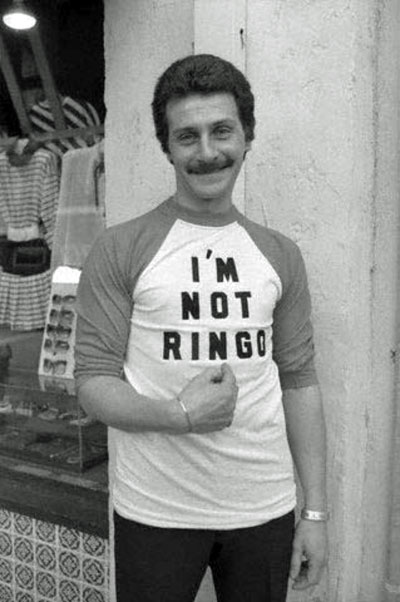 Sju år senare kom The Beatles Anthology-serie och knappt 35 år efter att Pete Best fått sparken från gruppen efter att ha varit medlem under två år ska han ha blivit mångmiljonär. Det talas om summor mellan 1 miljon pund och 12.8 miljoner dollar, men då Best inte har skrivit en enda låt och bara medverkar på 10 av de 60 spåren, bör ersättningen snarare ligga närmare 1 miljon pund. I en intervju har Pete Best i alla fall sagt att han är ganska rik. Sajten TheRichest skriver att hans förmögenhet ligger på 600000 dollar.
Paul McCartney och George Harrison verkade inte lida av dåligt samvete efter att ha gett Pete Best sparken 33 år tidigare, eftersom man retuscherade Best på bilden som fanns i mitten på omslaget.
Tretton år senare tog Pete Best hämnd genom att på The Pete Best Bands debutalbum Haymans Green använda den retuscherade bilden från Anthology 1 som bild på konvolutet. Albumet fick hyfsad kritik och visst finns det musikaliska likheter med en viss grupp. The Pete Best Band framförde plattans kanske bästa låt, Gone, i engelsk TV samma år.
Pete Best verkar ändå ganska nöjd med sitt liv. I ärlighetens namn kunde väl ingen ana hur framtiden skulle se ut när The Beatles spelade in den första versionen av högst ordinära Love Me Do med Pete på trummor i juni 1962. Eller som han uttryckte det i en intervju 2007:
"Some people expect me to be bitter and twisted, but I'm not. I feel very fortunate in my life. God knows what strains and stresses The Beatles must have been under. They became a public commodity. And John paid for that with his life."