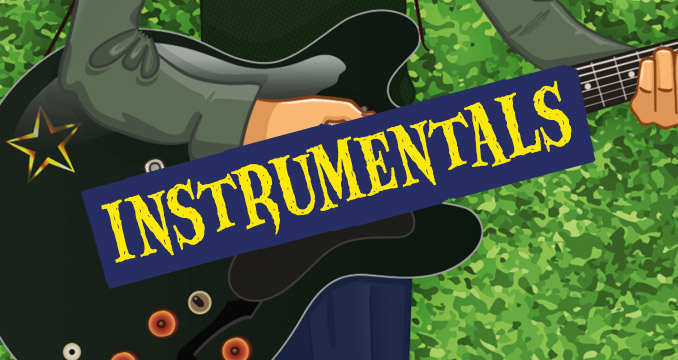 As we know, the instrumental era ended abruptly when the doomsday comet named "British Invasion" entered the skies in the early 1960s and turned the music scene upside down. Admittedly, other genres were also extinguished more or less overnight, but the blow to instrumental bands was so devastating that it can be compared to the extinction of dinosaurs in prehistoric times. But, as we know, dinosaurs were not completely wiped out, as today's birds are a remnant that evolved from a certain group of them.
This introductory cryptic digression will encourage us to pursue the analogy between modern instruments and today's bird species. For the sake of this article, that means taking out our binoculars and spot ten songs that make up these rare objects of anachronistic manifestations regarding instrumental music. We will stick to the second half of the post-instrumental era, with recordings from 1990 onwards. It's about time to move focus, since PopDiggers have covered the '50s and '60s twice; in Ten Strummin' Mentals! respectively Another Ten Strummin' Mentals!!.
You'll notice that only a few of the featured songs were recorded by straight instrumental groups; those who did not care to sing at all. Instead, the bulk of the rarities are presented by vocal bands that sporadically pay more or less twisted respect for the spirit of the instrumental era. Everyone in their own special way. Furthermore, we're skipping predictable covers and the whole revival thing here. Instead, you will get lots of tips for further listening (instrumental or not) that emanate from the spotted instrumentals.
This presentation can be seen as an alternative to and extension of what Kent Crowley in his book Surf Beat – Rock'n'Roll's Forgotten Revolution (2011) called "The Third Wave" of instrumental artists of which Dominic Priore collected the most notable on the compilation Bikini World! 15 Surf Stompers From The End Of The Century … (1997) which is splendid add-on to our subject at hand.
Let's get ornithological!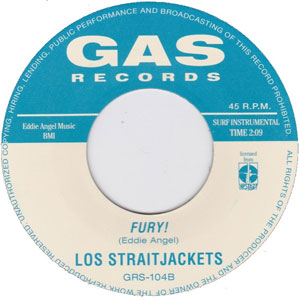 Los Straitjackets
Fury!
[7", Gas Records, 1995]
Who could have guessed in 1981 that Eddie Angel's first single (Lynxtail/Rampage; Rebel Riot Records) was the starting point for a phenomenal career in the branch of instrumental rock. His guitar playing has since then graced many great artists' outputs (for instance, super drummer Sandy Nelson, well-known Freddie Cannon and rockabilly legend Ronnie Dawson) and he has also been instrumental (sorry) in many bands (The Planet Rockers, The Neanderthals and Ian & The Aztecs but foremost in Los Straitjackets. This band was first formed with Danny Amis (The Raybeats) and drummer Jimmy Lester (Robert Gordon and Billy Joe Shaver) in Nashville 1988 as The Straitjackets and then reformed with the current Spanish prefix in 1994.
It didn't take long for them to adopt the gimmick of performing in Mexican wrestling masks and they must have worn out several generations of them in the 25+ years Los Straitjackets have been around. Besides extensive touring, they have released swaths of records, both in their own name (more than 15 albums and twice as many singles) and as backup band for a lot of other artists. Operating in pure bred classic instrumental rock, Los Straitjackets draw inspiration both from the fuzz sound and power chords of Link Wray and the clinically crispy deliveries of The Ventures.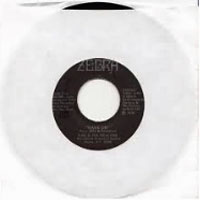 Nowadays, Nick Lowe is Los Straitjackets' main focus as backing band. Most probably their paths first crossed when Nick Lowe played solo bass on Shake That Rat (originally on his Bowi-EP, 1977) when it was re-recorded in 2001 and included on the album Sing Along With Los Straitjackets. By the way, Finnish Gas Records was a sub-label to Goofin' Records. Fury! is the B-side of single number four (out of eleven) in their 100-series that specialized in surf music between 1996 and 2001. Fury! can also be found on the humbly named album The Utterly Fantastic and Totally Unbelievable Sound of Los Straitjackets (1995; reissued 2019).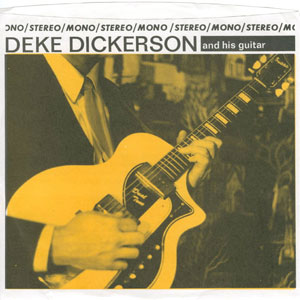 Deke Dickerson And His Guitar
Asphalt Aisle
[7", Estrus Records, 1995]
Just like Los Straitjackets, Deke Dickerson has been genuinely busy ever since he made his debut on record 1989 as lead guitarist in Untamed Youth in Missouri (but he relocated to California two years later). He's practically all over the place spreading the word of American roots music and engage listeners and fellow musicians – too numerous to mention in a short summary like this one – with his contagious enthusiasm.
Deke Dickerson employs an uncomplicated and pure guitar sound that builds in a straight family line on the genres' predecessors that makes his recordings truly embedded in broad layers of American music culture, effortlessly roaming between country, rockabilly as well as Rock and Roll. This solid foundation combined with his versatility has made him a sought-after resource in many quarters. Hence, a guitar geek like Deke Dickerson shows up in many guises. In addition to taking part in many artistic collaborations, he is also a guitar connoisseur who is considered worthy of a column in Guitar Player Magazine and composes film scores while keeping busy in the studio and at the live stage.
Many years later, our pick Asphalt Aisle, appeared on Dickerson's soundtrack album for Julien Nitzberg's 2009 documentary The Wild Whites of West Virginia about the White family – a sequel to his earlier film The Wild World of Hasil Adkins (1993), another eccentric Boone County resident.
Rounding off with a clip to connect the dots between Deke Dickerson and Los Straitjackets — despite the beach backdrop, it's no surf instrumental, but good, nonetheless.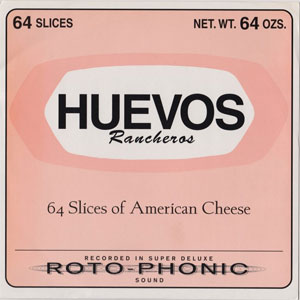 Huevos Rancheros
64 Slices Of American Cheese
[7", Roto-flex, 1995]
To continue on the Spanish-speaking trail, Huevos Rancheros were formed in the Canadian prairies; in Calgary, Alberta, 1990. No wonder they absorbed the western/rockabilly feel into their repertoire as such open country calls for, which they mixed with a healthy dose of surf and Link Wray. Brent Cooper (guitar) and Richie Lazarowich (drums) remained throughout the ten years Huevos Rancheros were active, while the bass duty shifted between various members.
First out of recorded material was the six-song self-released cassette Huevosaurus (1990) which was sold at gigs around Calgary. Then, they released the first vinyl, the 7" EP Rocket To Nowhere on Estrus Records, with Rocket To Nowhere as the title track. After that, they teamed up with the Seattle based label C/Z Records and released their first full-length album Endsville! (1993) from which the opening track Drive Thru at Molly's Reach is selected a prime example of how they sounded at that time.
Huevos Rancheros continued to jump between labels, although Canadian Mint Records became their main outlet from 1995 and onwards. Shadow Of The Apache, from the album Get Outta Dodge (1996), is a cow punk sound bite from that bunch of recordings. After four studio albums and ten singles/EPs, Huevos Rancheros decided to pack it in after their Euro tour in 2000 and disbanded in conjunction their final album Muerte Del Toro.
With the selected item, 64 Slices Of American Cheese we catch Huevos Rancheros mid-career, allowing them to go the extra mile here with an intricate interplay between bass and guitar that makes 64 Slices Of American Cheese not just another food obsessed throwaway. The cheesy A-side is appropriately backed with a cover of The Tornados' Telstar, (partially (?) written by Joe Meek (1962).
Since the split, Huevos Rancheros have performed occasional reunion shows at benefit concerts. Brent Cooper went on to find another three-piece instrumental band: The Ramblin' Ambassadors, contributed to the Ennio Morricone tribute For A Few Guitars More with Sixty Seconds To What? (2002), and most recently joined Calgary's own Forbidden Dimension in A Wolf's Gotta Learn, featured on the compilation 10 Years Wasted [Wasted Wax Records, 2022].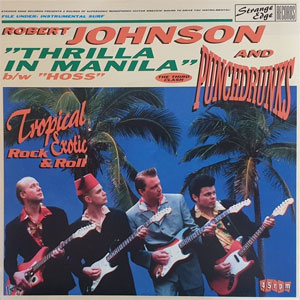 Robert Johnson And Punchdrunks
Thrilla In Manila
[7", Strange Edge Records, 1996]
Robert Johnson made his mark on the instrumental music scene in 1985 with the Boppalina Goes West And 3 Others EP by The Bottle Ups (1982—1986), a combo which initially gave birth to a new kind of instro beast consisting of two parts Link Wray and one part spaghetti western film music; a creature that stagger around like a Ramblin' Wreckless Hobo by the help of high voltage fuzz boxes.
After a six-year hiatus following the break-up of The Bottle Ups that was interrupted by a stopover in the form of a one-off album by The Rumblers Punch Drunk, (Pet Sounds, 1989), Robert Johnson formed Punchdrunks in Solna, Sweden, 1992. During the 15 years Robert Johnson And The Punchdrunks were in operation, they released ten albums and a dozen singles and EPs which had a sound that increasingly came to be dominated by keyboards at the expense of guitars with the exception of Traynor In Heaven For Link Wray (album trailer; 2006). Robert Johnson was the only permanent constituent in Punchdrunks as all other members rotated.
Our selected title here, Thrilla In Manila, is Robert Johnson And The Punchdrunk's first single, which was included on their second album Aloha From Havana [Strange Edge Records, 1997]; it was written on the spot in the studio and nailed in the second take.
Apart from making increasingly experimental excursions in music after being a Punchdrunk, Robert Johnson owns Nilroy Records (active 1995—2009), is music editor at Radio Sweden and writer of two books in Swedish (a collection of short stories and a novel).
Thee Cormans
Mingo
[7", Total Punk, 2012]
As the name Thee Cormans suggests, this southern California instrumental combo was heavily addicted to the type of exploitation B-movies that made director Roger Corman famous. That's why Thee Cormans cherish the biker concept which made them a modern version of Davie Allan And The Arrows, but with loads of lo-fi ambition that paved the way for an intentional poor sound quality on their records. Building on the structure of rough '60s instrumental music, Thee Cormans wrote songs that they do their best to turn into devastation and pure mayhem. For further reference, Thee Cormans have rightly been compared to being the instrumental version of how The Mummies trashed '60s Rock and Roll back in the 1990s.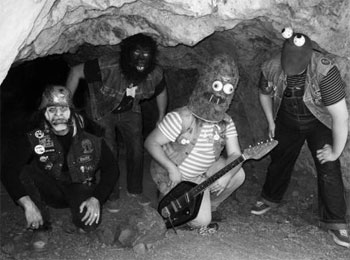 If The Mummies appear on stage wrapped in fluttering gauze and Los Straitjackets wear their Mexican wrestling masks, Thee Cormans sported their own nutty face attire with dignity in the same league of confusion. If it wasn't for the disguise, Thee Cormans would have revealed the true face of low-budget rock. It would also have been easier to recognize the members, who probably preferred to remain anonymous — presumably to avoid reprisals from pure audiophiles.
The only member who is easily confirmed is the late Steve Pallow (also as known as "Haunted George"). He also played with The Beguiled, Satan's Cheerleaders and The Necessary Evils before resorting to the Mojave Desert to work as a park ranger, devoting his free time to field recordings in the spirit of Hasil Adkins.
Thee Cormans released five singles/EPs and one album between 2007—2012, mostly on In The Red Recordings. They are among the few instrumental combos that demonstrate much better sound quality on their live sets than on the material recorded in the studio.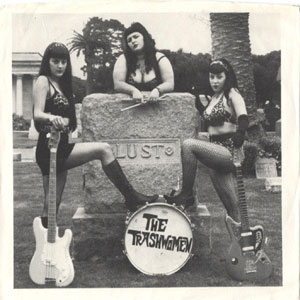 The Trashwomen
Aphrodisia
[7" EP, Hillsdale Recordings, 1992]
California is a stronghold for the cultivation and development of surf culture's homegrown roots that have been practiced by several generations of artists. The Trashwomen originally formed in 1991 with the goal of performing just one-off live show consisting of covers of songs originally done by 60s surf/garage band The Trashmen. Apparently, this concept was so successful that The Trashwomen quickly grew a fan base in their home turf of the San Francisco Bay Area large enough to motivate them to enter a recording studio. Their four track 7" EP debut Lust on Hillsdale Recordings in 1992 (featuring our pick Aphrodisia, which is also included in the Bikini World! compilation mentioned in the introduction) was followed by two 7" and three albums over the next two years (discography) on Estrus Records and Pin Up Records.
This trio was formed by Tina Lucchesi, Danielle Pimm, and Elka Zolot. But although The Trashwomen didn't formally split until 1997, before then the members were already involved in several other bands. After brief stints in The Lone Surfer And His Super Pals and The Count Backwards, Tina Lucchesi and Danielle Pimm went on to form The Bobbyteens in 1996 while Elka Zolot became a member of The Spastics. Tina Lucchesi also started Lipstick Records in the end of the '90s and fronted Tina & The Total Babes executing sped-up Bubble Gum Trash.
The Trashwomen described themselves as "The Queens of Tease Rock" which testifies their self-awareness. There is a lot of attitude in their music making. At the same time, it is clear that The Trashwomen cherished the roots of surf music but added important elements that have been invented since the first wave; punkification, sleazification and thrashifaction, which helped them to steadfastly keep the Rock'n'Roll flame burning.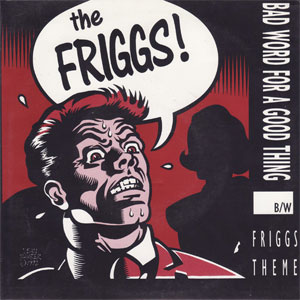 The Friggs
Friggs Theme
[7", Telstar Records, 1993]
To yell "We're The Friggs!" a couple of times does not disqualify a well-crafted gem such as Friggs Theme from joining this distinguished list of instrumentals. Described as an all-female version of The Standells, The Friggs started their career on the US East Coast around 1990, formed and headed by Palmyra Delran (guitar and occasional drums) and fronted by Jezebel. These two seem to have been the backbone of The Friggs, while the rest of the members shifted over time.
The comparison with The Standells tells us what The Friggs were all about; "Garage pop for now people" is another way this has been put. These references explain their choice of song for the first single in 1991 — a cover of the mauler Come Now (originally a somewhat sadly forgotten B-side from 1970 by The Troggs). Maybe The Friggs' affection for The Troggs was so big that it even inspired their band name?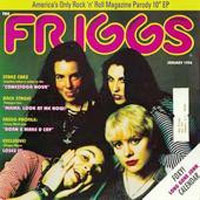 Before The Friggs broke up in 2000, they managed to release five singles, an album and a 10" EP, America's Only Rock & Roll Magazine Parody (1994), with a cover that was made to look like the cover page of an issue of the music magazine Creem (1969—1989) of which Mama Look At Me Now is one of the tracks. A posthumous compilation, Today Is Tomorrow's Yesterday, featuring singles and unreleased songs was released in 2007.
Friggs Theme is the B-side of their second 7" with Bad Word for a Good Thing on the A-side — both a Jawbreaker (1999) and an even more logical movie soundtrack for Fuck (2005). On Telstar Records (of course). Both tracks were produced and engineered by the multitask master Ben Vaughn. He has produced the bulk of The Friggs' records and, by the way, displayed his own love for different types of instrumental music in his excursion Instrumental Stylings (1995), exemplified here by Pipe Bomb.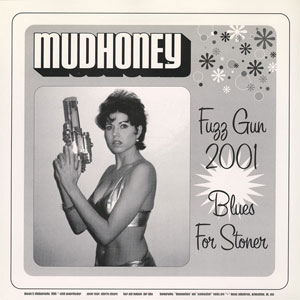 Mudhoney
Fuzz Gun 2001
[Split 7", Gearhead Records, 1999]
Mudhoney — one of the best-known grunge bands from the Pacific Northwest — clearly throw all sense of rhyme and reason overboard when they allow series-connected fuzz boxes do the work and let Fuzz Gun 2001 wallow in guitar distortion in the most profound way. It's a pretty funny approach to exaggerate something in cubic that is itself an exaggeration already at start. In that regard, Fuzz Gun 2001 surpasses Mudhoney's earlier Fuzz Gun ´91 and the B-side of this split single by far, even though it features veteran fuzz specialist and motorcycle romantic Davie Allan And The Arrows fuzzing away up and down the fretboard here in Encounter. (This split was included with the muscle car enthusiast-centered Gearhead Magazine, issue # 9.)
Sometimes, as in Fuzz Gun 2001, the humor shines through, but at the same time Mudhoney are true to the fuzzy logic of surf instrumentals, shown by Fuzzbuster and March To Fuzz — both featured on the best of/rarities and B-sides compilation March To Fuzz (2000).
Mudhoney helped to shape the Grunge genre; a style so influential that it was awarded one chapter (namely Seattle 1991) in Lenny Kaye's book on transformative moments in Rock and Roll: Lightning Striking (review) from 2021. It's fair to make this link between Grunge and Rock and Roll, because if we look past the flannels and the aptitude to crowd surfing, the core of Grunge appears to actually be based on rock and roll, but in the form of a noisy, moody and angst-ridden modern version of it.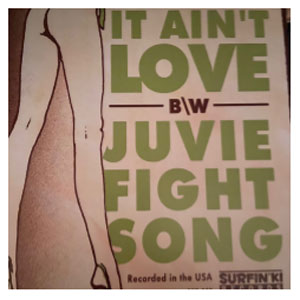 Juvie
Juvie Fight Song
[7", Surfin' Ki Records, 2013]
While the obvious similarity between Juvie Fight Song (the B-side of their second and last 7") and the nowadays pariah Gary Glitter and the Glitter Band's glam-drenched gorilla style music in the 1970s – exemplified by the semi-instrumental Rock And Roll Part 2 (1972) — for apparent reasons may not appeal to everyone just as much it did when these glitterati were in their heydays, this resemblance is nevertheless easy to perceive. Musically, however, you could have worse role models. Anyway, Juvie understands the essence of Rock and Roll and make their own version of it by adding sheer joy of playing in all their recordings.
Their discography may not be the longest one — Juvie only released one full length album and two seven inches between 2012 and 2016 — but all three are well worth investigating if you are attracted by the point of intersection between Rock and Roll and power/glam pop spiced with some good fun. Or, as someone commented about them: "How can you not love a band that does a '70s version of '50s Rock and Roll in 2017?"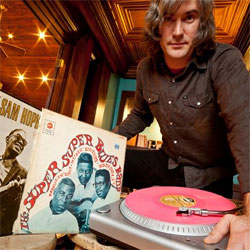 Here are some songs proving that statement: Hot Lisa and Love Crunch are from their album You Ain't Gonna Rock And Roll (2016) while Chugga Bang Bang (2012), written by no other than Andy Gortler from The Devil Dogs (another band that knew how to throw a party), is the A-side of their first 7".
This Minneapolis band was headed by Travis Ramin (Nikki Corvette and The Stingrays, The Short Fuses and The Odd, amongst others). Travis Ramin have always had many things cooking since he jumped on the Rock and Roll bandwagon in the 1990s: as label owner, producer, musician and DJ. His most recently produced a tribute to The Go Go's.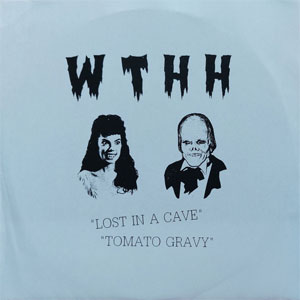 Waylon Thornton And The Heavy Hands
Tomato Gravy
[7", Goodbye Boozy Records, 2014]
Let's end this article with something on the punkiest side of modern instrumentals, represented by Waylon Thornton And The Heavy Hands, which is a guitar (Waylon) and drums (his heavy-handed wife Megan) duo. Not only the drummers' first name is shared with The White Stripes' drummer, Waylon Thornton And The Heavy Hands also sound like them, but without safety net, and more stripped down, more Do-It-Yourself and more Lo-Fi. Like an updated two-person incarnation of Hasil Adkins. Yes, you may call it budget rock if you want.
Tomato Gravy is a demented Link Wray-inspired very down-to-earth ear-piercing description of this blood-like liquid that will chill your tomato gravy. It is one of two songs (the other is a vocal track) on a one-sided single released by Italian Goodbye Boozy Records in just 200 copies.
Maybe it's the hot and humid Florida climate that makes the music sound so twisted. Either way, as long as dedicated individuals and headstrong characters like Waylon Thorton work in the musical underbrush, we don't have to worry about budget rock's regeneration and progress. If you have the nerve and the requested technical equipment, watch out for upcoming releases on Waylon Thorton's own cassette label Floating Skull.