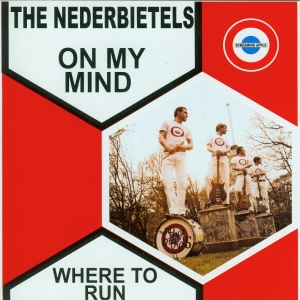 Well, the band name and the cover of The Haigs' freak (Dutch)beat classic tell it all really. With their third 7" vinyl release The Nederbietels firmly stick to the full-on pop artish mod outlook regalia, and it's accompanying mid'60s-inspired beat sounds.
The above mentioned cover of Where To Run is paired with an original called On My Mind, sharing, besides the similar song title, a bit of an attitude as well, with the band's sixties soulmates, The Birds.
Wrapped in an appropriately vintage looking cover, this is a perfect little ticket for an r'n'beat ride!
[Released by Screaming Apple 2005]