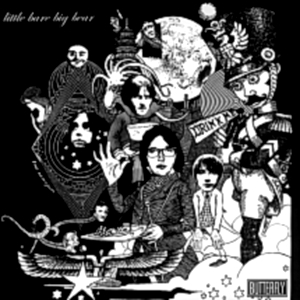 Now here's what you could call a moderndaze prototype of the late-sixteez super-group, consisting of three fourths of The Nuthins, one of the ultimate British garage-beat combos featuring Jon "Mojo" Mills, and Andy Morten of the Technicolor power-popers, Bronco Bullfrog.
Their new band integrates all the ingredients of their history, and adding some special parts of someone else's one too, resulting in an all-buzz'n'fuzz -heavy-popsyke "attack" that jumps right on you from the very first note of the sunny-side, making you wanna shout 'n' strum the air-guitar or whatever, just not to stand still.
Sometimes it reminds of Steve Marriott being backed by the Blue Cheer, but then again, it feels like the needle's jumpin' from one record to another in your own record collection.
The other side, which sounds even sunnier actually, starts with an appropriate "twilight zone guitar intro, showing the way into the doctor's office for a classic Brit-psych treatment, with the verses' "creation" against the chorus of "tomorrow" and an instrumental middle-eight that sounds like an outtake from the Little Man sessions, interrupted with a Daltrey-like announcement that "Dr.Morgan's gonna see you soon", to be ended with a nice "melancholic" guitar jangle.
I just can't wait to swallow the next Mojo-"pill". Hopefully, it'll be a 12-incher, but don't worry, I'm sure it will melt nicely.
Try this at home … or wherever you are!
[Released by Butterfly 2002]