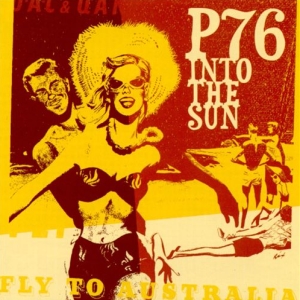 After the great debut Sunliner EP that was characterized as a pretty stabile basis for a power-pop classic prototype on these very pages, as it was announced, that classic is now materialized under the productional conduction of the Aussie-pop legend, Dom Mariani, fulfilling all the genre-defining criteria.
It's not a coincidence that the sun happens to be in both releases' titles because sunny-harmonies are what shine through the clouds of guitar riffs left by Wally Bryson, Alex Chilton or Paul Westerberg somewhere along their ways.
Besides the Sunliner faves, Heading Straight For The Sun (more sun!!!) that could easily become a "replacement" for any of the places on the "essential power-pop achievements" list, and Slow Down with it's jangly-guitars and a melody that evokes second-hand memories of the times that the band members aren't old enough to have experienced, there's also a new version of the Jericho (the earlier incarnation of the band from '96-'98) tune Social Insecurity.
Along with the rest of the songs they make an exceptional choice in a decision of how to fulfill 32 minutes of your life (many times!). The title Me & Her, The Road And Our EJ combined with 1:49 minutes (!?!?) of heavenly pop hedonism, is the best way to open a collection of songs like this while Summah Jane (summer = SUN!!!) and Something is really "something" that will stay in the back of your mind after the first listen.
For the ones who don't find the "down under" pop tradition an unknown, it will be enough to mention the fact that producer Dom Mariani and Joe Algeri appear as co-authors with frontman Danny McDonald (Sleeping In and Transit).
Since you've already entered this sound adventure of traveling "to the center of the sun", one of the logical endings just gotta be called My Sunshine and P76 know it!
Into The Sun is an energetic pill containing all the necessary commercial components with absolutely no need for a compromise. It's up to the world to come to this conclusion too, which shouldn't take so long if there's any justice left in the world at all!
[Released by ZIP 2001]