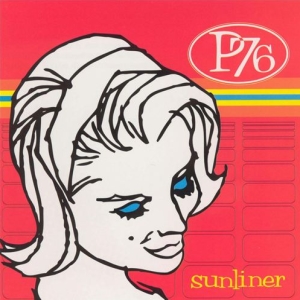 P76 is a classic Australian power-pop trio risen from the ashes of the longtime native favourites, Jericho, who left behind a couple of great EPs and one mini album, with all the essential genre elements bursting out of every metallic pore of the discs.
Sunliner is the result of everything that graced the songs of Jericho gathered in four guitar pop jewels with '60s harmonies, new waveish energy and modern production. Headed Straight For The Sun is the most adequate way to open the door of this mini pop-opus with the distinctive Replacements-reminiscing, which again, with some more analyzing, leads us to the Big Star legacy.
In the next three songs, the distorted riffage is replaced with the jangly Rickenbacker sound and a bunch of sophisticated aaaaaah-aaaaaah's (Slow Down) and the more subtle side of the Posies' catalogue as a continuation of the "Chiltonology" (It's What You Make Of It That Counts) and in the end, Another You brings back the new wave tension from the beginning in it's short but sharp 1:12 minutes.
Waiting for the long-playing debut, to be produced by the legend of Aussie pop, Dom Mariani, Sunliner leaves a little of indecision about the quality of it's content and makes a pretty stabile basis of the power-pop classic.
[Released by ZIP 2001]