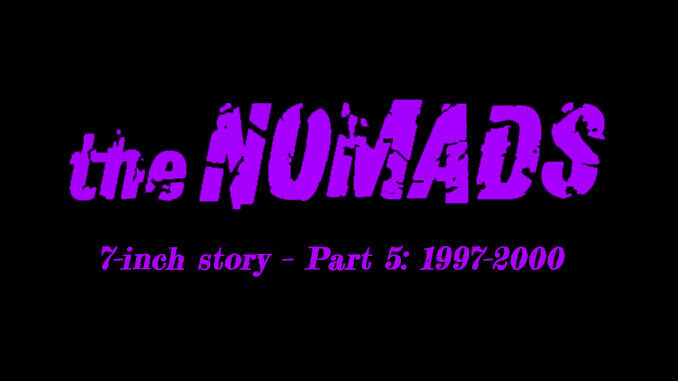 In the late 90's, The Nomads continued to participate in the intense era of 7″ releases, which can be attributed to the surge of the vinyl single revival that many small and independent labels were engaged in at the time. The absence of a strict contractual arrangement during this time period continued to enable The Nomads to close a number of selective one-off deals with the labels they were most interested in, before they landed the contract with White Jazz Records with the album Big Sound 2000 (released in 1999), which the later 7" of this part was recorded in connection with. As an enthusiastic independent label, White Jazz Records did not mind The Nomads continuing to spread their 7" on multiple labels, in much the same way as before.
This fifth part covers the years 1997 to 2000, during which seven 7" were put out on the same number of labels. In this part of PopDiggers' series of careful inspections of The Nomads 7-inches, we continue to explore and document in the same way as before with regard to what The Nomads has to tell about each of these 7-inches, plus to provide additional relevant information.
Consequently, part five builds on earlier reports: (Part 1; 1981–1985), (Part 2; 1986–1989), (Part 3; 1991–1993), and the most recent one, Part 4 which in total encompasses the years up to and including 1996. In the present article we will give an account of the subsequent bundle of 7-inches by opening our report with Pack Of Lies (1997) and closing it with The King Of Night Train (2000). All 7-inches are lined up in the most probable chronological order after releases.
In the same manner as before, we steadfastly continue to explore each 7" according to this winning three-piece formula:
Discographic facts (title(s), composer(s), record company, year of release, and other facts of interest – according to a cross-check between discogs.com, 45cat.com and the discography on The Nomads' website);
Content description (details relevant to the song(s) on the 7" in question);
Testimony (selected memories that The Nomads want to share with PopDiggers).
The testimony section is the largest and most essential of these, as it is in this section that the members of The Nomads provide information on what actually happened behind the scenes by offering reports on the conditions that prevailed when the 7" in question was made.
PopDiggers have as usual the pleasure to investigate the present fifth batch with the help of testimonies from the members Björne Fröberg, Hans Östlund, Nix Vahlberg, and Joakim E. Werning (formerly Ericson). We also welcome the insights from Carl von Schewen, who managed White Jazz Records during the time some of the singles in this part were released.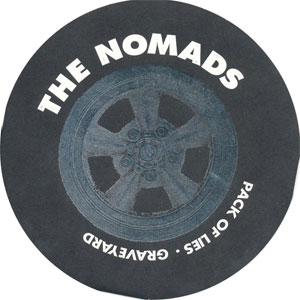 Discographic facts
A. Pack Of Lies (B. Fröberg, N. Vahlberg, H. Östlund, J. Ericson)
B. Graveyard (F. Cole)
[Estrus Records I ES7104 / 1997]
(Die cut circular sleeve)
Content description
Pack Of Lies is an original composition recorded exclusively for this A-side. It was later included in the Estrus compilation Excellent 26 Estrus Spicey Sizzlers Sampler (1999).
The B-side – another non album track – Graveyard, is a cover of a Fred Cole song that first appeared on Dead Moon's first album, In The Graveyard [Tombstone Records, 1988]. The Nomads' version of Graveyard is also one of the tracks on the compilation Tribute To Dead Moon that Chaputa!/Ghost Highway Recordings released in 2019.
Testimony
Following a suggestion from Estrus Records manager Dave Crider, this single is the result of a stopover in Chicago that we made on our way to an Estrus tour on the west coast of the United States. Dave Crider asked us to record with Brendan Burke who had previously recorded many Estrus bands. We flew in and nailed these two tracks and also managed to do a gig in Chicago during our 36 hour stay before continuing to San Francisco where we joined the Estrus package tour, The 1996 Estrus Invitationals, which was the main reason for our visit over there. We wrote Pack Of Lies for this particular occasion just before the recording.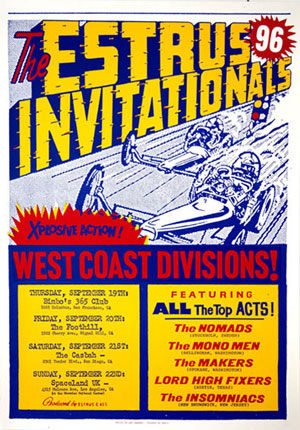 Brendan Burke was a new and pleasant acquaintance to us, he was in the excellent rock'n'roll band, Bouncing Balls, that warmed up for us at the gig in Chicago. He also had this really superb studio that was located in a Cuban neighborhood of Chicago where you could find delicious West Indian food. His Überstudio had high ceilings and Jane Fisher's paintings decorated the walls, which made the backdrop inspiring. A giant Orange amplifier from the '70s was dragged out of the shadows in order to get the guitar sound right. It was the loudest thing that we ever had come across. When Hasse turned the amp up to 11, the whole building shook. But we managed to get a really good fuzzed up resonance tone with it.
Speaking of Graveyard, we had become friends with the members of Dead Moon when we played together in 1994. At one point, we talked about doing a split single together on which one side would be a Nomads' cover of a Dead Moon song and vice versa on the other side. That is why we had rehearsed Graveyard beforehand and knew it inside out. The split single never happened, but we kept in touch with Dead Moon and did more shows together, both in the US and in Stockholm.
Art Chantry's cover design stems from a poster printed on old LPs (instead of on paper) that he happened to have lying around. In that way, the vinyl medium was utilized to promote The Nomads' gig with The Mono Men in Seattle 1995. Nix has this vinyl poster printed on a LP with The Ventures, for instance. Later, Estrus Records used said illustration idea for the circular Pack of Lies 7" cover (check out Thomas Lindberg's photo). Estrus also used this die cut technique on other 7" sleeves with The Mono Men and The Quadrajets.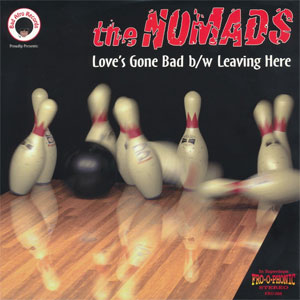 Discographic facts
A. Love's Gone Bad (B. Holland, L. Dozier, E. Holland)
B. Leaving Here (B. Holland, L. Dozier, E. Holland)
[Bad Afro Records I FRO-004 / 1997]
Content description
This single consists of two covers of songs written by the famous Motown songwriting and producing team Holland-Dozier-Holland. The A-side, Love's Gone Bad, was first recorded by Chris Clark in 1966 (V.I.P. Records; a neglected next of kin label to the "Big Three" Motown labels: Tamla, Motown and Gordy). The garage band The Underdogs covered Love's Gone Bad the year after (also V.I.P. Records, 1967).
First recording and release of Leaving Here was made by Eddie Holland [Motown, 1963]. The song quickly became popular, peaking at number 27 on the Billboard R&B chart. Leaving Here has since then been covered by numerous artists, including The High Numbers/Who (1965), Tages (1966) and Motörhead (1977).
Testimony
Just as for the previous single, Pack Of Lies, this single we also did a separate recording session for. This time in bob hund's studio in Solna – at Filmstaden, in Ingmar Bergman's former private movie theatre. We hung out a lot with bob hund at the time and they had this sound engineer Zqaty (his real name Daniel Lundin shows on the cover) who was eager to record us. We struggled for an entire night with the details – much of the hairsplitting can be attributed to our new engineer's self-imposed performance anxiety. Although the process was rather time consuming, the result turned out pretty crude in the end, as it should.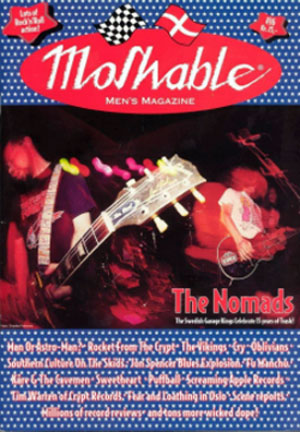 After we had decided to cover the obscure Motown song Love's Gone Bad, we reasoned that we could just as well record another Motown tune and put it on the B-side in order to make a Motown theme single. Leaving Here is more well-known. It is rather straightforward and therefore not so difficult to learn. Motörhead's version is of course most well-known to us. But Love's Gone Bad was a little bit trickier to complete and more challenging to record because it needed some kind of arrangement to sound proper. By the way, Chris Clark, who recorded the original Love's Gone Bad, was one of the few white Motown singers.
Danish Bad Afro Records was a great label that put out many cool records in the garage rock category, mainly from Scandinavian bands. Bad Afro's first releases were delivered to its customers in the form of a singles club. Connected to Bad Afro was the great late Moshable Magazine, an underground fanzine that focused on punk and garage rock. The business was run by Lars Krogh and Peter Markham, among others. Nice guys that we still meet occasionally at concerts.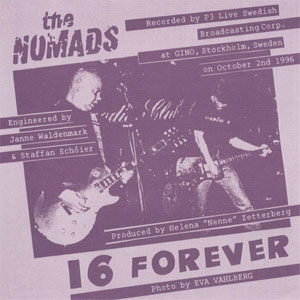 Discographic facts
B. 16 Forever (live) (A. Shernoff, S. Kempner, R. Friedman)
[Next Big Thing I NBT 4527 / 1997]
Double single exclusively available with the music magazine Next Big Thing # 27 (20th Anniversary Edition). Limited run of 1,000 copies.
Content description
The Nomads contribute to one of the four sides with a live recording of The Dictators' 16 Forever. Their studio version of 16 Forever was released in 1987 (see Part 2 for details).
Interestingly, The Dictators presents here a live performance of Next Big Thing – the song that gave rise to the name of Lindsay Hutton's seminal music magazine. Earlier, The Nomads released the song in question as a Next Big Thing single in 1988; see Part 2 for more information. The Dictators' and The Nomads' contributions were recordings made from a joint gig in Stockholm in October 1996.
The two other tracks on this double single are the Aussies Magic Dirt's rendition of MC5's Kick Out The Jams backed with a cover of The Dictator's Sleeping With The TV On performed by Angel Corpus Christi (Andrea Ross).
Testimony
This single connects very well in time to the first single of this part, Pack Of Lies, because we toured with The Dictators and Hellacopters shortly after we came back to Sweden from our Estrus package trip. One of the Swedish National Network's radio channels, P3 Live, recorded our gig at Gino in Stockholm only a few weeks after we recorded Pack Of Lies.
The Nomads did five or six gigs in Sweden with The Dictators and Hellacopters. It was a great tour with three highly motivated bands. Hellacopters were not so well-known at the time, but they had begun to gain a reputation, while The Nomads certainly kept up the momentum earned from the recent US tour. The Dictators were also in really good shape and were represented by a lineup that consisted of almost all the original members.
It was some kind of three-generation show with an age gap of about ten years between the members of the included bands. Carl von Schewen of White Jazz Records came up with the idea of calling this tour Three Generations Of Master Race Rock. Handsome Dick Manitoba, the singer of The Dictators, was not totally amused about it. He let us know that he felt a little bit uncomfortable with the concept, asking: "Does this mean that The Dictators are the grandfathers in this company?", and calling us and Hellacopters half-jokingly "meine Kinder".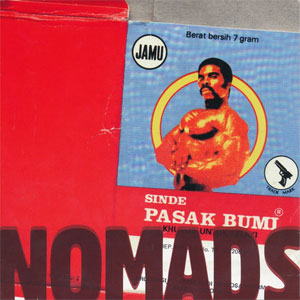 Discographic facts
A. She'll Always Be Mine (F. Bivens, J. Cole, P. Greenberg)
B1. (I'm) Out Of It (live) (The Nomads, S. McCaughey)
B2. I've Seen Better (live) (B. Fröberg, N. Vahlberg, H. Östlund, J. Ericson)
[Screaming Apple Records I SCAP 059 / 1999]
Content description
The A-side is a cover of a song written and recorded by The Customs. She'll Always Be Mine appeared for the first time on the B-side of their second and last single [Shake It! Records, 1980].
Two previously unreleased live recordings show up on the B-side of this 7". First, (I'm) Out Of It, of which a studio version was released as the A-side of the first single from The Nomads' album Powerstrip (1994; see Part 4. The second song is also a Nomads original. I've Seen Better is not credited on this 7" as taken from the album Big Sound 2000 (released in 1999) – maybe due to that Big Sound 2000 had not been fully completed when this 7" was in the works.
Testimony
This and the subsequent three singles are interrelated because all non-live tracks on them were recorded in connection with the making of the album Big Sound 2000, which was our first album on White Jazz Records – released in the spring of 1999. While we were recording Big Sound 2000, we also recorded some extra songs in order to have some exclusive material to offer when we got invitations from labels that wanted to release a single with us, like the A-side on this Screaming Apple single.
Screaming Apple Records is a German label with headquarters in Cologne that concentrates on release and distribution of garage rock records. We met Ritchie Apple and some other rockin' guys from his company at the rock club Underground in Cologne when we toured Germany. And, since we clicked, we obviously wanted to make a single with Screaming Apple.
Considering that we cherish The Customs and even proudly released our single Wasn't Born To Work on their record company, Shake It Records in 1993 (see Part 4, it was a small step for us to cover their She'll Always Be Mine. It was recorded in the Sunlight Studio in Stockholm with Chips as producer and on background vocals.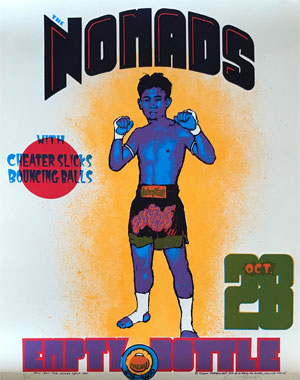 Sometimes, as here, we put live recordings on the B-side – but we are not sure of when or where these two were recorded.
A US graphic artist, Colin McFrangos, designed the cover. He was married to the painter Jane Fischer who we told about previously in this part when we described Brendan Burke's Überstudio in Chicago. Colin McFrangos made a nice poster for one of our gigs in Chicago and got free hands to design our cover for this single. Screaming Apple was not entirely convinced that this somewhat experimental design with the Indian muscleman was the best one. Such a concept did not quite fit into their way of thinking how to visualize their label's garage bands in a uniform way. Eventually, they backed down. We thought it was a nice cover then and we are even happier with it now because it has proven to stand out from the rest.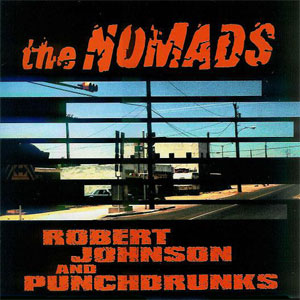 Discographic facts
A. Trucker Speed (B. Fröberg, N. Vahlberg, H. Östlund, J. Ericson)
[Bang! Records I BANG-5 / 1999]
Split single, blue vinyl.
Content description
A split with two back-to-back instrumentals of which the A-side is an original composition of The Nomads, whilst the B-side is a cover of The Ventures' The 2,000 Pound Bee performed by the Swedish instrumental band Robert Johnson And Punchdrunks.
Instrumental excursion: The 2,000 Pound Bee is credited to The Ventures' drummer Mel Taylor and originally released as a single in 1962 (Dolton). Actually, this Ventures' single has 2,000 Pound Bee – Part 1 on the A-side and Part 2 on the Bee(sorry!)-side (the flip is credited to Don Wilson, guitarist and founding member of The Ventures). 2,000 Pound Bee Part 2 peaked at chart position # 91 on Billboard's Hot 100 in 1963 and may have influenced The Sonics (another Tacoma (Washington) based band) when they came up with the guitar riff to Boss Hoss.
Testimony
This is a split instrumental with our old Solna buddies Robert Johnson And Punchdrunks. In the late '70s, Robert Johnson, Nix and Hasse had three parallel punk bands going in Solna before The Nomads and The Bottle Ups crystalized.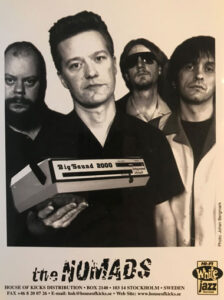 "Trucker speed" is an ephedrine based substance that truckers buy at gas stations in order to stay alert behind the wheel. It has been a while since we played it live, but it is a cool song that somehow evokes the manic feeling of being on that stuff.
This is one of the first releases from Spanish Bang! Records, number five, and the label is still enormously active. The Nomads and Bang! Records go back a long way. We have been in constant contact, and just a couple of years ago Bang! Records re-released our first Showdown compilation as a 3 LP set.
Per Thorsell designed the cover. He played guitar in Punchdrunks and was also in this terrific rockabilly band, The Hi-Winders. Per also made the covers for Punchdrunks' records and posters for the rockabilly scene.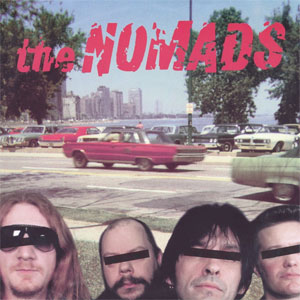 Discographic facts
A. I'm Gone (S. Bingham, J. Buell)
B. Ain't Yet Dead (A. Caroll, B. Stark, C. Burt)
[Safety Pin Records I SP-021 / 1999]
Content description
The printed information on the sleeve and label of this single is scarce and does not let you know much more than the titles of the songs that The Nomads cover. While the background to the non-album A side I'm Gone can be traced through some minor detective work, the story of what lies behind the cover of Ain't Yet Dead remains a mystery – as long as we do not consult The Nomads themselves, that is (see their account below). Ain't Yet Dead is one of the tracks on their album Big Sound 2000.
I'm Gone was originally released by the Californian garage punkers The Sons [Coastline, 1966]. I'm Gone was however re-released later that year under the more challenging and time typical band name The Magic Mushroom (Warner Brothers).
Safety Pin Records was a Spanish underground label – managed by the late Kike Turmix (The Pleasure Fuckers) – that put out about 80 titles during its active years (1997–2004).
Testimony
We met Kike Turmix in Toulouse when we toured France for the first time in 1984 and he really made a difference for us in his home country Spain where he was very influential. He was DJ-ing at hip underground clubs in the Malasaña district of Madrid and simply knew everyone who was active in the garage punk scene there. In the late '90s, he was working fulltime booking bands and releasing stuff on his Safety Pin label. The Nomads did a lot of projects together with Kike.
Around the time when this single was recorded, information on songwriters to obscure songs, like I'm Gone, was hard to obtain. It is always nice to have a name to refer to when you cover an original otherwise it gives a sloppy impression. In the case of I'm Gone, we made great efforts to find the name of the composers. Nix even contacted Greg Shaw and asked him if he knew anything about I'm Gone, but he did not have this single and he could not provide the names asked for. Greg Shaw directed us to another collector of '60s' garage, possibly Mike Stax of the music magazine Ugly Things, again without any luck. It was Chips Kiesbye, producer of Big Sound 2000, who suggested us to include a cover of I'm Gone as a part of the preparations for Big Sound 2000. Chips probably found it on a garage compilation without information about the songwriters. Hasse contributes to I'm Gone with the meanest fuzz tone guitar.
Regarding Ain't Yet Dead, we got that from Lindsay Hutton. Lindsay's girlfriend at the time, Avy Carroll, co-wrote Ain't Yet Dead, originally performed by the totally cool Scottish garage band the Sinister Urge in 1995. Since it was unreleased at the time, The Nomads version was the first on record. Aint' Yet Dead has since then become a real live favorite of ours which we cherish like it was our own composition. Whenever a representative of the language police brings up criticism of the unconventional phrase "Ain't Yet Dead" – instead of the commonly used "Ain't Dead Yet" – we always refer comfortably to the fact that someone whose mother tongue is English came up with this title, and not us. (PopDiggers' note: Ain't Yet Dead with The Sinister Urge finally qualified to be released on record with the 2007 CD compilation Gardyloo! Edinburgh's Detritus 1983–2003.)
The cover was designed by Ollie, who also made the cover of Wasn't Born To Work (see Part 4). He designed the sleeve completely according to his own sense of taste and without interference from us. The Big Sound 2000-machine with some singles scattered around it on the back cover, is an outtake from the photo session for Big Sound 2000. Joakim's then girlfriend Anette arranged this picture at home by decorating the record player with a representative selection of the household's single collection. For some strange reason Ollie de-identified us on the front cover. Wearing shades obviously did not qualify as an exception…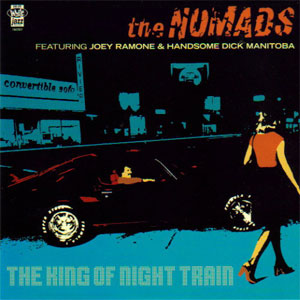 Discographic facts
A. The King Of Night Train (N. Vahlberg, H. Östlund, B. Fröberg, J. Ericson, S. McCaughey)
B. Top Alcohol (N. Vahlberg, H. Östlund, B. Fröberg, J. Ericson, O. Ahlgren)
[White Jazz Records I 7 JAZZ027 / 2000]
Content description
Two original compositions recorded in Sweden and the USA (The King Of Night Train) and in the US only (Top Alcohol). The King Of Night Train is originally found on the album Big Sound 2000. This 7" version, however, features backing vocals added by Joey Ramone (The Ramones) and Handsome Dick Manitoba (The Dictators). The King Of Night Train is produced and re-mixed by Daniel Rey (best known for his production work with The Ramones.
The King Of Night Train is backed with Top Alcohol – a previously unreleased song recorded at GLEA Studio in 1999. Top Alcohol returned later in a new recording on The Nomads' album Up-tight (2001).
Testimony
As soon as we had laid down the drum tracks for our album Powerstrip at Conrad Unos Egg Studios in Seattle in December 1993, it was time for Joakim to go out and buy something to celebrate this achievement with. Unaware of the prevalent pecking order between the various wine brands in the United States, Joakim returned with a bottle of Night Train. For everybody's information, Night Train is a cheap sweet US bum wine with high alcohol content by volume which should preferably be consumed secretly in a brown paper bag. Scott McCaughey was at the studio when Joakim showed his bargain and found it extremely amusing that someone could even consider buying this type of wine, but was also a bit excited to know someone who actually drank that stuff. This incident became the origin of his lyrics to The King Of Night Train. Night Train is by the way also known from the film The Blues Brothers, in which "Joliet" Jake passes out right after having a swig of that mean liquid. We did a video at Kafé 44 in Stockholm to accompany The King Of Night Train with Johan Bååth acting as main bum.
One of the many bright ideas that Carl von Schewen of White Jazz Records came up with, was to do a new mix of The King Of Night Train – originally recorded for Big Sound 2000 – and getting Joey Ramone and Handsome Dick Manitoba to join with backup vocals. The Nomads and Carl had no problem recruiting them because we knew them before. It also helped that Daniel Rey already had agreed to record their background vocals. Nix personally handed over the master tape to Daniel Rey in New York City for Daniel to flesh out the remix from. Daniel Rey was a member of The Dictators when they did their latest Swedish tour. He is in this great, but rather unknown, New York City band, The Martinets, which is still going strong.
There is an early recording of Top Alcohol on the other side of the single. It was recorded during a US tour with The Hellacopters in 1999. In order to get the right finish to it, we consulted our friend Rob Sanchez (of Donovan's Brain) in Bozeman, Montana. Rob has a studio in the basement of his house, GLEA (God's Little Ear Acre) and since we had an invitation from him to make a stopover in Bozeman, this led to our first recording of Top Alcohol – and with a supreme result! The other track we laid down at GLEA was No Cops, Haul Ass, which was released many years later as one side of our split single with Donovan's Brain.

Dave Walker joined us in the studio. He is originally from England, but relocated to Bozeman in the late nineties. Dave Walker is a real legend, famous for being guitarist in Fleetwood Mac and Savoy Brown and also for replacing Ozzy Osbourne in Black Sabbath for a short while in the late seventies. A real cool guy who probably appreciated to get a break from his everyday life by rattling the tambourine on Top Alcohol. At this occasion, Joakim took the opportunity to join Donovan's Brain on their song Tiny Crustacean Light Show, later released on the album with the same name.
"Challenge Custom" mentioned on the sleeve is actually Henrik Walse, who was the in-house designer for White Jazz Records. He managed to conceptually unite the cover art work for the label, which made White Jazz products easily identifiable.
Thanks to Björne, Carl, Hasse, Joakim and Nix for sharing your memories/photos and for reviewing the text.