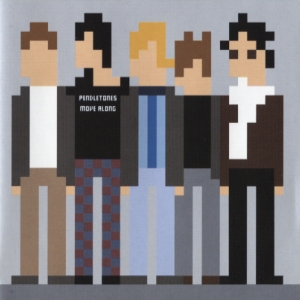 Move Along was the seventh release on Torpedo Records out on the 25th of April 2002 [TPCD7]. 1 000 copies were pressed. This time in jewel case. [BUY]
Songs:
01 Move Along
02 Weekend Lover
03 Problems
04 The Perfume That You Wear
05 Someone Like Me
06 I Didn't Know
07 Odé To A Nightingale
08 Sometimes
09 Everybody Knows
10 I Wish
SHORT BAND BIOGRAPHY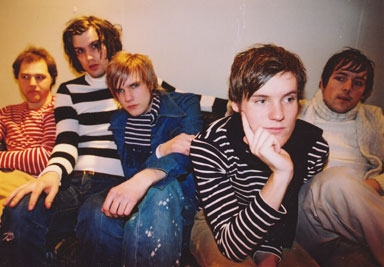 Erik Hallmer – guitar/vocals
Kristoffer Jonzon – piano/vocals
Lars Gustavsson – Fender Rhodes organ, acoustic guitar, vocals
Rasmus Berggrensson – bass/vocals
Fredrik Berg – drums
The Pendletones were formed in the southern city Malmö in 1996, when Kristoffer and Erik got together. Although they started out as a cover band playing at parties etc. They soon realised they had songwriting talent and decided to go for it under their own steam.
The band released a demo featuring That Girl and two other tracks in 2000, and have also released two tracks for the Japanese label Dodgie Disc compilation album Hemma hos mig. The single Problems was released in 2001 and the debut album Move Along, is just out here in Sweden.
REVIEWS
(note this one starts with a review of Velvet Crush Soft Sounds)
… Meanwhile back in Malmö, the Pendletones strike a version that is a bit Rockier and more densely arranged, with some drops of a British tincture mixed in. But the melodies, rhythms and harmonies are just as enticing.
Whether it is the tom driven, almost raucous opener/title track or the piano and voice ballad The Perfume That You Wear (the equal of anything by Sweet Baby James), the beauty of the ten songs that make up this record (in less than 30 min.) is just so …
And though there are three songwriters, and at least that many taking turns on lead vocals, a strong coherence exists throughout. Right to the end where first is Everybody Knows, a bouncy pop tune equal parts Zumpano and latterly Small Faces, and then almost acappella — it has just a subtle organ undercoating — with magnificent harmonies ballad I Wish.
DAVID M. SNYDER
The Bob Jr.
**********
Wonderfully upbeat music that combines the very best elements of 1960s and 1970s pop. This Swedish quintet sounds nothing like other Swedish acts that we have heard. The band's music has much more in common with American and British artists.
Pop fans will find themselves instantly swooning over the soaring melodies cruising through the veins of Move Along. Unlike most pop bands, Pendletones feature three singer/songwriters: Erik Hallmer, Lars Gustavsson, and Kristoffer Jonzon. Any of these three individuals could easily be fronting a band by themselves…but they made the industrious and wise decision to combine their talents.
In this case, the sum of the parts is even stronger the the individual units. This album is chock full of unforgettable tunes, extraordinary lyrics, and harmony vocals certain to knock off even the tightest of socks. Mind blowing cuts like Move Along, The Perfume That You Wear, Someone Like Me, and I Wish are nothing short of…fantastic. (Rating: 5+++)
LMNOP
August
**********
The thing about Scandinavian bands is that they're getting harder and harder to tell from the US/UK power-pop/sixteez revival scene. Well, this is an extra-special one that incorporates both, the Britsyke melodic quirkiness and the Californian sunshine harmonies, and then puts it through some contemporary sound-filters.
Besides some encyclopedic pieces of power-pop, like the title tune and I Didn't Know, you'll have a whole lotta fun tracing down the inspiration-areas these guys were entering while they were "moving along". Weekend Lover is a catchy little tune, adding just an extra harmony or two to make you feel like "getting better all the time", before you experience the Problems, that really are not so hard to take, cuz they're delivered in the Worners-era-Costello's most poppy kinda way, with an ending that's worth all the "money" in the world.
The Perfume That You Wear smells of Richie Furray's ode to a certain "kind woman", with a touch of jazzy Randy Newman, as well as some gospel, according to Allison Moyet (!?!), and remind you, it's all in one song!
The only thing that Someone Like Me has in common with the Shadows of Knight's garage-punk classic, is that they're both GREAT songs. This one's an absolute opposite of it's namesake, exploring an anglophile psych melody in the verses, carried on the "wings" over the sea of "jellyfishes", making "all the young dudes" sing-a-long by the time it gets to the chorus.
I'm sure that Everybody Knows is something that Herman and The Hermits would've taken to the toppermost of the poppermost in the mid-sixteez, and here it is, in it's kinda "supernatural" happy-go-lucky moderndaze version, needing just "a little help from my friends to end, and I Wish is probably one of the most beautiful ballads you're about to hear this year, with vocal harmonies all over the place spreading the church-like ambience .
Ode To A Nightingale is classic Wilson-iana that makes it all so "wonderful" that you can almost feel the "wind chimes". It seems that you could throw it among some of those Smile-sessions bootlegs without anyone noticing ….. well, except for the die-hards ….. But when I come to think of it, who else listens to it anyway? ….. well, never mind, at least you get the idea ….. I hope ….. in fact, you better don't get it but take a listen yourselves! ….
And not just this one, of course, but the whole thing! ….. Whacha waiting for?!?! ….. Move along !!!
GORAN OBRADOVIC
Popism
**********
Årtalet på skivan säger 2001; omslaget var klart då, men bandet hade inte fått ihop pengar till utgivningen förrän nu. Vilket säger en del om förutsättningarna.
Men i dessa dagar av Tribal Ink, Supernatural och alla andra patenterat osexiga, fabricerade tvkonstruktioner, är det befriande med ett riktigt band. Som kämpar på egna villkor, som inte kompromissar och har vett att undvika de genvägar som oftast blir återvändsgränder.
Pendletones ser ut som och låter som ett popband ska. Ibland blir det lite väl snällt, i arrangemangen och inte minst bland textraderna, men i slutändan måste man kapitulera för entusiasmen, den bubblande musikaliteten och kärleken till de skamlöst klistriga melodierna.
Bandet har tre förbluffande drivna kompositörer, alla med egna distinkta uttryck.
Och det här kan bli hur stort som helst i Tokyo, Paris eller var helst man nu fortfarande uppskattar sån här klassisk, sofistikerat Beatles-rotad popmusik
Lennart Persson
Expressen
**********
Band som Slipknot och Smut Peddlers går medvetet in för att bli fenomen som publiken måste välja att hata eller älska. Snällpopbandet Pendletones är inte lika öppet provocerande, men är nog egentligen en lika definitiv vattendelare.
Den som vill ha sin pop serverad med Attityd kan lugnt ignorera den här hopp-och-lekmusiken octh åter begrava huvudet i de djupa backarna för alternativindie. Den som däremot kan uppskatta renklingande, harmonisk pop och som begriper att den lättviktiga popen också är den mest spänstiga får bereda sig på att bli förälskad.
Den givna kritiken går ut på att musiken är hopplöst otidsenlig. Jovisst – den där blekvita call-and-response-prylen som är halva poängen med Problems har vi knappt hört sedan John Lennons polare höll på att förlora den där tjejen sommaren 1965. Det hela kan te sig en smula töntigt, men oftast lirar bandet på rätt sida gränsen.
Charmfaktorn är stor, delvis för att låtarna till både musik och text stundtals är så ohöljt naiva, men det betyder inte nödvändigtvis att Pendletones är aningslösa. Lika gärna kan man hävda att Pendletones är ett moget och modigt band som står över sådana ironiska poser som får band som XTC att gömma sig bakom pseudonymer (The Dukes of Stratosphear, i deras fall) när de vill ägna sig åt den pop som är deras största kärlek och inspirationskälla. Glimten i ögat finns här, men aldrig den löjeväckande grimasen.
Precis som Liverpools finaste har Pendletones tre begåvade låtskrivare med olika personligheter men en vision som går att enas kring. Detta bidrar självklart till variationen.
Något förenklat står Erik Hallmer för den stompiga popen, den som i Weekend Lover oskuldsfullt skuttar nerför Penny Lane för att köpa poppies. Lars Gustavssons båda bidrag är mer melankoliska, både den Popsicle-liknande Someone Like Me och den tjusiga Ode To a Nightingale där den spänstigt melodiösa basen blir soloinstrument. Kristofer Jonzon verkar ha tagit lika starka intryck av The Beach Boys som av brittpop av olika årgångar, vilket framgår inte minst av skolorgelshymnen I Wish som avslutar plattan i en oväntat sober ton.
Håkan Engström
Sydsvenskan
Lyssna också på:
Freewheel: Starfriend (1998)
Ron Sexsmith: Blue Boy (2001)
The Beach Boys: Friends (1968)
**********
Torpedoetiketten har tidigare salufört några unga svenska popband som visat sådan slipad respekt för rötterna så att man känt sig alldeles varm inombords. Fem man starka Pendletones är ett nytt sådant.
På 28 minuter och 21 sekunder poppar de sig igenom tio egna låtar som alla har sina kraftigaste rötter i 60-talet. Man känner igen den luftiga låtstrukturen, det snabbhäftande harmonibygget och den snygga stämsången.
De tre låtskrivarna Erik Hallmer, Kristoffer Jonzon och Lars Gustavsson har dock alla en sådan distans och respekt för det förflutna att man aldrig ens i sin vildaste fantasi rakt av skulle kopiera original från popmusikens vagga.
Därför är Move Along en platta som borde älskas av alla som inte har den perfekta kollen på backkatalogen men är lika unga som jag var på 60-talet och gillar popmusik som sätter sig som ett myggbett.
Pendletones är värdiga budbärare av odödliga och tidlös popmusik i Beatles och Beach Boys anda som aldrig behövt något bäst-före-datum. Bevisen heter sånt som The Perfume That You Wear och Someone Like Me.
Björn Bostrand
Länstidningen Östersund
**********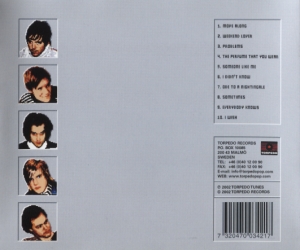 Pendletones är exakt vad jag har väntat på hur länge som helst, ända sedan jag upptäckte Lola Barbershop för snart två år sedan. Faktum är att Lolas Sportsman EP är utgiven på samma bolag som Move Along, nämligen Malmöbolaget Torpedo Records.
Musiken är underbar 60-talsinfluerad pop med harmoniska körer och genialiskt simpla texter till luftiga och lätta melodier. Vad sägs till exempel om den här:
"I have a problem (Tell us 'bout your problem)/It's not a problem (You said it was a problem)/It's just that I can't sleep at night/I better look for a reason/Could it be the season/Or could it be that I love you".
Det är refrängen från tredjespåret Problems, och den sätter sig efter fem sekunder. Fullkomligt underbart.
Faktum är att jag aldrig hade hört Pendletones, utan gick på en ren chansning när jag bad min lilla skivaffär beställa hem skivan. Sedan var jag inne och tjatade på expediterna mest varenda dag i nästan två veckor innan de till sist hade den hemma. Efter en sådan väntan är det väldigt lätt att bli besviken när man väl hör skivan för första gången. Det blev jag inte, utan snarare glatt överraskad. Jag hade förväntat mig något lite ostyrigare och inte lika vällåtande.
När jag slog upp skivomslaget möttes jag av en bild där fyra av fem bandmedlemmar hade randiga kläder på sig, och samtliga hade popfrisyrer. Redan då tog jag ett glädjeskutt upp emot taket. Randiga kläder är alltid ett gott tecken. Lola Barbershop har likadana randiga tröjor nämligen. Sedan slängde jag i skivan i spelaren och hörde ljuva toner, som inte alls ligger långt ifrån Lolas kompositioner.
Efter att ha tagit mig förbi det traggliga förstaspåret tillika titelspåret höll allt en mycket hög och jämn kvalitet. De bästa låtarna är utan tvekan Weekend Lover och ovan nämnda Problems.
Om det finns ett enda måsteköp bland årets skivsläpp så är det definitivt Pendletones Move Along, eventuellt i konkurrens med The Arks uppföljare till succédebuten.
Varför görs så otroligt mycket bra musik i Malmö?
Emma Rastbäck
Mediaarkivet
7/7
**********
Nykomlingarna Pendletones placerar sig med Move Along i toppskiktet inom svensk popmusik.
Det var länge sedan jag hörde något så bra och okomplicerat som det här. Raka, snälla och på sina ställen oerhört snygga popmelodier med sina rötter i Beatles.
När man studerar skivans konvolut lite noggrannare upptäcker man dessutom att tre av Pendletones fem medlemmar har bidragit med låtmaterial. Snacka om grupp med potential och talang.
Vid första lyssningen harklar jag mig ett par gånger med invändningar mot de stundtals riktigt banala texterna. Men så kapitulerar jag. Så här ska det ju vara i popstycken fyllda med oändlig kärlek till melodierna.
Andreas Åsenheim
Vadstena Tidning / Motala Tidning
**********
Det har tagit lång tid, förbannat lång tid för The Pendletones att få möjlighet att släppa en tio låtar lång debut. Det var någon gång förra året då sommaren höll på att bli höst som en singel med tre spår blev en oväntad succé för Malmöbandet. Därefter var det meningen att albumet skulle följa upp och fälla alla stelbenta belackare i knähöjd, men istället satte hela svenska pensionärsförbundet käppar i hjulet för The Pendletones.
Pengar och inspelningstid saknades men trots motgångarna fortsatte de fem medlemmarna att charma publik och lyssnare med sin kärleksförklaring till The Beach Boys, stämsång och melodiös popmusik. Men så, när äldrevården bytt ut käpp mot rollator och producenten Jocke Täck ostört kunnat jobba med bandet i studion (ironiskt nog) döpt till Dundret passade äntligen alla bitar och skruvar ihop såsom Ikeas aldrig gör.
Likt The Beatles vid inspelningen av Rubber Soul och därefter är textförfattarna tre. Erik Hallmer och Kristoffer Jonzon fungerar som Lennon/McCartney medan Lars Gustavsson får ta på sig rollen som Harrison då endast två av hans kompositioner finns med på slutversionen av skivan.
Musiken framförs med vad som enklast kan jämföras med bubblande glädjeskutt över en äng, medan texterna, som från början kan ses som schablonmässiga uttryck för kärlek fungerar för författarna snarare som en vallgrav för att stänga ute verkligheten:
Sometimes I just want to be alone
Turning off the telly and phone
Reading old love letters
That you thought I threw away
Aningslöst smyger dessa gömda betydelser fram ju mer man lyssnar och hur ont det gjorde för Kristoffer Jonzon att skriva I Wish, där hela kärnfamiljen attackeras men samtidigt saknas till en avskalad, minimalistisk produktion med underbara stämmor vet jag inte, men liknelserna till The Beach Boys är alltid närvarande. Just den närheten till, säg Pet Sounds och Smiley Smile påminns jag ständigt om. Precis som hos mästerverken är det småsakerna som efter ett oändligt antal lyssningar sätter sig och stannar på näthinnan. Gitarrsolot i Weekend Lover, basen och de sista sekunderna i Someone Like Me, inledningen på I Didn't Know eller varför inte stämningen som hela Ode to A Nightingale förmedlar.
Finns det då något som borde sållas bort eller som kan förkastas på skivan? Nej och åter nej. Allting känns perfekt och det enda som någon skulle kunna klaga på är att basisten Rasmus Berggrenssons låt Uncool med suverän text och ett Kinks inspirerat driv inte finns med på Move Along.
Slutligen vill jag bara berätta om när The Pendletones perfektion når sin absoluta höjd. Fjärde spåret The Perfume That You Wear tar och förvandlar alla andra melankoliska pianoballader till parenteser från en svunnen tid. Kristoffer Jonzon har här skrivit någonting så oumbärligt vackert att alla från Brian Wilson till Ray Davies borde känna stolthet för att Kristoffer förvaltat arvet som de har testamenterat till honom. Och allt verkar kretsa kring en parfym:
Although the perfume that you wear
Can take me miles away from here
It always takes me to your door
Men när han står där, hopplöst väntande på kärleken, börjar tankarna springa runt, kanske finns det någon annan. Men om så är fallet, varför står igen annan utom han och väntar utanför hennes dörr?
If someone else is on your mind
Somebody warm, somebody kind
Why don't you take him to your door
Samtidigt är det så svårt att vara kär och ständigt bli nekad, till slut försvinner intresset. Troligtvis var allting med kärlek så mycket enklare när man var liten:
It´s getting harder
To tumble each time you smile
I think I have lost you this time
When I was younger
I thought everything would be alright
Now I don't know if that's true
The Perfume That You Wear är lika vacker och brutal naken som någonsin The Long And Winding Road och jag har väldigt svårt att se hur något svenskt band ska kunna beröra mig såsom detta 2 minuter och 19 sekunder lilla mästerverk gör.
Mattias Bergqvist
Revolution #9
**********
The Beatles fortsätter att vara en insperationskälla för många nya musiker. Det är liksom ingen tvekan om att The Pendletones från Malmö lyssnat och inspirerats av "The fab four". Deras Move Along är fylld till bredden av Beatlesreferenser och det är svårt att inte charmas av deras snabbhäftande melodier.
Lite väl lättuggat kanske någon tycker, men med sommaren i antågande känns den här skivan som efterskickad. Liksom XTC eller varför inte svenskar som The Beagle och Freewheel lyckas de dock förvalta arvet på ett mycket bra sätt.
Tveklöst stora plus i kanten för popbagateller som I Didn't Know, Everybody Knows och Move Along. Och älskar balladerna Sometimes och I Wish.
Kanske inte den absolut högsta hipfaktorn år 2002, men något för alla med smak för lite nostalgi.
Lasse Johansson
Vimmerby Tidning / Kinda-Posten