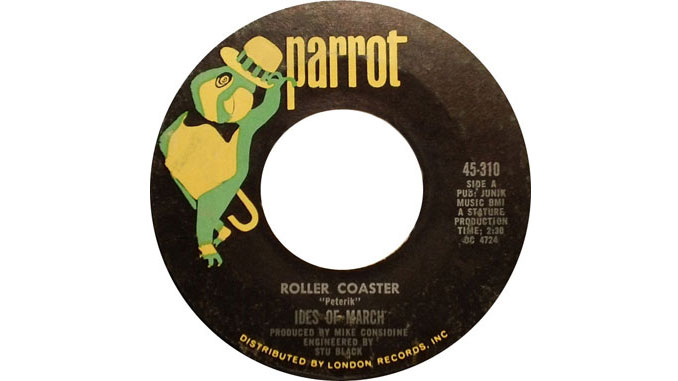 Olofssons Lost Treasures fortsätter jakten på nya popmästare och landar denna gång i Windy City. Resan börjar i dur men håller på att sluta i moll. Fast innan dess hinner vi uppleva flera musikaliska höjdpunkter, när The Ides Of March levererar sina poppärlor.
Historien om The Ides Of March handlar egentligen om två varianter; dels popgruppen som spelade in sex singlar mellan 1965 och 1968, dels jazzrockgruppen som gav ut ett flertal skivor mellan 1970 och 1973. ("The" försvann från och med 1972.)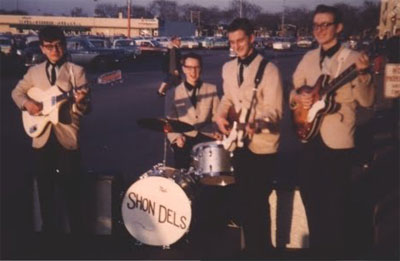 The Ides Of March bildades som Shon Dels (ej att förväxlas med Tommy James och hans Shondells) i en förort till Chicago i oktober 1964. Gruppens mest framträdande medlem skulle bli Jim Peterick, som inte ens hade fyllt fjorton år när de bildades.
Året därpå kom debutsingeln Like It Or Lump It på det egna bolaget Epitome. På skivan heter gruppen Shon Dels Unlimited, men ska man döma av bokstäverna på bastrumman var det korrekta namnet Shon Dels.
Resultatet av besöket i skivstudion lämnade dock mycket övrigt att önska, för varken Like It Or Lump It eller baksidan No Two Ways About It platsar i avbytarbåset. Man märker också att det osar lågbudgetproduktion.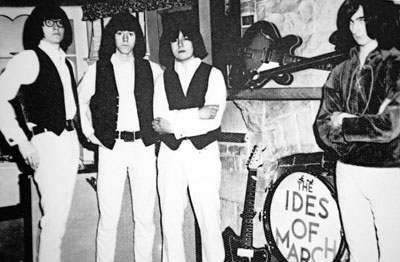 Ytterligare ett år senare bytte gruppen namn till The Ides Of March – ett uttryck hämtat från William Shakespeares pjäs Julius Caesar. En av medlemmarna berättade i en senare intervju att man helt enkelt var tvungna att byta namn efter att Tommy James & The Shondells börjat leta sig upp på hitlistan med en återutgåva av Hanky Panky.
Historien haltar nog något tidsmässigt, eftersom The Ides Of Marchs första singel gavs ut ungefär samtidigt som Hanky Panky. Men då båda grupperna härrör från samma trakter kan ju Tommy James & The Shondells ha hunnit skapa sig ett lokalt namn innan dess.
Debutsingeln under det nya gruppnamnet, You Wouldn't Listen, blev en stor lokal hit och letade sig upp till plats 42 på Billboards singellista. (Låten nådde dessutom 21:a plats på den kanadensiska singellistan.)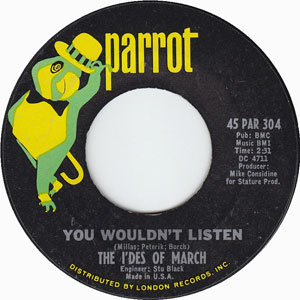 You Wouldn't Listen, med sin alternerande och oskuldsfulla solosång, har sina ljusa stunder, men det är ändå inget som skvallrar om vad som skulle komma senare.
Vänder man på skivan bjuds vi på folkrockinspirerade I'll Keep Searching, som trots en något enahanda och disharmonisk framtoning ändå vinner i längden.
Tre månader senare blev det dock andra ljud i skällan, när uppföljaren Roller Coaster bjöd lyssnaren på en högst angenäm åktur. Peterick och hans mannar har nästan suddat ut gränsen mellan refräng, vers och stick; intensiteten är så genomträngande att det nästan blir svårt att hinna med i svängarna.
Olofssons Lost Treasures
The Ides Of March1966
Roller Coaster
(Jim Peterick)
En kommentar på YouTube sammanfattar vad som bjuds på menyn: "Great guitar, great backing vocals, great drum fills, great song. Surging garage power-pop at its simple finest!"
Roller Coaster blev en ganska stor lokal hit men lyckades bara nå plats 92 på Billboard.
(Innan vi går vidare ska jag bara nämna att några av länkarna nedan visar helt andra titlar än dem som jag nämner i texten, men det är bara den aktuella kanalägaren som av någon anledning laddat upp fel låtar.)
B-sidan, Things Aren't Always What They Seem, är dessvärre ett musikaliskt, textmässigt och produktionsmässigt nedköp och får mig att misstänka att låten är inspelad vid något annat, tidigare tillfälle än A-sidan.
I november samma år anlände tredje singeln, You Need Love. Melodin bärs fram av en efterhängsen gitarrslinga, men den något krystade refrängen gör att låten snubblar till på upploppet.
På baksidan hittar vi en ganska onödig version av The Small Faces Sha-La-La-La-Lee.
Under 1967 års första månader hade en annan Chicagogrupp, The Buckinghams, fått ett dundergenombrott med Kind Of A Drag och Don't You Care – effektiv snällpop inlindad i sockersöta blåsarrangemang.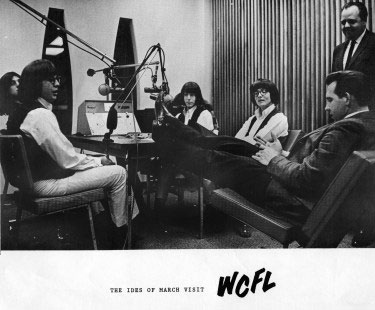 Jag kan tänka mig att medlemmarna i The Ides Of March, som nu hade hamnat i bakhasorna, kanske såg en framtid kantad av ära och berömmelse när de också plockade fram blåset på nästa singel, My Foolish Pride.
En slutsats man lärde sig som skivsamlare av mer tuff sextiotalsmusik på den tid det begav sig, var att så fort blås förekom sjönk priset lika snabbt som IT-aktierna under det tidiga 2000-talet. Nåja, men det fanns ett stort prismässigt motsatsförhållande mellan fuzz och blås, om man säger så.
Jag har ändå alltid hyst viss fäbless för mjukpop med blåsarrangemang och My Foolish Pride håller fanan ganska högt.
Pulsen stiger ännu mer när man vänder på skivan och stöter på The Byrds-klonade Give Your Mind Wings, som med sina behagligt porlande gitarrer förgyller rummet. (Låtskrivaren Jeff Milne är förmodligen en pseudonym för Geoff Milne – en av Deccas producenter under samma tidsperiod.)
Det är också lite ironiskt att en annan grupp från Chicagotrakten, The American Breed, fick en jättehit med Bend Me, Shape Me i slutet på 1967, som var något av en karbonkopia på The Buckinghams sound.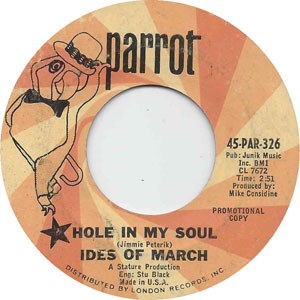 Våra hjältar i The Ides Of March, eller åtminstone Jim Peterick, gav dock inte upp utan levererade sin kanske bästa singel om man inkluderar båda skivsidorna; Hole In My Soul / Girls Don't Grow On Trees.
Enligt sajterna 45cat och Rateyourmusic är singeln utgiven 1968 (i maj, enligt 45cat), men då skulle det ha gått nästan ett år mellan denna och föregående singel. Det låter också snarare som en låt från 1966 eller 1967 än ett singelsläpp från våren 1968.
Livsbejakande Hole In My Soul har en perfekt avvägning både mellan instrumenten och harmonierna, vilket lyfter en redan smakfull poplåt till nästan oanade höjder.
Girls Don't Grow On Trees blandar hejvilt, från den frenetiskt pumpande versen, till den omedelbara refrängen. Jag kan tänka mig att medlemmarna hade sneglat på en dåtida stor hit när de spelade in låten.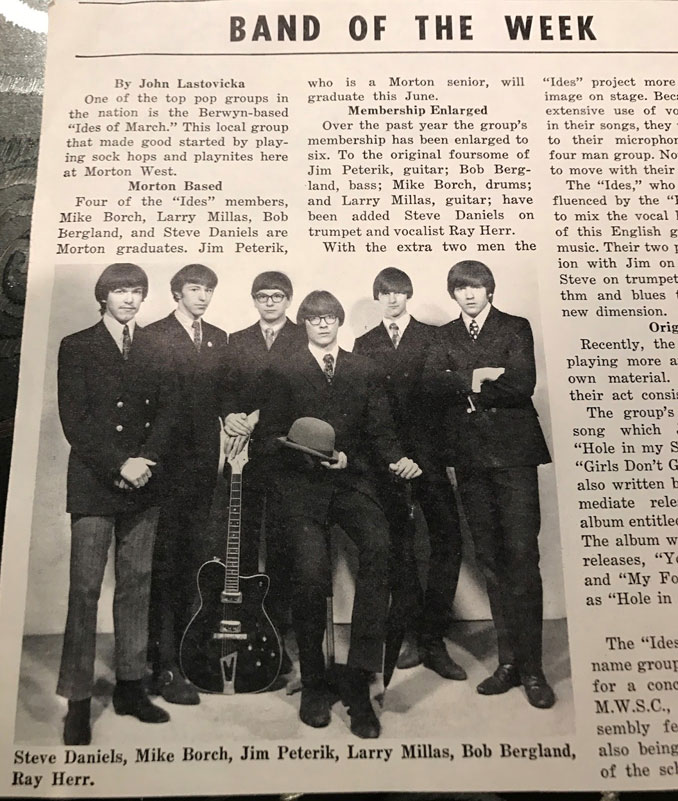 Sex singlar och tolv låtar senare hade The Ides Of March tvingats gå tillbaka till "gå" utan att passera hitlistan. Trots det hade skivbolagen inte gett upp, utan 1969 gav gruppen ut singlarna Nobody Loves Me och One Woman Man på Kapp respektive Warner Bros. Båda dessa menlösa poplåtar, samt de tuffare baksidorna, skvallrar om att Jim Petericks magiska penna började få slut på bläck.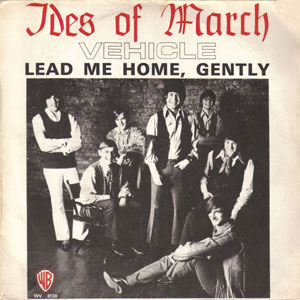 Medlemmarna bidade dock sin tid och våren 1970 kom den stora revanschen med Blood, Sweat & Tears-besjälade Vehicle, som tog sig ända upp till andra plats på Billboards singellista. Visst, det låter mycket Blood, Sweat & Tears och en dos Chicago om Vehicle, men det är svårt att värja sig mot det grandiosa blåsarrangemanget. Jag får också associationer till någon TV-serie eller deckare från det tidiga sjuttiotalet när jag hör låten.
The Ides Of March fick två mindre hits och gav ut fyra album fram till och med 1973. (De upplöstes i november samma år.) I ärlighetens namn har jag inte brytt mig om att lyssna på så många av gruppens låtar, eftersom jazzrock inte är min bag.
Gruppens sista hit L.A. Goodbye, som kanske hämtat mer inspiration från grupper som Crosby, Stills, Nash & Young och America, känns som en välbehövlig paus från jazzrockens svårtuggade genre.
Därmed är vi framme vid mollvarningen i ingressen. Jim Peterick blev nämligen medlem i gruppen Survivor i slutet av sjuttiotalet och 1982 kom Eye Of The Tiger, skriven av honom och gruppens gitarrist Frank Sullivan. Det blir inte bättre av att Peterick visar upp sina införskaffade hängbröst och sin ölkagge i videon …
För mig representerar Eye Of The Tiger allt som kan bli fel med rockmusik. En produktion som går på klumpfötter och en låt helt utan själ och känsla. Som om The Walking Dead gått in i skivstudion.
Jag hoppas att Jim Peterick förlåter mig, om han mot förmodan skulle läsa detta, men efter en framgångsrik karriär skrattar han säkert hela vägen till banken ändå. Dessutom verkar Peterick vara en trevlig prick.
Han dök bland annat upp 2012 som medkompositör till The Beach Boys That's Why God Made The Radio – första singeln från strandpojkarnas comebackalbum med samma namn. Peterick är också inblandad i albumspåret Isn't It Time.
Vi återgår till The Ides Of March och konstaterar att gruppen återbildades 1990 och har sedan dess hunnit ge ut ett flertal skivor och gett många konserter. Läs gärna mer här och här.
Själv blir jag lite rörd när jag ser en cirka fem år gammal intervju med de fyra originalmedlemmarna och noterar att de fortfarande turnerar 55 år efter att gruppen bildades. Det måste vara ganska unikt.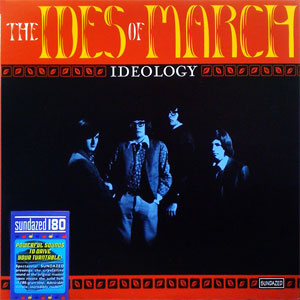 På samlingsfronten gjorde Sundazed något av en kulturgärning genom att ge ut samlingen Ideology 2000. Den innehåller samtliga låtar som gruppen gav ut på Parrot, de två låtarna som gavs ut under namnet Shon Dels Unlimited samt en handfull outgivna låtar. De två bästa av dessa är I'll Take You Back och I'm Gonna Say My Prayers.
Medlemmarna slog på stort 2015 genom att ge ut 4CD-samlingen Last Band Standing, inklusive nyinspelade låtar plus en DVD. Problemet är dock att här finns ytterligare låtar från tiden på Parrot (samt de två singlarna från 1969), som inte finns på Ideology, men då tvingas ni alltså köpa hela CD-boxen. Jag har bara hört ett par av de outgivna låtarna, varav Don't Cry To Me föll mig på läppen.
De gjorde också en småtrevlig video på titellåten från samlingen.