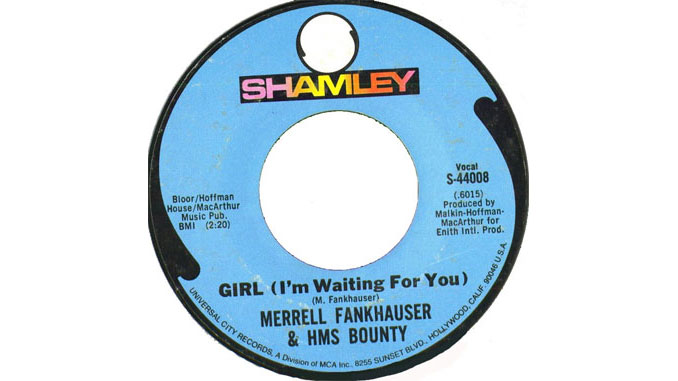 Man med konstigt namn som skriver konstiga låtar. Det är nog för inget för Olofssons Lost Treasures. Men ibland skriver mannen med konstigt namn mindre konstiga låtar, eller snarare fantastiska låtar, och då får får han en hedersplats i denna artikelserie.
Det finns egentligen inget mer att säga om Merrell Fankhauser & HMS Bountys Girl (I'm Waiting For You), förutom att det måste ha varit en av de perfekta stunderna i Herr Fankhausers liv. Som att att hitta den rätta Lottoraden, där siffrorna ersatts av rätt vers, stick och gitarrsolo. Och till skillnad från den kända barnvisan, där kråkan slank hit och dit och ner i diket, finns en chaufför som håller ett stadigt grepp om ratten och leder oss raka vägen mot popnirvana.
Olofssons Lost Treasures
Merrell Fankhauser & HMS Bounty1968
Girl (I'm Waiting For You)
(M. Fankhauser)
Jag är skyldig Jörgen "Tracks On Wax" Johansson ett stort tack, eftersom låten ingick på en CD som han skickade till mig för många år sedan.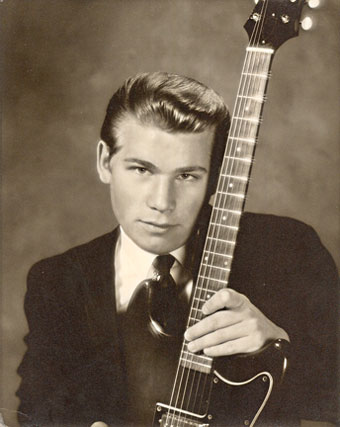 Merrell Fankhauser (med schweiziskt ursprung) är för övrigt en mycket fascinerande figur, som på vissa senare bilder betraktar oss likt en arisk Jesus, och har en karriär lika lång som ett utrullat toalettpapper.
Han föddes 1943 i Louisville Kentucky men flyttade som trettonåring till San Luis Obispo (som ligger mellan Los Angeles och San Francisco).
Fankhauser började spela gitarr i tonåren och efter att ha uppträtt bland annat på talangtävlingar blev han 1960 sologitarrist i surfgruppen The Impacts. Han var dessutom en ganska duktig surfare.
Gruppen fick skivkontrakt med Del-Fi (mest känt som Ritchie Valens skivbolag) och gav ut albumet Wipe Out! 1962. Albumet innehåller tidstypiska surfinstrumentaler, med saxofon som extra krydda.
Men det finns en intressant historia när det gäller titellåten. Fankhauser hävdar nämligen att entreprenören och musikern Richard Delvy, som befann sig i skivstudion när The Impacts spelade in en andra version av Wipe Out, stal arrangemanget på den versionen och lade beslag på låträttigheterna innan The Surfaris fick en stor hit med Wipe Out.
Efter att ha lämnat The Impacts flyttade Merrell Fankhauser till Lancaster, nordost om Los Angeles, och bildade gruppen Merrell & The Exiles 1963, tillsammans med gitarristen Jeff Cotton.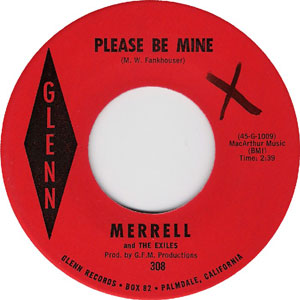 Debutsingeln, charmiga och oskuldsfulla Please Be Mine, utgiven i april 1964 på det lokala skivbolaget Glenn, låter som en småtrevlig blandning av The Beatles och doo wop. Det gäller också B-sidan Too Many Heartbreaks.
Merrell & The Exiles skulle komma att ge ut ytterligare två singlar. Uppföljaren Don't Call On Me hade inga kvaliteter som borde locka några skivköpare, men singeln blev ändå relativt framgångsrik, vilket ledde till regelbundna turnéer och ett par framträdande på lokala TV-stationer.
Efter ett fiaskoartat uppträdande i ett kallt Portland kring julen 1965 – ett resultat av en sex veckor lång turné – upplöstes dock Merrell & The Exiles.
Efter att ha flyttat ännu en gång bildade Merrell Fankhauser gruppen Merrell & The Xile's. De spelade in vad som kom att bli den bästa av singlarna, Tomorrow's Girl och When I Get Home. Båda låtarna, och framför allt B-sidan, har bryggt en välsmakande anrättning av beatpop, freakbeat och popsike. Det är låtar som kryper in på skinnet, vare sig du vill eller inte. Tomorrow's Girl blev också en lokal hit.
Merrell & The Xile's blev dock ett kortlivat projekt och strax efter singeln hade getts ut flyttade Fankhauser ännu en gång.
Sommaren 1967 ville Glenn Records att Merrell Fankhauser skulle göra ett album. Han spelade in material i ett par studior och talade därefter om för skivbolaget att gruppen nu hette Fapardokly – ett namn taget från gruppmedlemmarnas efternamn.
Albumet med samma namn kom ut sent 1967 på underbolaget Uip. Albumet har flera ljusa stunder men skivbolaget har plockat material ända tillbaka till 1964 (bland annat Too Many Heartbreaks), vilket gör att intrycket blir något spretigt. Egentligen innehåller albumet bara tre låtar med Fapardokly.
Men visst finns det låtar som sticker ut, bland annat Lila och The Music Scene – två låtar som på ytan drar benen efter sig, men ändå har en aura som höjer kvaliteten.
Sorry For Yourself har tagit det bästa från Buddy Holly (tänk Everyday) och tidiga The Beatles, medan Super Market, med sitt snygga trumpetarrangemang, blir ett perfekt avslut på albumet.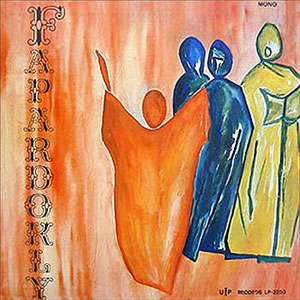 Albumet kostar i dag drygt tusen dollar. Det har dock återutgetts flera gånger både på LP och CD, bland annat av Sundazed.
Mellan 1964 och 1967 spelade för övrigt Merrell Fankhauser in mängder med material tillsammans med olika gruppkonstellationer, men inspelningarna blev liggande på Glenns lager. Det skulle dröja några decennier innan de gavs ut på ett par samlingar.
Jag kan med viss tvekan rekommendera CD-samlingen The Early Years (1964–1967) (Legend, 1993), eftersom den innehåller fler låtar än de övriga samlingarna. Det låter nämligen ganska primitivt, men här finns ändå flera lyssningsvärda låtar.
Rastlöse Fankhauser bildade ännu en grupp, Merrell Fankhauser & HMS Bounty och lyckades äntligen få skivkontrakt med ett bolag (Shamley), som åtminstone hade bättre distribution (Uni / MCA) än hans tidigare bolag.
Resultatet blev albumet Things 1968 samt singlarna Things (Goin' Round In My Mind) och veckans huvudlåt Girl (I'm Waiting For You). Båda låtarna förtjänade ett betydligt bättre öde. Ja, Girl (I'm Waiting For You) borde förstås ha blivit en stor hit.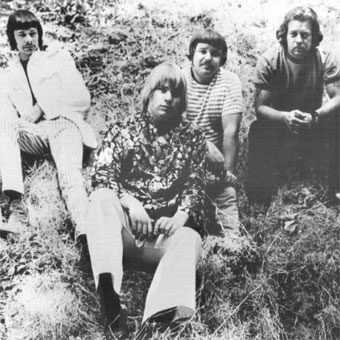 Albumet Things håller sedvanligt eklektiskt Fankhauser-stuk, vilket har kännetecknat denne mans snart sextioåriga karriär. Men denna gång faller allt på plats, med något eller ett par undantag.
Han blandar pop med countryrock (Your Painted Lives och The Big Gray Sky) på ett högst förtjusande sätt. Vänner av garagerock och psykedelia får sitt lystmäte i form av In A Minute Not Too Soon och Madam Silky.
Ice Cube Island är en speciell låt, som innehåller det mesta som behövs för en nyfiken lyssnare.
Sundazed återutgav albumet 1995 med tre extralåtar, bland annat singeln Tampa Run, som ursprungligen gavs ut 1969 under namnet Merrell Fankhauser.
Efter att ha fått problem med skivbolaget var det dags för Merrell Fankhauser att åka ut på en ny resa. Han blev fascinerad av den förlorade kontinenten Mu och flyttade till Maui, den största ön på Hawaii, för att starta sitt nästa projekt – en grupp som fick just namnet Mu. På albumet hade dock Fankhauser lämnat pop- och rockmusiken och ändrat inriktning mot mer rhythm 'n' blues och blues.
Gitarristen Jeff Cotton hade återvänt efter att ha spelat i Captain Beefhearts Magic Band, och stilen på Mu har vissa likheter med Captain Beefhearts speciella sound. Det stökiga och bökiga soundet är dock inget som passar undertecknad, trots att han brottats med albumet mer än en gång. Man måste ändå ge Merrell Fankhauser en eloge för hans musikaliska nyfikenhet.
Det känns dock lämpligt att avsluta här, även om Merrell Fankhauser har fortsatt att ge ut skivor, gjort radioshower, haft den egna showen Tiki Lounge på Hawaii – bland mycket annat. Fankhauser har också en egen YouTube-kanal.