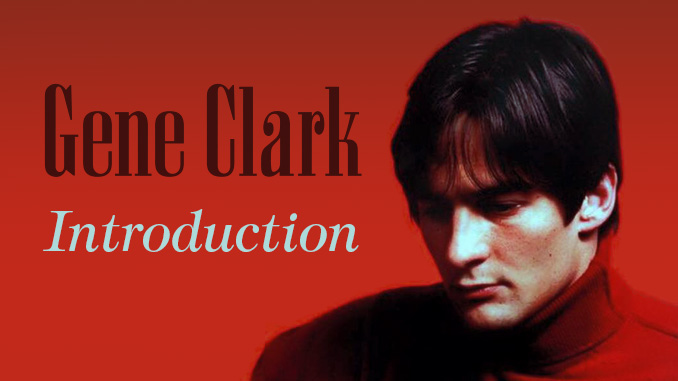 Some introductory words from the writer:
I've been a semi-professional writer from time to time for many years. I ran a music magazine in the early nineties and also wrote music books in Swedish, but this is my first attempt to publish in English. I am prepared to take this leap between languages, because Gene Clark deserves more than a Swedish article that is available only to a restricted part of the music community. Even though I got substantial editing help from Joe, Peter and Raoul – thanks ever so much! – I take full responsibility for potential idiosyncratic expressions.
Hans Olofsson
---
This article is very long. It was also a very difficult article to write, because Gene Clark wrote some of the most breathtaking songs I've heard, while burning his candles at both ends at the same time. It's nevertheless an article that has to be written, as Clark is my all time favourite rock artist, who never received the attention he deserved. As a wise person said: "Either you love Gene Clark, or you haven't heard him."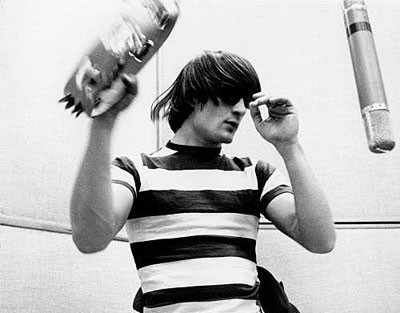 I wanted to write the definitive article about Clark; to portray his life and career, to describe all songs as well as give some advice on all the records you need. However, this meant that Gene Clark – the Byrd and the Best turned into a very lengthy and comprehensive article, so I decided to cut it into six parts, excluding this introduction. I recommend that you take plenty of time to read each part, including listening to the almost two hundred song links to Gene Clark's compositions and cover versions. It takes a lot of time and patience to enter the exciting world of this brilliant artist.
So do immerse yourself; listen to a musician whose voice, lyrics and music – whether we're hearing very striking pop songs or longer, more elaborated compositions – create such an intimate bond with the listener in a way no other artist succeeded to do. Many of you will be surprised by some facts, including many obscure compositions which relatively few people are aware of.
In other words: a lot of space is required because I believe that Gene Clark is the greatest rock artist ever, at least in terms of quality. Gene also maintained a high level of artistic integrity, including both released and unreleased material. I know, calling someone "the greatest rock artist ever" is a big call, but it's just an opinion. In this very long article I'll try my best to explain why. Gene Clark is simply an artist who has given me most thrills, especially during the last decade.
Gene Clark communicates straight to us with lyrics about heartbroken love; lyrics that involve abstract sentences but which fascinate nevertheless. His music also has a mysterious and ominous quality; he seems to have access to a parallel universe, from where the ideas just keep on coming.
My hero was obsessed by the mission of constantly writing better songs. His music is intimate, convivial, gloomy, painful, stripped down, grand, epic, spiritual, accessible and intricate. And this is enabled by the melancholy, fragile, but also genuine, delightful, amiable, rustic and spiritual baritone voice.
I haven't used common adjectives, such as "warm" and "friendly", to describe his voice. To me his voice resonates as your best and most reliable friend in both good and bad times.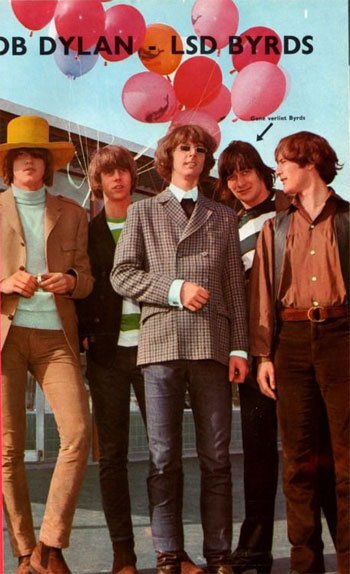 There are moments – especially when Gene is alone with an acoustic guitar and a mysterious progression of minor chords, while his vulnerable voice has taken a leave of absence from the world outside – which makes me wonder if I just hear a wonderful dream.
Several of Clark's longer songs are reminiscent of hymns, led by a preacher with an important message. Sometimes there are echoes of Roy Orbison, but more open minded and with a greater willingness to explore new fields. His music doesn't suffer from Van Morrison's random strolls between musical check points; instead we get several long segments without dead parts.
Reflecting on some of his less accessible songs, I name them "the Gene Clark pace". "Pace" should be interpreted as positive, because there's always a meaning, a drive or a nuance that enlighten his tunes, even if it's not always apparent at first. But such qualities make these songs exceptional in the end. Gene's unanticipated phrasing leaves a feeling of excitement; every syllable and sound is absorbing.
Another quality is his ability to use numerous and unexpected chord progressions, bridges and song structures, which lead the listener from the marked trail to unknown but captivating territory. But don't believe for a second that Gene Clark's music would preferentially be difficult to access or non-commercial, because he also offers a number of songs that, at least in theory, would have made the charts.
Gene Clark's lyrics should be worth a separate chapter; so despaired and sometimes even so subtle that they're hard to understand. Even so, his lyrics are very often enthralling.
When a journalist once asked Gene Clark why his lyrics often dealt with grief and pain, he replied: "Well, when you're happy you don't sit down and write songs. You're too busy enjoying being happy. It's when you are alone and in that deepest darkest place – all that has to be released in some way."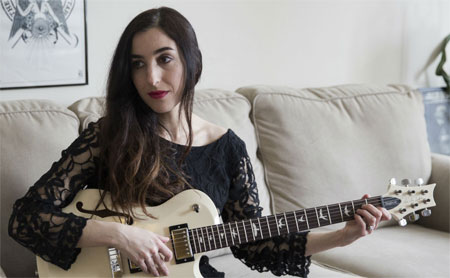 In short: Gene Clark's music always fascinates and you never feel indifferent when you listen to him.
Maybe Marissa Nadler had the same reflection, when she recorded the absorbing and dazzling I Can't Listen to Gene Clark Anymore (Nadler, by the way, sounds just as good
live), or when folk singer Pamela Richardson paid tribute to him. The Scottish nineties heroes Teenage Fanclub has also honoured Gene Clark but in a more brutal way.
If you're unfamiliar with some of Gene Clark's music, and want to find out more after you've spent some more minutes reading the introduction, you can click on the following links, which will guide you to the ten greatest released songs, the ten greatest unreleased songs (that have been released after Gene Clark's death, or have been uploaded online), as well as the five greatest cover versions, including comments about the songs. There's also a Bubbling Under list, added to the first two lists.
(Speaking of links, I want to mention that some of them lead to PopDiggers' site, where we've created a "turntable" for each link in the same order as they appear in the article.)
Hopefully, you'll get as excited as me and then just want to fill your brain with facts. Paradoxically, the unreleased compositions are probably more enjoyable!
Gene was a person who could become very manic once he had planned to do something important; who could avoid food and sleep during many, many hours while he was writing a song.
It often upsets me that when Clark recorded several songs without immediately releasing them, they were simply stored and forgotten. In an interview he tried to explain why:
"When you're the artiste, the writer too, and you're that familiar with your product, if material sits around for too long, it sort of stagnates … Unless a producer comes along and hears it and asks you to go back and pay attention to it, you lose the incentive to want to work with it anymore."
Gene's self-confidence as a writer meant that he was convinced that he could develop himself morning, noon and night – driven by a feeling that there were always better lyrics and melodies waiting around the corner.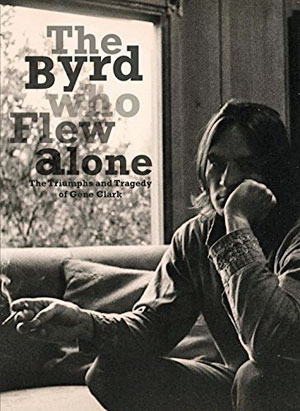 As I and plenty of others have said, Gene Clark is far too overseen, even though there has been some revival of interest in recent years with the documentary The Byrd Who Flew Alone: The Triumphs and Tragedy of Gene Clark [Four Suns, 2013], along with a couple of collections of previously unreleased songs.
However, his songs as a solo artist do not generate millions of listeners on YouTube. In fact, there are a few hundred thousand views at most, significantly less than the videos and audio clips of another cult figure, Townes Van Zandt.
It's also interesting to measure Gene Clark against Gram Parsons, who has received quite more attention. Sure, Parsons' two solo albums are magnificent, but he's only written about half of the material.
Gram Parsons would probably had continued to write great songs if he'd lived longer, but as financially independent he made music in a completely different setting compared to the working class guy Gene Clark.
Former Byrd member Chris Hillman, who had the privilege of studying the two legends in close range, has no trouble comparing them:
"Gene was the better songwriter. Gram could have been a great songwriter, but he lacked discipline. Everybody's going on about Gram, but you should listen to Gene. Here was a guy who was not well read, but he could write lyrics that would make your hair stand on end."
Some readers probably think: didn't Gene Clark leave The Byrds less than a year after Mr. Tambourine Man had become a big hit and then only released a handful of albums after that?
What few know, besides the fans, and what makes Gene Clark such an intriguing artist, is that more songs have appeared after his death in May 1991 than during his 27-year long career. A large majority of the unreleased compositions deserved an audience. Those who have entered the exciting world that his relatively unexplored material represents, find it a very pleasant place.
Let's take a break from superlatives and emotional outbursts and present some basic Gene facts instead.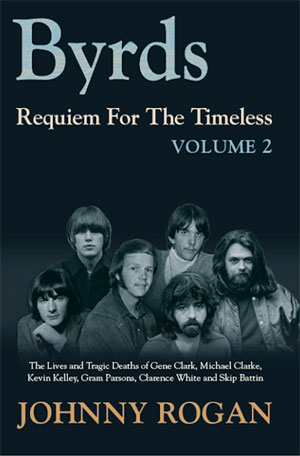 Author and Byrds specialist Johnny Rogan lists approximately 255 compositions by Gene Clark in his book Requiem for the Timeless Volume 2 [R / H, 2017]. About 85 of them were released while he was alive (including early songs from 1964–1965 with The Byrds, first released in 1969 on the Preflyte album).
After Gene's death, more than 70 songs have been officially released, although a dozen of them were quickly withdrawn. As a result, almost 100 recordings remain unreleased – some 20 songs have been released on bootlegs or uploaded online.
Supposedly, 75–80 songs still remain in the vaults, but it's difficult to know how many of these still exist or were even completed.
Rogan, and to some extent John Einarson who wrote the book Mr. Tambourine Man: The Life and Legacy of the Byrds' Gene Clark [Backbeat, 2005], mention some of these compositions, including descriptions of the music, in their respective books. So does Tom Sandford, who runs the excellent blog The Clarkophile. I'll write about their appraisal of the songs that appear in this article.
It's a reasonable assumption that Clark wrote hundreds of songs, which were never recorded.
Gene Clark also co-wrote with Pat Robinson. But Roger McGuinn, Bernie Leadon, Doug Dillard, Jesse Ed Davis, Tommy Kaye, Tom Slocum, Andy Kandanes, his brother Rick Clark, John York and Carla Olson also contributed to a certain extent to his songs.
I bought Gene Clark's solo albums during the eighties. I thought his first LP was good and that the first record as a member of Dillard & Clark was excellent, but on the other hand, I was disillusioned by No Other.
Only in recent years that I've rediscovered him and better appreciate his very special voice, that carries such a wide range of emotions and melancholy. Gene's epic songs have something that makes them so much more than just well crafted. Nowadays I can also listen to No Other with much satisfaction. Just like other music that has been regarded as immortal and timeless, there's a complicated mesh of knots, but once you untangle it, you'll hear exciting sounds pop up and enrich the soundscape.
The biographies about The Byrds and Gene Clark reveal what a complex person he was. On one hand, a shy and down to earth person, who would rather spend time with the family and fix the house when he was not busy writing songs. But on the other hand, someone who enjoyed his status as a star, at least initially, and an alcoholic – often suffering from poor finances – who turned from Dr. Jekyll to Mr. Hyde the more he drank.
Carlie McCummings, who was married to Gene Clark during the first half of the seventies, has said: "He (Gene) was the kindest, gentlest, most loving soul in the world as long as he wasn't drinking."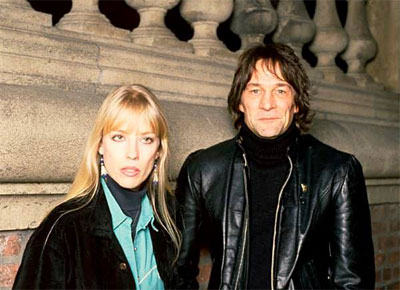 Gene's duet partner during the late eighties, Carla Olson, has described him as one of the most wonderful persons she met. Many years after Clark's death, she still found it difficult to listen to his music without having a breakdown. She's also said: "A lot of people write songs but Gene wrote poetry and put that poetry to music" and "Some of his songs should have been standards by other people."
Maybe Gene's oldest son, Kelly Clark, has the best analysis:
"My father really just wanted to be a normal guy in a lot of ways. He wanted to chop wood and he wanted to have a family. He had this gift and there were people who wanted him to do it and I think he felt obligated to do it, and it also felt good for him to do it, but he couldn't handle all the stuff that was going on. A lot of people didn't. It's amazing he even lived through the sixties and seventies because a lot of those people didn't. So I think what really happened to my father is that he got sucked into this whole Hollywood Babylon thing and he really just wanted to be a good husband and father, but the whole lifestyle of Hollywood kept calling him."
For all his wonderful, romantic music, Gene burned a lot of bridges and he hurt some people. There are probably many reasons for his behaviour which are difficult to analyze.
A couple of Gene's siblings think he probably suffered from bipolar disorder (previously known as manic depression). What they know today, is that he suffered from depression and this made him nervous and anxious. Alcohol, and in some ways pills and drugs, became his cure to handle the depression and mood swings. Unfortunately, these substances only worsened his behavior and made him aggressive.
Gene also suffered from stage fright. His youngest son, Kai Clark, has tried to explain why things turned out the way they did:
"He wasn't a great performer who could move the crowd with him. Some people are born performers. The Byrds had that. He may have grown into that, he may not have, I don't know. I think he envied those who could do that. He wanted to be that guy out there, but he couldn't. I don't think people realize he battled those problems his whole life."
A few people, including Kai Clark, also claim that Gene was scared of fame and success:
"He was scared of fame. Personally, I think he was scared to be famous to be the one out front. He had it when he was younger, maybe because he was pushed there so quickly he didn't have the time to think about it. I don't know. But he definitely was scared of it and he needed things to get over that fear when he walked onstage sometimes. He would drink or whatever. I think he liked more the songwriting aspect of it."
For all his personal issues and demons, Gene remained a dedicated songwriter throughout his life. He worked hard, especially in the eighties, to get back on the track after having hit rock bottom in 1981.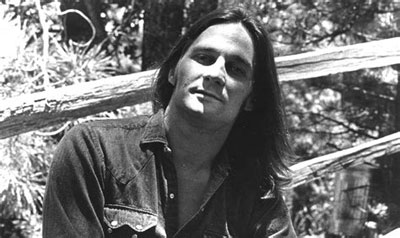 I've listened to some interviews with him. He often emerges as an engaged and humble guy, with whom you just want to sit down and discuss music. In addition, Clark appears to be in control of life and he seems to be more educated and urban than you might expect from a person who grew up in a rural, working class family of twelve siblings.
Some fans have testified how nice Gene Clark was to talk to; that he always took the time to discuss different subjects and even answer the most frequently asked and worn-out questions.
In this series of articles, I'll dissect just about all songs that have been officially released, including various versions if appropriate. I'll also describe unreleased songs shared on various web sites only.
I will give advice concerning releases for those who want to listen more, concentrating on CD releases even though there have been a lot of special vinyl editions in recent years. I'll mainly mention later releases with bonus tracks, as the early discs are often deleted or the mastering wasn't good enough at the beginning of the CD age. Honestly, it's hard to keep track of the abundance of alternative versions, remixes and stereo / mono releases that have emerged since the late eighties.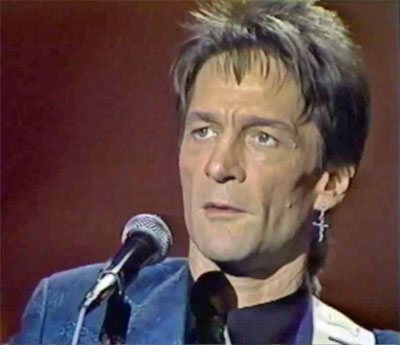 It's difficult to write an article about Gene Clark, because he's familiar in one respect but largely unknown in another.
An article about Clark must include The Byrds of course. In that case, it becomes even more difficult, given the larger body of information on the band, but I still hope to present some facts and events that relatively few people are aware of in the first two parts (which deal a lot with The Byrds).
The periods 1966–1967 (included in part three), 1970–1971 (part four) and Gene Clark's five–six last years (part six) probably have more to offer, because they include a lot of unreleased songs.
So, speaking of a long article, I've chosen to divide it into six parts.
Part 1 and 2 start from Gene Clark's birth and end when he left The Byrds.
Part 3 presents Gene's first attempts as a solo artist as well as his partnership with Doug Dillard.
Part 4 deals with the first half of the seventies and ends with the album No Other and the reactions after its release.
Part 5 continues in the mid-seventies and stops after Clark's last solo album 1984.
Consequently, the sixth and final part describes Gene's career from 1984 until his death in 1991 and what has happened since then.
Part one will be published in February. In the meantime, I recommend that you spend many hours listening to the 45 songs in the three "Best of" lists mentioned before.