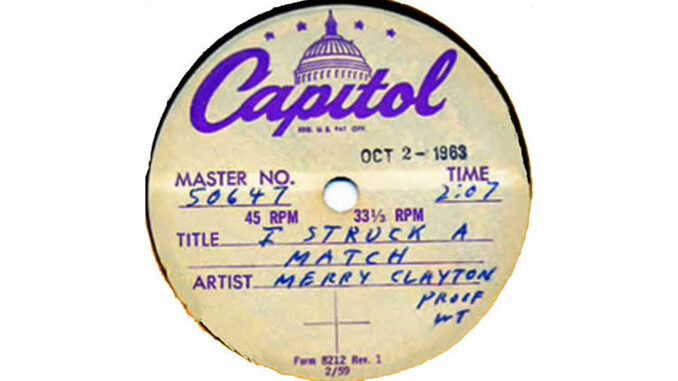 Efter alltför många artiklar med blekansikten i huvudrollen, är det hög tid att prioritera en liten flicka med en stor röst, stöpt i klassisk baptistmiljö. När den lilla flickan med den stora rösten får en ljudvägg att slåss mot, alstras energi som värmer lyssnarens hjärta.
Liten flicka i detta sammanhang syftar inte på Merry Claytons längd, utan på faktumet att hon inte ens hade fyllt femton år när I Struck A Match spelades in i början av oktober 1963. Jag skriver "spelades in", för singeln förblev outgiven.
Olofssons Lost Treasures
Merry Clayton1963
I Struck A Match
(Arthur Resnick – Bobby Scott)
Någon månad senare gavs dock låten ut officiellt med Lesley Gore. Hennes version, som finns på albumet Sings Of Mixed-Up Hearts, låter dessvärre som en musikalisk ärekränkning i jämförelse med Merrys version, även om jag alltid gillat Gore.
Clayton är ändå mest känd för att ha sjungit på The Rolling Stones Gimme Shelter. Men nu ska jag inte gå händelserna i förväg.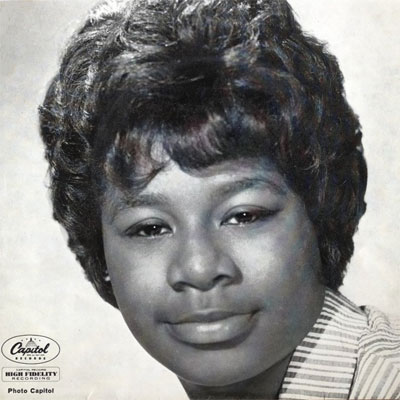 Merry Clayton föddes 1948 i Louisiana. Hennes pappa var präst i en lokal baptistkyrka, vilket innebar att Merry fick en inkörsport till vokalistens fascinerande värld.
Efter att ha flyttat till Los Angeles fortsatte Clayton att uppträda i kyrkliga sammanhang men gjorde också avtryck på vinyl. Hon sjöng solo på den religiösa gruppen Kendrix Specials singel Lord Save Me runt 1962.
Efter att ha blivit upptäckt av den legendariska tjejgruppen The Blossoms, med Darlene Love i spetsen, blev Merry Clayton duettpartner till Bobby Darin på albumspåret Who Can I Count On, som släpptes i februari 1963. (Merry dyker upp drygt en minut in i låten.) Det var inte illa för en tösabit som bara var fjorton år gammal.
Samma år kom hennes första soloskiva, The Doorbell Rings. En låt som inte saknar förtjänster, främst på grund av vissa likheter med Little Evas The Loco-Motion, men som ändå drunknade i det stora utbudet.
Året därpå kunde ha blivit Merry Claytons spikraka väg mot berömmelse. Hon spelade nämligen in originalversionen av The Shoop Shoop Song (It's In His Kiss), som året därpå blev en stor hit på Billboardlistan med Betty Everett. Det är tyvärr ganska lätt att inse varför Merrys version aldrig slog, då tempot är för långsamt och sticket dog på operationsbordet. Trots att Claytons vokala resurser inte lämnar mycket övrigt att önska, saknar hennes version också den charm som finns på hitversionen.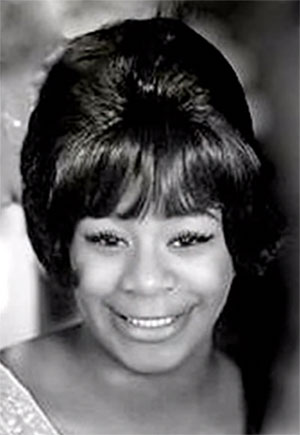 Det var meningen att tredje singeln skulle bli veckans featurelåt, I Struck A Match. I stället spelade man in tämligen okommersiella men ändå snudd på briljanta Nothing Left To Do But Cry. Det är en låt sprängfylld med delikatesser, där Merrys trygga men ändå tordönliknande stämma agerar som grindvakt över arrangemanget. Och tänk, hon hade inte ens fyllt femton år när låten spelades in …
På B-sidan, Usher Boy, får vi som gillar I Struck A Match mer av samma vara.
Efter ytterligare två anständiga singlar, La La Jace Song (Spanish Boy) och Knock On The Door, fick solokarriären ta en paus. Merry Clayton fortsatte dock som medlem i Ray Charles sånggrupp The Raelettes under åren 1966–1968 och blev också flitigt anlitad bakgrundssångerska under många år. Vi kan höra henne på en mängd skivor med artister som Tom Jones, Joe Cocker, Linda Ronstadt, Carole King, Neil Young, Barbara Streisand, Ringo Starr, Tina Turner, Diana Ross och Michael Jackson. Det sägs också att Merry sjöng med Elvis Presley, men det är förmodligen en skröna.
Vår upptagna dam nöjde sig dock inte med detta utan bildade dessutom gruppen Sisters Love 1968, tillsammans med ett par andra medlemmar från The Raelettes. Gruppen skulle komma att spela in ett tiotal singlar fram till mitten av sjuttiotalet.
Sisters Love gav bland annat ut den sublima singeln Are You Lonely? med Vermettya Royster på sång, som blev en Topp 20-hit på R&B-listan. Jag vet dock inte om Clayton medverkar på låten, eftersom hon förmodligen var upptagen med solokarriären.
År 1969 blev Merry uppringd mitt i natten för att sjunga på Gimme Shelter. Lustigt nog visste hon inte ens vilka The Rolling Stones var. Hennes insats beskrivs på sajten Open Culture:
"Take out Merry Clayton's wail and what have you got? A pretty good Stones tune, granted, but it's no 'Gimme Shelter'. Her contributions make this an uncannily haunting song, a warning from some ancient tragic chorus, a frenzied Sibylline prophecy, and I think I'm underselling it."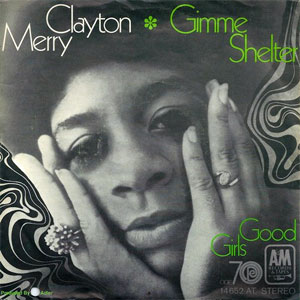 På Open Culture finns också en artikel, som handlar om hur det gick till när The Rolling Stones valde ut Merry Clayton. Hon sade i en senare intervju: "I became queen diva of the background rock world." Dessvärre medförde det hastiga inhoppet att Merry drabbades av missfall. Det dröjde många år innan hon kunde lyssna på Gimme Shelter igen.
Vill ni höra hur hon lät utan Mick Jagger och grabbarna, finns det faktiskt en video i ämnet.
Samarbetet blev startskottet för del två av Merry Claytons solokarriär, som resulterade i fem album under sjuttiotalet plus mindre hits med sin egen version av Gimme Shelter, After All This Time samt en version av Maxine Browns Oh No, Not My Baby. Visst håller ni med om att Merrys version av Gimme Shelter överträffar Stones original.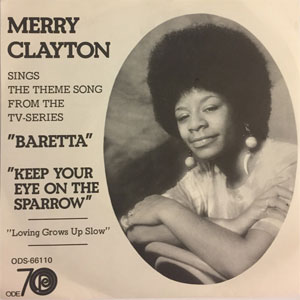 Hennes största hit kom 1975 med Keep Your Eye On The Sparrow från den legendariska TV-serien Baretta.
Första halvan av sjuttiotalet blev en hektisk tid för Merry. Förutom solokarriären och diverse jobb som bakgrundssångerska på skivinspelningar, blev hon 1972 den första kvinna som fick framföra The Acid Queen från The Whos rockopera Tommy – en låt som annars är mest förknippad med Tina Turner.
Jag skulle naturligtvis kunna räkna upp mängder med meriter, men den som vill veta mer om denna bergsprängare till sångerska kan läsa här och här.
Så sent som 1987 fick Merry Clayton sin kanske största hit med Yes från filmen Dirty Dancing.
År 2013 medverkade hon i den Oscarsbelönade dokumentären 20 Feet From Stardom, som mycket riktigt handlar om bakgrundssångerskor (bland andra Darlene Love).
Året därpå drabbades Merry dessvärre av en ny tragedi. I sviterna efter en svår bilolycka tvingades hon amputera båda benen. Många hade blivit helt knäckta, men enligt sajten Ultimate Classic Rock reagerade hon så här efter operationen:
"From the first moment she was awakened by her surgeon and he advised her of what had happened, her response was,'… Doctor, I may not now have all my body parts …' and as she touched her heart continued,'… but I still have this voice!'"
Tänk om fler människor, inklusive undertecknad, hade varit lika starka!