Lindsey Buckingham and Christine McVie released a new CD, Chuck Berry released his last CD, and Jan & Dean's REAL Filet Of Soul finally arrived …after a quite, well, fishy 52-year delay. Nevertheless, I still found ten more vintage-2017 gems to recommend to Pop Diggers everywhere. In, as always, strictly alphabetical order they are: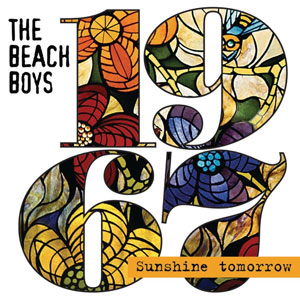 THE BEACH BOYS
Sunshine Tomorrow
[Capitol Records]
Conventional misinformation always had it that, soon after Brian Wilson lost his great big SMiLE in 1967, he retreated for a decade or so beneath the covers of his Bel Air bedroom. In truth, the Beach Boys simply followed him there, built a studio downstairs, and got straight to work writing and recording several of the finest albums they, or anyone else for that matter, produced as those Sixties slowly turned Seventies. The proof of this fine period of work begins with the two-and-a-half hours (!) of studio and live material from '67 Sunshine Tomorrow contains, focusing primarily on sessions which begat the Smiley Smile, Wild Honey, and ill-forsaken Lei'd In Hawaii albums. Audio savants Mark Linett and Alan Boyd do their usual stellar job restoring and refining the Boys' original work …so much so that an additional 138 – I kid you not – tracks from the time, released recently as two digital-only companion compilations, are worth your undivided attention, and frequent listens, as well.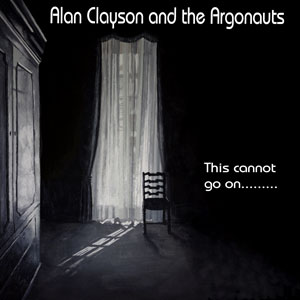 ALAN CLAYSON AND THE ARGONAUTS
This Cannot Go On…
[Rush Music]
Superlatives such as Legendary, Heroic, Lionhearted, Maverick, Icon(oclast) are being tossed 'round far too indiscriminately these days, but in the case of Alan Clayson, and his Argonauts' first utterly new album in three decades, they really only tip the sonic iceberg so to speak. For instance? Had songs such as The Refugees and Looking For A Monday found their way on to any Roxy Music record, I might just have given B. Ferry the time of day after all. Also Angelette lolls in precisely the mode of shepherd's pie balladry Ray Davies once served, I Hear Voices may at last be The Great Lost Saucerful Of Secrets Bonus Track we've all been waiting for, and Lone Cloud sends Donovan Leitch scurrying deep into Joni Mitchell's nearest ice cream castle. Later, Alan's old chum John Otway adds theremin to The Local Mister Strange – get this one over to Simply Saucer asap! – and If I Lost You could've, would've, should have been one big hit single …especially if Teenage Runaway ended up on its flipside. Oh! and in the 7-inch dept., could this here Landwaster be the same Claysong which appeared on the Argonauts' Virgin vinyl debut circa 1978?! Somehow stacking perfectly strangely alongside the Sex Clark Five's latest [see below], maybe Rock 'n' Reel Magazine said it best when declaring that, quote, Somewhere there is a parallel universe where Clayson and the Argonauts are (dare I repeat it?) Bigger than the Beatles.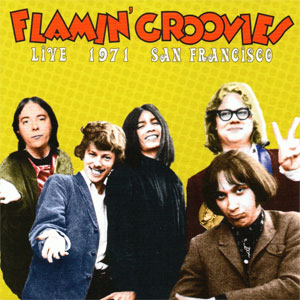 FLAMIN' GROOVIES
Live 1971 San Francisco
[RockBeat Records]
For those far from the know, the Flamin' Groovies were one of "those" bands who may have sold too criminally few records back in their day (1969 through '79, very roughly) but had, and have, an impact FAR above, and light years beyond rote chart positions or ticket grosses. Proof? Close your eyes, bask in the delightfully semi-fi quality of this vintage fifty-three-fifty and you could be perfectly excused for thinking CBGB circa Son of Sam as opposed to that wascally Bill Graham's Fillmore in the equally terrifying age of Jethro Tull and Tapestry. Launched with a much-needed wallop of Shepherd's Bush to the Bay Area via I Can't Explain, our heroes take one Sweet Little Rock 'n' Roller to show Keith R. who the real, as opposed to "New" Barbarians really are, wrest Shakin' All Over clear out of – guess who? – Chad Allan & The Expressions' grip as, c/o Roy Loney, they "get down with" a touch of pure Vincebus-worthy Cheer …and, speaking of turning air into cottage cheese, flawlessly insert an intermediate seven minutes into Road House which bring all new meanings to "raw" and "power," believe you me. P.S.: At about mid-point Roy introduces "a new song; it's gonna be on our next album," and out pours a Slow Death which, as it always did and continues to, takes a mere five-and-a-half minutes to exile those Stones, for starters, clean off any main street we'd care to roam. Cap it all with 480 full seconds of Louie Louie before the Groovies go Walkin' The Dog clear into proto-punk-power-pop-whatever immortality, and all that's left to do next is for you to go reach for their new album too. Got it?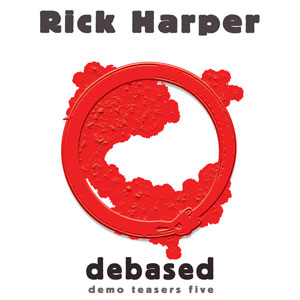 RICK HARPER
debased
[HiVetiver Records]
Hard to believe it's been over 30 (!) years now since this most esteemed, fully self-contained singer/songwriter/arranger/engineer/producer/multi-multi-instrumentalist first entered my headphones. And this collection of, according to the liner notes, demos sent to the Library of Congress for copyright protection etc. is a treat even a long-time listener as I wasn't completely prepared to gulp this year. Right from the proverbial get-go (Track 01: I Just Wasted Another Day) Rick's turn of phrase, to say nothing of chords, twist and turn yet still always excite and astound. Yes, this is one disciple who spent more than his fair time beneath all the latest Capitol and Columbia releases back in the day. The subtle yet superb moves upon the mixing board – on that Master Volume during I Sank for example – matched with the typically, ultimately triumphantly Harper rear-view of life (You Sold The Harp) and lust turned to rust (It Was All Wonderful) keeps far more than the ear engaged. Then there's But It Never Did: rarely has derailing sounded quite so, um, on track. And the concluding The Dane honestly just has to be heard …nay, READ to be fathomed. So! Far from wasting any days, as 01 may claim, debased shows Rick not only maintaining his standards, but remaining in the process as prolific and prodigious in 2017 as he was back circa 1987. And, I should know.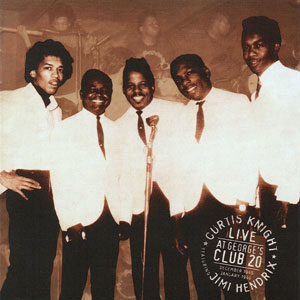 CURTIS KNIGHT Featuring JIMI HENDRIX
Live At George's Club 20 (1965 & 1966)
[Dagger Records]
"I'd like to let everyone know that this is being recorded live here at the fabulous George's Club 20," frontperson Curtis Knight claims right off the bat ("Fabulous??" laughs his guitarist "Pretty Boy Jimmy James"). And "This," says the accompanying booklet, "is what Chas Chandler heard when he first encountered Jimmy James in the summer of '66." Now, a half century later, we hear a curious but most entertaining – at times even illuminating – glimpse into the audio closet of a bona fide pioneer honing his craft …in what I'm sure all involved thought at the time was the privacy and security of Hackensack, New Jersey. Sure, there's de rigueur slops across Land Of 1000 Dances then, with the bassist a full half-step sharp (!) for the first 30 seconds, What'd I Say (though Jimi manages some "fabulous" variations upon Uncle Ray's lyrics here and then there); meanwhile Curtis, on I'll Be Doggone and especially Ain't That Peculiar demonstrates he's certainly no Marvin Gaye. But what salvages it all, and then some is, not surprisingly, Jimi's six strings. Get Out Of My Life Woman absolutely hints at the style, substance, and majesty the world would soon, er, Experience in a little over a year, while I'm A Man and Driving South together provide a fiery, downright savage eleven minutes that makes this trip back to Hackensack wholly worth it. "Eat that guitar," Curtis cries at one point. "He's doin' it with his teeth, y'all. Eat It! EAT IT!" He does. And it's spectacular.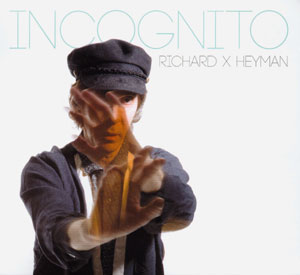 RICHARD X. HEYMAN
Incognito
[Turn-Up Records]
If the names, songs, and/or sounds of Terry Melcher, Michael Brown, Emitt Rhodes, Bernard Webb, Steve Lillywhite, Phil Seymour, Ron Flynt, C. J. Ramone, Dino Danelli, either Pernice Brother, "Guitar Keith" Allison, Richard Manuel, Ben Gibbard, Jimmy Greenspoon, Eddie Kramer, Sufjan Stevens, even Phil Ochs mean anything whatsoever to you or your record collection here in 2018, you would be more than well advised to immediately sort one-man-wonder Richard X. Heyman's 12th (!) release into this lofty company without question or hesitation. Period. It's truthfully no surprise to these here ears that, just as on his previous eleven albums, the playing on Incognito – all by Richard, practically all by himself – is measured yet spirited, the arrangements, both instrumental and vocal, even more so (nice to hear those acoustics, Richard!), and the melodies… the melodies! Just check again some of those synonymous names I dropped above to give you but an inkling of what's been thoroughly achieved on this disc, and the levels to which it, and Richard, without doubt belong. Exclamation point!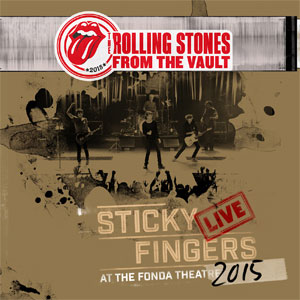 ROLLING STONES
Sticky Fingers: Live At The Fonda Theatre 2015
[Eagle Rock Entertainment]
For those still making Strolling Bones, Steel Wheelchairs and/or World's Oldest Rock and Roll Band jokes I could occasionally – occasionally, that is – empathize while watching the DVD portion of this concert package …particularly as the groove flops then flats out altogether during Can't You Hear Me Knocking: won't you come home, Bill Wyman! And while we're on the subject of ex's, Mick Taylor's guitar could have resuscitated You Gotta Move and Wild Horses within two or three bars. But enough of my yakkin'. All Down The Line and Bitch could be performed as heartily by NO other septuagenarians within my reach, I never thought I'd live to see these Stones entice Sister Morphine out of bed, and about that other Mick you say? Straight after warning the Fonda Theatre the band's about to play us Sticky Fingers "in the order of the 8-track tape" (then teasing, or perhaps threatening, to bring Satanic Majesties on stage as well one of these anniversaries) he launches into a quite solid hour of leaps, bounds, sweeps and, yes, sways – vocal and otherwise – that are a true miracle to behold. The man has still gee-oh-tee eye-tee, I swear. Yet I must also quibble at the way the black-and-white faux-backstage interview clips are ruthlessly razored in to, and haphazardly amongst the concert footage itself: there's a reason someone invented the Bonus Menu, you know. But stick squarely with the audio-only disc of this fine From The Vault edition and I'll be sure to meet you all back here in time to review Black And Blue: Live 2025.
SEX CLARK FIVE
Ghost Brigade
[Records To Russia]
In the grand tradition of Chad & Jeremy's Progress Suite, or perhaps even that first Nirvana's Story of Simon Simopath, my forever favorite band from Huntsville, AL have, utilizing seven primary characters – including God, a cavalry troop, World War I soldiers plus various vandals and mercenaries – plus 23 songs, and all in a record 46-minutes-13 produced not a Rock… gawd, no… but a genuine Strum and Drum opera! Most likely the world's first, in fact. With music as if Joe Meek had heard an even newer world, and in the concluding forty seconds of Christmas Truce a soaring, divine, altogether heavenly choral I do hope to hear piping out of each and every shopping mall come Xmastime 2018 forward, Ghost Brigade is now destined to spend far more time occupying my better senses than, say, that great big 50th Anniversary Pepper boxtravaganza. Why, my Brigade even came equipped with a full-color 16-page libretto! As Sex Clark James Butler explains, "It has a hero, a heroine, a good guy and a bad guy, love denied and love conquering all. What more could anybody want?" To which co-SC5 Rick Storey helpfully adds "It even has a plot, I think."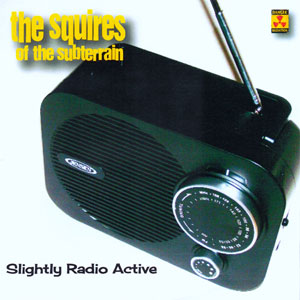 SQUIRES OF THE SUBTERRAIN
Slightly Radio Active
[Rocket Racket Records]
Barely a year has crept by since, hmm, could it really be 1998 that a Christopher Earl creation hasn't lodged for many an hour upon the ol' Pig Player, be he solo or in total cahoots with other wild wonders (e.g.: Big Boy Pete or even Hank Hardwood!) Because there's always so much in each release to hear, be buoyed along with and, yes, marvel at you see. "What Was That" you ask? Well, this disc's very first 30 seconds say, and set it, all. Up. Dueling riffery and oh, those ahh's. By a minute-thirty we've added trashy Trashmen drums and Entwistle-y trumpets, only to be sprinkled with some swarmandal and loopy Linda McCartney moogery. Nice looonnnng fade, too. Elsewhere, The Last Rose (Of The Season) may at first glance plant an XTC in its pear tree while Letters To Heaven arrive via the far-Left Banke, Fireworks In Her Eyes ends our wait for that fourth – or was it fifth? – Buffalo Springfield long-player and Around The World (Of Hurt) In 80 Days sports an actual five syllable lyric. And why Eventide didn't feature beneath the credits of some seventh season Mad Men episode I'll NEVER know. Yep, Mr. Earl, after all these years, definitely remains my main Squire. Become Slightly Radio Active yourself and make him yours.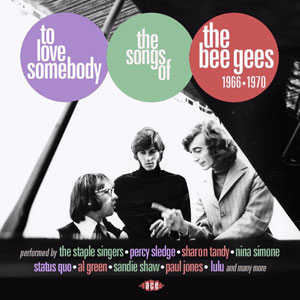 TO LOVE SOMEBODY:
THE SONGS OF THE BEE GEES 1966-1970
[Ace Records]
One of the great joys of the post-mixtape age – even though we had to scale down from 90 magnetic to 80 digital minutes – was the speed and ease with which compilation discs could suddenly be burned. Choose > Copy > Export > Paste > Save! But heading 2017's list of Damn! Why Didn't I Think Of Making That?? comps must surely be this remarkable collection of early Brothers Gibb covers, running good gamuts from soul (Percy Sledge's I've Gotta Get A Message To You) to ska (Pat Kelly: I Started A Joke); from the spicks (Los Bravos' Like Nobody Else) clear through, so to speak, the specks (the dark side of Goon Moon's Every Christian Lion Hearted Man!) Not to mention April Byron, the Liz Taylor of Australia I'm told, and her extreme fantastic rarity He's A Thief: quite possibly my Record of the Year …or of 1966 even. Expertly assembled and annotated by Ace's own Tony Berrington, To Love Somebody proves, as few elsewhere ever could or have, the abundant treasures still to be found in even the first five years of Barry, Robin and Maurice's vast, exceptional compositional canon. Which, come to think of it, gives me hope there's still more April Byron records out there left to track down too. Excuse me then…