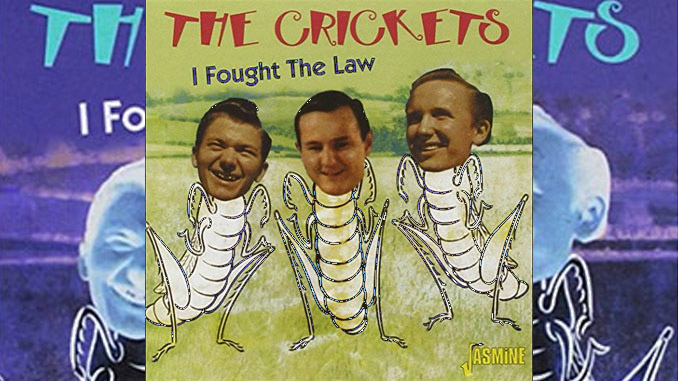 Not many songs get adopted by generation after generation of artists. I Fought the Law belongs by all standards to this exclusive group. Here is the story behind I Fought the Law kindly commented by the composer himself, Sonny Curtis. You will also be furnished with a few things about the legacy of I Fought the Law.
Even though Sonny Curtis (1937−) was session and concert guitarist as well as song writer for Buddy Holly as early as 1955, he joined the Crickets first after Buddy Holly's death. Sonny Curtis:
"Buddy died in February, 1959. I wrote I Fought the Law in probably mid-July of that year. I wrote it in my living room on a sand stormy afternoon in West Texas and didn't think much about it. It only took about twenty minutes. What's scary, is I don't think I wrote it down. We were driving to New York to record In Style With The Crickets and were trying to think of new songs to do and I said "Hey, about this one." "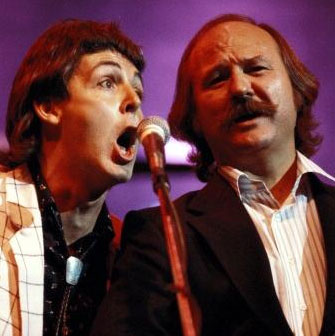 And what a divined spell of inspiration those twenty minutes was! Albeit, there are accounts of that Sonny Curtis initially thought about it as a country song. The decision to include the undocumented I Fought the Law on the album In Style with The Crickets [1960] thus lingered until Sonny Curtis sang it for his band members during a road trip to the recording studio in New York City when they tossed around ideas of new material. I Fought the Law evolved into a straighter up-tempo pop song during the car ride, and the beat was further punctuated by Jerry Allison's rim shots in the studio.
The uncomplicated and captivating lyrics concentrate the classic battle between good and evil, adding a streak of outlaw perspective for excitement.
It is written in an evidently corrective manner and is a moral injection since some kind of punishment is waiting for the offender. Fair and square. Order restored (by the following words marinated in the G, C and D/D7 chords):
A-breakin' rocks in the hot sun
I fought the law and the law won

I miss my baby and a good fun
I fought the law and the law won

I left my baby and I feel so bad
Guess my race is run
She's the best girl that I've ever had
I fought the law and the law won

A-robbin' people with the zip gun
I fought the law and the law won

I needed money 'cause I had none
I fought the law and the law won
I Fought the Law was a slow starter that began its long voyage to fame and fortune partially in Britain − where the Crickets had a firm fan-base − as a hidden away B-side of the single A Sweet Love in December 1960. Short of airplay to back it up, it first slipped away without much notice on either side of the Atlantic and there is a possibility that it may have been totally forgotten if it had not been picked up by other artists.
The song surfaced as a cover on vinyl for the first time in 1962, that according to Sonny Curtis' comments also drew his attention at that time, when Milwaukee's finest Paul Stefen and the Royal Lancers had a local hit with I Fought the Law on Citation that was a bit rockier than the original. Two more covers were recorded in 1964; one of them was the not very much noticed by Sammy Masters (Kapp) done country style (probably closer to the intentions Sonny Curtis had when he conceived it). The other was by Texan Bobby Fuller (Exeter; read about the thrilling story of his life here).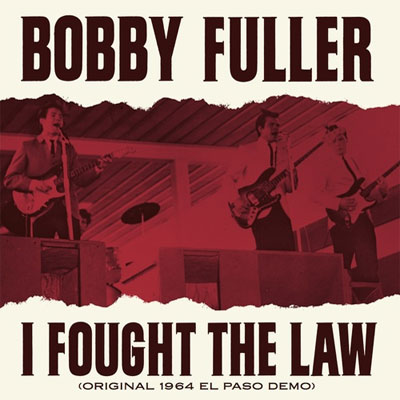 Bobby Fuller's rendition of I Fought the Law loaded positive energy into the song and updated its Buddy Holly sound, which without doubt helped it to gain momentum at Fuller's and Holly's home base in western Texas. But it was through his re-recording on Mustang – released in November 1965 and a # 9 US hit in 1966 – that I Fought the Law became really famous when it spread from California to the rest of the USA and Europe.
During these first years we also note that the original harmless "zip gun" changed to "big gun" in Sammy Master's lyrics, to "six gun" in the Fuller version, in which, when mentioned, was dramatically accentuated by six fast fittingly drumbeats. This version by Bobby Fuller Four also opened the floodgates for a large number of other artists to become sufficiently confident to make their own covers.
It is thus by virtue of that the Bobby Fuller Four's well-known version has generated many other covers, it earns position # 102 in Dave Marsh's authoritative book The Heart of Rock & Soul – The 1001 Greatest Singles Ever Made. Unfortunately, Bobby Fuller, instead of Sonny Curtis, is wrongly credited as writer here, thereby adding another nail in the coffin of factual errors of this book. In Rolling Stone Magazine's list of 500 greatest songs of all time, Bobby Fuller's cover is positioned moderately, at # 177. Additionally, I Fought the Law is among the 500 songs that the Rock and Roll Hall of Fame has selected as the most influential in shaping rock and roll.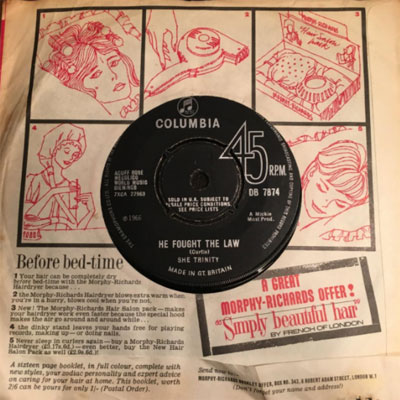 Since 1966, I Fought the Law has accordingly been recorded by many artists, at least 74 (as seen at the SecondHandSongs site). As the classic it is, it has served many purposes, from being a song in the extensive playlist included in Operation Nifty Package that was conducted in order to imprison Panamanian leader Manuel Noriega in 1989 by psychological provocation through ear-deafening music, to capitalist service in an iTunes/Pepsi commercial (Green Day version from 2004). We have most certainly not seen the end of covers yet.
Moreover, Bob Rivers even made a parody – I Fought the Lawn, and Brits She Trinity interpreted the song from the woman's outside perspective in He Fought the Law [1966].
In addition, John Mellencamp transformed I Fought the Law into Authority Song [1983] as a part of the constant recycling of this song.
When I asked Sonny Curtis to pick his own favorite covers, he mentions: "Hank Williams Jr., Clash, Roy Orbison and others. Of course, Bobby Fuller Four." He also feels comfortable with how the original turned out:
"I hope I don't sound self-serving, but I loved the Crickets version. We ran through it a couple of times at the studio, recorded it from start to finish and after a couple of takes we had it. In my opinion the fact that the four of us played it through at the same time creates a synergistic feel that is quite charming. I also think we all played well and Earl Sinks sang great."
Well, it is hard to disagree with him…
25 I Fought The Law on 45
With risk of being compared with Jack Nicholson's character Jack Torrance's monotonous disposition in Stanley Kubrick's movie The Shining, I present an excerpt of the abovementioned list of covers by the help of my private collection of 45s (suggesting that a few more ought to be added to the SecondHandSongs site). But I know that this collection is not complete, so please make your supplementary singles known to PopDiggers.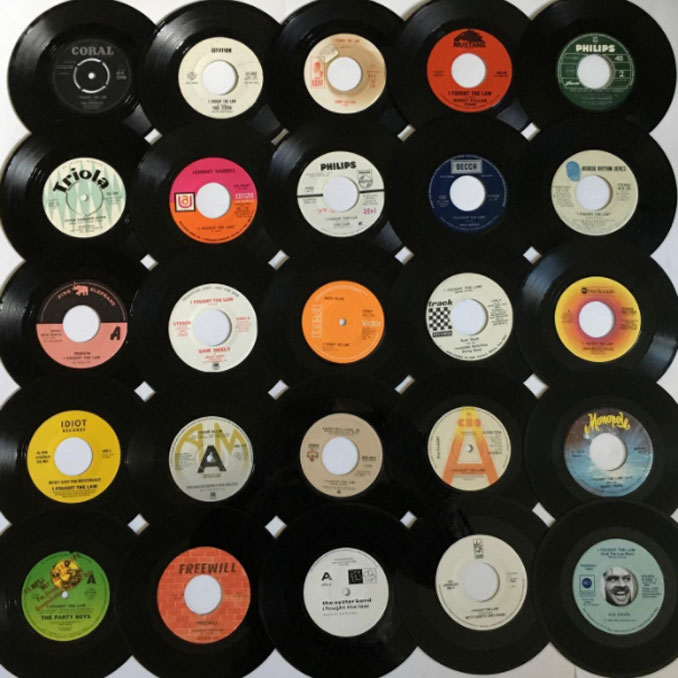 The different versions are tentatively graded from one to five stars (indicating how hard it is to mess up a brilliant song as I Fought the Law).
| Artist | Label | Year | YouTube | Grade |
| --- | --- | --- | --- | --- |
| The Crickets | Coral | 1960 | Listen | |
| Paul Stefen and the Royal Lancers | Citation | 1962 | Listen | |
| Sammy Masters | Kapp | 1964 | Listen | |
| Bobby Fuller Four | Mustang | 1966 | Watch | |
| Claude François | Philips | 1966 | J'ai joué et puis j'ai Perdu | |
| Peter Belli | Triola | 1967 | Hvem dømmer Hvem | |
| Johnny Darrell | United Artists | 1968 | Listen | |
| The Cans | Philips | 1970 | Listen | |
| Wild Angels | Decca | 1973 | Listen | |
| Hoodoo Rhythm Devils | Blue Thumb | 1973 | | |
| Penguin | Pink Elephant | 1974 | | |
| Sam Neely | A&M | 1975 | Listen | |
| Ducks Deluxe | RCA | 1975 | Listen | |
| Buck Shott and the Incredible Barb-Wire String Band | Track | 1975 ca | | |
| Ricky and the Redstreaks | Idiot | 1977 ca | | |
| John Wesley Ryles | ABC Dot | 1977 | Listen | |
| Kris Kristofferson & Rita Coolidge | A&M | 1978 | Listen | |
| Hank Williams Jr. | Warner Bros. | 1978 | Listen | |
| The Clash | CBS | 1979 | Watch | |
| Bobby Prins | GIP | 1979 | Listen | |
| The Party Boys | Oz | 1983 | | |
| Freewill | 11:11 | 1985 | | |
| Oysterband | Umbrella | 1987 | | |
| The Nitty Gritty Dirt Band | Liberty | 1992 | Listen | |
| D.K. Davis | RCI | 2002 | Watch | |