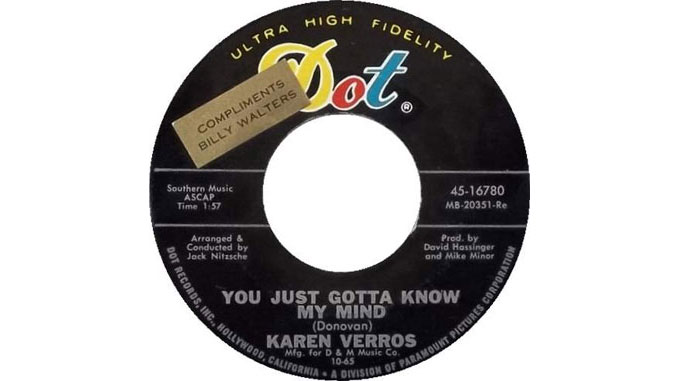 Efter ett mellanspel i nordvästra England tar vi oss åter till amerikanska västkusten och presenterar en genre som dessvärre är alldeles för ovanlig, nämligen kvinnlig garagerock. Karen Verros får bli vår ciceron.
I samband med att undertecknad planerade innehållet till Stora Popboxen: Svensk Pop 1964–1969 tillsammans med Sven Åke Peterson på EMI 1995, stötte jag på en vild låt med Steampacket II, You Just Gotta Know My Mind.
Jag kände förstås till gruppens klassiker Take Her Anytime sedan tidigare, men på You Just Gotta Know My Mind hade gruppen använt formeln intensitet och oväsende per tidsenhet; ju mer desto bättre. Likt en extra försmådd Roky Erickson, som beslutat sig för att spela in en ännu mer ilsken version av You're Gonna Miss Me tillsammans med The 13th Floor Elevators, sände de svenska slynglarnas version elchocker över kroppen.
Förvåningen blev inte mindre när jag upptäckte att myspyskillen i sammanhanget, Donovan, stod som kompositör. Det var ju knappast en låt som påminde som hans dåtida hits. Min första tanke var att You Just Gotta Know My Mind och akustisk gitarr borde vara en omöjlig kombination, även om det hade varit intressant att få höra Donovan framföra låten. Frågan fick dock aldrig något svar, eftersom det visade sig att han aldrig gav ut låten. Det ska dock finnas en acetate med honom.
Donovan skrev You Just Gotta Know My Mind till sin dåvarande flickvän, Dana Gillespie, men den gavs inte ut med henne förrän hösten 1968 på albumet Foolish Seasons. Det var i stället den amerikanska sångerskan Karen Verros som fick äran att först släppa låten, då hennes inspelning gavs ut i oktober 1965.
Olofssons Lost Treasures
Karen Verros1965
You Just Gotta Know My Mind
(Donovan)
(Jag har försökt få tag på mer information om Karen Verros, bland annat via människor som haft kontakt med henne under senare år, men dessvärre har jag inte fått några svar på mina förfrågningar.)
Verros version kanske inte låter som garagerock, om man i första hand tänker på unga arga män med snäsiga röster uppbackade av fuzzgitarr, men här finns ändå tillräckligt med godsaker. I refrängen kan man tro att Karens ekoförsedda röst skjuts ut i rymden och gitarrsolot låter som en skadeskjuten bisvärm.
Det lustiga är att det finns två versioner. Den första klockar in på strax under två minuter, medan den andra, mer svårtillgängliga versionen är ett femtontal sekunder längre. (Jag valde förstås den längre versionen.) När jag skriver "svårtillgängliga" ska ni veta att singeln har sålts för flera tusen kronor i bra skick, trots att den gavs ut på storbolaget Dot Records (som vid denna tid ägdes av Paramount Pictures).
Baksidan, som i princip är en instrumental version av A-sidan med titeln Karen's Theme (You Just Gotta Know My Mind), är på ett sätt ännu läckrare för vänner av oväsende, eftersom sologitarren får en mer framträdande roll. Här råder det ingen tvekan om vad genren heter, vare sig man vill kalla den garagerock eller sextiotalspunk.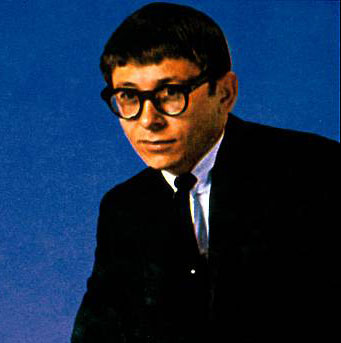 Singeln producerades av David Hassinger (mest känd som tekniker på The Rolling Stones amerikanska inspelningar i mitten av sextiotalet samt som mentor för The Electric Prunes) och Mike Minor (mest känd som skådespelare, bland annat i TV-komedin Petticoat Junction).
Den som ska ha mest kred är dock den legendariske arrangören Jack Nitzsche. Jag kan också tänka mig att flera av dåtidens kända studiomusiker spelar på skivan. Det måste ändå ha betytt att Dot Records såg viss potential i Verros.
Singelns vilda sound var inget som tilltalade skivköparna, varpå skivbolaget körde med ett mer säkert kort som uppföljare, en version av The Crystals Little Boy. Eftersom låten underligt nog blivit en flopp med The Crystals, trots att den har klar hitpotential, ville man nog ge den fler chanser.
Little Boy spelades på de lokala radiostationerna i Kalifornien och Karen Verros fick bland annat uppträda i TV-showen Hollywood Á Go Go, där hon framförde både Little Boy och B-sidan I Can't Remember Ever Loving You.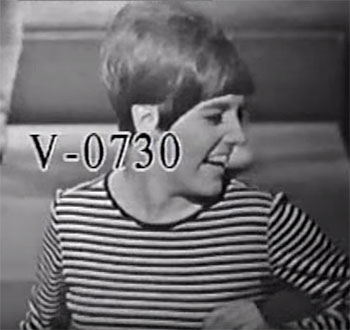 Klippen från Hollywood Á Go Go visar en ung kvinna, som definitivt har scenutstrålning. Jag kommer att tänka på Lesley Gore när jag ser Karen Verros. Men konkurrensen var mycket hård och det fanns förstås mängder med unga kvinnliga sångerskor som sneglade på hitlistan.
Karen Verros fick dock ytterligare en chans att blidka skivköparna. Denna gång valde man låten Write Me A Rainbow från filmen The Property Is Condemned. Jag har faktiskt inte sett filmen, men den är säkert bättre än låten.
Därmed var Karen Verros korta men intressanta skivkarriär över. Jag vet inte vad som hände med henne, men för några år sedan levde hon i alla fall i södra Kalifornien.