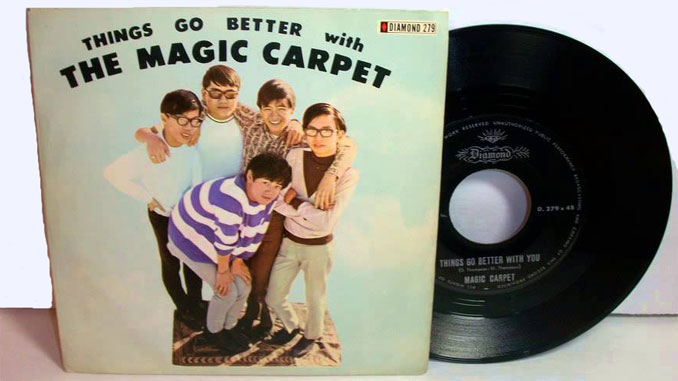 Varje vecka presenterar Hans Olofsson obskyra eller bortglömda låtar från sextiotalet som förtjänade ett bättre öde.

Du som får sura uppstötningar av att höra Simon Says eller Sugar, Sugar eller något som ens påminner om dessa sötsliskiga tuggummilåtar eller andra lättviktiga poplåtar från slutet av sextiotalet, bör sluta läsa nu. Du som trots sötmasmaken ändå hör en hit i dessa låtar väntar mer godis.
Ja, undertecknad hyser en faiblesse för sextiotalets tuggummipop, eller ska vi säga lättviktig sen sextiotalspop, med verser och refränger som är lika efterhängsna som koskit under skorna. (En närliggande genre är "Sunshine pop".) Och på YouTube formligen kryllar det av sådana låtar.
En av mina favoriter från de senaste åren är Hong Kong-gruppen The Magic Carpets Things Go Better With You [Diamond, 1968]. Man kör inga omvägar, utan det är full speed mitt i vägbanan enligt vad som på Wikipedia beskrivs som AABA-formatet; vers, vers, stick, vers, som ofta följs av ett solo (baserat på verspartierna) och avslutas med BA-format – samma upplägg som på så många andra bra sextiotalslåtar. (Om man ska vara riktigt petig har Things Go Better With You en förkortad variant av det sista A-temat.)
Olofssons Lost Treasures
The Magic Carpet1968
Things Go Better With You
(S. Thompson - W. Thompson)
Kompgitarren och orgeln sticker ut i versernas första del, medan tamburinen kompletterar på ett föredömligt sätt i andra delen. Orgel pockar och lockar i solot, samtidigt som gitarristen kastar ur sig några kulspruteackord. Som grädde på moset levererar småpojkarna stämsång som ytterligare höjer hitfaktorn.
Ja, medlemmarna ser inte ut att vara äldre än arton år, vilket medför att textens inledning "I've had my share of women" får smått komiska inslag. Grabbarna är dock ursäktade för de har inte skrivit låten eller ens spelat in originalet. Nej, en av kompositörerna är Wayne Carson (Thompson) – samma person som skrev The Letter och tillika är medkompositör till Always On My Mind. Man får väl förmoda att den då tjugofemårige Wayne Carson hade haft lite fler erfarenheter av det täcka könet än pojkspolingarna i The Magic Carpet …
Det är förmodligen också Wayne Carson som sjunger på originalet, utgivet av gruppen April Fools i augusti 1968. Gruppen lanserades av Carson själv, men det lär som sagt vara han som står för sången. Tyvärr når April Fools version inte samma höjder som The Magic Carpet. Tempot är långsammare, vilket reducerar hitkänslan, och trumpeten är lika irriterande som en mygga i ett sovrum.
Apropå titeln, som ju påminner om en väldigt känd slogan, så har man stulit några sekunder från samma slogan, men jag förlåter låtskrivaren.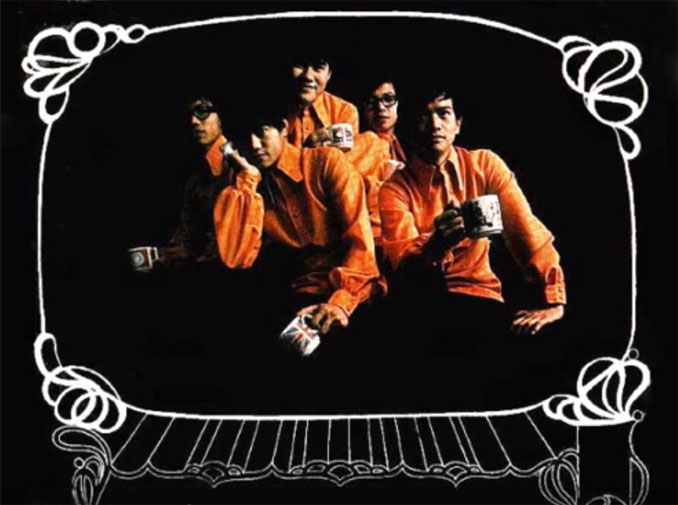 Jag har försökt leta reda på mer information om The Magic Carpet, men de verkar inte ha varit några av de mer framträdande artisterna från Hong Kongs vitala sextiotalsscen. (Gruppen nämns inte ens i Discogs diskografi av skivbolaget Diamond Records.) Singeln kallas också "super rare – strictly for the big collectors" på YouTube. Jag har hittat en handfull låtar med gruppen, vilket kanske räckte till ett album. Om det finns ett album så innehåller det nog lite väl många coverlåtar för att stå på egna ben.
Tills dess kan ni ju passa på att lyssna på en annan ganska charmig låt med The Magic Carpet, It's A Strange Song, även om den inte håller samma klass som Things Go Better With You.
Och för att återvända till ingressen och Sugar, Sugar. Testa Sugar And Spice, en annan låt med hög hitfaktor, som dock aldrig gavs ut på singel utan förpassades till The Archies tredje album, Jingle Jangle.