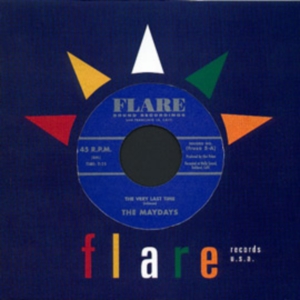 According to the profile of The Maydays' members, it's an obvious "what you see is what you get" situation. Besides the band's front man Pat Johnson, there's an almost all-star line up, including one of THE sixteez archivists Alec Palao, these days also lending his four-string skills to the reformed Chocolate Watchband and Beau Brummels, as well as Cyril Jordan's backing band, and an ex-Crawdaddy, Ron Silva.
As for the songs themselves, they're all you want them to be … The garage punk opening of The Very Last Time leads the way towards an instantly catchy folk rocking beat number, where it stays until the end, and You Don't Have To Wait is a soul classic that never was, in which you'll hear everything from Them, doin' … Baby Blue, through The Chicken Shack's I'd Rather Go Blind to the white boy take on some of Otis' ballads.
The funny thing is that now, when the picture sleeves have became a usual thing, you'll be happy to see the perfect reproduction of those picture-less jackets, with the whole in the middle, making this release an ultimate mid'60s experience.
[Released by Flare 2002]