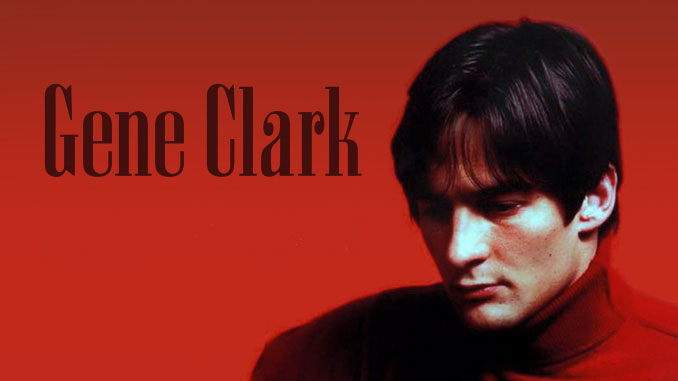 Autumn–Winter 1974–1975: Gene Clark realizes that his latest album, No Other in which he put his whole heart into, has flopped. Gene is forced to start touring, because there are bills and a mortgage to pay, and he no longer has any financial support from Asylum.
Clark is travelling from one godforsaken place to the other, along with Roger White (guitar) and Duke Bardwell (bass and banjo), who call themselves The Silverados. The small crowds at the gigs want to hear familiar stuff instead of the new songs.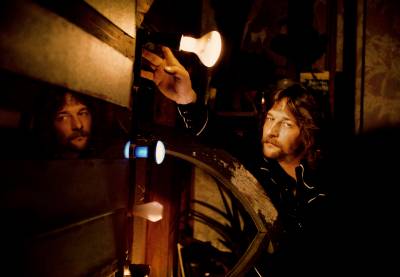 Gene Clark's intake of alcohol, drugs and pills has increased at an alarming rate, and his finances and marriage to Carlie McCummings has deteriorated. He finds it difficult to unwind between the tours and has difficulty distinguishing between the role of family father and the role of rock musician. Carlie becomes increasingly afraid of Gene's mood swings when he is at home.
Or as Duke Bardwell says: "To this day I would have to say that I will never forget watching genius and insanity go hand in hand like they did with Gene Clark."
Nevertheless, Clark continued to be productive as a composer. Soon he'd written new songs; Home Run King, What Is Meant Will Be, Wheel of Time and Daylight Line. Only Home Run King would see the light of day during his lifetime.
A live version of What Is Meant Will Be from 1975, taped at Mother Blues in Dallas, shows that Gene has written a melody sometimes so fragile that the notes seem to walk on eggshells, although the verses are a little lifeless until they are resuscitated by the chorus. Almost 40 years later What Is Meant Will Be was made public as an extra track on the CD version of the album Two Sides to Every Story (which I'll get back to later).
When Clark and his band deliver Wheel of Time at Keystone in Berkeley, they're offering a subtle fusion of country and bluegrass. Another live version of Wheel of Time was a bonus track on Two Sides to Every Story.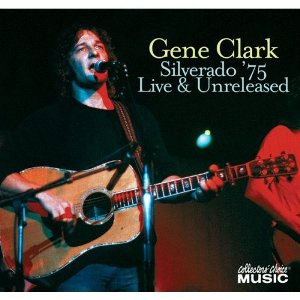 Daylight Line – an unrefined rock song above average from Ebbet's Field in Denver – is available as a download track on the CD edition of Two Sides to Every Story. Another version from the same club is included on Silverado '75 – Live & Unreleased [Collectors' Choice, 2008]. I'd have longed for a studio version, because a talented producer could have revealed the true quality of Daylight Line.
A longer concert from Keystone features an interesting bluegrass version of The Beatles' / John Lennon's I'll Be Back.
For a while Gene Clark also led the loose constellation Mendocino Rhythm Section, including amongst others, his friends Andy Kandanes and Tommy Kaye. They were trying to emulate a sound called "Cosmic Motown".
In January 1976, Gene Clark and The Silverados, who had expanded to a quintet, entered the studio. The members were well acquainted with the new material and felt confident that they would deliver a strong background. But Tommy Kaye, who once again got the trust to produce but was unfamiliar with the musicians in The Silverados, engaged other musicians. He knew what kind of album he wanted to draw the attention to the next record label, and therefore preferred experienced studio musicians. Speaking of Kaye, he's said that "Gene Clark was this driven, heart-broken, emotionally beat-up guy".
A team of skilled musicians were engaged; Jeff "Skunk" Baxter (also a member of Steely Dan and The Doobie Brothers) Jim Fielder (former member of Blood, Sweat & Tears), Jerry (Gerry) McGee, Doug Dillard, Byron Berline and Al Perkins.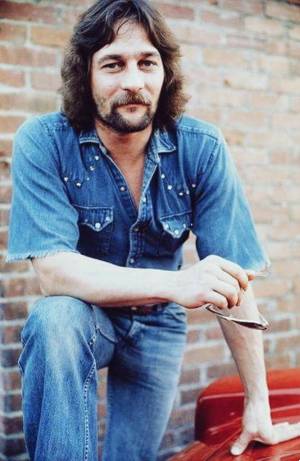 Although Tommy Kaye produced, Al Perkins doesn't remember that he put in a lot of effort. Instead it was Gene who did most of the work.
A five song demo was presented to Asylum; Sister Moon, Home Run King, Hear the Wind, Kansas City Southern and Lonely Saturday. But Asylum was neither interested nor willing to work with Clark anymore.
Gene Clark and Tommy Kaye began looking for musicians to start a new band. Andy Kandanes also got involved and they were called KC Southern Band, which could be interpreted as both Kaye–Clark Southern Band and Kansas City Southern Band.
Tom Slocum, the former husband of Emmylou Harris, now appeared and would remain one of Gene's closest friends until his death. Slocum would also give a helping hand on a few songs.
In March 1976, Carlie had enough of her husband's increasingly destructive behaviour. After being unfaithful, probably with one of many groupies still attracted to him, she left Albion with her sons.
Three months later, Gene and Carlie were divorced. The house in Albion would be the last property Clark owned, because his former wife later returned and got the house. Their sons would spend most of their childhood with her.
After having approached several record companies without success, RSO (Robert Stigwood Organization) offered a contract. Gene Clark was invited to a dinner by Al Coury, second chief executive at RSO.
All Gene needed to do was act reasonably well to get the money advance. After a few martinis, our leading character managed to insult both Coury and his wife. People close to Gene were sure that he'd ruined everything, but according to Tommy Kaye Al Coury felt sorry for Gene and realized he had problems. Therefore, Clark got an advance and record deal after all! On the other hand, RSO hardly made any efforts to market the album.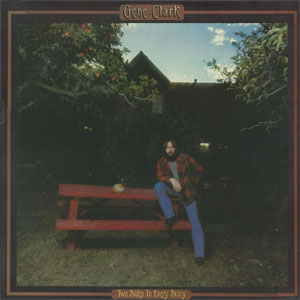 The intention was that the new album Two Sides to Every Story would be released in September 1976, but another five months passed before it reached the stores. It was Tommy Kaye who had come up with the title; a reference on Gene's two personalities – one of them appeared when he was under the influence of alcohol and drugs. Others say that the title refers to his defunct marriage.
The cover of the new album looked very different from the one of No Other. What we get is a prematurely aged bearded lumberjack in front of his house. Given that several new groups, whose members had short hair and angry looks had recently emerged, the thoughtful lumberman in beard already felt outdated. The content is also significantly stripped down and leans more towards White Light than No Other.
His brother David has said that while White Light refers to Gene's reclusive life in Albion and No Other to his perspective of life after having become a father, the theme of Two Sides to Every Story is broken hearts.
Gene Clark demonstrates on the opening tracks – the speedy Home Run King, which despite its exuberance and cheerful chorus includes cynical lyrics, and the tear-stained Lonely Saturday – why he could have become an excellent songwriter in country music had he devoted himself to that genre. Anyone who wonders when our melancholy friend will present weepy notes on Lonely Saturday has to wait until 2:40. Given the lyrics, there are much more where they come from.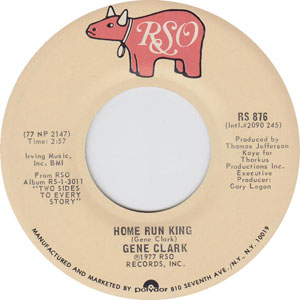 On Home Run King, an old acquaintance turns up on banjo; Doug Dillard. We also hear no less than Emmylou Harris on harmonies during the chorus.
Speaking of country music, Gene once told Tom Slocum: "I could be a cowboy-hat act, and go out and sing those country songs, all the stuff, and they'd love me, but I need more for my head and my heart."
Home Run King and Lonely Saturday were released on a single, but the songs sank without trace.
I have no objections to the traditional In the Pines, but since the song follows two country songs, the listener may first get the impression that Gene has returned to the Dillard & Clark formula.
But then the chameleon subsequently abandons the faster country songs and instead commits to his main subject: botanizing in melancholy, set to music that leaves a steady stream of new minor notes to the Patent and Registration Office.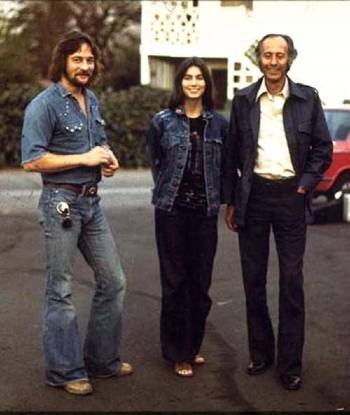 Sister Moon and Hear the Wind are about Gene's marriage, despite Carlie's claims that he never wrote a line about her. But surely the words being heard on Sister Moon sound like they're self-experienced – how else would a voice express so much grief and pain? According to Gene's brother David, his lyrics always dealt with personal experiences. Gene Clark's oldest son Kelly has said that his father could only express feelings through lyrics and music.
The music on Sister Moon blends the sublime with a dark aura, as the feeling of neglected love is conveyed by a singer with a voice full of sorrow. When the strings appear, Gene, with the help of Emmylou, turns all emotions inside out.
The delightful but fragile Hear the Wind – descriptions that also fit Gene's voice in this case – is simply so much better than almost all other music. The question is if this could be the apple of my eye in his giant catalogue? You get the impression that he has filled his lungs with a lifetime's worth of passion and suddenly let it all come out in one exhalation. On Hear the Wind, we also find an excellent example of the intimacy, I've been talking about.
Past Addresses continues on the beaten path. The melody is less obvious compared to some other songs, but the production – with its pastoral mood where the wheat fields wave in the wind and the rivulets ripple – is superb and in harmony with Gene's brilliant voice that creates a bond, including grand solo parts, which can hardly be surpassed.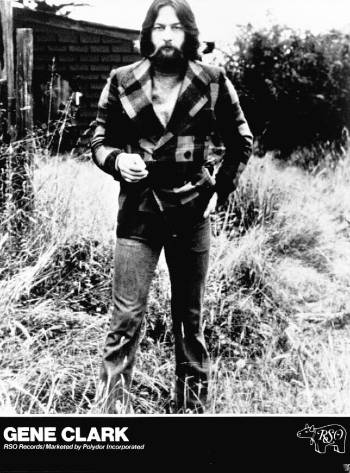 If there's anyone who still doubts Gene Clark's ability to invent new ways of approaching a song, do listen to the metaphysical expedition Silent Crusade. The spartan background, with acoustic guitar and organ as the main instruments and Gene's tormented voice at the end as the crowning achievement, completes Two Sides to Every Story.
The first cover on the album is Give My Love to Marie, written and recorded by James Talley the year before.
I may be biased but Gene, and above all Tommy Kaye's exemplary production with David Campbell's string arrangement, make Give My Love to Marie something difficult to describe in words. The instrumentation, with the strings in the driver's seat, escalates until it gets into a euphoric state following the musical seduction. It's not until some five minutes into the song before Gene lets us catch our breath for a brief moment.
So far, it sounds like Two Sides to Every Story should be the first album to explore if you've recently discovered Gene Clark. But, as I mentioned in part three, a new version of Kansas City Southern unfortunately has a typical stale seventies production. And even worse, the prominent singer sometimes sounds like a failed cross between John Fogerty and Dr. John.
On top of everything else, Young Jessie's Mary Lou (though more familiar to some by Ronnie Hawkins) also gets assaulted through a substandard production.
The album could have been Clark's best, but the disparity between the plaintive and intense ballads, the traditional country songs and the colourless rock songs may be too much; the album has a split vision and gets lost in the contours. Imagine what could have happened if Kansas City Southern and Mary Lou had been replaced with the aforementioned What Is Meant Will Be and Daylight Line!
Regardless of this criticism, Two Sides to Every Story could be my favourite album by Gene Clark, along with Roadmaster. Yes, The Fantastic Expedition of Dillard & Clark and No Other are more consistent, including a common thread, but this album contains some tracks – Sister Moon, Hear the Wind, Past Addresses and Silent Crusade – that are almost invincible.
The album received mixed criticism in England, but the reviewer of the Rolling Stone magazine was not neutral: "Is this the dullest album ever made?"
In later interviews, Gene said he had difficulty with artists who got stuck in the same pigeon hole – which of course didn't apply to himself. The only problem was that fans didn't expect a seemingly bland album like Two Sides to Every Story after the pretentious No Other.
There's an excellent article about No Other and Two Sides to Every Story in Shindig magazine.
Two Sides to Every Story was released on CD for the first time in 1988 [Polydor], but it took many years before the album got a decent CD release [High Moon, 2013]. It adds 15 downloadable live recordings from 1975, 5 live recordings from 1975 and 1984 plus an interview from 1974.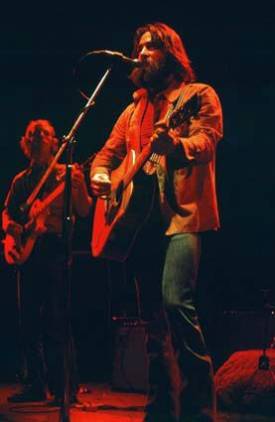 Around the same time as the album was released, our restless songwriter recorded a demo with Forgive Me Girl (written by Gene Clark and Tommy Kaye – later released as Release Me Girl, although with slightly altered text and melody), Taken By Surprise (parts of the lyrics were later used on Feelin' Higher), Last of the Blue Diamond Miners, Seventh Avenue Train (also known as Hula Mula Man, or sometimes given the incorrect title Hula Bula Man, credited to Gene Clark–Tommy Kaye–Rebennack alias Dr. John), Shades of Blue (written by Tommy Kaye), Denver or Whenever (also known as For Nickels and Dimes), No Wonder and Crazy Ladies.
Only two of them, Release Me Girl and Feelin' Higher, were officially released, despite the fact that all songs above, except No Wonder, circulate as live versions on the internet.
At first sight, Last of the Blue Diamond Miners is running on empty, but despite the poor audio there's a forcefulness somewhat reminding of Neil Young's Down By the River. The passable chorus could have further improved the song, if it had been recorded in a studio.
Seventh Avenue Train and Denver or Whenever are two rather sterile rock songs, although certain parts of Denver or Whenever are eye-catching and therefore justify more than one listen.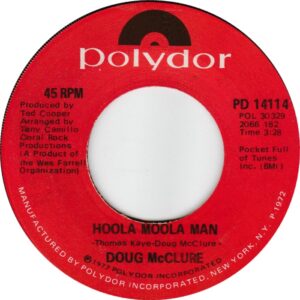 In an article in Echoes Newsletters from May 2020, Tom Sandford and Cathy Henry Rohlf reveal that Seventh Avenue Train (Hula Mula Man) is not a Gene Clark composition after all, but actually a soul song, Hoola Moola Man, from 1972 with Doug McClure, written by Tommy Kaye and McClure.
Tommy Kaye's Shades of Blue (the link takes you to a live version from 1988) feels monotonous at first, but Kaye occasionally shared Clark's ability to write engaging songs. In fact, the overall enigmatic ambiance of Shades of Blue still magnifies the tune. They also wrote some songs together, and Gene praised the producer's talents by saying he had a twin soul mate.
When I listen to Crazy Ladies I get reminded once again of how many heart-rending songs ended up in the dustbin. Once again, all the sadness and chords arrive at the same time, while Gene intensifies the gloomy mood with his mournful voice.
In April 1977, Gene Clark travelled to England to tour for the first time since The Byrds' less successful concerts in August 1965. He was part of a package tour with Roger McGuinn and Chris Hillman.
Before leaving, Gene Clark & The KC Southern Band made a successful appearance at the Troubadour in front of, among others, Bob Dylan – a sign that Clark & Co had developed into a tight band.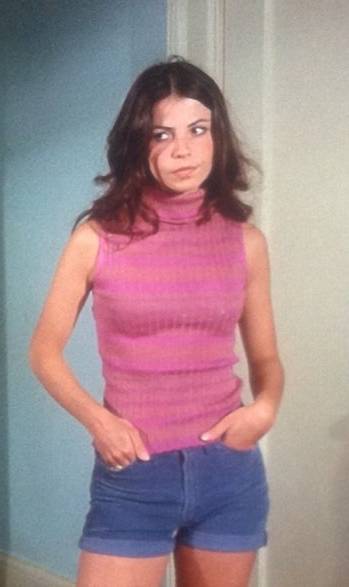 After playing at the club, Gene once again met actress Terri Messina. As I mentioned in part three, they have had an affair some ten years before, but now they started a more serious, but from time to time, stormy relationship.
It is difficult to get a clear picture of Terri Messina. Rick Clark and Gene Clark's sons Kelly and Kai claim in John Einarson's book that she had a bad influence on him, but Terri must be given credit for helping him get back on his feet several times. Today, Kai is neutral on the issue. He was interviewed by Einarson a long time ago, and the older you get the more perspective you have on things.
Regardless of that, it was fortunate that Terri Messina joined the tour; she was a good organizer and also managed to keep her boyfriend focused before he played live.
The reception in England was much more welcoming than it had been during The Byrds' tour in 1965, but the group were a cult band overseas. Comparing the twenty-year-old, relatively sober and non-drug affected Gene Clark in 1965 and the 1977 version, was striking indeed.
Sad to say, the former Byrd members didn't get on well together, even though they performed as a trio during one of the concerts, and after a while Chris Hillman left the tour.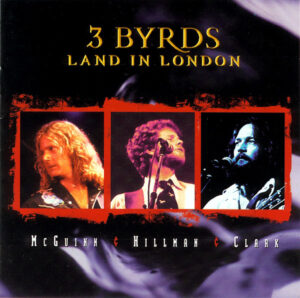 A result of the tour appeared twenty years later on 3 Byrds Land in London [Strange Fruit, 1997], that also contains the previously mentioned Seventh Avenue Train (or Hula Bula Man, as it says on the cover) and Denver or Whenever.
Roger McGuinn is one of several people who have said that Gene Clark couldn't handle success. If Gene started selling records, it meant quick money and touring, which released Mr. Hyde in him.
His finances were also in poor condition, despite deals with A&M, Asylum and RSO, so David Clark had to help him pay salaries to the band members.
Terri Messina tried to get her boyfriend to shape up. Gene lost weight, shaved off his beard and drank less. Messina also took care of his business, which was required because the IRS had not received any money for the past four years. Gene Clark also lived in her house in Laurel Canyon until he was back on his feet.
Living in the Los Angeles area sounds as if it was the last thing Gene needed, but Mendocino was no longer innocent and idyllic. Several musicians had moved there and the town had developed into a paradise for drug dealers. In addition, the sophisticated, urban citizen and upper middle-class Terri Messina (her father was a well-known physician) never wanted to live in a rural location.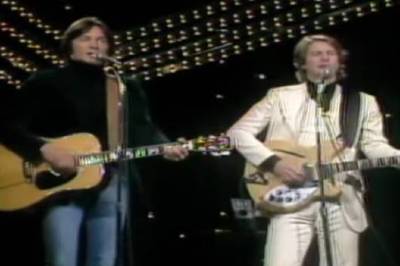 When Roger McGuinn made a solo performance at the Troubadour in September 1977 with Gene Clark in the audience, Gene was surprisingly invited to sing Eight Miles High with Roger on stage. Clark and McGuinn had previously talked about touring together and when the results were positive, they decided to do a smaller tour as a duo. Gene later said that it was one of his most rewarding tours.
There's a concert (audio only) from New York with the duo from early 1978. Even more interesting is the filmed concert from Passaic (New Jersey) from the same time. Compare Gene's looks during this concert with the bearded, ageing guy some year earlier, and you have to give Terri Messina credit.
When the duo played at the Boarding House in San Francisco in December 1977, David Crosby and Chris Hillman appeared on stage, which was repeated two months later. The quartet also joined each other on stage at the Roxy club in Hollywood.
During 1978, Clark and McGuinn became a trio when Chris Hillman joined them for a short tour. The gigs were followed by a tour to Australia and New Zealand in the summer.
After releasing some less successful solo albums on Columbia, Roger McGuinn had been fired by the label, but he had a new contract underway with Capitol. Even so, he also wanted Clark to join him. Eventually, Hillman also stepped on the train, when the amount of money increased. (There were no plans to engage David Crosby or Michael Clarke, however, partly because they were tied up with their regular groups Crosby, Stills & Nash and Firefall.)
There wasn't much to object to from a musical perspective, but the trio didn't get along off stage. It was Chris Hillman, in particular, who became annoyed at Roger McGuinn bullying him. Adding girlfriends with a strong will and personal managers and the odds decreased even more.
Another problem was that the trio was spoiled from the beginning by a backing record label and therefore lacked the hunger that characterized The Byrds' early years.
Despite the controversies, they travelled to Miami in November to record an album at Criteria Studios. There were other complications, apart from the fact that the trio often quarreled with each other and lived in different parts of the rented house. Miami at that time was the capital of cocaine trafficking, and this made matters worse for Gene and Terri.
The relationship between the old Byrd members sure didn't improve after David Crosby spent his own money to fly from Los Angeles to Miami to offer his singing services, only to be rejected by the trio.
The siblings Ron and Howard Albert were chosen as producers. The successful team had previously worked with Hillman in Manassas and on Crosby, Stills & Nash's latest success – the album CSN. Miami had also become one of the hotbeds for the disco trend, which meant that the sound of McGuinn's Rickenbacker was left out.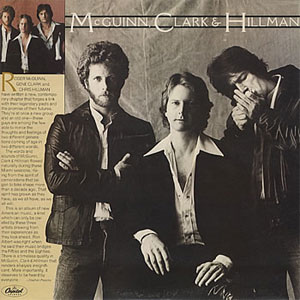 Although the group's debut album, McGuinn, Clark & Hillman, which was released in January 1979, doesn't exactly sound like disco music, the result is still a poor compromise between different styles.
The cover causes concerns about Gene Clark's physical condition. The guys to the left and in the middle have cleaned up their act. On the other hand, the slightly crumpled guy on the right looks like he has been partying all night with guitarist Keith and drummer Keith and just lit a cigarette in the morning to calm down …
Even if alcohol and drugs took more and more of his time, Gene Clark continued to deliver significant song material. He offers the best track, Backstage Pass, which is captivating in the same manner as Fleetwood Mac's / Stevie Nick's musing Dreams. Unfortunately, it is dented by some redundant "hey hos".
Backstage Pass is still a typical Gene Clark song, that has a sudden minor chord or note or some other characteristic that makes the difference between a decent and a brilliant composer.
The doo wop influenced Little Mama (inspired by Terri Messina, who also shares songwriting credits) and Feelin' Higher (which is about flying saucers) also have their moments, although Little Mama suffers from rather poor lyrics.
Gene had probably read the instruction book "Doo wop for beginners" or having heard many songs from the early sixties before Little Mama was taped, because he seems to know most tricks. The delightful melody gradually flourishes, and with a more sensitive and dynamic production, Little Mama could have turned into something really striking.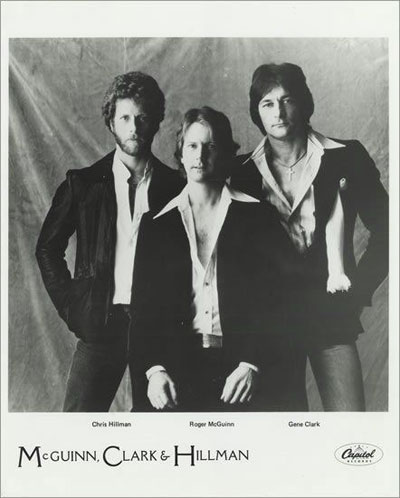 The same applies to Feelin' Higher, since the foundation consists of an evergreen inspired structure, where an artist like Billy Joel could have given Clark much needed royalties. But the concluding exercise in Caribbean rhythms almost ruins the song.
Unfortunately, they managed to destroy the originally adventurous and mysterious Release Me Girl, by making a "funked-up percussive disco travesty" (as John Einarson describes the pain)! A couple of live versions, including a moving performance from Canadian TV with Roger McGuinn, does it much better justice.
Despite some satisfactory Gene Clark songs, Roger McGuinn's Caribbean tasting but still somewhat paltry Don't You Write Her Off was selected as the first single and, quite surprisingly, became a Top 40 hit in the United States. Despite mixed reviews, the album also reached Top 40 in the USA.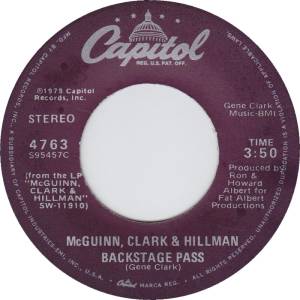 Backstage Pass was later released on a single but never entered the hit list.
The album has some more bright moments than Clark's songs, especially McGuinn's evocative Bye Bye, Baby, but unfortunately takes the safest short cut far too often. Or maybe it just has to do with my distaste with most productions from the late seventies and early eighties. Nevertheless, Gene Clark was very pleased with the Albert Brothers' production.
McGuinn, Clark & Hillman has been released several times on CD. The first version with bonus tracks appeared in 2001 [One Way]. It doesn't feature additional Gene Clark material, though.
On the surface everything seemed to be hunky-dory, but Gene was sometimes so affected by drugs and therefore being much less trustworthy. It got even worse during the tours, and after a while some promoters had to explain to the audience that "Gene Clark was extremely ill". In March 1979 something spectacular happened, however, when Michael Clarke joined the trio during two concerts.
It was not just about fear of flying, because Gene felt reluctant to tour and travel, even if he was sitting in a car or bus. The pressure probably got worse when he had to perform with two demanding people, who rarely lost control.
Terri Messina began to realize that it was pointless to get Gene back on his feet. Andy Kandades, on the other hand, claims that Terri had a bad influence on him. The problem was, above all, that there were so many people from the time with The Byrds, who had a bad influence. Gene Clark simply lived in an alcohol and drug environment.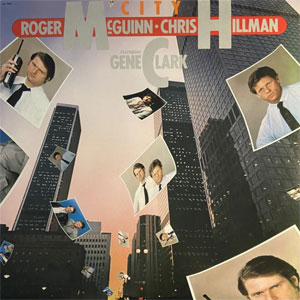 When the follow up, City, was released a year later, the cover said "Roger McGuinn * Chris Hillman". Below their names was "featuring Gene Clark" with smaller letters. Furthermore, there's only a small picture of Clark's worn face, while McGuinn and Hillman look like successful stockbrokers. Gene was also so affected by drugs that sometimes he couldn't even sing during the recordings. (The cover today, with the hi-tech guy Roger McGuinn demonstrate the latest fancy equipment, is amusing to say the least.)
Our hero has contributed with two songs only, but on the Byrds inspired Won't Let You Down – an ironic title, because the lyrics are about his stint as a member of McGuinn, Clark & Hillman – he's faultless. It's simply an exuberant sixties pastiche, embedded in a timeless power pop sound. I get the feeling that Gene could have written more songs in the same vein anytime, but the record buyers shouldn't get away that easy!
Of course, Won't Let You Down should have been released on single, considering that The Knack recently topped the Billboard list with a very successful pop song, and that Byrds clone Tom Petty was on his way to become a big star with the album Damn the Torpedoes. On the other hand, Gene Clark was already about to leave the trio, so it's understandable that the record company had no intention of releasing his song on a single.
Clark is also the composer of Painted Fire, but boogie rock sure isn't his cup of tea. The song's qualities are probably better utilized in a spontaneous live version together with Jesse Ed Davis, but the lyrics are still some of the least interesting coming from Gene.
City is still considered to be a better album than the debut, even though Clark contributed to a lesser degree, but that is mainly because it has a more vivid sound. Despite this, the record only managed to reach #136 on Billboard's album list.
It wasn't until 1996 before City was released on CD [One Way]. But neither that release nor later editions, contain bonus tracks.
Thus, McGuinn, Clark & Hillman were transformed into McGuinn & Hillman, after Gene had become increasingly unreliable and the others realized that they had to end the collaboration.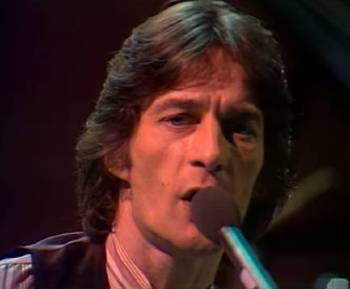 Before the second album was released, Gene Clark had brought two new songs, which were performed live; (Living In) Hard Times and I Saw a Dream Come True. (The latter composition had actually been registered as early as 1975).
(Living In) Hard Times is only available in a live version, which is a shame, since the homeschooled minor chords materialize again. Just as Gene's astonishing and heartfelt voice makes another homerun. (Living In) Hard Times once again demonstrates his unerring eye for emotional songs that affect our innermost.
A live version of I Saw a Dream Come True from 1984 appeared as a bonus track on the CD release of Two Sides to Every Story.
You just have to be thankful, because we get Gene at his best; fully loaded as if he is delivering his own eulogy. Clark's voice takes us on a painful and exposed journey set to a classic tune. The gloominess eventually becomes so intense that you expect the undertaker to come and take care of the remains.
You can only regret once again that none of the songs appeared on any studio album. If Gene hadn't been fired from McGuinn, Clark & Hillman, one or both songs would most likely had been included on City.
Gene's departure after the second album with McGuinn, Clark & Hillman gives me a reason to estimate how many times Gene ruined his career during the sixties and the seventies. His friend and drinking buddy, actor Jason Ronard, called it "Fear of success". The same thing happened to another actor, as well as one of Gene's other friends, John Drew Barrymore.
It would be no exaggeration that Gene Clark had major problems by this time. The relationship with Terri Messina faltered, and in the end Messina realized that she had to break away. Instead Gene was allowed to stay at Tommy Kaye's place.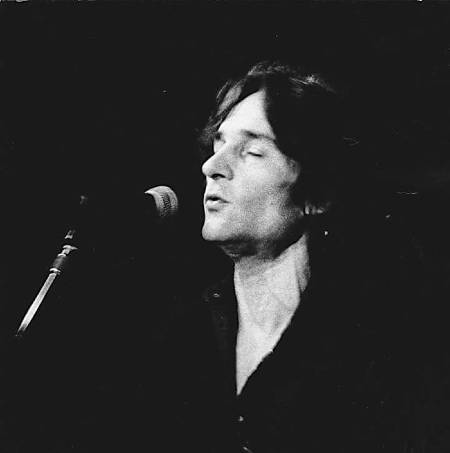 Despite his physical and mental decline, Gene still pursued his greatest interest: to write songs. He put the romantic Once in a Lifetime – not the song he was involved in some years later, even though it has the same title – and The Beatles inspired If You Knew (both written with Tom Slocum) in print, as well as a six minute long acoustic ballad, Strange and Different Way, reminiscent of Why Not Your Baby. None of these songs ended up on official records or on bootlegs – they are only known as described by Johnny Rogan.
During the fall of 1980, Gene Clark moved into David Carradine's home, "The glass house", since it is largely made of glass. Around the same time Gene, his brother Rick, Tommy Kaye plus a few more gathered here to record some songs. "The Glass House Tape" has been given legendary status.
They did another attempt to record the aforementioned Shades of Blue and Crazy Ladies. There's also Midnight Mare (a spooky answering song to The Byrds' / Roger McGuinn's Chestnut Mare), I Don't Have You (which sounds like a country version of The Skyliners' Since I Don't Have You) and I'll Change My Life (reminiscent of early Beatles). Gene Clark also worked on a song called Over the Mountain.
The description above is taken from Johnny Rogan's and John Einarson's books. There are only a few people who've had the privilege to hear them. Tom Sandford is one of them. He's also described the songs in more detail (scroll down a bit), as well as Strange and Different Way and the chorus of Over the Mountain (only 52 seconds of the song has survived).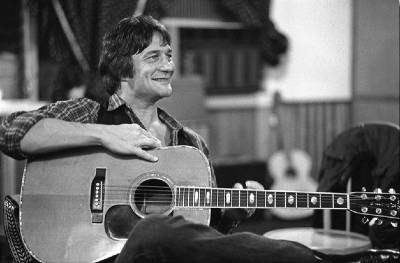 Fortunately there's a live version of I Don't Have You from the mid-eighties. Yes, there are similarities to Since I Don't Have You, but Gene once again spends his time on desolation row, sounding as heartfelt and miserable as only our hero is capable of.
Rick Clark says that he and his brother wrote and recorded some songs together, including Midnight Mare, but unfortunately the tapes disappeared after Gene's death.
Rick eventually became a bona fide musician in his own right. There's an interview with him on YouTube. We also get the benefit of hearing Rick Clark perform one of his own songs. Surely there are some similarities between the brothers!
After the glass house experience, Gene Clark decided to move in with his old friend and producer, Jesse Ed Davis. Yes, the same Davis, who in recent years had worked hard to destroy his career with the same substances as our hero. Clark was now in worse shape than ever.
After missing his parents' 40th wedding anniversary in the spring of 1981, and being visited by his brother David who found out how awful he looked, these horrible experiences became a turning point for Gene, at least when it came to drugs. Clark decided to go to Hawaii to rest, but he never admitted that he needed rehab.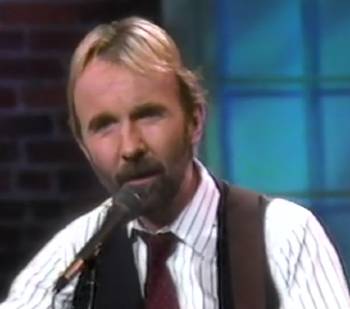 At the end of the year, Gene Clark contacted Andy Kandanes – one of few people in the music industry who still dared to give him a chance. Kandanes had learned a lot from Tommy Kaye and could now call himself a producer.
Eventually, the couple began to work on an album, writing songs like Rain Song and Rodeo Driver. Among the musicians were the ever loyal Chris Hillman (who would appear on most of Clark's albums) and Herb Pedersen.
Gene, of course, had plenty of songs he could have recorded, but as you know by now he preferred not to use old material.
Former Byrds manager Jim Dickson once again stepped in. Gene was even allowed to stay with Dickson, if he got his act together. Andy Kandanes made the same demands.
As the recordings went on, Gene Clark, Chris Hillman, Michael Clarke, Herb Pedersen and Al Perkins formed Nyte Flyte, or Flyte, that aimed to become a country rock version of The Byrds.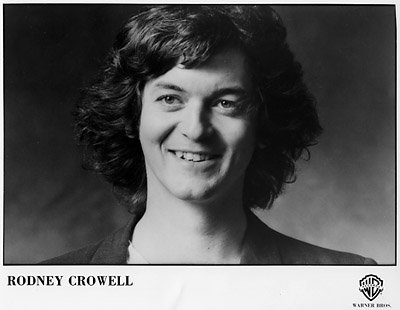 Under Jim Dickson's supervision, they recorded a new version of I'll Feel a Whole Lot Better and covered The Letter (The Box Tops), Still Feeling Blue (Gram Parsons), One Hundred Years from Now (The Byrds), No Memories Hangin' Round (written by Rodney Crowell; originally recorded by Rosanne Cash and Bobby Bare) in July 1982.
With the exception of Gene's emotionally moving voice on No Memories Hangin' Round, the songs feel rather meaningless. All five of them appeared on The Lost Studio Sessions 1964–1982.
There's an unofficial live release with Nyte Flyte. Some of the stuff have also been uploaded on YouTube.
The project fell apart, as there was no interest in keeping the group together, and Hillman also wanted to move on to bluegrass.
Clark's reputation as a hopelessly unreliable artist had spread throughout the music industry, which did not help the chance to land a record deal.
Furthermore, the odds didn't improve, as the singer-songwriter genre had sunk into oblivion. Certainly, Crosby, Stills & Nash's latest album, Daylight Again, had sold quite well, but not at all as much as during the golden years in the early seventies. In fact, not even David Crosby could release a solo record in the early eighties and that was before his personal downfall accelerated.
Bruce Springsteen and Jackson Browne were still riding high on the charts, accompanied by the new sensation John Cougar Mellencamp. Springsteen is an entertainer of course, who likes to communicate with a large audience. But it's hard to imagine Gene Clark perform in front of 50,000 spectators in a football stadium.
During the early 1980s, Gene's music was covered by new groups; Hüsker Dü (Eight Miles High) and The Three O'Clock (I'll Feel a Whole Lot Better), but without making the charts. Clark was also invited to sing on one of the tracks on The Long Ryders' debut album Native Sons. Speaking of Eight Miles High, Roxy Music made a version in 1980.
Legendary record mogul Clive Davis said that Clark was a genius but also explained to Kandanes that no one wanted to touch him – especially not after the fiasco with McGuinn, Clark & Hillman. Finally, the small record company Takoma took Clark under its wings.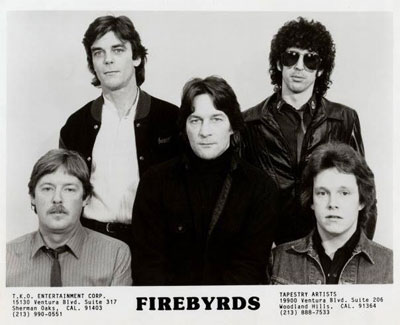 Before that, Gene Clark had a hectic 1983. He'd formed the group The Firebyrds with, among others, Michael Clarke and Mark Andes. They would do several tours over the next year.
In June the same year, Clark recorded with guitarist Trace Harrill, who was a member of The Firebyrds for a relatively short period of time.
Few people have heard the result, but according to Johnny Rogan, I Wondered Why is influenced by Roy Orbison and Hillbilly Child by Elvis Presley's Sun period; My Favorite Things is reminiscent of I Say a Little Prayer; Rogan calls Little Sister "a philosophical Everly Brothers song" and Have You Seen the Faces of the Dreamers in the Rain? an extraordinary song. They also recorded She Cares More (a.k.a. I Get Along) and Love Opus in Time, but the latter song was probably erased.
Trace Harrill realized that Gene Clark wasn't feeling well; he would groan in his sleep, had problems with his teeth and fought with his inner demons. It wasn't long before Harrill disappeared from Clark's life. Still, he thinks Gene was an amazing person.
In late 1983 Gene Clark signed a contract with Daniel and Fred Bourgoise on Bug Music.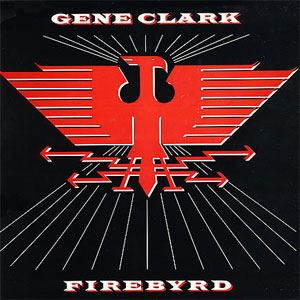 Firebyrd was finally released in March 1984, meaning that some of the tracks were about two years old.
The album received mixed reviews; some thought the songs were too commercial. Others said the cover songs didn't fit. Nor can it be overlooked that there is a feeling of low budget production. However, there are at least two fantastic songs, which Gene wrote with Kandanes.
The very catchy Something About You, with its uplifting and life-affirming chorus, should have been played by every radio station. Suddenly we hear Gene beaming with joy, though everything is relative of course.
Rodeo Rider, where Clark is leaning more towards country rock, follows the same trail, although it seems a little one-dimensional in the long run. Rodeo Rider is about James "Sandy" Pinkard – an old friend from Mendocino who was a songwriter but also a rodeo rider.
But Gene would not have been crowned The King of Melancholy without a key song, fueled with minor tones and a romantic apocalypse. On Rain Song we get what we are looking for. In fact, it is almost too painful to listen to, but when the song fades too early, the listener still feels drained and betrayed.
Unfortunately, the rigid Made for Love isn't intriguing during the first half minute or so, but then Gene casts his skin. Made for Love nonetheless suffers from an inert and pompous eighties sound.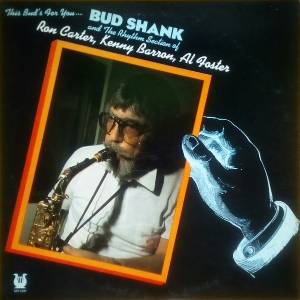 Blue Raven has potential to become a really agreeable ending of the album but gets ruined to a certain degree by Bud Shank's flute (who also appeared on She's the Kind of Girl more than ten years earlier).
Tommy Kaye's Vanessa reminds somewhat of the title track on No Other, in the sense that the listener feels resistance before pieces fall into place. Despite the dense atmosphere, Vanessa still feels like a mediocre effort.
Gene's daring move – to record a version of Mr. Tambourine Man with three verses – turned out to be a success. (The Byrds had only used the second verse on their version.) Even Bob Dylan has said that Clark made one of the best versions. I had some difficulty with the non-dynamic, early eighties sound in the beginning, but Gene's affectionate and revered voice during the first seconds removes all reservations.
If Gene Clark's deserves a medal of valor, because he dared to record Mr. Tambourine Man, he should return it for the decision to re-record I'll Feel a Whole Lot Better. The original sure doesn't get better dressed in an eighties sound.
Clark's up-tempo arrangement of Gordon Lightfoot's If You Could Read My Mind also feels precarious at first but will do as a tribute to the Canadian singer.
Gene, backed by incredible harmonies from Herb Pedersen, manages to capture more nuances and emotions than Lightfoot. I may be unfair to the original, though, as this comment from YouTube reveals:
"What distinguishes Gene Clark's version from Gordon Lightfoot's original (both wonderful) is its tempo. Lightfoot's performance is nostalgic, thoughtful, once-removed from experience. Clark's slightly uptempo approach is relentlessly heartbreaking, a paper cut to the bone."
Firebyrd is a really good album, but given that seven years has passed since his last album, the listener feels a little deceived when there are only five new compositions. Or rather, there were, as usual, more songs to choose from, but they were already "too old".
In fact, I've mentioned some fifteen tunes, most likely taped between 1979 and 1983, that only a few people have heard. I'd even say that this is a quite conservative estimate of the number of songs put on tape during these years.
In the name of honesty, a more adventurous approach would have been desired on Firebyrd, rather than the MOR music being heard from time to time. But it's understandable that Gene Clark wanted to be on the safe side after such a long absence as an album artist and release songs that could fit the mid-eighties radio format.
Firebyrd sold decent at first, but Takoma, who was a small company and therefore had every reason to work hard to promote the album, ignored it. Gene said in an interview that when the first edition was sold out, Takoma never printed new copies.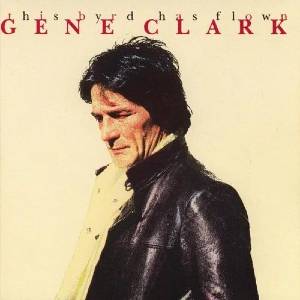 The first CD reissue with extra and remastered songs was titled This Byrd Has Flown [Edsel, 1995] for some strange reason.
The selection is also weird, considering that two of the songs Dixie Flyer (the link takes you to a live version with Gene) and C'est la Bonne Rue are not written by Clark. Instead, Tommy Kaye has been involved in both of them. But Dixie Flyer was intended to be included on Firebyrd.
In fact, our melancholy master is hardly involved in C'est la Bonne Rue, since it's Tommy Kaye who sings.
The third song – the adapted but yet impressive All I Want – was recorded only a few months before Gene died, according to John Einarson. The song had been written by Clark and Tom Slocum in 1986 (Shannon O'Neill, who's also listed as a composer, has said that he was not involved at all), and the original plan was that Sneaky Pete Kleinow would record an instrumental version.
Yes, All I Want sounds arranged to suit but also includes all the essential ingredients to become a hit. In any case, those plans were ruined by these lyrics: "And you know that I know a million bitches too." Hardly surprising, nobody wanted to touch a song with such lyrics.
An intimate, acoustic demo version once again reveals the capacity of All I Want.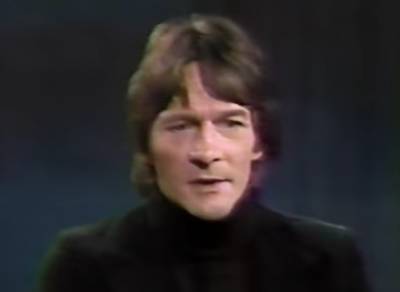 Moreover, for some peculiar reason, Edsel has added the bonus stuff mixed with the original album sequencing.
If one of Gene Clark's nine studio albums should get a facelift, it's Firebyrd, not least considering that there are a lot of unreleased songs from the first half of the eighties, and that a few appalling CD releases of the album have appeared as well.
Firebyrd would be the last record in his own name. During the remaining seven years of his life, Gene Clark recorded almost 50 compositions, which have appeared in various ways posthumously. (There are most likely a lot of additional home recordings that have disappeared along the way.) Only five of his compositions saw the light of day while he was still alive. So you have these to look forward to in the sixth and final part!
Speaking of the sixth part, it's time to take a summer break, but we'll be back in a couple of months with that very long part, including an epilogue.
Thanks to Kai Clark, Indigo Mariana (Echoes Newsletters), Tom Sandford (The Clarkophile), Rita X Wolf (administrator of the Facebook group "No Other") and Danny Lanka for their contribution to this article.