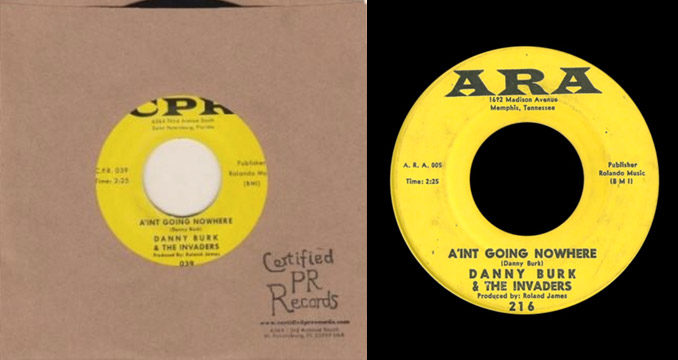 This Memphis garage gem from 1965/66 was produced by Roland Janes (1933–2013) – Sun Records' legendary session guitarist between 1956 and 1963 – in his Sounds recording studio and originally released on the ARA label, co-founded by Janes. A'int Going Nowhere was reissued in 2017 as a mean to make this piece of cultural heritage readily available to listeners without the spending capacity to buy the original single or to those who prefer the original format instead of it as included in a compilation. Here is the story behind this re-issue of 500 copies:
Steve Ziarnik of Certified PR Records generously told me in an e-mail that he first heard of this record back around 1997 or 1998 as included in Hang It Out To Dry! [Satan Records, 1994] and later as part of Shangri-La Records' Memphis CD compilation A History Of Garage & Frat Bands In Memphis 1960–1975 [2001]. When Steve Ziarnik moved to St. Petersburg, Florida, he met his wife in July 2002. She works with and is very close friends with Jimmy Crawford, the guitar player on the Danny Burk & The Invaders single. Jimmy Crawford is also known as "Mason Dixon" – and has enjoyed a long career as a top rated and very well respected music DJ/radio personality who has acquired the status of a local celebrity and charity worker in the Tampa Bay area.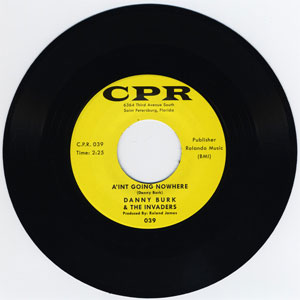 Steve first talked to "Mason" about this record back in 2002, and was amazed to meet and know a true, original garage rock "legend". Steve:
"His guitar playing on "A'int Going Nowhere" and some of the rhythm tracks he played on the early Travis Wammack singles on ARA are absolutely INSANE, considering he was only 16 years old at the time!!! Jimmy also played in a soul funk band called The Kangaroos, that had a single that was produced by and featured the legendary Isaac Hayes. As a teenager he was in various Memphis bands that opened for the Paul Revere And The Raiders and other top bands of that era."
They talked about a reissue for years. In 2016, "Mason", finally gave Steve permission to reissue it. After months of legal work, the start signal was given – more than 50 years after the original release.
Since Steve Ziarnik is friends with Joe Almeida, who runs the Slovenly Records US mail order, it led him to have Tim Warren (founder of Crypt Records) master the audio for vinyl. And what a great job Tim has done; the grooves completely radiate with garage sound perfection! It is therefore not a surprise that Memphis profile Greg Cartwright (Oblivians/Reigning Sound) says that: "For a rock and roll song, I hold DANNY BURK AND THE INVADERS' 'A'int Going Nowhere' in pretty high esteem. It's a Memphis record from '66 or so but the vocal is super snotty and punk and the riff is so hypnotic that it almost resembles something from the first Suicide LP. It's a sound and an idea that really inspires me to make something equally powerful."
The misspelling of Roland Janes' name on the center label, is kept since Steve Ziarnik wanted the center to look as close to the original as it could, which goes for the unusual spelling of the song title as well. A very deliberately performed project all the way through.