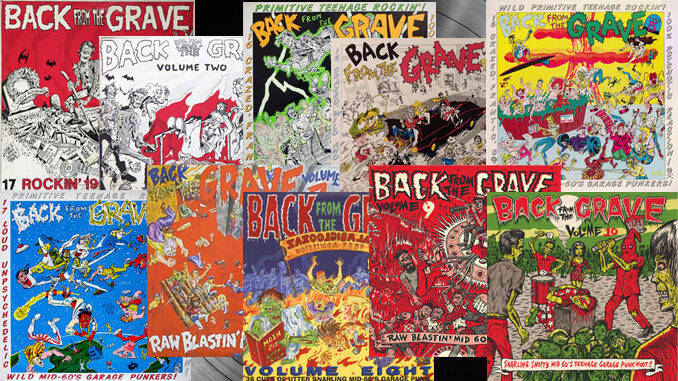 Welcome to PopDiggers' third lesson in Garage Rock School. As the die-hard students you have proved to be by passing the two previous lessons that covered the classic compilations Nuggets and the Pebbles series, you will be encouraged in this lesson to continue moving along the winding trail of garage rock. During this lesson, we embark on a path that becomes narrower as we stagger toward the essence of garage rock like some goddamn zombified Indiana Joneses in search of the Punky Grail.
The two first lessons made us incidentally come across a lot of material that certainly can't be regarded as garage rock, even by the most broad-minded. Yes, other stuff, including folk rock, psychedelia, and pop showed up here and there and contaminated previous lessons – although Garage Rock School certainly did its best to separate the wheat from the chaff on these comps (remember that the chaff may have its intrinsic value, but it must be discussed elsewhere). Garage Rock School can guarantee you that this type of separation procedure will be redundant in present lesson, because Lesson # 3 will exclusively inspect the hard core – more on the garage punk side of garage rock, that is – albeit of different colors and shades. We are confident that you as a student can handle this undiluted situation since you have hardened after passing the acid test of the previous two lessons' tasks. We guarantee a multitude of references to excessive uncontrolled musical energy and indispensable reading material plus a proper dose of general untidiness.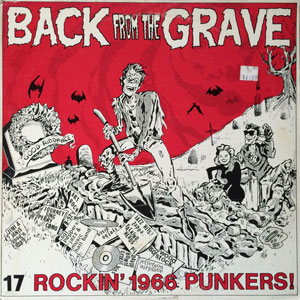 Please have a seat and a beer. Do not forget to fasten your seatbelts because this ride may be a rocky one. If it gets too rough, you could always divert your anxiety with calming musical intermissions that are spread out in the text as clickable hyperlinks. Click with caution, though. Enough with words of warning.
One more thing before we start. Garage Rock School has the pleasure to announce that Lesson # 3 will be augmented by first hand insights of garage rock aficionado and founder of Crypt Records, guest professor Tim Warren in the same manner as Lesson #1 was boosted by Lenny "Nuggets" Kaye and Lesson # 2 was guided by Suzy "Pebbles" Shaw. All alert students know already where we are heading with that guest professor: six feet under. Let's get to it. We take off with a historical introduction to pedagogically put garage rock and its subsequent compilation entrepreneurship into proper perspective.
Setting the scene (the garage floor)
We know that the overall rock and roll climate deteriorated around 1959 to conditions similar to an ice age, in part because major icons such as Elvis Presley, Chuck Berry, Jerry Lee Lewis and Buddy Holly were somehow neutralized. Rock and roll ran also out of steam when the chlorine contingent of the music industry filled the vacuum left by the stagnating popularity of wild rock and roll amongst the wide masses – which was something that conservative forces in society did not mind. Of course, there were some distinct enclaves of exceptions with a rock and roll music scene prior to the British invasion. Check out Five Years Ahead of My Time – Garage Rock from the 1950s to the present by Seth Bovey to get a rough idea about the situation.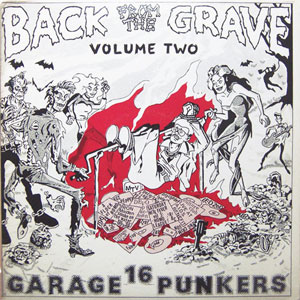 Sadly, the lion's share of popular music thus reverted to its normal boring state; thoroughly sanitized and domesticized. Degenerated schmaltz artists like Pat Boone, Frankie Avalon and Paul Anka ruled the top lists with tranquilizing slush. And those bloody misplaced string sections that unconditionally popped up when they should not, worsened the state of affairs even more.
No wonder this long period of time that did not contain any widespread excitement and fun in music to mention, paved the way for the impact of The Beatles' first TV live appearance on February 9, 1964 on the Ed Sullivan Show. Reportedly, some 73 million watched the mop tops this day; the largest TV audience up to then (and still today a pretty good viewership figure). The British Invasion had begun with a blast which meant that many British acts were worshipped (not seldom more than justified) in the US from then and for the next years to come.
A good portion of the TV viewers were youngsters who embraced the positive radiance and how The Beatles' innovative ability modernized popular music by bringing in new melody lines and chord sequences – all built on the rock'n'roll/rhythm'n'blues The Beatles were raised with. They sounded good and they looked good. Two guitars, bass and drums – no frills. Many viewers thought that all those screaming fans (mostly teenage girls) was a worshiping audience that deserved some effort to have hanging around. Electric guitar sales rocketed fourfold in the US between 1962 and 1965. (Corresponding sales figures on maracas and tambourines are harder to find.) The scene was set for a new era. Back to basic rock'n'roll; get the car out of the garage, in with music equipment and friends with various musical (in the best case) ability. Then crank the amplifiers up and let the noise begin.
Vinyl – a potentially ephemeral medium
Literally, thousands of garage bands were formed more or less overnight with the ambition of becoming rich and famous while having fun pursuing their goals. In the mid-´60s rehearsals started to happen all over the North American continent (and across the rest of the globe). Some of the bands made it to a recording studio (or the equivalent). Most of them did not. Of those who released a record, very few became so famous that they made an impression in the official music history book. Most band's accomplishments – often limited to one or, in fortunate cases, two singles – ran the risk of falling into oblivion when the garage rock period became yesterday's news to the general public around the summer of love in 1967, which coincided with many garage band member's transformations from teenagers into adults; a step down the ladder of excitement – from outgoing to navel-gazing, following the prevailing decline of the spirit of the times or, alternatively, joining the family-startup conformism.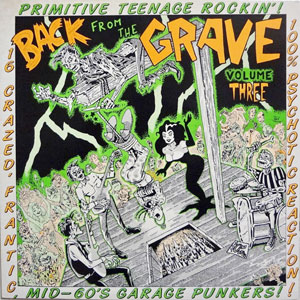 One way of expressing it from today's consumer perspective, was that preservation of all these achievements lay in the hands of a rather small number of record collecting devotees who searched the bins for original 45s (vinyl or, in some cases, acetates) – often rare records pressed in very limited editions, sometimes sold at concerts only. If these were not preserved for posterity, the absence of these artifacts were likely to form a blind spot in the music history – just as the extinction of many pre-war recordings in the World War II shellac and metal collection campaign which resulted in that the shellac of many 78 rpm records and their metal masters became cogged into US war machine.
Instead of vinyl scrap campaigns, the throwaway society could have done similar work for garage rock in the '60s. If so, that would have been the last heard of many garage bands. Remember that you should not put too much faith in that the production line – within this mainly do-it-yourself domain – always archived the masters properly in order to re-use them as a source several decades after the recording session took place. Established record companies with garage bands in their artist's payroll were often more professional in that respect.
Shared joy is a double joy
As Garage Rock School bluntly concluded – without psychologizing too much about Carl Jung's introvert/extrovert personalities – in Lesson # 2: it is rather egoistic to gather these rare 45s only for keeping them to yourself. Besides the materialistic frenzy in itself, pure greed can be a motivating factor for not sharing, as the value of an item is often inversely proportional to the amount circulated. If only this logic of selfishness had ruled, garage rock would still have been an exclusive affair only for the few.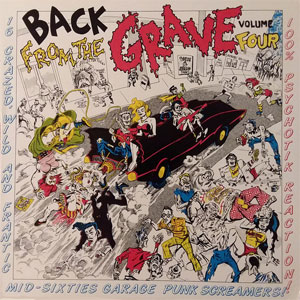 However, and luckily enough, altruism impacted on a wide scale at an early stage. First well-known example by Lenny Kaye's Nuggets in 1972 and then by Greg Shaw's Pebbles series (1978; first volume); two interlinked pioneers who in turn inspired other music fans to do their own garage rock LP-compilations. Psychedelic Unknowns (1979) and Boulders (1980) were among the first to surface when this idea started to propagate. Many other compilers stood in line to make their move. But to be truly honest, there are many called, but few are chosen, which means that far from all of these compilations contains authentic garage rock, and if they do, fingerspitzengefühl of track selection and sound quality varies considerably.
Thus, not every compilation matches the pioneering Pebbles series and Nuggets in the long run. But in retrospective some series stand out in this tsunami of compilations that washed over eager garage rock fans in the 1980s. One that certainly sticks out from the crowd qualitatively in a positive way is the Back From the Grave (henceforth "BFTG") series, which hereby is officially and ceremoniously inducted in the Garage Rock School's principal canon of garage rock compilations.
Before we get acquainted with the characteristics of this series, let us first examine the way in which BFTG relates back to Pebbles and Nuggets.
Pebbles aftermath
Nothing happens unless someone pulls the strings. In our case it was Tim Warren who was the puppeteer of the activities that started to set the BFTG series in motion. After a short exposure to the right music stuff at the end of the '70s, Tim Warren's passionate interest began to grow with the help of punk and new wave. Embedded in music while working in a record store in Amherst, MA, and at the same time (to varying degrees) attending college, his fascination further escalated. As the music began to permeate his life, this opened the doors for him to the world of garage rock.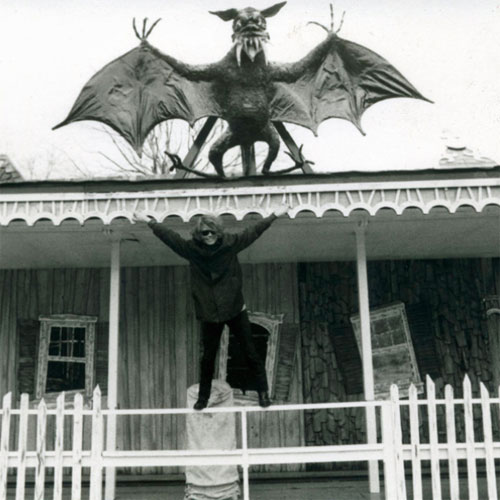 After swapping his cutout copy of "Nuggets" in, because of the annoying pop stuff, Tim Warren moved on to Pebbles 1 and 2, read its liners and got completely captivated by the guy on the cover with the needles sticking out of his head and the series' tag "Punk rock from the 60s". This revelation surely wetted his, and probably many others', appetite of genuine garage rock at that time.
This reaction is normal among what Garage Rock School calls orthodox disciples – those who recognizes that Pebbles is one step down on the ladder of elegance and heterogeneity compared to Nuggets but, most importantly, a step up regarding the garage factor. This revelation converted many perceptive listeners towards purism at that time, but only a few of us had the stamina that was required to going all the way and put theory into practice; i.e. make garage rock compilations do-it-yourself style. Easier said than done; a long distance must be covered between idea and end product.
Escalating addiction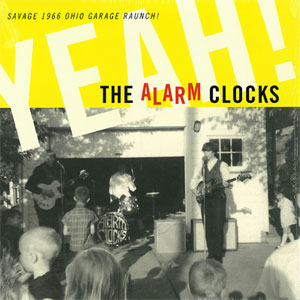 We elaborated on the combination of rare records and the painstaking art of dumpster diving in Lesson # 2. Dumpster diving is a time consuming work that no serious garage fanatic and subsequent compiler could avoid during that analog time period. Like-minded friends and radio DJs may ease the labor, though. Tim Warrens' first link in the chain of events that led to his idea of putting together his own garage compilation was the bizarre scarcity of the 45s that the Pebbles liners alluded to. After Tim sent a friend a cassette of Pebbles 1 & 2, he got back a cassette of the Alarm Clocks Yeah / No Reason To Complain [Both later to appear on BFTG Volume One; comment by Garage Rock School] which escalated Tim's interest even more.
Warren also followed the advice from Michael Thompson at WMUA regarding which flea market to visit in order to find the garage stuff he played on the radio. We will in a while return to Michael Thompson who issued Chosen Few Volume One.
When Tim Warren met Billy Miller of Kicks in New York City at the end of 1980, he got further guidance into the world of garage rock – recommendations to Goldmine Magazine and Vic Figlar's (cf. his liner notes, Pebbles 5) auction lists. Edifying visits were also paid to Jim Atwood at this time. Atwood put out the two Off The Wall compilations and also peddled records – and tormented visitors with stuff like Mogen David & The Grapes Of Wrath Little Girl Gone.
From here, Warren's destiny became to own every non-turdly 45 on Pebbles 1–2, and 5–10 and on compilations as Texas Flashbacks and Boulders Volume 1 by logging each killer cut and trying to find them through Goldmine Magazine and other record lists.
And so the ketchup effect rolled
When enough 45s had been collected in Warren's personal repository through so hard labor, it was time to make the move. The rationale behind what kind of material to put out on the first volume of BFTG was simply to issue his favorite cuts that hadn't been reissued yet. Another boundary condition was that these cuts should be completely sanitized from all psychedelic influence.
In addition to a rational and well-founded haphephobia regarding psychedelia, Tim Warren also had a role model for the sound quality he aspired to attain – which is reasonable, since the first generation of garage rock compilations admittedly had its audio dynamic peaks, but many more valleys. Accurately authentic sound transfers from to the original records requested a high quality turntable-cartridge system (check out some of these technical features on the back cover of BFTG Volume 10), enhanced by a competent engineer who knew what it was all about.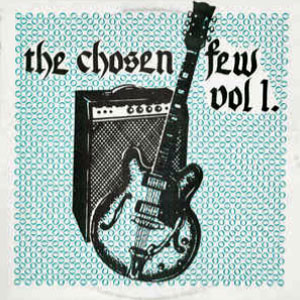 Mentioned Chosen Few Volume One (released in March 1983) had that amazing sound that Warren wanted. The back cover informed that Chosen Few was "mastered by Erik in Cambridge". After Warren had put two and two together, he phoned Erik Lindgren and said that he wanted to do a compilation. And so it rolled.
Warren raised the necessary funds ($ 3,000) for getting the vinyl press started, allegedly by selling his wedding presents. The two first volumes were released in 1983 on his newly formed Crypt Records label and originally pressed in runs of 500, while 2,000 copies were initially made of Volume 3 and on. Larger editions became possible to print as the word spread and the series' reputation grew. Volumes 3–7 followed each other in short time over the next few years so that the seventh volume (2 LPs) was completed in 1988. But it took another eight years until Volume 8 (2 LPs) came out. Because Garage Rock School concentrates stubbornly solely on vinyl (CDs are also available for the less scrupulous), we wrap it up with a conclusion that the fairly recent and, most probably, final Volumes 9 and 10 were issued in 2015.
All in all, the BFTG series makes a carefully excavated and knowingly exposed cultural treasure that consists of approximately 200 enduring tracks of garage rock with a pervasive punk attitude. Some garage rock compilation series tend to deteriorate as more volumes are released; they light the fireworks in the beginning just to scrape the bottom of the barrel in subsequent volumes. But not BFTG; the quality of its music content has not changed throughout the series – it is guaranteed top notch all the way, telling about the skill and staying power behind the curating of this series, which is paralleled by the 22-year span between the first and last volume that helped to cull the goodies.
Liners and photos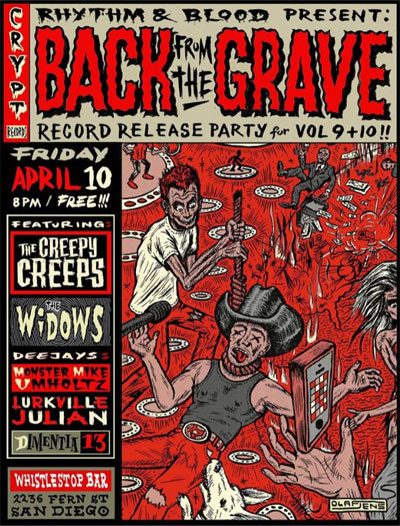 While the liner notes to the first two volumes were scanty and did not always make much sense, the background stories to the following volumes were more researched and therefore contained more information and hard facts about the combos concerned – often supplemen-ted with first-hand anecdotes from the band members themselves. Liners to later editions were sometimes updated and expanded. This more detailed description was associated with photo prints of the combos included and the associated record labels that had higher resolution and quality than the first volumes.
Just compare the packaging of Volume one with numbers 9 and 10 and consider how the wealth of the bands' biographies (by the help of Chris Bishop of Garage Hangover, Mike Markesich and Mike Dugo) had grown to such an extent that it prompted a gatefold sleeve with a full text insert. Likewise, the record labels of the singles included are presented in color instead of the first volumes' black and white amateurish photocopied ones (highlighting the evolution of the commonplace desktop capacities since the 1980s).
Provocative front cover artwork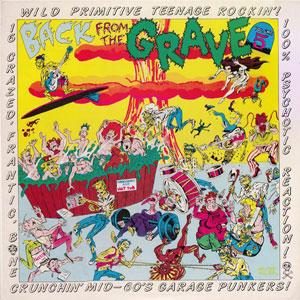 All front covers of the BFTG series depict half rotten corpses that have raised from their burial places (or traveling by occasional UFOs) to enjoy sweet and elaborate revenge on their enemies. You do not have to have a university grade in symbolism to figure out that the corpses represent '60s garage punks who are back from their catnap, and the persons they are torturing signifies different kinds of what is regarded as perverted music in the eyes of these zombies. No beautifying relativism here that portrays all the brands of popular music as a single big happy family. Instead, a normative absolutism where good and evil obviously oppose each other. Garage Rock School has definitely no problem choosing side, but for clarity we still want to ask Tim Warren about his strategy when the covers were designed and whether such a brusque confrontation really was necessary? His own words:
You DID want to piss on Hippies and douchebag New Wavers and Metal and Disco creeps. I hate Psychedelia and late-60s/1970s "blooz-rock". There was some stupid, arrogant, ignorant/homophobic shit that I immediately regretted, but that's what an ignorant 22-year-old attitude-laden young fucker full of hate for fucking shit New Wave and Metal and Disco tends to target, and being ignorant you try to just piss people off with rants or imagery.
And zebras do not change their stripes. Still, after so many years, Warren's frustration and attitude regarding the antagonists of garage rock has not changed a bit. Probably because there has never been any sensible reason to tolerate music that is rotten to the core. If anything, this shows that discontent that is handled properly can be a powerful creative force.
But Garage Rock School tends to be a little worried about these signs of potential isolationism and does not want to recommend students to eventually get stuck in the somewhat crippling position of just listening to the – after all – restricted quantity of garage rock songs over and over again. Just as there are these mentioned low-down opponents, there are also valuable nearest neighbor friends to consult and from time to time get new varieties of energy from, argues Garage Rock School. Let's check with Tim Warren where he stands on the issue of garage rock as the only object of worship:
I just like GOOD MUSIC. Simple music. My fave stuff is yes, 60s punk & euro/aussie beat/r&b, 50s black rhythm & blues & gospel, ballsy 60s soul (NOT that lame-ass "Northern Soul" garbage), 50s/60s cajun, ballsy 1960s instro stuff ala Link Wray, 1970s punk, perhaps 15 bands from the 1980s, a decent stack of 1990s modern garage bands, a few 2000s era bands (Clone Defects, early Black Lips) … (Garage Rock School comments: Black Lips' two first album were incidentally released by Greg Shaw's Bomp! Records.)
OK, now when this ticking bomb has been disarmed in the best possible way, we can move on with a brief run through of other facts about the cover art: Warren met Mort Todd at a punk club in Portland, WA, in 1980, and later hired him for doing the cover art. Todd would do up the black and white art from Warren's crude sketches and then Warren used his, according to himself, "pathetic graphics "skills"" to wrap up the color overlays. This continued pretty much the same way up to Volume 8, after which Olaf Jens took over Mort Todd's duties on Volumes 9 and 10, but without changing the original visual concept very much. However, some up-to-date criticism regarding, for instance, the downside of digital music is inserted (which of course was not on the horizon in the '80s).
Royalty hide and seek
As we learned from Garage Rock School lessons # 1 and # 2, a compiler either can walk down the broad bootleg avenue or take the narrow ethically sanctioned path by trying to invite the songwriters/publishers to get their (often symbolic) legal share of the (often minuscule) revenue generated by the relatively small circulation of compilations in this genre. Warren may have considered to take the easy way in the beginning, but he tells in an interview (Dynamite Hemorrhage # 2; 2015) that after putting out volumes one and two he:
"…felt it was STUPID to just make up goofy stories about the bands. I wanted to DOCUMENT 'em properly via interviews, photos. I was trying BMI and ASCAP and getting NOWHERE until I met this lawyer in NYC in March 1984, and he said "Have you tried the Library Of Congress?" – and BOOM! I'd roll down there with 300 45s and scroll thru all possibilities: by TITLE, by SONGWRITER, by PUBLISHER, etc. So if y'got luck you'd then get the EU or EP #, and nail down the songwriter's home address. There was another room across the street with TONS of old phone directories and BINGO, the PARENTS' names and often their place of employment, and then you'd spend $400/month calling EVERY single Malinowski in the state of Illinois…"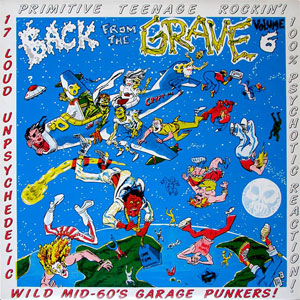 You have to put in a lot of energy in most activities to get a result that you will be satisfied with in the long run. Maybe it is all about morality, just as Ernest Hemingway uttered: "What is moral is what you feel good after, and what is immoral is what you feel bad after." In retrospect, Tim Warren can certainly be proud of his hard detective work that he put down when he tracked down all these people who have contributed to the history of garage rock. Most of these '60s musicians had probably forgotten their youthful sidesteps, and must have been more than surprised when contacted by Warren after so long time.
When Garage Rock School curiously inquires about the outcome of this cumbersome operation and how successful he was in tracking down bands, he replies:
I would say that I was able to find and pay 70 % of the bands.
That is more than a decent figure in present context, bearing in mind the time gap of at least two decades. While the financial compensation to the beneficiaries may have been marginal, the attention and honor generated by being included in the BFTG series must have been appreciated so much more by many cultural workers in the garage rock garden who actively cultivated during the 1960s. Kudos all involved.
Index of Primitivism – the Garage-O-Meter scrambled
One talent that Garage Rock School cherish enormously is the capability to deconstruct. That is why we, in this very setting, use the Garage-O-Meter in Mike Markesich's priceless book on 60's garage combos; Teenbeat Mayhem! as a stepping stone. For those who have accidentally escaped this central concept in garage rock, the Garage-O-Meter is defined as:
"A numeric ranking system devised to subjectively measure the music quality and strength of the songs on one or both sides of the 45. Ranking values explained in "1 to 10". (Markesich, 2012)
A song with ranking value of "1" barely appeals to the diehards/completists sect and straddles the nebulous line of "garage" depending on your personal opinion, while "9" or "10" corresponds to an "Out and Out killer… the sounds that defines the best of '60s garage; A "10" rating crowns an unsurpassed work of genius!". You can fill in descriptions for all intermediate values as homework. Correct answers are found in Teenbeat Mayhem! (page 51).
Calibration of the Garage-O-Meter with the suggested outcome of the task in Garage Rock School, Lesson # 2, to compile an album of the best of garage rock from the Pebbles series, reveals that the songs building up the proposed solution to the task, Pebbliest of Pebbles – 12 tracks that will blow you away, renders a nifty average of 8.8 on the Garage-O-Meter, which can be nicely considered as a solid result that confirms the usefulness and robustness of this Meter. At least seen from the perspective of Garage Rock School.
Apart from that it is indescribably fun to tinker with all kinds of Meters that obviously are fit for their purposes, deconstruction will also at certain occasions – with assistance of alternative logic – cause the sum of the deconstructed parts to be more than the original unit from which they were originally derived. Garage Rock School's latest invention, Index of primitivism (also known as the Primitivism-O-Meter) represents one of these rare instances. Behold (and take a deep breath).
The three dimensions of primitivism add up to 11
First, let us examine what primitive stands for by providing some synonyms that are relevant in our context: simple, basic, uncomplicated, crude, rough and coarse. Illustrations of its antonym are sophisticated and highly skilled artists like Eric Clapton, Santana and their rabble vis-a-vis guitar playing. Garage Rock School makes a full circle here, pointing out that garage rock is made from home-grown rock 'n' roll (mostly teenage) combos that produce a primitive sound as they put more energy than technical skill into their performances.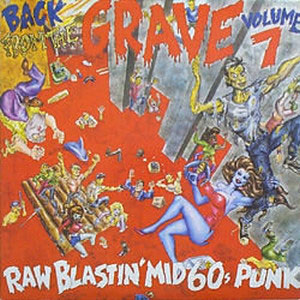 Thus, sophistication should not be considered an important, or even necessary, ingredient in garage rock; maybe musical skill even is an obstruction to get a satisfying result. If we consider primitivism and sophistication as opposites, we can formulate a hypothesis that primitivism helps to enhance the core values of garage rock, which means that a song's accumulated signs of primitivism are positively correlated with its density in the genre of garage (in this case) punk rock. In other words, primitivism is a positive driving force in garage punk rock and a factor to take into account.
Here is a suggestion on how to extract primitivism inherent in a garage song and put numbers into it. Primitivism is qualitatively assessed in the following three dimensions: i.) composition (lyrics/melody); ii.) execution (managing of instruments and vocals), and iii.) recording (sound quality). By giving "composition" and "execution" ranking values up to four each, and up to three for "recording", we thus get the maximum Index of Primitivism of 11 (!) if the performances in all three dimensions are as primitive as they can be. Now we will take a closer look at examples of the properties that are pertinent to each of these three dimensions.
Just as a repetitive, restrained and simple melody, including unvaried guitar lines, implies primitivism, monotonous and unimaginative lyrics that seem to be made up during recording, also do the trick here. Obvious thefts of lyrics and/or melody without any credits given to the original composer, further increases the ranking value gauging primitiveness regarding composition.
Composition and execution are somewhat linked to each other, since musicianship limits what can be executed in terms of melody. Inept executions with few chord wonders and instruments/vocals out of tune or – or even better – and pace are cherished, which means that proficient musicianship with a negative sign will get high ranking values concerning execution. Songs that are performed by combo members who go berserk in some way during recording have good prospect to get a high ranking value.
Since the sound quality was only slightly degraded in the careful transfers from the originals to the BFTG series, we can confidently assess the dimension of primitivism in the recording and subsequent mastering. Poor balance between instruments, over-distorted or drenched out instruments/vocals and sloppy "non-studio" lo-fi (or, rather no-fi) sound contribute to high ranking value. In an audio panorama where producers Frank Guida's live ambience works are located on the far left while Phil Spector's perfectionist Wall of Sound output on the far right, truly primitive recordings are on the left of Frank Guida's.
You probably wonder where all this mumbo-jumbo will lead to. It is time to introduce Garage Rock School's traditional Task.
The Task
Bring out your Back From The Grave records in whatever preferred format. The track selection in the Task will however stick to the order that appear on the original vinyl issues when the songs under investigation are sorted into volumes 1–10. You can also find the track lists in Wikipedia and listen to the songs on YouTube. Although you may know many of these songs outside in, please listen carefully to each of those included in the LP series with Index of Primitivism in mind. An eye opener for the rookies and, hopefully, a meaningful mind changer for the experienced listener.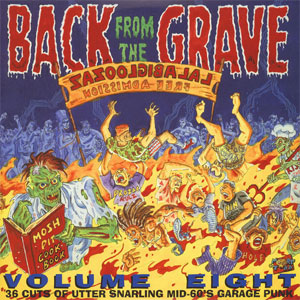 Assign each song a ranking value of one to four for "composition" and "execution" and a ranking value of one to three for "recording". Then put these values together to get the Index of Primitivism for that particular song. When a volume is completed: select the song with the highest Index of Primitivism – you decide which one to choose when it is a draw – and save its ranking values for each of the three dimensions. Repeat in this way for all ten volumes. The fact that volumes 7 and 8 happen to be double LPs does not mean that you should nominate more than one song from each of these volumes. See ya in a week or two!
A most humble and tentative solution
Just like in a cooking program where a dish that takes too long to fix in real time has been prepared in advance, you get suggestions on how to solve the task directly. But before a plausible solution to the task is revealed, Garage Rock School want for safety's sake to stress that your resulting picks do not necessarily represent the best songs of each volume. Instead, the exercise is intended to add and sharpen different aspects beyond your usual way of listening.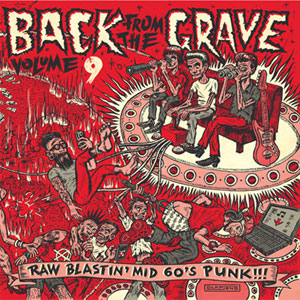 Neither intend Garage Rock School to ridicule or diminish the incompetent struggling teenagers who do their best to exploit their limited abilities, but at the same time strong ambitions, to push the boundaries of how yesteryear's popular music could be expressed. Therefore, these serious attacks on what many boring traditionalists consider decent music are greatly appreciated as the added genuine rock 'n' roll spontaneity raises the musical energy level and increases diversity. Fortunately, this power boost did not just affect the '60s' garage rock. Similar charitable intensification through rock 'n' roll happened also before and after the 1960s.
OK. Have a look at the table below and compare with your own results. Remember that there is nothing wrong or right here. Note also that the song's Index of Primitivism has a rather strong correlation with the deflection on the Garage-O-Meter, albeit with a few exceptions, whereof two seem to depend on the fact that frat (fraternity or fraternal organization) impregnated garage rock songs (that is: # 2 and # 7) do not alert the Garage-O-Meter to the same extent as most of the other songs.
Summary of one of many solutions to the task, showing the individual ranking values for each song with the highest Index of Primitivism (IoP) of BFTG volumes 1–10 together with the song's deflection on the Garage-O-Meter (GoG; Markesich, 2012). Com=composition; Ex=execution; Rec=recording.
| Volume/ Combo, Song | Com | Ex | Rec | IoP | GoG | Comment |
| --- | --- | --- | --- | --- | --- | --- |
| 1/ One Way Streets, Jack The Ripper | 3 | 3 | 2 | 8 | 8 | Stillborn lust murder that surpasses its corny English original by six feet and challenges everything high culture music represents. |
| 2/ The Mystics, Snoopy | 3 | 3 | 3 | 9 | 5 | A rough-mannered frat trivialization that paved the way for a more famous cover musical track the following year of the R&B original by The Vibrations. |
| 3/ The Intruders Five, Ain't Comin' Back | 3 | 3 | 3 | 9 | 8 | Despite nice visual appearance with sports jackets and bow-ties, these youngsters deliver a roaring point-of-no-return rendition that ends with a barely motivated copy-paste of Count Five's Psychotic Reaction mayhem in order to extend it all beyond two minutes. |
| 4/ The Tamrons, Wild-Man | 4 | 3 | 3 | 10 | 8 | Back to the nature themed song with a savage riff and snarling grunts added to convey the sensation of emotional attacks in conjunction with teenage anxiety caused by acute alienation. Phew! |
| 5/ The Keggs, To Find Out | 4 | 4 | 3 | 11 | 10 | Ultimate primitivism that also pushes the Garage-O-Meter's pointer in the red. To Find Out was aptly picked up by another Detroit band, The Gories, 25 years later. |
| 6/ Billy and the Kids, Say You Love Me | 3 | 3 | 3 | 9 | 7 | Original copies of this rare kiddie-punk 45 were sold for up to € 1,500 before Crypt Records praiseworthy dumped the market, most recently through a 7" deluxe edition (2016) of 500 copies. |
| 7/ Gentrys, Wild | 4 | 3 | 3 | 10 | 7 | These Californian Gentrys are primitive as in Neanderthals – not to be mixed up with the Memphis Gentrys that covered The Avantis' (not the surf group) Keep On Dancing. |
| 8/ Benders, Can't Tame Me | 3 | 3 | 2 | 8 | 9 | A plethora of variations of the Bo Diddley beat show up here and there in garage rock, this time in a raw arrangement and with a newly purchased fuzz box as the ace in the sleeve. |
| 9/ The Starfyres, No Room For Your Love | 3 | 4 | 3 | 10 | 6 | Charming folk/pop tinged garage rock with a hardly utilized guitar amplifier. Captured by a recording and mastering technique that did not meet all ISO-standards even in 1967. |
| 10/ The Orphans, Hey Gyp | 3 | 3 | 2 | 8 | n/a | American garage combos often raised the garage factor considerably when they covered or mimicked UK originals, whether it was Stones, Kinks, Them or in this case the undeniably lame Donovan. |
Apart from frat, the agreement between Index of Primitivism and the Garage-O-Meter ranking is thus quite high. But we must also remember that a really primitive recording can have a detrimental effect on the overall impression – the balance point between the potentially positive influence by lo-fi recording and the opposite by no-fi one, must be sensibly handled also in garage rock which means that a "3" in the recording dimension can be a disadvantage to the overall impression.
Affirming the glass ceiling of frat rock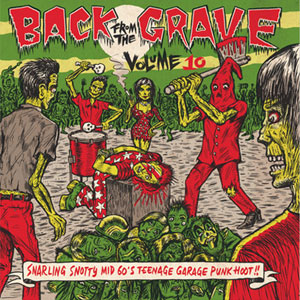 Speaking of Frat rock, it is a kind of party and dance music played at student societies. It is based on hard driving rhythm and blues and is characterized by a stomping beat and indecent lyrics embedded in a party atmosphere, often augmented by an elevated blood alcohol level, but to a lesser degree flavored by the furious fuzz guitars and bad-tempered attitude that typifies garage punk rock. As frat rock songs seem to stick out as anomalies in our previous screening, we conclude this lecture by checking out what the Garage-O-Meter has to say about songs that are considered the most well-known and typical examples of frat rock just to shed some light on the sometimes fuzzy (sic!) relation between garage punk rock and frat rock.
Frat rock supplementary studies: A table for you to explore how some well-known frat rock songs perform on Markesich's Garage-O-Meter scale.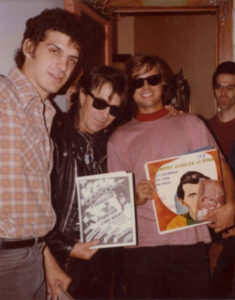 Well, we end this lesson with the statement that even the punkiest frat rock songs fight futile against what appears to be the glass ceiling of "8" on the Garage-O-Meter, thereby disqualifying them to reach the upper echelons of garage rock.
Nailing the lid to this Cryptic lesson
A special thank you to Tim Warren for taking the time to assist this lesson in Garage Rock School. We also want to thank all students for your interest. Garage Rock School hopes that you all had as much fun attending as I had when I prepared this lesson.