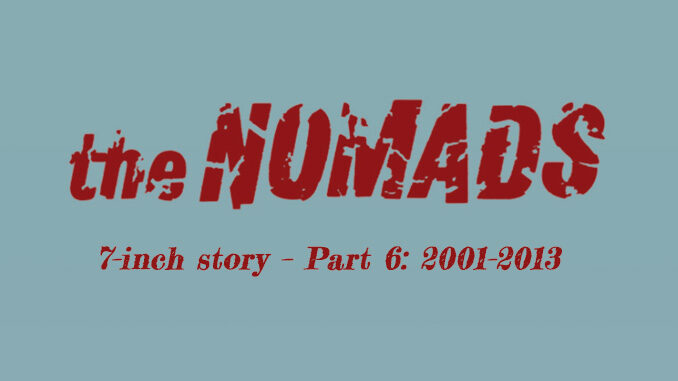 As we enter the present millennium in this part, the surge of the vinyl single revival led by independent record labels had begun to wane somewhat. This, together with longer interval between The Nomads' album sessions in question – Up-Tight (2001) and Solna (2012) –, meant that The Nomads' 7" momentum was lost to some extent during this time period compared to the previous ones. After the Up-Tight album, White Jazz Records shut down its business. It took some time before The Nomads hooked up with Sonet/Universal Music, which explains the hiatus in 7" releases between the Up-Tight and Solna sessions that also coincided with a period of time when The Nomads had decided to hold back a little.
This sixth part covers the years 2001 to 2013, during which six 7" were put out on the same number of labels (not counting the re-release of the Nighttime/Boss Hoss 7" by Munster in 2006, mentioned in part 1). In the present part of PopDiggers' series of careful inspections of The Nomads 7-inches, we continue to explore and document in the same way as before with regard to what The Nomads has to tell about each of these 7-inches, plus to provide such additional facts that may be of interest.
Consequently, part six builds on these earlier reports:
In this part, we will un-cap the succeeding six-pack of 7-inches by opening our report with Crystal Ball (2001) and closing it with Hangman's Walk (2013). All 7-inches are as usual lined up in the most probable chronological order according to their releases.
In the same manner as before in this series, we steadfastly continue to explore each 7" according to this winning three-piece formula:
Discographic facts (title(s), composer(s), record company, year of release, and other facts of interest – according to a cross-check between discogs.com, 45cat.com and the discography on The Nomads' website;
Content description (details relevant to the songs on the 7" in question);
Testimony (selected memories that The Nomads want to share with PopDiggers).
The testimony section is the largest and most essential of these, as it is in this section that the members of The Nomads provide information on what actually happened behind the scenes by offering reports on the conditions that prevailed when the 7" in question was made.
PopDiggers have as usual the pleasure to investigate the present sixth batch with the help of testimonies from the members Björne Fröberg, Hans Östlund, Nix Vahlberg, and Joakim E. Werning (formerly Ericson). We are particularly pleased that Marco Padin, Ghost Highway Recordings, accepted the invitation to make a statement.
Discographic facts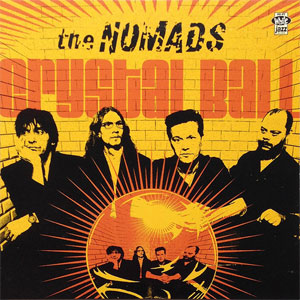 A. Crystal Ball (B. Fröberg, C. Kiesbye)
B. Mirrors (B. Fröberg, B. Bartell, K. Stringfellow)
[White Jazz Records I 7 JAZZ039 / 2001
Content description
Crystal Ball is an original written by Björne Fröberg and Chips Kiesbye taken from The Nomads' album Up-Tight (2001).
The B-side – Mirrors – is a non-album track written by Björne Fröberg, Bill Bartell (White Flag's Pat Fear) and Ken Stringfellow (mostly known from The Posies), which The Nomads were the first to put out on record.
Testimony
We recorded Crystal Ball in the prestigious Decibel Studio in Stockholm. It would turn out to be the last time we recorded an album in such a prominent studio. After this, most of our recordings have taken place in our rehearsal room. With software like Pro Tools, it is possible to achieve approximately the same result anywhere – with the important exception of the drums, which still need an acoustically suitable space for recording.
As all the songs on Up-Tight and Solna, Crystal Ball started with Björne and Chips sitting at home at Chips recording ideas on his computer and developing them to demos, which lay the foundation for the full-band rehearsals when the typical Nomads sound was added. Carl von Schewen (see part 5) chose between Crystal Ball and the equally poppy I Can't Wait Forever to pick as the first A-side from the Up-Tight album.
Mirrors – the flip side – is an outtake from the Up-Tight sessions. Chips Kiesbye was friend with the late Bill Bartell – Sator and White Flag made records together – and that is probably how we got hold of his and Ken Stringfellow's lyrics, and then Björne put music to it. Funny how songs can evolve in such unexpected ways. Since Ken Stringfellow was among the flexible roster of White Flag's band members, there existed a connection between him and Bill Bartell which explains that the duo shares the songwriting credits here. We actually met Ken Stringfellow in Seattle already during our recording of Powerstrip in 1994 and he joined us on stage once when we played Alex Chilton's Bangkok. Bill Bartell was moreover in Chariot with Javier Escovedo and Ken Stringfellow. Another member of The Posies, Jon Auer, was also a member of the White Flag at some time. We still collaborate with Javier Escovedo a bit, by the way. Backstage, after a gig when The Posies backed Alex Chilton, Jon Auer's first question to Joakim was whether he was the much talked about King Of Night Train (see part 5) – the question shows how well informed everyone was about each other's doings within this tight circle of musicians. We do not know of any other version of Mirrors, so it is probably the only one available on record.
The sleeve for Crystal Ball shows the White Jazz Record's in-house art designer Henrik Walse's original idea to the album Up-Tight, but we wanted the background to be white instead of orange as he suggested for the album – a wish which Henrik was not at all overwhelmed by. It ended with some kind of compromise, with the orange design selected for the single and the white for the front cover of the album. (The orange design reappeared on the Record Store Day 2020 re-issue of Up-Tight.) The photo was taken at the pub Kvarnen in Stockholm. As we rehearsed in the basement at Kvarnen, it became convenient to also make the photo session there with the nice clinical looking white tile as background.
Discographic facts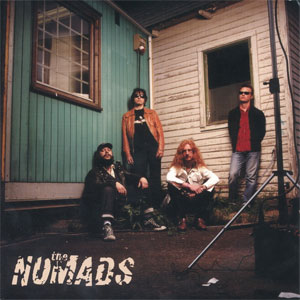 A. In A House Of Cards (B. Fröberg, C. Kiesbye)
B. Think Of As One (R. Erickson)
[Sympathy For The Record Industry I SFTRI 681 / 2001]
Content description
The A-side, In A House Of Cards, is an original by Björne Fröberg and Chips Kiesbye taken from The Nomads' album Up-Tight (2001), while the B-side is a cover of Roky Erickson's Think Of As One, which is not on the Up-Tight album. Think Of As One is an obscure Roky Erickson song that his mother recorded during his time at Rusk State Hospital in the beginning of the 1970s. This acoustic version from 1971 became well-known to Roky-fans much later through the CD compilation Never Say Goodbye (1999). Even later, Roky did a studio recording of Think Of As One with Okkervil River in 2010 which was released as a track of his album True Love Cast Out All Evil.
Testimony
Both songs on this single are from the Up-Tight sessions. In fact, it can turn out to be our last single on Sympathy For The Record Industry. Some years after In A House Of Cards, Long Gone John, the owner of Sympathy For The Record Industry, put things on ice for a good while. But SFTRI seems to have picked up speed again recently, although it can not be compared with the label's intense release schedule in the '90s.
We found Roky Erickson's Think Of As One on the CD Never Say Goodbye, which contains a string of obscure and rather primitively recorded songs by Roky. Those who were behind this release encouraged other musicians to record their own interpretations since Roky Erickson owned all rights to the songs (which was unusual). It was a message we paid attention to. And the connection to Sympathy For The Record Industry is not far-fetched in this context since Long Gone John knew Roky Erickson and his mother, Evelyn, too. SFTRI has accordingly released and re-released several records with Roky Erickson.
The picture for the front cover was meticulously arranged (the stand for the light is visible to the right) by Pär Bäckstrand, and taken at the Hultsfreds Festival in Sweden where we celebrated our 20th anniversary.
Discographic facts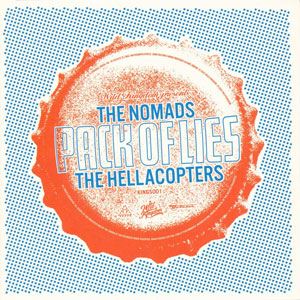 AA. Pack Of Lies (B. Fröberg, N. Vahlberg, H. Östlund, J. Ericson)
[Wild Kingdom I KINGS001 / 2003]
Split single with The Hellacopters. Limited run of 1,000 copies.
Content description
A split single on which The Nomads and The Hellacopters perform Nomads' original Pack Of Lies which The Nomads first put out on the Estrus label as a single in 1997 (see part 5). The split was released in connection with the compilation 20 Years Too Soon – A Tribute To The Nomads [Wild Kingdom, 2003].
Testimony
The Hellacopters recorded a cover for our Pack Of Lies to 20 Years Too Soon, a tribute compilation to The Nomads while our own original version was released as an Estrus single in 1997. Carl von Schewen (see part 5, the manager of the label in question, Wild Kingdom, thought that it would be cool idea to put two versions of Pack Of Lies back to back on a split single with us and The Hellacopters.
Carl von Schewen launched Sound Pollution after House Of Kicks (which included White Jazz Records) was sold in 2000. Wild Kingdom became the rock label under the umbrella of Sound Pollution, just as White Jazz was House Of Kicks' rock outlet. That is why Wild Kingdom can be regarded as some sort of a continuation of White Jazz Records.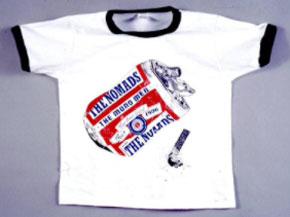 The bottle cap on this cover is a sly nod to our previous circular Estrus cover with the tire, and the rest of the design is also clearly inspired by Art Chantry. That is why this cover also connects a little bit of the Mono Men/Nomads T-shirt that Art Chantry designed.
The rock club Debaser (at Slussen in Stockholm) is mentioned on the cover because Wild Kingdom had a monthly arrangement there with a house band that consisted of Chips Kiesbye and Heikki Kiviaho from Sator and Robban Eriksson from The Hellacopters. They invited guests to play with them and Carl von Schewen, Nicke Andersson from The Hellacopters and others were DJ-ing on those nights.
Discographic facts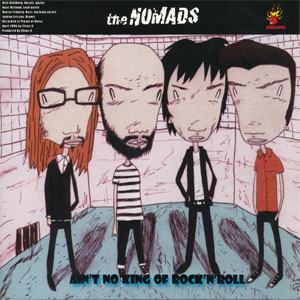 A. Ain't No King Of Rock'n'Roll (B. Fröberg, C. Kiesbye)
[Devil's Jukebox Records I DJB666-04 / 2006]
666 numbered copies on pink vinyl.
Content description
Split single with the UK band The Sweet Zeros on side AA.
The Nomads perform Ain't No King Of Rock'n'Roll – an original song written by Björne Fröberg and Chips Kiesbye, which would later become included in the compilation Little Steven's Underground Garage Presents The Coolest Songs In The World! Vol. 6 [Wicked Cool Record Co., 2008].
Testimony
Björne Fröberg's and Chips Kiesbye's Ain't No King Of Rock'n'Roll was originally intended for the Swedish rock band Backyard Babies. Backyard Babies had at that time some sort of writer's block, and asked around for original songs for their new album. Björne and Chips was among those Backyard Babies contacted and Björne and Chips came up with Ain't No King of Rock 'n' Roll, but it was rejected. Perhaps they felt uncomfortable about the title of the song…
However, The Nomads did not mind recording Ain't No King Of Rock'n'Roll. Later on Little Steven picked it as "the coolest song in the World this week" on his Underground Garage radio show. Ain't No King Of Rock'n'Roll also ended up on one of Little Steven's compilations. If the contractual terms had been better, we might have released more of our stuff on Wicked Cool.
This split single started off thanks to an English guy called Pilly (Alan Pilsworth) who got in touch with us on Myspace (a then popular social network). He turned out to be a great rock'n'roll fan and asked if we wanted to do a split single with his band, The Sweet Zeros. Unusually, we were promised some money up front to do this – instead of getting a part of the edition, which is the normal outcome of these types of deals. This agreement triggered us to do a stand-alone recording of Ain't No King Of Rock'n'Roll in our rehearsal room by utilizing Chips Kiesbye's mobile studio, Planet of Noise, and his capacity as supervisor. Since this was the first time we recorded outside a conventional studio, it also became a litmus test of whether we could generate high quality recordings under unsophisticated circumstances. The weak link in making these kinds of non-studio recordings is the quality of the microphones. To get a good result, high-performance microphones must therefore be used – the output finally heard on the record can never be manipulated to sound better than the originally recorded input signal. Chips Kiesbye owned a set of carefully selected microphones for occasions like these and he also had extensive experience handling such recordings. Afterwards, Ain't No King Of Rock'n'Roll got mixed and mastered in Music-A-Matic Studio by Henryk Lipp. This procedure paved the way for how the upcoming Solna recordings would be conducted.
Daniel Novakovic made the drawing of us on the cover. Lennart Persson recommend Daniel Novakovic to Ulf Lindqvist when Ulf was in the process of putting together a best of album of ours, Nomadic Dementia: The Best of the 25 First Years, before he left Amigo Records. Daniel Novakovic designed one of the covers in the "Feber" series on Amigo Records, compiled by Lennart Persson. The drawing ended up on the covers to both the Ain't No King Of Rock'n'Roll single and Nomadic Dementia.
Discographic facts (UK release with different B-side)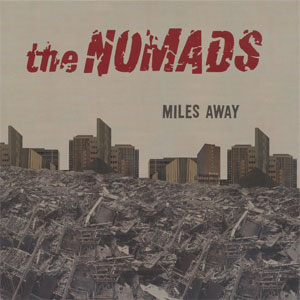 A. Miles Away (B. Fröberg, C. Kiesbye)
B. Something Else, Something New (T. F. Andersson)
[Sonet/Universal Music I LC 01846 / 2012]
B. American Beat (P. Zaremba)
[Devil's Jukebox Records I DJB666-98 / 2012]
Devil's Jukebox Records released a limited edition of 333 copies on pink vinyl and 333 copies on white vinyl. This UK edition should have been released on Record Store Day 2012 (21 April), but it was delayed until June due to problems at the pressing plant.
Content description
Miles Away is an original composition taken from the then upcoming album Solna.
The B-side of the Sonet single does not appear on the Solna album, but Something Else, Something New was later included as one of two extra songs present on the digital release of The Nomads' Loaded Deluxe 10" EP [Sonet/Universal Music, 2013], which otherwise predominantly was recorded after the Solna album.
American Beat on the B-side of the single on Devil's Jukebox Records was recorded prior to the Solna session and features Handsome Dick Manitoba (The Dictators) on vocals. It is taken from the compilation album Vindicated! A Tribute To The Fleshtones (2007). American Beat is accordingly an original by The Fleshtones. It is the A-side of The Fleshtones' debut single [Red Star Records, 1979]. American Beat was later released as one of the tracks on their Blast Off! album (ROIR, 1982; cassette only – but Blast Off! has been re-released several times on LP and CD since then).
Testimony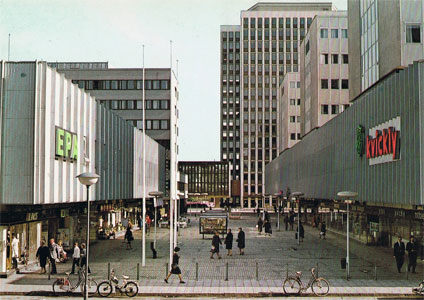 The Miles Away single was released as a teaser for the Solna upcoming album and was one of the first songs we recorded for that album. Miles Away became our second "coolest song in the World this week" on Little Steven's Underground Garage radio show. And furthermore, Pilly at Devil's Jukebox Records showed interest in releasing a special UK 7" edition of Miles Away. Devil's Jukebox Records also released Solna on license for the UK market.
The B-side of the British single was chosen from a tribute to The Fleshtones that we had contributed to a couple of years earlier. American Beat was recorded as another one off song, this time in fact in a real studio in Stockholm; Stefan Brändström's Dustward Studio – a compact down-to-earth studio. We sent the master to Handsome Dick Manitoba who added vocals. We just love The Fleshtones!
Something Else, Something New on the flipside of the Swedish 7" is written by Tommy Ferdi Andersson who was in The Turpentines, which was another band on the White Jazz label that also warmed up for us on the Up-Tight tour in 2001. Before The Turpentines, Ferdi was in The Hijackers. Like us, Ferdi is a big fan of The New York Dolls – which you can easily hear in Something Else, Something New.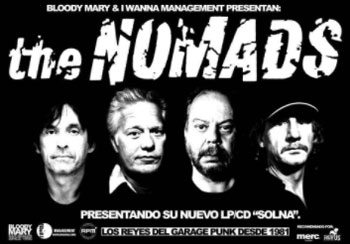 Henrik Widén (The Duke of Honk) played with Diamond Dogs and was enrolled on piano and organ for a couple of songs on the Solna album in order to revive the early sound that Frank Minarik stood for. Afterwards, Henrik Widén also joined in part of the tour for the Solna album.
The illustration on the sleeve of Miles Away is in a way a continuation of the Solna album cover, which utilized an old postcard of Solna Centrum as template. Hanna Werning, Joakim's wife, designed both the 7" and the album sleeves. The Miles Away sleeve is in the same grey color scale as the one of the album and plays with the legend that the city of Solna was built on top of a garbage dump. The image in the forefront symbolizes this dump, although a closer inspection of it reveals that it actually shows old aircraft wrecks from World War II, which are contrasted with some well-known landmarks in the background, like Hotell Flamingo.
Discographic facts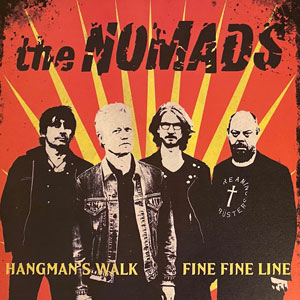 A. Hangman's Walk (B. Fröberg, C. Kiesbye)
B. Fine Fine Line (B. Fröberg, C. Kiesbye)
[Ghost Highway Recordings I GHR-056 / 2013]
A Record Store Day release in 2013 in the form of four times hundred copies in four different colors of vinyl/cover. Another batch of 300 numbered copies (black vinyl) was pressed to coincide with The Nomads' Spanish tour in November 2014.
Content description
Two original songs from the album Solna, whereof Fine Fine Line is a bonus track of the Swedish LP and also an extra track on the digital version of Loaded Deluxe 10" EP [Sonet/Universal Music, 2013]. Liner notes on the back of the 7" sleeve by Lindsay Hutton.
Testimony
The Hangman's Walk 7" was our first release on the Spanish label Ghost Highway Recordings, a small independent label which is basically a one-man venture operated by Marco Padin. Our experience with Ghost Highway Recordings is very good, and it became even more positive in conjunction with the making of the live album ¡Demolición! Live At El Sol, Madrid (2015) – a gig included in our tour that prompted the second pressing of the Hangman's Walk single.
Hangman's Walk is picked from our Solna album. Fine Fine Line is basically a rockabilly song, but we had some ideas to make it sound like '70s bubblegum pop, like Mud) or something else on RAK Records. Not sure if we managed to achieve that though. We added Fine Fine Line to the Solna LP as a bonus track at the end of the album, just for fun and travesty to the fact that extras are usually found on CDs, not LPs.
As part of the promotion package for the Solna album, Hanna Werning took the cover photo of us outside the place where we rehearsed.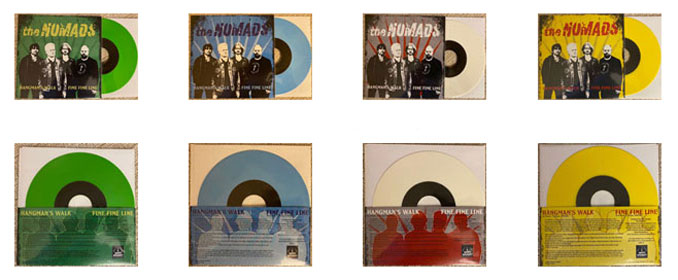 Fine Fine colorful Line
Thanks to Björne, Hasse, Joakim, Marco and Nix for sharing your memories/photos and for reviewing the text.