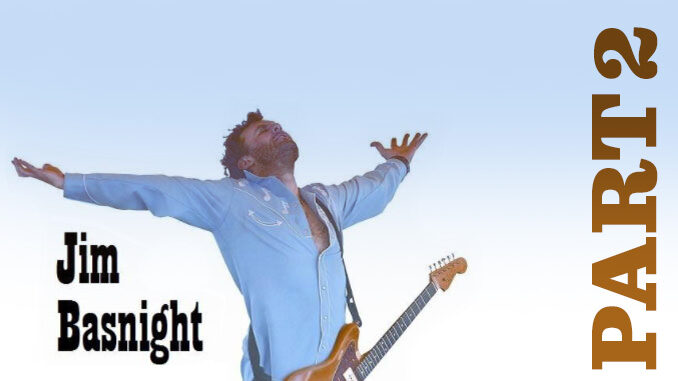 This second part of the interview with Jim Basnight picks up where part 1 ended – halfway through the examination of his cover album Jokers, Idols and Misfits. The first part contains a short biography of Jim Basnight and an introduction to Jokers, Idols and Misfits.
In this article, Jim Basnight continues to muse over the covers themselves and his experiences of the circumstances that prevailed when he contributed to the cover recordings. Prepare yourself to meet The New York Dolls, The Wailers, The Hollies and The Lurkers!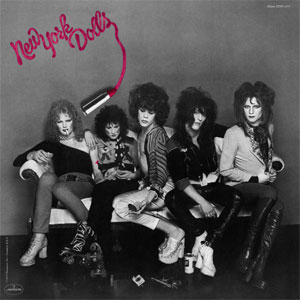 The original was released as a track on The New York Dolls' self-titled debut album (1973).
This cover is released exclusively for Jokers, Idols & Misfits.
JB: As I mentioned before, I was into glam and also Iggy and The Stooges' Raw Power when The Dolls' first album came out. I became curious because the press compared the sound of The New York Doll's debut album with Raw Power. I first listened to it in the record store where you could listen with headphones on. When I put down the needle on Personality Crisis, the simple, loud, straightforward and unbridled rock sound just blew me away! And on the cover, The New York Dolls looked totally irreverent. At that time, they stuck out as incendiary – that might be a good way to describe it. Took the album home and was into it right away. It has been my constant companion ever since.
As time had moved on, I realized that Johnny Thunders' guitar sound was an essential element in their sound. He was ridiculed when he played with The Dolls for being sloppy and all that stuff. But from my studies of blues, I know they're wrong. It's all about feel. And Johnny Thunders really had feel.
I got to know David Johansen a bit through my first wife, Anne, and I love his song Lonely Planet Boy. Johnny Thunders sort of used the guitar lick and incorporated it into another phenomenal song, this time his own, You Can't Put Your Arms Around A Memory.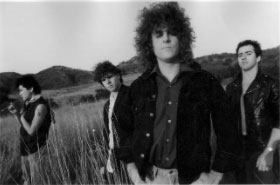 The Moberlys really loved Lonely Planet Boy and it became an important part of our live show. Eventually, we recorded it in 1986. Some of the New York Dolls fans think our cover sounds countryish. It's probably true, because we were a rootsy American rock'n'roll band, but I think that The New York Dolls were a rootsy and blues influenced band, too. From an early age, I shared the fascination of the girl group sound The New York Dolls promoted.
I remember sitting around rehearsing Lonely Planet Boy in Toby Keil's apartment in the '80s. Right upstairs was Izzy Stradlin's – from Guns N'Roses – apartment and those guys kinda listening in to what we were doing. Because the line in Patience ("we won't fake it, oh never break it, 'cause I can't take it") reminds of Lonely Planet Boy's: "and I'm tryin', I'm cryin', baby for your love", I've always thought that Guns N'Roses might have been inspired by us playing Lonely Planet Boy back then, or at least by the song itself. I remember Slash telling me he liked our version of that tune. There are similarities between these songs. And for their acoustic songs, I believe Guns N'Roses were affected by Johnny Thunders' album Hurt Me.
Some might ask why we released demo recordings on this album. But Lonely Planet Boy is another well performed song recorded with a technique reminding of how the records that I really love from the '50s – like Howlin' Wolf and Sonny Boy Williamson – were made; live to two-track. Obviously, you don't necessarily have to have 24 tracks or digital equipment to do great records.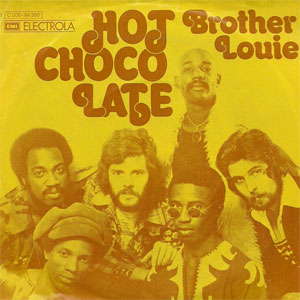 The original was released as the A-side of a single by the British soul band Hot Chocolate (1973) – also later covered by The Stories the same year.
This cover was first released as a track on the CD compilation Shadows Breaking Over Our Heads: A Tribute To The Left Banke [Brobdingnagian/Apollo Records, 1999]. After that, it was released on Jim Basnight's Recovery Room album (2004).
JB: The reason I did Brother Louie was to include it on a tribute album to The Left Banke; Michael Brown's band before The Stories. Brother Louie was Michael Brown's last hit of his career. Despite it not being one of his own songs, it fit nicely in to this tribute to The Left Banke.
One reason that The Left Banke sounded so cool was that Michael Brown's dad was the musical director of the CBS orchestra in New York City. So, Michael Brown had the advantage to be able to bring all those hot shot session musicians to the studio, which resulted in that untypical baroque rock sound.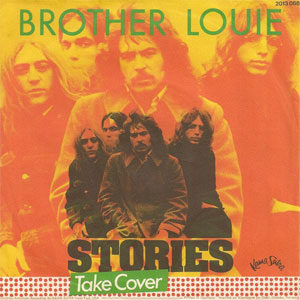 When I was being asked to take part in this Left Banke tribute, I thought that Brother Louie would be really cool to do, and that probably no one else had it in mind. The band that I worked with at that time sounded a little funky. We went for a sound, not so much to The Stories sound, but more to the era of Curtis Mayfield Superfly/Isaac Hayes in the early '70s.
Brother Louie was also released on my Recovery Room album in 2004, but we remastered it with Garey Shelton and brought out some nice textures of that recording for Jokers, Idols & Misfits.
Again, I love all that '60s pop and Left Banke is one of the bands that I like a lot, together with several others who should be mentioned, like The Buckinghams, The Grass Roots and The Electric Prunes. Great, mostly Beatle-influenced, American bands. British Invasion influenced American bands such as these on the pop side. Of course, there were also garage bands like The Sonics, The Standells, The Shadows of Knight and Thirteen Floor Elevators which leaned more toward The Rolling Stones and other bluesy British Invasion bands. And bands that were influenced by both Beatles and Stones, like Paul Revere And The Raiders.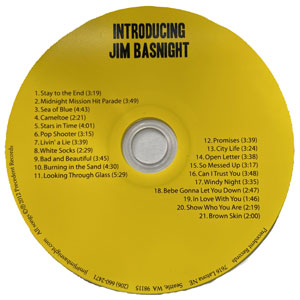 14. Midnight Mission Hit Parade (M. Czekaj)
This track was first released on Introducing Jim Basnight (2012).
JB: My album, Introducing Jim Basnight, is some sort of collection of five new tracks that I recorded for the album and the best of unreleased original songs (not covers) from every recording session I ever did up to that point. Except for Midnight Mission Hit Parade. But I almost consider it as an original in this context since Mike Czekaj's Midnight Mission Hit Parade never had been put out on record before. A unique song for me that I recorded together with the other four new tracks to Introducing Jim Basnight. Mike Czekaj's demo really kicked it out really well and inspired me to do my own version.
My musicians on Midnight Mission Hit Parade are Ben Smith on drums and Garey Shelton on bass (also engineer and co-producer). Steve Pearson from The Heats and The NW Rivals (a band I was a member of at the time), is on backup vocals – he's got a really good ear for harmonies. Finally, I brought in Lightnin' Joe Meyering on harmonica – who also is owner of the studio where we recorded This Is Where I Belong and Good Thing – to get that feel I was going for, which was influenced by my research on Sonny Boy Williamson, which kicked into high gear at that time. I was listening to records by bands who played in the streets in Chicago from the '50s through the early ´70s. They just came out there with transistorized amplifiers or just old beat up equipment. I wanted that kind of sound. And that's what Mike Czekaj's song is about, I guess – hanging round with bums in downtown LA, for lack of a better word. They get together and start singing and playing. Passing around a jug of wine. Just for the joy of music – which has the power to uplift people in the most difficult circumstances. It's a common thread in American music. Some of this great music came from desperate situations. Especially the blues and folk music of the Great Depression.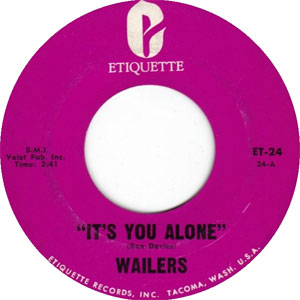 The original was released as the A-side of a single by The Wailers (1966). Composed by the songwriter Ron Davies.
This cover was first released on The Moberlys' Sexteen LP (1984), not previously available on CD or for download.
JB: It's You Alone is another Northwest song. Ron Davies lived for a while in Bremerton, Washington, which is very near where I live right now. He also wrote It Ain't Easy which became famous through David Bowie's Ziggy Stardust album. I was of course very impressed by that, but I had It's You Alone in the stack of 45s I traded for firecrackers which I told you about before. It's You Alone was a big hit in Seattle on the local AM station, KJR, with the late Pat O'Day as program director. Pat O'Day was, by the way, also involved heavily in the development of the concert industry that brought The Beatles to Seattle, started teen dances and promoted concerts for touring bands. He was a real character that I got to know a little bit during the course of his life.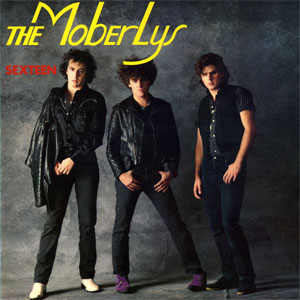 I love the harmonies in It's You Alone and The Moberlys started to play the song in New York City as part of yet another medley with one of my tunes, You Came And You Conquered. We recorded those two together, but later I separated You Came And You Conquered and re-released that on the compilation Seattle – New York – Los Angeles on the Pop The Balloon label in 2000. I brought back It's You Alone for Jokers, Idols & Misfits, but it was also on The Moberlys' Sexteen vinyl album on Lolita Records in 1984.
It's You Alone is a song The Wailers did. The Wailers were another great Northwest band who established the teen dance scene which spawned The Sonics and others. The Wailers were not as well-known as The Raiders, The Sonics and The Ventures, perhaps, but they were every bit that big at the time in the Northwest as those bands and had a lots of hits, like the early instrumental Tall Cool One and Dirty Robber. Another band worth mentioning in this context is The Dynamics who also made some great records. When the Northwest teen dance scene started to fade, many bands switched from pure dance music to songs more in the pop vein, like It's You Alone.
PopDiggers' note: Ron Davies wrote most of the songs on The Wailers' album Outburst! (1966) which also included It's You Alone.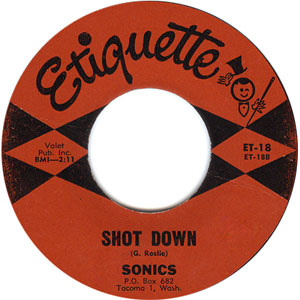 The original was released as the B-side of a single by The Sonics which has Don't Be Afraid Of The Dark on the A-side (1965); both songs are included on their second album Boom (1966).
This cover is released exclusively for Jokers, Idols & Misfits.
JB: Our previous song, It's You Alone, is of course geographically connected to this one, Shot Down – another song by The Sonics. We talked about the importance of The Sonics to me before, and Shot Down fit The Moberlys very well. I had previously covered Shot Down with a band called The Pins, which was formed after The Moberlys first split early 1980. I was in The Pins for six months before I moved to New York City in 1980. The Pins later became The Rangehoods when Steve Pearson from The Heats joined them. Shot Down then became a standard in The Moberlys' NYC shows. That one and Roy Head's Treat Her Right we did a lot, but we didn't release Treat Her Right on record.
Talkin' about Treat Her Right, this song was cool because Johnny Thunders heard The Moberlys do that at his 30th birthday party when we opened for him and he said that he really really liked it. As we all know, Treat her Right showed up later on Johnny Thunders' and Pat Palladin's cover album Copy Cats in 1988. I'd like to think that he recorded Treat Her Right because he heard us playing it.
Shot Down is a very well performed live to two-track recording of ours, just in line with how a number of other songs on Jokers, Idols & Misfits were recorded. And the mastering job by Garey Shelton is fantastic too.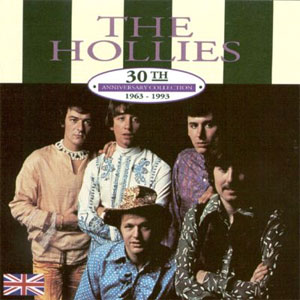 The original was recorded by The Hollies in 1965, but She Gives Me Everything I Want remained in the vaults until the 3 CD compilation The Hollies – 30th Anniversary Collection 1963–1993 was released in 1993.
This cover was first released on The Rockinghams' album Makin' Bacon from 1999.
JB: She Gives Me Everything I Want was recorded by The Rockinghams. This is the 2nd song on Jokers, Idols & Misfits where Criss Crass contributes some lead vocals. He was a member of The Muffs, and has played with a number of artists in his career, like Jayne County, The Vains with a young Duff McKagan, Panther Burns and Sleepy LaBeef. Criss is a very good singing drummer who can sing and drum at the same time without screwing things up – he has that multitasking talent just like Mike Czekaj.
We were asked to record She Gives Me Everything I Want for a Hollies tribute, but for some reason they didn't include it. I thought it was really cool and included it on The Rockingham's album Makin' Bacon instead. It's a cover of an obscure Hollies song that encapsulates the feel of what The Rockinghams were all about and showcases the sound of The Rockinghams with big Marshall 4×12 with tremolo Jimmy Page-style. We also had a Fender Twin with a tremolo too. That's why She Gives Me Everything has that big rock sound as well as being a cool pop song.
I could talk a long time about my love for The Hollies. They are one of the absolutely greatest bands in my book. She Gives Me Everything I Want was collectively written under an assumed name, like Nanker Phelge, that The Hollies used for their early compositions.
PopDiggers' note: Prior to 1967, The Hollies used L. Ransford (the name of Graham Nash's grandfather) for songwriting credits, simply because they thought "Clarke/Hicks/Nash", was too long.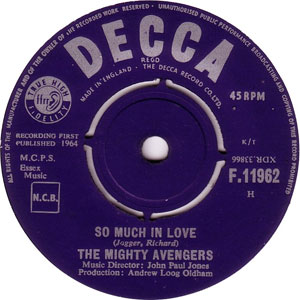 Even though the original was written by Mick Jagger and Keith Richards, The Rolling Stones never put So Much In Love out on record. Instead, first to release So Much In Love was their label mates The Mighty Avengers – on a single from 1964.
This cover is released exclusively for Jokers, Idols & Misfits.
JB: Again, another obscure song, just like the previous She Gives Me Everything I Want. To my knowledge, The Rolling Stones have never recorded So Much In Love ever. But So Much In Love was recorded by a lot of bands over time. It became some sort of pub-rock standard, The Inmates did it, for instance. This great song was another one that Dave Drewry brought to my attention. It was probably The Inmates' version I heard first.
This is another one of these recordings we did in the mid-'80s at the EMI Studios. I'm not sure how to characterize it, but it's a really simple straightforward pop song with a bluesy, rhythm and blues edge denotative for that era. For instance, covers like Sometimes by The Raiders and Time Is On My Side or It's All Over Now by The Stones. Mick Jagger and Keith Richards wrote So Much In Love in that vein, like many of their early songs were. When they first started writing songs, Jagger and Richards tried to get songs published with other artists in the same way that Lennon and McCartney did. I have no idea why The Rolling Stones never recorded So Much In Love. It's such a great tune. But, The Beatles also had a couple of little known songs that they only recorded as demos.
The Rolling Stones have had a huge influence on me. For instance, their Beggars' Banquet album is up there with The Kinks' Something Else, Face to Face and their Greatest Hits collection. Listening to the early Rolling Stones' records is a big part of my being as a musician. But I love Stones in the '70s too, like Goats Head Soup and Some Girls.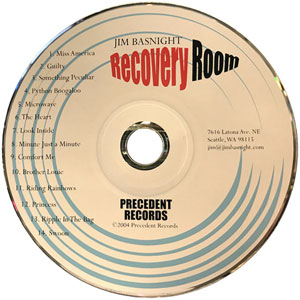 19. Princess In Rags (M. Czekaj)
Princess In Rags was first released on Jim Basnight's Recovery Room album in 2004.
JB: Princess In Rags gradually became different from the song that Mike Czekaj originally brought into the band I had at the time with Al Bloch who was in Concrete Blonde, Kelly Wheeler (from Psi Com, who was substituted by Dave Navarro when they later turned into Jane's Addiction, by the way) and Mike Czekaj. We started to mess around with new material, writing new stuff. Princess In Rags was one of the songs we elaborated with, sort of changing it to having a more spacey atmosphere. I'm not sure about how Mike felt about that. We did a demo of it with Mike playing manually on this little drum machine that we had in the living room where we jammed.
Later, I started playing Princess In Rags live with The Rockinghams in the same kind of vein and started to develop certain parts. And even later, Princess In Rags became more of a rock song in the Jim Basnight Thing's shows with electric bass and drums as opposed to stand-up bass and no drums.
The atmosphere of this recording was enhanced by Jim Knodle's echoed trumpet, which adds the jazzy feeling. The violin part brought in that funky aspect – reminding of Bobby Womack and Curtis Mayfield and stuff like that. Both instruments go together well with the urban discourse in the lyrics of the song. Ben Smith played drums and gave Princess In Rags all the necessary space. Mikel Rollins on bass really understood the importance of keeping it minimal. He loves Suicide – maybe the most minimal band ever – and had no problems finding all the subtle nuances. And Suze Sims' vocals added color and the female element to the lyrics, which I gather is about a prostitute, basically, for the lack of a better expression. Mike Czekaj was maybe inspired by the Hollywood prostitutes we passed by when we drove down the street there in the middle of the night. Princess In Rags then becomes a song about the reality of her life and perhaps what it meant to one of her customers.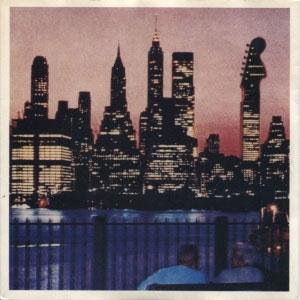 The original was released as the A-side of a single by The Lurkers in 1979.
This track is released exclusively for Jokers, Idols & Misfits.
JB: First time I heard New Guitar In Town was with Honest John Plain and Peter Stride from their album New Guitars In Town. This was another unusual song that Dave Drewry brought to me. I don't think that any other American band has covered it yet.
New Guitar In Town was also recorded in the EMI Studios around 1985 – a multi-track recording like Rebel Kind that we talked about earlier (track # 5 on Jokers, Idols & Misfits). Twenty-four tracks, but very basic in its approach. Straight-ahead rock, so actually not so many tracks were needed.
I hope my guitar playing is acceptable to the people over there in England who did such a great job on the original record. New Guitar In Town was an important part of The Moberlys' live set and became a closer of our 45 minute shows for a number of years.
Harlan Hollander produced New Guitar In Town and Rebel Kind. Harlan was a LA guy who played in a bunch of cool bands there. He introduced me to a lot of people when I lived in LA. The late J.B. Bauerlein engineered the whole thing.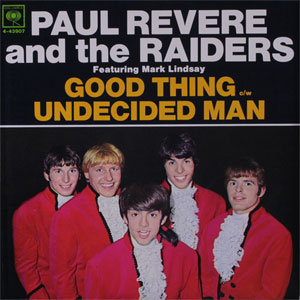 21. Good Thing (M. Lindsay, T. Melcher)
The original was released as the A-side of a single by Paul Revere & The Raiders (1967).
This track is released exclusively for Jokers, Idols & Misfits.
JB: Good Thing was recorded right before Jokers, Idols & Misfits came out and is thus the most recently recorded song of this album. We managed to squeeze in Good Thing in this project. The CD format allows plenty of playing time and for you to bounce back and forth from the last to the first song, just like on a single. Then you can loop between Good Thing and This Is Where I Belong, which were originally recorded the same year (1967) on two different sides of The Atlantic.
The Moberlys in the early '80s covered Good Thing. Then it kind of got shelved and we never did it when Toby Kiel and Glenn Oyabe were in the band. I think I brought Good Thing back with The Jim Basnight Band, but the idea came up in connection to a small tour on which me and the drummer Michael "Wedge" Hoefer backed up Phil "Fang" Volk, who was in Paul Revere And The Raiders' '60s line-up and who actually played bass on the original recording of Good Thing. We did a show with Phil Volk and the now late Larry Knechtel – a famous studio musician in the Wrecking Crew in Los Angeles, amongst other things – playing all those Raiders hits. The late Kent Morrill of The Wailers did a cameo at that show, which was very honoring for us.
Good Thing was among those songs which blew me away when it first popped out from my transistor radio. It's hard to get its harmonies right, especially on live shows, but we really did a good version in the studio with Jack Hanan on bass, Bruce Hazen on guitar and Zeppy Zittle, who replaced Dave Warburton in the new Moberlys and really captured the feel we were after with his drumming. We wanted to give our own twist to the song and therefore tweaked the original a bit.
What Paul Revere And The Raiders meant to the Northwest scene in the '60s is pretty important. They became the first rock stars from the Northwest after their exposure as a house band for the TV-show Where The Action Is in 1965, hosted by Dick Clark. Paul Revere And The Raiders were really entertaining and had travelled all over the Northwest on these two-lane roads developing their shtick, along with the revolutionary war look. Paul Revere also sold hard to find independent rhythm'n'blues records out of their truck while touring. He was an enterprising young guy at the time when rhythm'n'blues was new to most of the kids in the Northwest.
Paul Revere And The Raiders together with The Kingsmen were forerunners from the Northwest who gained an international reputation and inspired a whole generation of future musicians like me.
PD: I read that Eddie And The Hot Rods' Do Anything You Wanna Do (1977) was also a candidate for Jokers, Idols & Misfits.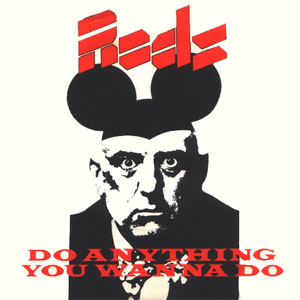 JB: Yes, Do Anything You Wanna Do was recorded in the same fashion as So Much In Love, Laser Love, Rebel Kind, New Guitar In Town, Shot Down, Lonely Planet Boy – a cool sounding cover that I might release at some point in the future. We have 21 tracks on Jokers, Idols & Misfits and that's what you can fit in, considering the running time of a CD. I figured that that was the one that we could shelve, because I liked the other ones a little bit better as far as the recording goes. Some other people may have different opinions.
PD: And what's in the pipeline right now?
JD: Right now my future is based around my book on Sonny Boy Williamson. I'm finishing this thing right now. It's going to be a major chapter in my music career since it's the first time I've written a book. There's a lot of important music history that I chronicle, ranging from the beginnings of the blues record in the 1920s to 1965 when Sonny Boy Williamson died. A lot of things happened in the course of that time frame that he was involved with: Jukeboxes, the Jim Crow era, the emergence of the blues from an underworld in the "Deep south", Chess Records in Chicago, early record distributors and the advent of radio transmissions of roots music. All this leading up to Sonny Boy going over to Europe and spending the last years of his life making a huge impact on the British blues scene and the emerging British Invasion. It's a great story and it needs to be told, because it hasn't been told yet properly. A number of other great blues artists have books written on them, like Robert Johnson, Willie Dixon, B.B. King, Muddy Waters and Howlin' Wolf, and I want to include Sonny Boy Williamson in that company. So I have put a lot of energy into it. I could possibly have an accompanying documentary with entries of different filmed interviews that I did in the US and Europe with a lot of interesting people. Some interviews were done with European videographers filming, while I did the interview via Skype. I hope for a documentary film to come out after the book.
And I'm also playing gigs. In the course of this COVID, I've done a lot of live performances with my band at a sound stage engineered by Tom Brown. He is a really top notch sound engineer who had worked with Waylon Jennings for many years. A number of other quality people do the camera work. Up to now, a substantial part of my catalog, thirty-nine originals songs, have been recorded live with my current Jim Basnight Band: Sean Peabody (guitar and harmony vocals), his wife Beth Peabody (harmony vocals), Kurt Jensen (bass) and either Pat Ring or Glenn Hummel on drums, Mikel Rollins does the multi-instrumentalists' thing and then Beth Wulff on piano and organ. We do a bigger sounding band for live gigs to be filmed. I plan to release a video of a song from those live gigs really soon and potentially also a larger product from that – maybe a home video presentation or a Jim Basnight documentary. I realized when I wrote the very long introduction to the Sonny Boy book, that it actually resembles a mini autobiography – so I might actually write an autobiography.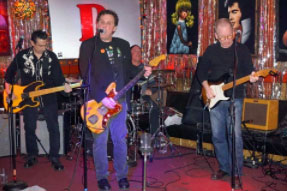 I hope to also work with new all original material with Mikel Rollins, Sean Peabody, Kurt Jensen, Jack Hanan and Bruce Hazen to follow up my previous album, Not Changing, in 2021. I just started working with 4W1, a European agent and hope to play there a lot in the near future.
There's another thing worth mentioning. I got this originally cast album of this musical, Little Rock, that I co-composed with Richard Gray – a musical director for a lot of musical theater productions in Seattle. I did that back in the era of The Rockinghams in the mid-'90s. The Little Rock Original Cast Album was never released, because the people that performed on it were Equity actors – which is the actors' union – and I could never get permission to release it until now. And I finally got the ability to release that on my label, Precedent Records, hopefully at some point in the near future. It's a really cool record. I would classify it as a cross between West Side Story and Grease, maybe more serious than Grease. It's kind of fun and has elements of rock'n'roll, rockabilly and blues. I started to get hooked on Sonny Boy Williamson when I did research in order to get inspiration to Little Rock. Since the musical is about integration (Little Rock Nine) in the deep south, it also connects to some of the elements of the life story of Sonny Boy Williamson. But we wrote Little Rock with a lot of fun and comedy in it, as well with an educational aim. Little Rock was set up by a children's theatre production company in Seattle, but it also had a run in a few different theaters around the country, in Little Rock, Arkansas, for instance. It was a hard show to do, so it didn't have the kind of legs I it could have now. We had a huge cast with a lot of characters and we needed so many people on stage to do the show. That made it tough, and expensive, too. It hasn't been done since the late '90s, but I'd like to bring Little Rock back and update it.
Following the tradition, the PopDiggers' interviews end with the interviewee being invited to present which songs he or she is currently listening to. Here is Jim Basnight's list for your inspiration:
The Kinks – Face To Face Deluxe Edition; Session Man (1966/2011)
Elmore James – The Sky Is Crying: The History Of Elmore James; Madison Blues (1960/1993)
Johnny Thunders/Jerry Nolan – Count Down Love (7"; 1985/1997)
The Hollies – Look Through Any Window (7"; 1965)
David Bowie – Young Americans(Re-issue): It's Gonna Be Me (1974/1991)
Rick Hromadka – Better Days; Better Days (2020)
Merle Haggard – Daddy Frank (The Guitar Man) (7"; 1972)
Phyllis Johnson – Foolish Girl (digital track) (2018)
Live Ones – Yer Quite Welcome; Right On Sister (2011)
Thanks, Jim, for sharing your time and memories with PopDiggers!