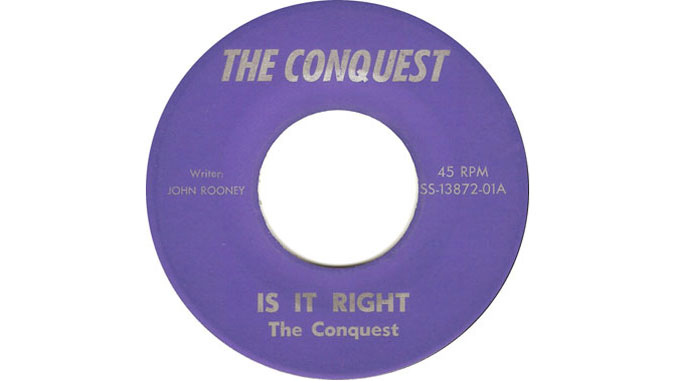 Varje vecka presenterar Hans Olofsson obskyra eller bortglömda låtar från sextiotalet som förtjänade ett bättre öde.

Den som söker han finner och efter att ha suttit och letat efter obskyra sextiotalslåtar på YouTube i flera timmar blir man rikligt belönad, när Thee Pop Song plötsligt dyker upp. Belöningen heter Is It Right och framförs av den mycket obskyra gruppen The Conquest.
Olofssons Lost Treasures
The Conquest196?
Den inledande gitarrslingan och orgeln förtrollar lyssnaren redan efter några sekunder och strax efter att sångaren gjort entré bjuds vi på förtjusande bakgrundssång och några småilskna gitarrtoner. Sångaren låter som om han befinner sig mellan sömn och vaket tillstånd, vilket inte borde vara positivt, men det fungerar i detta fall. På slutet försöker han dock vakna till liv.
Trots att inspelningen låter torftig – jag kommer att tänka på svenska sextiotalsgrupper som spelade in singlar i någon gudsförgäten håla – sköljer en varm ljudbild över lyssnaren. Det låter som om Is It Right är inspelad 1965 eller 1966, men enligt Discogs kom skivan inte ut förrän 1968. Jag har bett de två YouTube-kanalerna som laddat upp Is It Right att ladda upp B-sidan Look At Me, men hittills har jag inte blivit bönhörd.
Här skulle den obligatoriska fortsättningen komma, med mer information om The Conquest plus lite andra utsvävningar, men jag vet faktiskt ingenting om gruppen. Det är lite komiskt, i alla fall om man är kunnig i engelsk fotboll, att låtskrivaren heter John Rooney – samma namn som Wayne Rooneys yngre bror.
Första utgåvan gavs troligtvis bara ut på en privatpressning men plockades sedan upp av skivbolaget Gail Records. Eftersom jag bara hittar två utgåvor från det bolaget på den vanligtvis pålitliga sajten 45cat, handlade det förstås inte om några större upplagor.
När jag tittar på skivetiketten till den andra utgåvan på Gail – den småcharmiga teenpop-låten Hey! Pretty Baby med Mike Brewer B/W Galaxies – visar det sig att skivbolaget är baserat på orten Champaign i Illinois. Låten med gruppen är utgiven 1964, vilket skulle innebära att det tog fyra år för skivbolaget att ge ut sin andra singel! Det är ännu en anledning till varför jag tvivlar på att singeln med The Conquest skulle ha getts ut så sent som 1968. I ärlighetens namn talar vi kanske till och med om två olika skivbolag.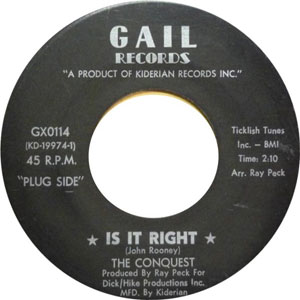 På etiketten till The Conquests utgåva på Gail Records hittar man också namnet Kiderian. Efter viss efterforskning visar det sig att det var ett skiv- och produktionsbolag som var baserat i Chicago. Det ägdes förmodligen av samma Ray Peck, som står som producent på utgåvan på Gail. Kiderian fortsatte faktiskt att ge ut skivor ända till slutet av åttiotalet.
The Conquests förträffliga poplåt är absolut ingen revolutionerande låt som kommer att förändra ditt liv, eller ens en låt som du skulle tagit med dig till den ökända öde ön, utan den är bara ytterligare ett bevis på att en förstklassig poplåt höjer humöret alla dagar.
Jag kan heller inte sluta tänka på vad medlemmarna själva trodde skulle hända efter inspelningen under den där okända dagen i skivstudion på den okända orten. Det finns ju några listtoppar på den amerikanska singellistan från andra halvan av sextiotalet – Hanky Panky, 96 Tears och In The Year 2525 (Exordium & Terminus) – som ursprungligen kom ut på småbolag. De högst simpla Hanky Panky och 96 Tears har ju heller ingen hög hitfaktor.
Kanske drömde grabbarna i The Conquest om att något storbolag skulle inse potentialen och ge ut den på nytt med bättre produktion. Nu blev förstås inte drömmen sann, utan de fick nöja sig med att en underlig typ i ett land långt bort hyllar den drygt femtio år senare …
Eftersom jag presenterat en riktigt obskyr låt med en grupp som bara gjorde en skiva, råder det brist på länkar till andra låtar. Därför avslutar jag med att presentera tre andra obskyra låtar i genren amerikansk orgelbaserad sextiotalspop. Först ut är The Jackson Investment Co, som följs av Napoleon I & His Relatives och vi avslutar med The Spectres.
P.S. Någon kanske reagerar på att jag skriver "han" i ingressen, men eftersom minst 80 procent av dem som kastar bort sina liv på att leta skivrariteter på nätet är män, tog jag mig friheten att skriva "han". Kvinnor har viktigare saker att syssla med …