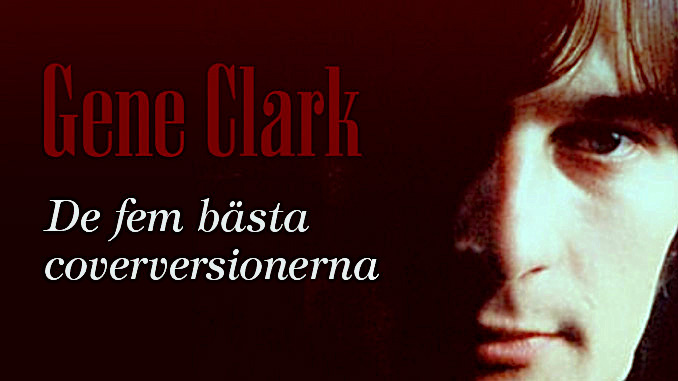 Listan innehåller både utgivna och outgivna coverversioner.

Jokers Are Wild [1985?]
Grunden till Jokers Are Wild (skriven av Pat Robinson och Dick Holler) utgörs av en oförskämt kommersiell poplåt. Men det är också en emotionell bullseye, där en livsbejakande refräng – snyggt paketerad i förtjusande harmonier – fulländar byggnadsverket. Tack vare sin förtroliga stämning blir Jokers Are Wild så mycket mer än en vanlig hitlåt. Det är en smärre skandal att den inte hamnade på duettalbumet So Rebellious a Lover.
Det finns också en demoversion av demoversionen, som kanske till och med är ännu bättre än den vanligare versionen.

Fair And Tender Ladies [1987]
Alltifrån den inledande akustiska gitarren, som anför tåget mot Melancholyville till Gene Clarks visslingar, har han med assistans av Carla Olsons utsökta röst förpassat alla andra versioner av traditionella Fair and Tender Ladies till skamvrån. Och trots att Genes pipa hunnit ta en hel del stryk under tjugo års missbruk, känns den mjuka och vemodiga rösten mer mänsklig och intim än någonsin.

Don't That Road Look Rough And Rocky [1972]
Don't That Road Look Rough and Rocky (excerpt)
Allra bäst – och ett opus där mina superlativer inte räcker till – är en varlig och asketisk nyinspelning av
Don't That Road Look Rough and Rocky
, som skiljer sig från den första trevaren på
Roadmaster
. På den nya versionen hör vi i princip bara piano och stråkar, men när Gene greppar munspelet blir det kronan på verket. Ännu en gång förmedlar han total närvarokänsla och hundra procent intimitet med lyssnaren.
Mr. Tambourine Man [1984]
Genes vågade grepp – att spela in en längre version av Mr. Tambourine Man med tre verser – visade sig vara ett genidrag. (The Byrds hade bara använt andra versen på sin version.) Till och med Bob Dylan själv har sagt att Clark gjort den bästa versionen. Jag hade svårt med det odynamiska, tidiga åttiotalsljudet i början, men det räcker att lyssna på Genes röst i inledningen så raseras allt motstånd.

Give My Love To Marie [1977]
Låten skrevs och spelades in av James Talley året innan Clarks version.
Undertecknad är förstås inte helt neutral i frågan, men Gene, och framför allt Tommy Kayes exemplariska produktion och David Campbells stråkarrangemang, gör Give My Love to Marie till något som är svårt att beskriva i ord.
Lägg framför allt märke till hur instrumenteringen, med stråkarna i förarsätet, eskalerar ända tills lyssnaren hamnar i ett euforiskt tillstånd efter den musikaliska förföringsmetoden, innan Gene får oss att hämta andan för en stund knappt fem minuter in i låten.