Efter att ha botaniserat i pop och rhythm 'n' blues och låtit männen dominera under några veckor, är det dags för en dam från Kanada att ta över rodret. Och hon har inga som helst problem att styra båten i rätt riktning!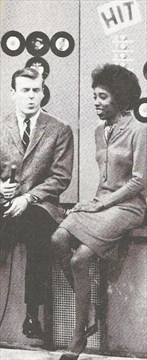 Jag blir imponerad av låtar där man lyckats pressa in vers, refräng och stick på så kort tid som möjligt. Det är ofta ett tecken på att låtskrivaren inte lider brist på bra idéer. Om jag får leka psykolog för ett tag kan jag tänka mig att låtskrivaren också är en rastlös själ som brinner för komponerandet. Ett av de bästa exemplen är The Beatles It Won't Be Long, där John Lennon pressat in fyra refränger, tre verser och två stick på drygt två minuter. Jag kanske borde ha skrivit "led brist på bra idéer", för detta hantverk nådde sin höjdpunkt under sextiotalet.
Den rastlösa kreativiteten gällde kanske också låtskrivarna Eddie Rambeau och Bud Rehak, som pumpat in många godsaker på Shirley Matthews debutsingel Big-Town Boy – en pang på-hit i trakterna mellan soul- och girlgroupsoundet. Låten känns mer än en pang på-hit, för efteråt undrar man vad det var för vidunderligt ljud som spreds i rummet. Och visst blev låten en hit – men bara i Matthews hemland, där den enligt Wikipedia blev en miljonsäljare. Med tanke på att Kanada bara hade cirka tjugo miljoner invånare när låten blev en hit, tillåter jag mig dock att tvivla på den siffran.
Olofssons Lost Treasures
Shirley Matthews1963
Big-Town Boy
(Bud Rehak – Eddie Rambeau)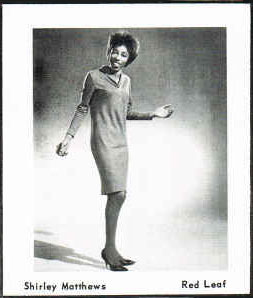 Jag blev förvånad över att se Rambeau som låtskrivare, för det enda jag kände till om honom sedan tidigare är att han gjorde en coverversion på Unit Four Plus Twos dunderhit Concrete And Clay, som skulle ta upp konkurrensen i hemlandet med det engelska originalet. Nu slutade i stället kampen oavgjort, i och med att båda versionerna blev halvhyfsade hits.
Shirley Matthews upptäcktes 1963 av producenten, låtskrivaren och skivbolagsägaren Bob Crewe (mest känd för sitt samarbete med The 4 Seasons och Mitch Ryder & The Detroit Wheels) i samband med ett uppträdande på en klubb i Toronto. På tal om Eddie Rambeau så har han och Crewe faktiskt skrivit låtar tillsammans. I oktober samma år spelades debutsingeln in i New York och några månader senare hade Big-Town Boy blivit en topp 5-hit i Kanada och getts ut på Atlantic i USA. (Singeln gavs faktiskt ut även i Sverige.)
Det finns en video med Matthews från en kanadensisk TV-show. Tyvärr låter det ganska risigt – det är förmodligen förinspelat live, vilket var relativt vanligt under sextiotalet – och Shirley ser ut som hon skulle vilja befinna sig var som helst förutom framför TV-kamerorna.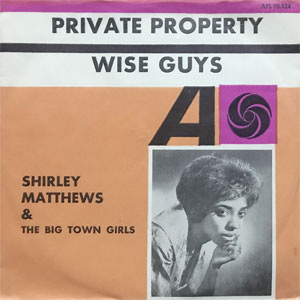 Matthews spelade in ytterligare tre singlar under de kommande två åren under Crewes regi, där (He Make Me) Feel So Pretty, med sitt Wall of Sound och "Be My Baby"-inspirerade intro blev höjdpunkten. Men även B-sidorna Wise Guys och Is He Really Mine är värda en lyssning.
Därefter valde dock Shirley Matthews att avsluta karriären för att bilda familj. Hon blev senare föreståndare för en racketbollklubb. Det finns en bra biografi över henne under videon.
Här kunde historien ha slutat, men så hittar jag en singel från 1986 på sajten 45cat med den australiensiske sångaren Peter Blakeley, där Shirley Matthews sjunger på en av låtarna. Nu visar det sig att det inte är "vår" Shirley, utan Sherlie Matthews, som under sextiotalet var medlem i tjejtrion Bonnie & The Treasures (mest kända för Home Of The Brave, vars version blev utkonkurrerad på Billboard av Jody Millers coverversion).