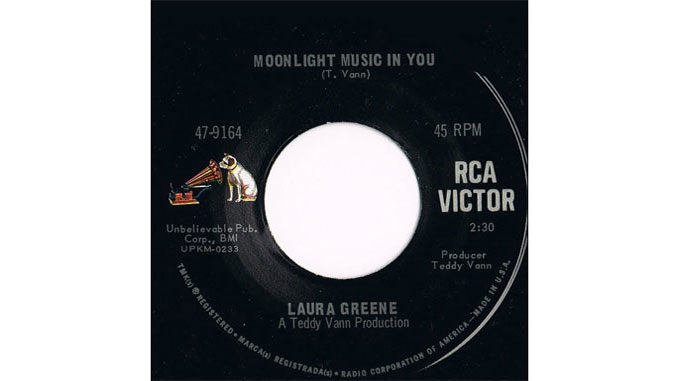 Jakten på den perfekta låten går ständigt vidare men skam den som ger sig. Efter ännu en hård kamp mot klockan hittade Olofssons Lost Treasures till sist en soullåt som lyste extra starkt i månskenet.
Moonlight Music And You med Laura Greene är en låt som är så oantastlig att mina superlativer kan göra lyssnaren misstänksam, men jag tänker ändå inte byta namn på denna artikelserie till Olofssons Loaded Treasures. Lyssna i stället på en låt, vars melodi är lika efterhängsen som alla trailers mellan TV-programmen på reklamkanalerna och har en sångerska som lyckas förmedla textens kärleksbudskap. Som lyssnare måste man dock ha visst tålamod, eftersom den knappt 30 sekunder långa inledningen är det enda svaga partiet.
Olofssons Lost Treasures
Laura Greene1967
Moonlight Music And You
(Teddy Vann)
Moonlight Music And You är inte en särskilt obskyr låt, då den har ganska hög status i northern soul-kretsar, men låten är säkert okänd för många andra beundrare av sextiotalsmusik. Det var faktiskt inte Laura Greene som gjorde originalet, utan det gjordes 1966 av amerikanska gruppen The Essex. (De hade toppat Billboards singellista tre år tidigare med smått banala Easier Said Than Done.)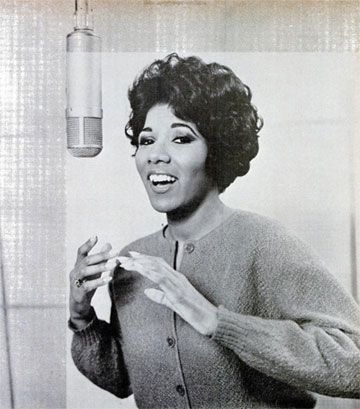 Greenes version är dock bättre i mitt tycke. Framför allt håller hon igen på ett föredömligt sätt, medan The Essex sångerska, Anita Humes med sin kraftfulla röst, mer påminner om en elefant i en porslinsbutik.
(Undertecknad erkänner att han ofta har svårt för sångare som tar i för kung och fosterland i onödan. Jag klarar till exempel inte av att lyssna på Janis Joplin mer än någon låt i taget, och får nästan ont i öronen när Tom Jones råmar alldeles för ofta, men det innebär förstås inte att jag har rätt.)
På originalpressningen av Laura Greenes version står det "Moonlight Music In You" på skivetiketten. Men de som lyssnar mer noggrant märker att Laura inte sjunger "in" utan "and", vilket förstås låter mer logiskt. På skivetiketten till The Essex original står det också mycket riktigt "and", vilket även förekommer på en del senare pressningar av Greenes version.
Laura Greene, med rötterna i Cleveland, dök ofta upp i olika reklamsammanhang under sextiotalet, vilket inte är underligt eftersom hon hade både rätt utseende och röst. När jag skriver "röst" syftar jag på sångröst, för hon sjöng nämligen reklamjinglar.
I ärlighetens namn vet jag inget om Greenes uppväxt, förutom att hon förekom på teaterscener och medverkade i musikaler. Laura var bland annat verksam vid den lokala teatern Karamu Theatre Group – Amerikas första teater för afroamerikaner.
Det finns en artikel om Laura Greene i tidningen Ebony från 1964, där hon kallas "The Singing Saleswoman". Redan på den tiden hade Laura alltså hunnit skapa sig ett namn genom att sjunga reklamjinglar. Det var en lukrativ bransch, där de mest framgångsrika sångarna kunde få en årslön runt 100000 dollar – en häpnadsväckande summa för ett civilt yrke på den tiden.
Laura Greenes debutsingel från 1964 innehåller två gamla örhängen, Earl Bostics Melancholy Serenade (skriven av legendariske mångsysslaren Jackie Gleason) och Bing Crosbys Sunday, Monday Or Always, vilket innebär att de kanske inte är intressanta för soulvänner.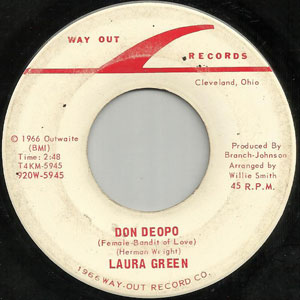 Att döma av kompositörerna på andra singeln, Don Deopo / Come Have A Drink With Me, verkar det också handla om andra genrer, främst jazz. En säljare har dock satt ett pris på 125 pund på Discogs, vilket skulle kunna tyda på att det trots allt handlar om soulmusik.
När Laura spelade in sina första singlar hade hon alltså redan hunnit göra avtryck i reklambranschen, vilket följande beskrivning visar:
"Laura Greene is a ravishing, raven-haired young woman of African, Irish, and Indian descent. Her exquisite beauty frames a talent that is exciting, vital, and vibrant. Show business is her life! Without being aware, literally millions of people have heard or seen Laura Greene on numerous commercials. She has presented the commercial messages for such companies as Campbell Soups, Brylcream, Anacin, Nescafe and Nationwide Insurance. As one of the best paid performers in advertising, she has been named by those in the business, 'Queen Greene.'"
Det är förmodligen först på tredje singeln som Laura Greene anammade det dåtida soundet. Visserligen är A-sidan, en version av Mickey & Sylvias då tio år gamla rhythm 'n' blues-hit Love Is Strange, inget som känns speciellt nyskapande, men om man vänder på singeln hittar vi Moonlight Music And You.
Låten både skrevs och producerades av Teddy Vann – en man med lång karriär som låtskrivare och producent. Han var bland annat medkompositör till Luther Vandross stora hit Power Of Love / Love Power från 1991.
Man ska inte haka upp sig på alla priser som finns, bland annat på Discogs och Ebay, men jag kan tänka mig att man får hosta upp några tusen kronor för Moonlight Music And You i bra skick. (En säljare på Ebay satte ett pris på 408 pund i mars 2019!)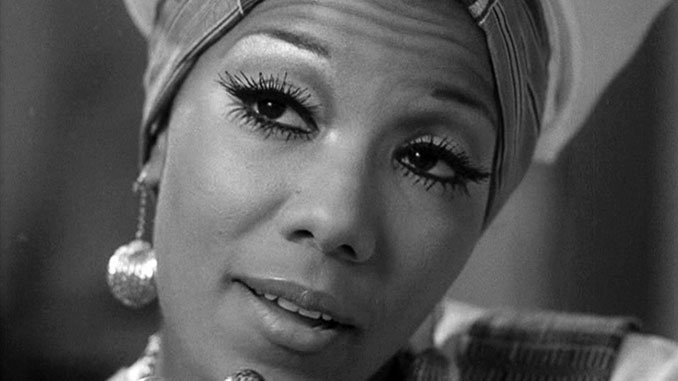 Laura Greene hade fyra parallella karriärer i slutet av sextiotalet. Hon var inte bara sångerska utan sjöng också reklamjinglar samt arbetade som fotomodell och som skådespelare.
Laura gjorde filmdebut 1968 i For Love Of Ivy, där Sidney Poitier hade huvudroll. Året därpå medverkade hon i kultfilmen Putney Swope, som kan sägas ha banat väg för de så kallade blaxploitation-filmerna i början av sjuttiotalet.
Putney Swope finns faktiskt uppladdad på YouTube. Vill ni se en halvnaken Laura så … nej, det får ni själva leta upp.
Vi kunde också se Greene som gäst i flera talkshower, som Tonight Show, Mike Douglas Show och Merv Griffin Show. Hon gästspelade dessutom i ett par såpoperor.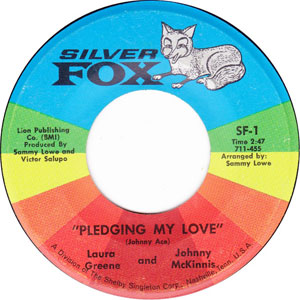 Laura Greenes skivkarriär blev ändå sporadisk. Det dröjde till exempel två år mellan Love Is Strange och nästa singelutgåva. Som uppföljare spelade hon in ännu en rhythm 'n' blues-klassiker från femtiotalet, Johnny Aces Pledging My Love. Laura gör en duett med för mig okände Johnny McKinnis.
Förutom det smått pinsamma rap-partiet i mitten på låten behöver de inte skämmas, men vissa klassiker ska man bara hålla sig undan. I en tid när The Temptations spelade in tuffa soullåtar med samhällskritiska texter och Sly & The Family Stone var på väg att få sitt stora genombrott med sin tunga blandning av soul och funk, kändes Pledging My Love hopplöst malplacerad tidsmässigt.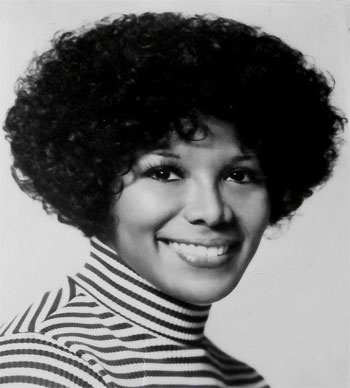 Laura Greene skulle bara spela in ytterligare fyra singlar, med så skilda utgivningsår som 1970, 1972, 1976 och 1980. Den andra av singlarna, Memories And Souvenirs, har ett väldigt tidstypiskt sound och hade faktiskt förtjänat ett bättre öde, även om jag hittar vissa lån från en dåtida stor soulhit.
I ett nummer av Billboard magazine från augusti 1979 kan man läsa att Greenes album Trap Of Love snart ska ges ut, men de planerna verkar ha skrinlagts. Discogs har en bild på en lackskiva med henne, men jag vet inte om den har något samband med det outgivna albumet ovan.
Jag hittar ingen konkret information om Laura Greenes förehavanden under de senaste decennierna, men det verkar som om hon fortsatte inom showbusiness. Hennes komposition Don't Look Back ska ha erhållit pris i en låtskrivartävling, initierad av Billboard, men jag hittar inga fler uppgifter i ämnet.
Moonlight Music And You fick dock en renässans 2003, när låten användes i reklam för Kentucky Fried Chicken.