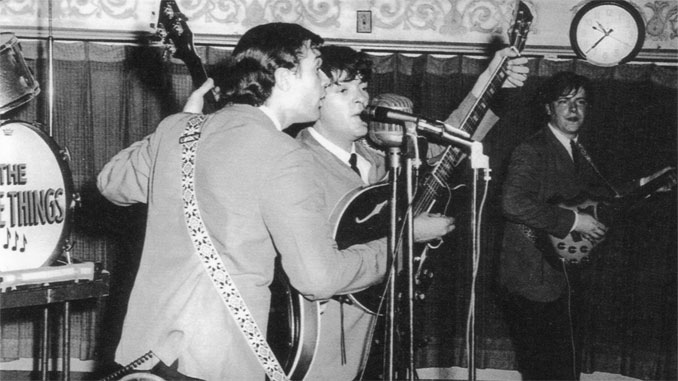 Undertecknad, som många gånger jagat den perfekta hybriden mellan The Beatles och The Byrds, lyckades ännu en gång fälla bytet när han stötte på veckans aktuella låt och kan nu låsa in bössan i vapenskåpet.
The Beatles levererar melodin medan The Byrds står för gitarr- och tamburinsoundet. Addera en dos The Searchers samt de mer okända men ändå briljanta The Beau Brummels, så får ni det bästa receptet på en perfekt poplåt. Maträtten kallas Desert Wind och kockarna är den amerikanska gruppen The Blue Things. Det finns förstås många låtar från sextiotalet som passar in på ovanstående beskrivning, men det som skiljer Desert Wind från andra låtar är att den aldrig gavs ut.
Olofssons Lost Treasures
The Blue Things1965
Desert Wind
(Val Stecklein)
Gruppens sångare Val Stecklein hade faktiskt spelat in en version av Desert Wind redan 1963, tillsammans med gruppen The Hi-Plains Singers. Gruppen blev dock bara en mycket kort parentes, eftersom Steckleins huvudsakliga bidrag till pophistorien blev som medlem i förstklassiga Kansasgruppen The Blue Things samt som soloartist. (Val Stecklein hette egentligen Valerian Stecklein men kallade sig "Stöecklein" när han blev soloartist.)
Jag hade tänkt undvika att länka till nyare versioner av låtarna i Olofssons Lost Treasures men gör ett undantag och släpper fram YouTubern Golly McCrys karbonliknande men ändå fina tolkning.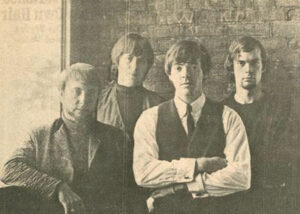 The Blue Things bildades 1964 som The Blue Boys men bytte snart namn för att inte bli förväxlade med Jim Reeves kompgrupp med samma namn. Sent samma år spelade de in debutsingeln på det lilla bolaget Ruff (som ägdes av Ray Ruff – en man som kommer att dyka upp igen i artikeln), en version av Young Jessies Mary Lou. Dessvärre låter den en smula hafsig och saknar originalets inlevelse och bitterhet.
Det var först med tredje singeln, I Must Be Doing Something Wrong, hösten 1965 som gruppen hittade hem; ett folkrocksound med tuff attityd.
Gruppen tog ytterligare ett kliv i utvecklingen med nästa singel, politiskt laddade Doll House, som handlar om en prostituerad ung kvinna, fångad i sitt "dockhus". Den inledande texten, "She doesn't care if the lives anymore. She can't go back to the world outside the door … of her doll house", samt låtens tema fick inte discjockeys på radiostationerna att kasta sig över singeln och låten föll platt till marken. Doll House har en perfekt distinkt ljudbild och Val Stecklein visar vilken fin sångare han var; som en desillusionerad Gene Clark korsbefruktad med den utmärkte Beau Brummels-sångaren Sal Valentinos mer nasala röst.
B-sidan, Man On The Street, med sin arga text och påträngande melodi, påminner om de satiriska texter som Ray Davies börjat skriva några månader tidigare. Men där Rays texter kan vara både humoristiska och dubbeltydiga mot välbemedlade människor, uttrycker The Blue Things bara förakt.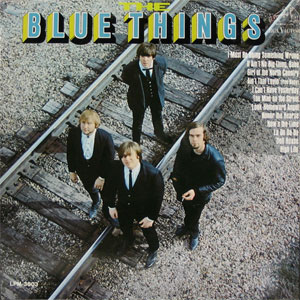 Trots uteblivna framgångar, förutom i hemstaten, fick The Blue Things göra ett album. Det innehåller låtarna från de två senaste singlarna plus en handfull fina kompositioner, som Look Homeward Angel, I Can't Have It Yesterday och Now's The Time.
Albumet skulle ha kunnat bli en smärre klassiker men spretar tyvärr lite åt för många håll, med coverversioner på så olika sorts låtar som Girl Of The North Country och Ain't That Lovin' (You Baby).
Gott så, men när jag lyssnar igenom den ganska stora mängd outgivna låtar med gruppen, blir jag ändå en smula frustrerad. The Blue Things hade nog material för ytterligare ett album, vilket understryks av låtar som Pennies, Silver And Gold, So You Say och You Can't Say We Never Tried.
Jag kan verkligen rekommendera dubbel-CD:n Let The Blue Things Blow Your Mind, som innehåller allt man behöver och som fortfarande går att införskaffa för en billig penning.
När tidens obevekliga tand gjort folkrocken omodern, övergick The Blue Things till det psykedeliska innesoundet och fick en rivstart med spännande men tämligen okommersiella The Orange Rooftops Of Your Mind. B-sidan, One Hour Cleaners, låter som en vildare mix av The Beatles Paperback Writer och Taxman.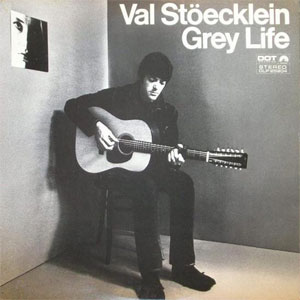 Efter att Van fått ett nervsammanbrott under en turné tidigt 1967 lämnade han gruppen. Han återupptog kontakten med Ray Ruff, som nu arbetade på skivbolaget Dot, och fick ett skivkontrakt. Resultatet blev albumet Grey Life.
Jag har läst AllMusics negativa recension, där man menar att albumet är klumpigt producerat och alldeles för självsvåldigt, men strunta i den för ett tag. Lyssna på inledningsspåret Say It's Not Over och låt er förföras av Vals bräckliga röst och de svepande stråkarna. Jag undrar förresten om inte Danny Whitten lyssnade på låten innan han skrev I Don't Want To Talk About It. Det finns kritiker som också uppskattar plattan.
Now's The Time och I Can't Have Yesterday från The Blue Things repertoar återkommer i nya, bättre versioner. Här finns också två nya versioner av låtar som Val spelade in med gruppen men som aldrig gavs ut; Sounds Of Yesterday och I'll Make It Up To You. Min favorit är ändå Possibility I Was Wrong.
Visst, under senare delen av albumet drabbas man av viss mättnadskänsla av den röst- och textmässiga självspäkningen i svartsyn, men det är bara marginell kritik. Låtarna till albumet skrevs dessutom under en mörk period i Vals liv.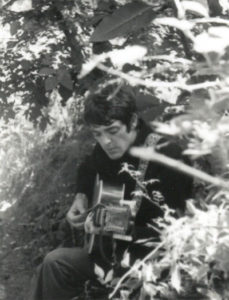 Soundet på Grey Life påminner till viss del om de orkestrerade låtarna Echoes och So You Say You Lost Your Baby från Gene Clarks första soloalbum With The Gosdin Brothers. Det finns faktiskt fler likheter mellan Stöecklein och Clark förutom rösterna: de saboterade sina karriärer och var troligtvis bipolära.
Skivbolaget såg stor potential i talangfulle och bildsköne Val Stöecklein och hade planerat en omfattande turné för att lansera albumet, men han hoppade av i sista minuten …
Stöecklein återkom dock två år senare på gruppen Ecologys album Environment Evolution. (Jag tror dock att YouTube-kanalen har missat att ladda upp en av plattans tio låtar.) Han har bara skrivit två låtar men sjunger på merparten av dem. Gruppen verkar ha varit ett rent studioprojekt, lett av gitarristen Jerry Cole och den ständigt återkommande Ray Ruff. Det är ett angenämt album, som bitvis låter som en countryrockversion av Vals soloalbum.
Året därpå medverkade Val Stöecklein på albumet Truth Of Truths – en rockopera med religiösa undertoner, vars eventuella potential jag låter andra bedöma. Val har skrivit fyra av spåren, bland annat Resurrection, och medverkar också på sång och som arrangör.
Under de kommande tjugo åren förde Stöecklein en kringflackande tillvaro, som dessvärre slutade i självmord 1993 – 52 år gammal.