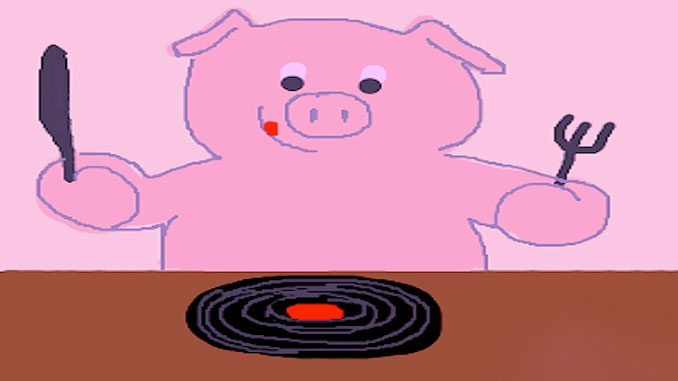 Lindsey Buckingham got kicked out of Fleetwood Mac (again), The Monkees made their first-ever Christmas album (!), and I am still waiting for that big Turtles Battle of the Bands Commemorative Special Anniversary Collectors Edition. In the meantime though, I remained happily singing along beneath headphones to (in strictly Alphabetical order)…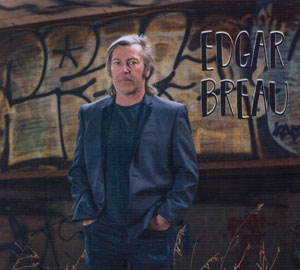 EDGAR BREAU
Edgar Breau
[Flying Inn Recordings]
Understandably kept quite busy piloting Simply Saucer since his Patches Of Blue in 2012, this marvelous return to root launches from the man's consistently astonishing acoustichords into realms only hinted at on previous releases. Meticulously, beautifully recorded by Jordan Mitchell and Adam Bentley at their TAPE Studio, the often haunting aural landscapes – evident often during each track's decaying moments, so as to ensure the listener's listening – support and perfectly compliment the album's deceptively tranquil lyrics. And Edgar's eye, not just ear for detail has rarely been as keen (Days Of Golden Sunlight) nor as sharp (Mount Idaho); even when cast with W. B. Yeats (He Wishes His Beloved Were Dead)! Kim Deschamps' pedal steel adds ideal touches, to the N.ville North of Martha's Back for instance, and Colina Phillips' vocal harmonies are of course, and I quote, knockout. Not since my most recent digital encounter with Johnny Dowd have I spent such a fulfilling three-quarters of an hour with the lights out, and the campfire slowly fading.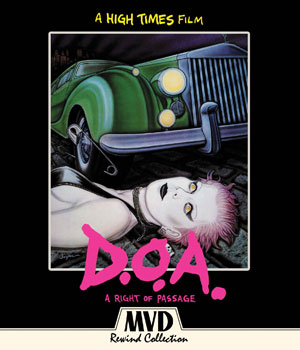 "D.O.A.: A RIGHT OF PASSAGE"
[MVD Rewind]
Celebrating, if that's the correct word, the 40th (!) anniversary of the Sex Pistols' ill-fated inaugural tour of the U.S. – and subsequent implosion – this more-than-bountiful Blu-ray + DVD edition contains still-incendiary mosh-eye footage of John Paul Steve 'n' Sid wow'ing (all the while confusing, baiting, and too often inflaming) the unsuspecting denizens of Atlanta, San Antonio and Dallas et al, then heads to the very heart of the matter – the decaying rot of James "No Future" Callaghan's once Great Britain – to watch Generation X record Kiss Me Deadly, ex-Pistol Glen Matlock's Rich Kids attempt a pretty lame Pretty Vacant, and X-Ray Spex, the Dave Clark Five of the New Wave, belting out their cheeky Oh Bondage Up Yours. The bonus Punk Documentary That Almost Never Was featurette (actually, it's longer than the main attraction!) is absolutely Required Viewing as well, if only to discover the hidden connection between p-u-n-k and High Times Magazine, followed by – wait for it! – vintage footage of Barbara Walters interviewing Malcolm McLaren.
FLAMIN' GROOVIES
Fantastic Plastic
[Sonic Kicks/Severn Records]
Technically a 2017 release, which didn't arrive at the sty til early oh-18… but it's still not a minute too late to miss! Jumpin' just like the Groovies we all know and will always love, right off the bat What The Hell's Goin' On shakes solid not-so-slow death, maximum mid-range on each and every guitar with the rhythm a compressed Wall of Deep Sound. Even when riding NRBQ's I Want You Bad, or their ol' Bay Area Beau Brummel pals' Don't Talk To Strangers, the impressively intact C. Wilson/C. Jordan vocals most notably retain a sense of substance and style which has punctuated this band for (how can it possibly be?!!) fifty-plus years and counting. Sure, while the retro MAD Jack Davis/Beatles '65 packaging may well point direct towards the Larry Williams bass beneath Crazy Macy, the Street Fighting Man licking Let Me Rock, and the wonderfully Flamin' Springfield She Loves Me – to say nothing of the big beat ballads Lonely Hearts and I'd Rather Spend My Time With You, Fantastic Plastic bends, not buckles with the undeniable durability and strength of the Flamin' Groovies …NOW.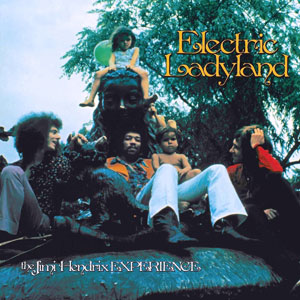 THE JIMI HENDRIX EXPERIENCE
Electric Ladyland
[Legacy Recordings]
As the boomers – or at least their hearing – slowly but surely all f-f-fade away, what remains of the recorded music industry scramble to squeeze the last remaining blood off the tracks of warehoused catalog items prior to shuffling them permanently out to audio pasture. Hence the ongoing onslaught of Deluxe Remastered Super 50th Anniversary Numbered Limited Special Signed Commemorative Collectors Editions of each and everything from that White Album to Big Green Village Pink on down. But! One such big bonus Yule box deserves a fate much better than play-once-stick-up-on-some-shelf; in fact, its contents have aged not one note since first appearing upon countless turntables a half-century ago. Produced and directed in true cinematic fashion by Jimi alongside studio savant Eddie Kramer, a 2018/19 visit to Ladyland is every bit as mind-boggling and, yes, ear-shattering as it was circa '68. And its Electric extras, including demos, out-takes, grungerful Hollywood Bowl concert plus expanded Making of Electric Ladyland Blu-ray only serve to enhance and enlighten this bona fide classic. Why, even its original Jimi-approved (but never used) front cover has been reinstated: another example of how this is one 50th Anniversary done entirely right.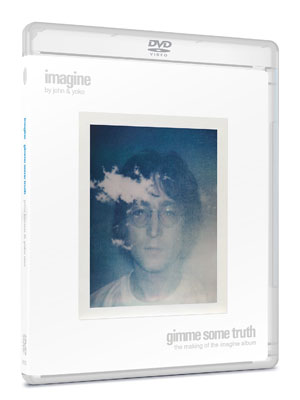 JOHN & YOKO
Imagine / Gimme Some Truth
[Eagle Rock Entertainment]
And! Not to be one-upped by that above-mentioned White anniversary, the Lennon quarter of our forever Fab equation is more than fairly represented by these 152 (!) minutes of gorgeously upgraded sight and sound, centered on and around the recording of his most popular-ever long-player. The original 1972 Imagine film – the world's first "video album" as it turns out – is still a joy to behold, guest-starring Dick Cavett, Jack Palance, George Harrison and, ever the debonair perfectionist, Fred Astaire …though it's still not entirely clear who that man and/or woman wandering around London in a black bag is. 1999's Gimme Some Truth: The Making of John Lennon's 'Imagine' Album is just that; to watch things getting, um, testy as Phil Spector tries voicing his high Oh Yoko! harmony in the Lennons' right-by-the-kitchen Ascot Sound Studio is, as Yoko says, "home cookin'." Self-indulgent, ultra-big-budget glorified home movies, you say? Well, I say Where else are you going to be able to watch Miles Davis shooting hoops with John Lennon as Andy Warhol skulks in the shadows with Jack Nicholson, shooting off Polaroids?!
CHRIS RICHARDS AND THE SUBTRACTIONS
Peaks And Valleys
[Futureman Records]
Barely a minute into this disc and we're already thoroughly, willingly submerged by every single Vox-happy, ooooh-ahh'ing, tom-tom'd beat; long a specialty of Chris', but the first we've heard from this incarnation of his since 2012's Get Yer La La's Out. And now with Andy Reed – yes, he of Bay City's Reed Recording facility – on board, the musical team is complete, and completely compatible. Andy's keyboards, be they a Wing-y Moog on the Weekend, dash of Mellotron (The Coast Is Clear) or strings Wrapped In A Riddle color but never overwhelm he and Chris' angular axes and luscious vocals. Yes, those vocals! Meanwhile, Maybe That's All is the BEST track Cheap Trick hasn't cut …yet, and Call Me Out stars guitar lines worthy of, dare I compare, ex-Mac Lindsey. But it's throughout the four infallible minutes of In A Sense all of these Subtractions', er, pluses ring finest as Larry Grodsky's drums pitch against, then wash amongst the 6-strings, Todd Holmes' lock-step bass, and (speaking of Bay City again) wholly Roller-worthy backing choral. Bonus Points are due too towards Chilton/Bell's Thirteen: it takes a big band to tackle Big Star, but it's just one of many many peaks Chris has hit herein. As he regularly does.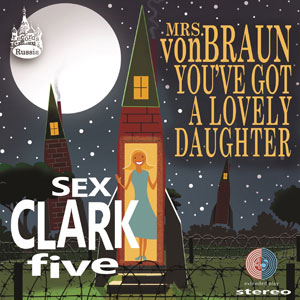 SEX CLARK FIVE
Mrs. Von Braun You've Got A Lovely Daughter
[Records to Russia]
Four songs, Seven inches, Nine minutes: my still favorite pop diggers from Alabama offer vinyl obsessives ample reason to heave their latest too-big-stickered Record Store Day hauls off the turntable, making way for something altogether groove-ier. Track-by-lovely-track then, the final 30 seconds of Saint Barbara would not have sounded a tad out of place inside a Saucerful Of Secrets or even The Who Sell Out, why Quasar wasn't chosen as The Big Bang Theory theme I'll never know, cue up Painting if you ever wondered what Del Shannon (!) produced by Joe Meek (!!) would've sounded like, and Paper Rock Saber takes a mere three-minutes-five to flawlessly encapsulate those first four Doors albums …with Sexier lyrics and vocals, it should go without singing. Which reminds me: Their grand new Live! album (SC5 in NYC for CMJ on 11/1/91) should be grabbed ASAP as well. "A typically out of control show," in their own wide words.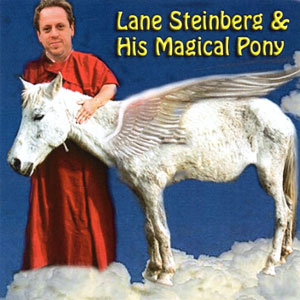 LANE STEINBERG
Lane Steinberg & His Magical Pony
[Lane Steinberg]
Leave it to Lane to again provide me with just about the fun-nest, most rewarding forty minutes I've spent (after taxes) all year. This time 'round and 'round however, the man is joined by a stellar assortment of fellow DIY-at-home writers and players: R. Stevie Moore, Irwin Chusid, the remarkable David Grahame and, for a splendidly understated little trio of Broadway-bound trinkets, the piano of Tot Taylor. One screen over, You're Not Connected To The Internet sports a decidedly dial-up sound, Everyone Thinks I'm Happy Now rests upon one phenomenal cat indeed, Crazy As A Shithouse Rat must certainly be The Title – perhaps even Zeitgeist? – of The Age, and Another Early Autumn with perhaps even Portofino makes one won-won-wonder why Lane isn't writing (for starters) Brian Wilson's next couple of albums. After all is said and sung, I will conclude by saying Magical only begins to describe the ever-melodious goings-on in and around this astounding collection …and, come to think of it, this one too.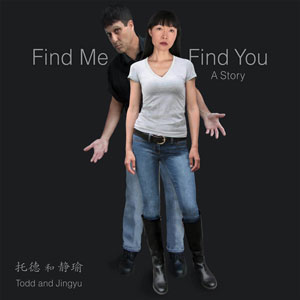 TODD AND JINGYU
Find Me Find You: A Story
[Todd Lerner Music]
Delicate yet disarming, always enchanting yet occasionally striking; purely adjectively speaking this seemingly merry skip down a romantic trail belies the over ten years it took to write and record. For not a solitary word or chord is ever overwrought or self-consciously labored. The piano-focused à la Left Banke Michael Brown/Odessey and Oracle Rod Argent arrangements – which, most cleverly, build and bloom as the album progresses – remain sparse, while often nuanced (the vocals especially). Speaking of which, Jingyu and Todd's voices mix, match, then will overlap and counterpoint …the better to subtly conjure the musical dialog their dance relates. Then, as in Everything Is Good, a simple whistling "da-da-da" can, and does, suffice. Then, a minute later, Where It Goes demonstrates a remarkably complex, though again seamlessly tossed-off mastery of time and tempo. Find Me Find You is truly unlike anything I have heard this year; I now hope you hear it soon yourself. P.S.: and, as the couple themselves suggest when cueing up the tracks, "if one listens in order they tell a fully-integrated story on finding romantic love."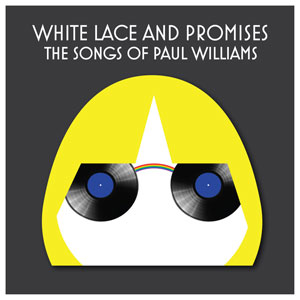 "WHITE LACE AND PROMISES: THE SONGS OF PAUL WILLIAMS"
[Curry Cuts]
For those who may have in 2018 – or, for that matter, 2019 – question the very concept of the "tribute album" (not to mention the compact disc itself), I would suggest even a cursory listen to any of the twenty-three tracks on this downright delight-filled, yes, tribute to iconic songwriter / singer / actor / supreme 70s talkshow guest Paul Williams. Everything about this endeavor, right down to Craig Dorfman's insightful introductory notes reflect much, much love within its labors. As its subject unquestionably deserves. From the Davenports' Evergreen clear through Brandon Schott's I'm Going To Go Back There Someday the material, as challenging as it may be stands not only the test of four decades' time, but also the approaches, often whimsical yet always respectful, each participant offers. And while several bravely recast, as in "update" I suppose one could say (Cait Brennan's Old Fashioned Love Song and even more so XNYMFO's Dangerous Business) the existing templates, wisely none ever stroll too far from the indelible, impactful originals. Even Sitcom Neighbor, as they take my All Time Fave PW tune Out In The Country straight back to America …as in Gerry, Dewey etc. that is. Paul Williams is most deserving of such a talent-heavy nod, of that there can be no doubt. Thankfully, Andrew and all at Curry Cuts have now produced it.