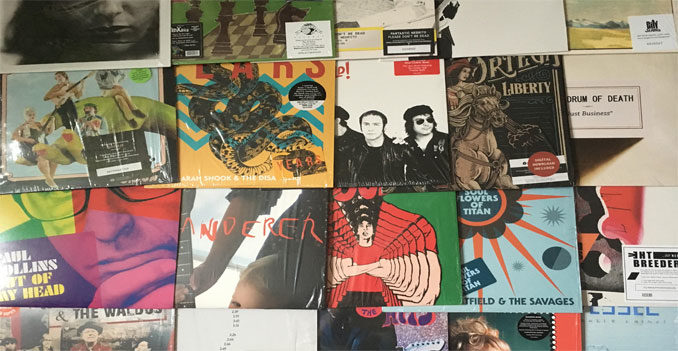 A personal sample of the recently recorded finest albums that was released in 2018. Selected with the same procedure as previous screenings of 2017, 2016 and 2015.
01. Harlan T Bobo – A History of Violence
When Harlan T Bobo investigates the darker parts of society, his findings appear as a blow in solar plexus.
02. Ar-Kaics – In This Time
Archaic sound indeed, reminding of a cross breed between the '60s band The Seeds and The Black Lips.
03. Fantastic Negrito – Please Don't Be Dead
Xavier Dphrepaulezz's second Fantastic Negrito album is modern blues with drum machines and consequently nothing for purists.
04. John Paul Keith – Heart Shaped Shadow
Fourth time around, John Paul Keith sets the Memphis music blender on gently and approaches now and then Roy Orbison's way of breaking hearts the Telecaster way.
05. Calexico – The Thread That Keeps Us
The indie mariachi sound has limited exposure on their ninth album, instead you get genre fusion with a topping of dystopic pop contemplations.
06. Shannon & The Clams – Onion
Playful and easy accessible Californian pop music in places with Del Shannon (no relation) nerve; produced by Dan Auerbach, who also produced the solo album Shannon In Nashville (that appears on this list's # 19).
07. Sarah Shook & The Disarmers – Years
It seems like this, her second album, will help to pick up speed in her career destined to carry on advancing straightforward and raw country.
08. Kurt Baker Combo: Let's Go Wild!
Turning up the amplifiers a little bit on Let's Go Wild! makes KB Combo sound harder than before, but this is OK since it is not impinging on the melodies.
09. Lindi Ortega – Liberty
Liberty has a consistent western movie format both in the way how the story-telling is carried out and in the spagettish sound.
10. Bass Drum Of Death – Just Business
Starting on their second decade, Bass Drum Of Death shows some signs of progression into mainstream, but they pretty much continue to produce the noisy sounds they always have.
11. Paul Collins – Out Of My Head
As one of the reliable purveyors of power pop, Paul Collins has finally released a follow-up to Feel The Noise (2014).
12. Cat Power – Wanderer
Without over-explicit manners this album finds its way to the observant listener by a set of mature and self-confident songs.
13. Albert Hammond Jr. – Francis Trouble
Not totally rehabilitated from his former group – you can still hear strokes from them – in combination with an existential backdrop, sums up to a very good album indeed (but it is not close to his stunning debut Yours To Keep from 2006).
14. Barrence Whitfield And The Savages – Soul Flowers OF Titan
Good ol' rock and roll with a significant r'n'b touch from Boston's own Barry White. Produced by Peter Greenberg – whose guitar work is as always also enjoyable.
15. The Breeders – All Nerve
Same line-up as on Last Splash (1993) performs New Deals from Kim with the anticipated surprising twists that spice up the songs.
16. Walter Lure & The Waldos – Wacka Lacka Loom Bop A Loom Bam Boo
Forewarned by Andy Shernoff in the PopDiggers retrospective of The Waldo's album Rent Party (1994); a new one where Rent Party left off is out there for of all us with faiblesse for The Heartbreakers' sound.
17. Jon Spencer – Spencer Sings The Hits
Despite the somewhat different musical setting on this album, Jon Spencer churns out his habitual chopped up rock and roll – always with an experimental edge.
18. No Age – Snares Like A Haircut
Duo-sonic sounds on this, their fifth album, with plenty of chances for JAMC-fans with a slight shoe-gazing handicap to get involved into.
19. Shannon Shaw – In Nashville
Shannon Shaw without The Clams impresses on this carefully crafted and elegantly produced album with a load of Etta James quality hints.
20. Frankie Cosmos – Vessel
For us that are charmed by blue-eyed and light-weight Sub Pop – now with one foot outside the girl bedroom.