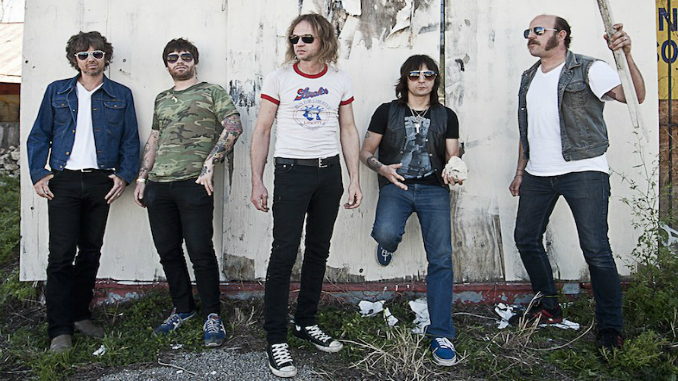 01. THE BARRERACUDAS – Can Do Easy
Second album from this Atlanta quintet led by Adrian Barrera really shows what fun is in garage pop.
02. LOW CUT CONNIE – Hi Honey
An eclectic collection of songs on their third album that strangely enough reminds me of Exile on Main Street.
03. HANNI EL KHATIB – Moonlight
His self-produced third album has a sinister and somewhat minimalistic clinical feel to it that is proportional to the listening volume.
04. JESSE MALIN – New York Before The War
A hard to resist record for those of you that love classic New York rock/pop.
05. THE SONICS – This Is The Sonics
Producer Jim Diamond does wonders with this garage band that started out already in the sixties.
06. LINDI ORTEGA – Faded Gloryville
Canadian country singer songwriter takes next step to fame escorted by her Dolly Parton attitude.
07. EILEN JEWELL – Sundown Over Ghost Town
Ever touring Queen of the minor key is back after giving birth to daughter Mavis and have come up with an album title that oddly resembles Ortega's.
08. THE YAWPERS – American Man
This Boulder blues-rock threesome builds energy a la The Gun Club mainly by acoustic guitars and drums.
09. FRANKIE LEE – American Dreamer
This critical view on the American Dream is embedded in classic folkish rock and will not be the last thing we hear from this debutant.
10. WILCO – Star Wars
The less complicated Wilco are, the better they sound; especially when they keep the songs short and soak them in pop as here.
11. THE KING KHAN & BBQ SHOW – Bad News Boys
Long lasting tongue in cheek punk duo is back after six years with some new old garage noise, occasionally with crazy doo wop harmonies attached to it.
12. HEX DISPENSERS – III
Texan punk garage trio execute a set of songs that is a little bit softer than those on previous records and they also take a little time to sink in.
13. GIANT SAND – Heartbreak Pass
Giant Howe Gelb shows up as a globetrotter geographically and musically backed by his ever-changing array of musicians.
14. JOHN KRAUTNER – Fun With Gum Vol. 1
A set of infectious pop songs from this member of The Go that are guaranteed to make your life less complicated.
15. BARRENCE WHITFIELD & THE SAVAGES – Under The Savage Sky
Senior Whitfield is back with an album that is not as strong as the one before, but the guitar of former Lyres Peter Greenberg is uplifting as always.
16. MIKAL CRONIN – MCIII
More than halfway to MC5, Mikal Cronin has some really good pop moments although the record sometimes gets too bombastic.
17. CALEXICO – Edge Of The Sun
Easy accessible and diverse record with the usual desert mood from the long-time musical telepathic communicating compadres Burns and Convertino.
18. YO LA TENGO – Stuff Like that There
As the follow up to their Fakebook album (1990) this one also mainly consists of covers and some originals.
19. JOSH RITTER – Sermon On The Rocks
Ritter discover religious peculiarities using a biblical rock as vantage point and then sings about them in a humorous way.
20. AMY LaVERE & WILL SEXTON – Hallelujah I'm A Dreamer
Some of the songs are rehashed from her earlier albums but all tracks have an intimate atmosphere due to the tone-downed production.