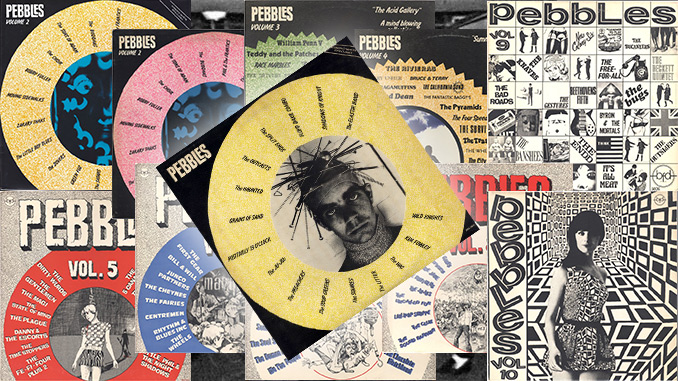 Welcome to the second lesson in the Garage Rock School series! During this lesson we will spend some time digging even deeper into our beloved topic. We will extrapolate the, hopefully useful, conclusions and experiences we drew lately from Lenny Kaye's classic Nuggets compilation (scrutinized in the first lesson). Feel free to update yourself on the Nuggets matter here, because it is advisable to be on terra firma in order to appreciate present lesson fully since it builds on the previous one. Sort of.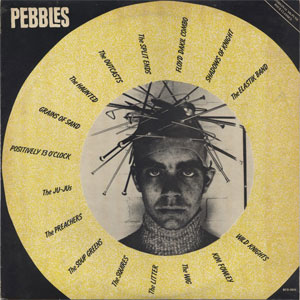 Just like Lenny Kaye acted guest professor in lesson one, we have the privilege to welcome Suzy (Bomp!) Shaw as mentor for the present lesson. She will guide us with the help of firsthand quotes and other pieces of important information. Garage Rock School is of course very grateful for the opportunity to tap into such expertise.
Our mandatory note about your personal security means that the emergency exit has been exchanged for optional music intermissions (found as a clickable links in the text). These can hopefully become handy if you feel claustrophobic or experience information overflow during the lesson. Well, enough about practicalities; please be seated.
Goal and introducing the fine art of dumpster diving
The goal of this lesson is thus to deepen our understanding and knowledge about '60s garage punk rock – henceforth slackly shortened to "garage rock"; also for discriminating between these bands and '70s band like The Ramones in the US and The Sex Pistols in the UK. If (NB) some parts of the Nuggets compilation (from 1972) can be regarded as the result of foaming the cream of garage rock, a wealth of nutritious garage rock items remained to be discovered – just sitting somewhere waiting to be included in subsequent compilations and readymade to be absorbed by eager ears. In order to materialize a compilation with a long lasting imprint, reaping these, many times elusive, fruits require a good portion of enthusiasm in combination with deep knowledge of the field. All this must rest on a solid base of exceptional endurance. Let us call this gathering practice the art of passionate dumpster diving – in this case with a garage rock bend.
Which takes us to the additional goal of this lecture; introduction of the working conditions a serious compiler was subjected to during that time. We will explore this one step further in the last section where you practice a lighter version of mining as the traditional task at the end of each lesson invites you to test.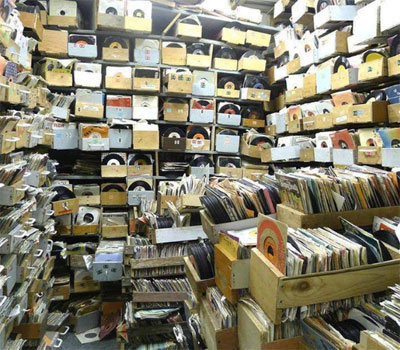 Dumpster diving in the mid-'70s meant mining large quantities of physical vinyl artefacts (predominantly 45s) in often murky marketplaces filled with unsorted new or secondhand records just waiting in dusty bins to be cherry picked. Fronted by these immense quantities of records, an uncommitted compiler may have been overpowered and deterred. We have to remind ourselves that when the first generation of classic garage rock compilations started to take off, the compiler didn't have any digital music files to upload as references, no YouTube clips to watch or listen to for guidance.
Neither Discogs nor 45cat were present for consultancy. Moreover, discographies were not digital in these pre-computer days and were communicated by type-writer written lists on paper that most often circulated within a small clique of devotees.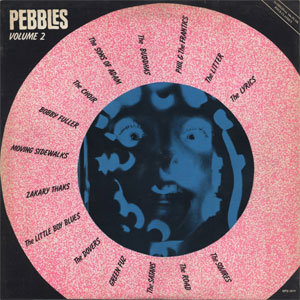 Remote/silent sensing (that is without listening; just looking at the group name, record company and song title – and also the center label or occasional cover) of unfamiliar items could in some instances be the compiler's last resort – not at least from a time-saving perspective. Given the vast quantities of records to mine, taking chances must have been the norm in the serious search for premier stuff to include in a compilation. Bargain prices on bundles may have lowered the dumpster diving aficionado's purchasing threshold when culling from these substantial stocks of records. Just like a princess that has to kiss a lot of frogs.
Memento: Let us never forget that it is the listeners of the compilation that harvest the fruits of the hard and sometimes tedious labor that the compiler has invested into assembling the compilation. Well, the collector romanticism quota is about to be filled. Let's go down to business.
Hindsight – Give credit to whom credit due
Alert students have already – and correctly – by the title of this lesson concluded that Garage Rock School will use the Pebbles series as study object in this lesson. What the title doesn't say is that our focus will be more particularly on the first ten volumes that were issued on LPs between 1979 and 1980; the top-notch part of the series. Music writer (amongst other occupations) Greg Shaw's name was mentioned as soon as the first volume was released. He has been considered as the brain and entrepreneur behind the Pebbles series since then. He was also editor of the Bomp! Magazine and the record label with the same name at the time when Pebbles volumes 1–10 was issued.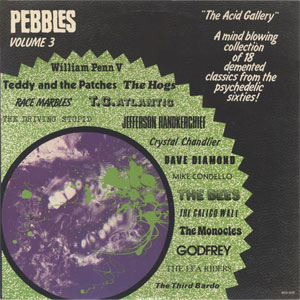 Since the Pebbles series did not totally comply with the same judicial framework that embraced Nuggets (we will systematize differing matters later on), there was some sort of hush hush about who was behind Pebbles when these records started to disseminate. At that time, these releases might be seen by lawyers and such as navigating in the grey waters between what is considered legitimate and bootleg. Bending the rules for the good sake may be justified in some instances, especially in a case such as this when a cultural deed is about to be accomplished, that in addition spread the garage rock epistle as a bonus. Amen.
The Kaye-Shaw liaison
We start this part of the analysis by trying out to intertwine the Pebbles first batch of volumes with the downstream effects of Nuggets, knowing that Greg Shaw reviewed Nuggets in Rolling Stone (January, 1973) – Punk Rock: The Arrogant Underbelly of Sixties Pop – a somewhat misguiding title given the varied content of Nuggets, though. Anyway, this review shows that rock critic Shaw knew very well about fellow rock critic Kaye's accomplishment in the compilation trade. If this fact is allowed to stand alone, it can make you to jump to the wrong conclusion that Nuggets sowed a seed that inspired Greg Shaw to follow tout de suite in the footsteps of Nuggets. The truth is of course more complex than that. It was not a clear-cut case of a cause (Nuggets) and effect (Pebbles) thing. Shaw and Kaye were rather "partners in crime" – juggling ideas between them. Suzy Shaw:
They were very good friends and Lenny and Greg loved talking about music, they were both very knowledgeable.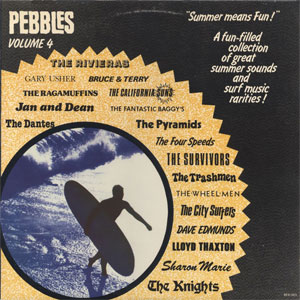 A typewriter-written letter from Lenny Kaye to Greg Shaw, published in Bomp! – Saving The World One Record At A Time, mailed in January 1971, validates Suzy Shaw's statement. It was written well before Nuggets was released, or even conceived (it was still on the drawing board), and just shortly before Kaye played with Patti Smith for the first time. The tone in the letter reveals that they have known each other very well for quite some time. Lenny Kaye elaborates how Nuggets will be realized and asks Greg Shaw for advice by inviting him to suggest candidates for the upcoming compilation: "So I'd like to ask you for Your list of favorites (which I hope will be heavily resting on early San Francisco things … like the Daily Flash) which you can send me whenever convenient. Make it as long as you want – I'd suggest thirty five or forty if you can get up there, though of course there's no limit – and have no fear, due credit will be given and all that."
Greg Shaw's influence on Nuggets is also shown by the thanks he (and Vic Figlar and Richard Robinson) gets in the acknowledgement from Lenny Kaye on its cover "for periodic raids on their information banks". Greg Shaw was not the only one that helped to influence Nuggets' table of content, but he may have been amongst the most prominent ones. Vic Figlar received the honorary mission to write liner notes to Pebbles Vol. 5, by the way.
Aborted Nuggets Volume 2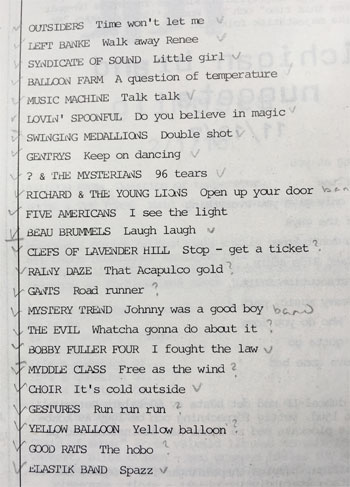 We are not movin' on right away. For the sake of continuity (and to fulfill the somewhat irritating high repetition requirements of Garage Rock School), we better establish some further connection with the previous lesson by considering the second volume of Nuggets that Lenny Kaye compiled, but never managed to release at that time – neither on Sire Records nor his own MER label. The tentative cuts included may be presented in Wikipedia, but the Swedish music critic maestro Lennart Persson gave a condensed track listing in his music magazine Feber (1983; Swedish only) that might represent Kaye's original intention better. (This list is in fact identical with numbers 1–24 in the Wikipedia list.)
The song mix shows the same traits as Nuggets Volume 1; a versatile assortment of charted and non-charted garage rock and pop music, sometimes with a dash of psychedelia. Notwithstanding, all songs have been carefully curated to form a compilation at least as varied and excellent as Nuggets Volume 1.
Driven by our special interest, we note that garage rock songs are in minority, just as in the first volume. Syndicate of Sound (Little Girl), Swingin' Medallions (Double Shot Of Baby's Love), The Music Machine (Talk Talk), Question Mark & The Mysterians (96 Tears), together with Richard and the Young Lions (Open Up Your Door) may be the most typical examples of garage rock in this aborted compilation. Anyhow, shame it never got released as a direct follow-up to the first Nuggets volume. But this vacuum was about to be filled soon.
An unstoppable driving force to share will fill any gap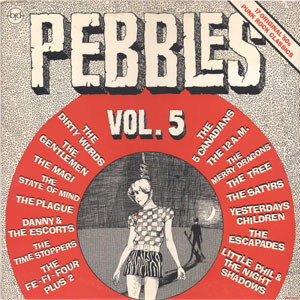 From the interview with Suzy Shaw in Shindig # 44 (2014) we get a pretty good idea of how the road trips in the early '70s were performed, during which Greg Shaw picked up a lot of '60s garage singles – some of them ended up in the Pebbles records. Suzy Shaw: "Those road trips! He would pick up records wherever he went, and I do mean everywhere. Not just for his collection but for the mail order. At the time we would sell singles in the mag ((Who Put The) Bomp!) for five to 10 cents, so he'd grab whatever he could. Every thrift store had loads of singles practically for free, his technique was get them all and sort them out later." A prime example of the dumpster diving method in combination with the frog-kissing strategy.
Record collecting is one thing, but introversion alone will get you nowhere in the compilation segment. Detection of an unsaturated niche is a good start if you want to reach out and make a mark in the compilation business. In the mid-'70s there were literally hundreds of really great songs very few knew about, since they were physically detained in the grooves of 45s that often were pressed in small quantities. It seems like these limited edition records either belonged to selfish collectors that didn't care too much for sharing, or else did they gather dust in some bargain store. Greg Shaw sensed the potential of this situation and had the urge to break the deadlock by tearing down the walls of anonymity that surrounded these songs. Suzy Shaw explains:
He was dismayed that so much great music was essentially lost to history and buried in the dustbins. He wanted people to be able to hear some of the more obscure songs that were not available anywhere else.
Lenny Kaye found a way to legally share the 27 songs that comprise Nuggets. Greg Shaw would invent another way of sharing – on a much wider scale.
Fans begin to employ guerilla actions
Lost Bomp! magazine # 22 was supposed to be issued in 1981, but was set aside due to economical shortcomings. (There is a facsimile of Bomp! issue 22 in Bomp! – Saving the World One Record at a Time.) Greg Shaw reflects in this issue on how Bomp! magazine was like before the rise of punk rock in the '70s as he wanted to going back to the '60s' music, since he had become disenchanted with how the punk scene evolved. It is a view that Garage Rock School has no problems to sympathize with.
Particularly interesting in our context is that Greg Shaw in this Bomp! issue declares some kind of manifesto in a section with the heading "The New Nugget Rush" in which the first ten Pebbles volumes are reviewed (conflicts of interest, anyone?) along with reviews of other first generation fan assembled compilations; Psychedelic Unknowns and Boulders. In this section, Greg Shaw blames the fact that Nuggets 2 is still in the can on the stupidity of ignorant original vinyl record owners.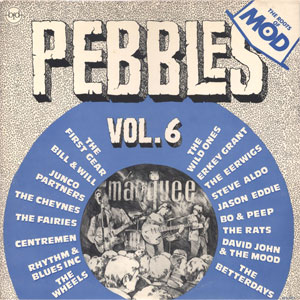 How this dilemma was dealt with is revealed on the back of the Pebbles Vol. 5 sleeve: "The Pebbles series takes pride in presenting only the best and rarest recordings from the 1960's… If purchased on their original labels, these records would cost thousands of dollars. Now, thanks to Pebbles, they are available again…."
Furthermore, Greg Shaw tells about his experience of compiling other series for Sire Records when he encountered the greediness of the owners of the rights to the songs – if anyone answered at all. He refers to an example when a planned girl group package rendered in three replies out of more than 200 requests. The situation had certainly changed since Nuggets 1 was released. Copyright owners were trying to get a second shot at their forgotten moment of glory status. Greg Shaw states the consequences:
Nobody can afford to pay large advances for compilation albums …, and even the amount of time it takes to secure rights from so many hard to find sources is more than any record company cares to spend.
A combination of unjustified greediness on the other parties' (selfish record collectors and copyright owners) and the challenge to find whoever was behind the ownership rights, triggered guerilla action amongst the stifled compilers. Describing his own (and his equals) final solution to this dead-end situation, is that fans are taking over where the big companies fear to tread. Fans are starting new labels all over the world in order to re-release vintage rockers. Greg Shaw again:
In many cases they (i. e. the fans; Garage Rock School information system) have contacted the original artists and obtained unreleased tapes; royalties paid directly to artists may not be strictly kosher, but they satisfy moral standards for most. The important thing is that these marvelous sounds not be lost to posterity.
In fact, unreleased tapes were in minority of the media type that ended up in this first wave of post Nuggets-generation compilation series. Instead, dubbing vinyl 45s became standard, which meant that the compilers had to keep a low profile since they were aware of what actions the machinery behind ownership rights could take. But it was not a strategy that necessarily wished to short cut every kind of royalty administration. At least Greg Shaw had an underlying intention to acquire the licensing rights when possible. Suzy Shaw knows more:
Greg DID license everything he could, but not all of the bands could be reached in those pre computer days. We had a standing arrangement that if the bands got in touch we would pay their royalties.
Undoubtedly, this intention was the point of departure. But there were serious problems sustaining it. For obvious reasons, the LP-covers did not reveal too much contact information connected with the real world – not in such an extent that it helped interested copyright owners to find the responsible persons behind Pebbles series the formal way.
In the workshop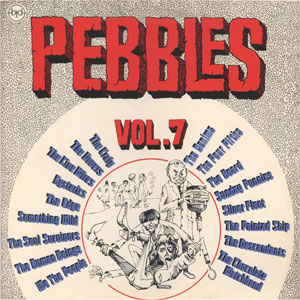 It is really astounding what difference and impact one single individual can make. Just like Lenny Kaye was behind the idea of Nuggets, Greg Shaw –even more singlehandedly – accomplished the dissemination of more than 170 mostly unknown songs dispersed on these ten LPs. According to an email note from Suzy Shaw, he did Pebbles more or less himself – from wheat to bread workaholic style. Quite an accomplishment!
Suzy Shaw remembers that each volume was pressed in around 500 copies. The sheer amount of records may not have been that large, but the reverberation every single copy induced in the fan and musician circuit was substantial. Suzy Shaw again:
Fans really liked the series, and that certainty did inspire Greg to do more volumes. Bands still thank me to this day for their chances to be heard, a lot of the band on Pebbles got a little bit of a second chance from being on the records.
Most of the material was dubbed from Greg Shaw's collection of 45s. The quality of the song itself had higher priority than the audio quality of the vinyl. It is nothing but daring to begin the first volume with a dubbing of The Litter's Action Woman tarnished by a skip (probably no mint condition copy was readily available). This blemish is mentioned in the sleeve notes just to make sure listeners would not think that anything was wrong with the LP they were listening to. There are also two skips in the freaked out Loose Lip Sync Ship by The Hogs in Volume 3 – that also is one track short compared to what the sleeve tells. Additionally, it is somewhat awkward to hear 45 cracklings per minute in several tracks on a 33 rpm LP. Sound quality became gradually more hi-fi, but still kept a low budget attitude that is in line with the way the original songs were conceived. This laissez-faire attitude does not seriously hamper the listening pleasure for true rock and roll connoisseurs.
Children of the Pebbles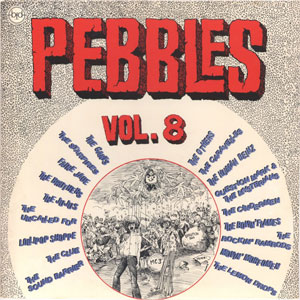 The Pebbles series is indeed a labor of lust (and dust) that filled blank spots in many fan's record collections and widened our musical horizons substantially with an – at that time seldom seen – combination of straightforwardness, humor and crisp analysis.
Moreover, Pebbles inspired – just as Nuggets –a new generation rock bands to get hold of and emphasize the snotty attitude that characterize many of the bands in the series. Amongst others, Stiv Bators (It's Cold Outside by The Choir, Pebbles Vol. 2), The Cramps (Green Fuz by Randy Alvey and the Green Fuz, (Pebbles Vol. 2) and I'm Five Years Ahead Of My Time by The Third Bardo, Pebbles Vol. 3) and Plan 9 (I Can't Stand This Love, Goodbye by The Others, Pebbles Vol. 8) found songs to cover over the next few years after the release of the Pebbles albums.
The Pebbles series found many keen listeners and generated offspring also on the other side of the pond. As a more outright example of this can be mentioned The Inmates' Stop It Baby (The Heard, Pebbles Vol. 8), while a less direct one is Eddie and the Hot Rods' Horseplay covered in advance 1976 and reminding of The Zakary Thaks, Bad Girl (Pebbles Vol. 2), probably picked by the help of "1 000 Eddie" Hollis' vast record collection. Les Dogs was also early out (1982) with Shakin' With Linda (The Survivors, Pebbles Vol. 7).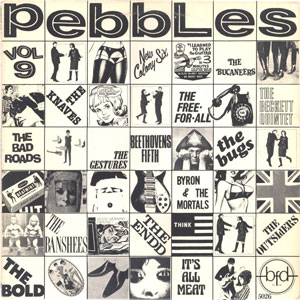 The life span of the Pebbles series did not end after # 10. More volumes were added to the series after a break after 1980 (most probably due to lack of money), but volumes 11+ do not have the same edge as the first ten. Moreover, the first ten volumes were re-released and expanded on CDs later on. Flaws and warts removed. Surgical correction for the better some might say – and some not, as airbrushing history kidnaps the original feeling.
While Pebbles continued to live its own life after the first batch of ten, these volumes certainly also mobilized industrious fans on a broad front to make their own compilations series; Psychedelic Unknowns (#1, 1979), Boulders (#1, 1980), and Back From The Grave (#1, 1983) being amongst the most elaborated ones that followed suite. Of course, these comps constitute examples of just a fraction of the offerings that flourished in this genre.
Matrix summary hysteria
Our brains are by now almost fully loaded with information and it is time to structure and compile these hard earned facts and add some more (you can handle it) before Garage Rock School round off and ask you to challenge the Task.
One well-known way to condense complex information is to present it as a matrix. Now and then Garage Rock School pick up such modern pedagogical tricks only to show that our teaching methods are cutting-edge. Just take a look at the table below. Do not forget to drop your jaw.
Commented topical differences between Nuggets and Pebbles.

| | | | |
| --- | --- | --- | --- |
| Topic | Nuggets | Pebbles | Comment |
| Compiler | Lenny Kaye | Greg Shaw | Kaye and Shaw – two of a kind |
| Subtitle | Original Artyfacts from the First Psychedelic Era, 1965–1969 | Original Artyfacts from the First Punk Era | Fraternal twins with somewhat different predispositions, indicating that Pebbles is more devoted to garage rock. "First Punk Era" is there to differentiate this music from '70's punk rock. |
| Company (year of release) | Elektra (1972) and Sire (1976) | BFD (1979–1980; check out what this acronym may stand for). | Nuggets was backed by two established record companies. Pebbles by charade ones that changed name over time under the aegis of Bomp! Records, managed by Greg Shaw. |
| Source | Master tapes | Mainly vinyl records | A large extent of Pebbles was dubbed from vinyl singles. In that way the necessity to acquire the potential copyrights was circumvented. Skipping this step, opened up for selecting tracks from a large range of bands and labels – most often without the knowledge or consent of the involved musicians and producers. |
| Song character | Mixture of well known and chart listed songs with lesser known ones | Mainly obscure collector's stuff | The Gestures' Run, Run, Run (Pebbles Vol. 9) was one of the exceptions; Billboard # 44 (December 1964). Some Pebbles volumes were thematised (acid punk, surf and mod) but most were not. |
| Licensing | According to the book | Only intentionally. Legally doubtful | Pebbles had fictions licensing references to corporations located in imaginary "places" like Dacron (polyester), Ohio and Kookaburra (a bird), Australia. |
| Liner notes | Serious and pedagogic. Signed by the compiler himself. | Mostly serious. Signed by pseudonyms. | Get acquainted with Nigel Strange, editor of Web of Sounds and the hilarious ranting by A. Seltzer (Pebbles Vol. 2). All texts were likely written by Greg Shaw (except the one to Vol. 5). |
| Cover | Artistically professional, classy. Gatefold sleeve. | Do it yourself. Ranging from tasteless to cheap. | Pebbles' covers remind of how other record companies that work on a shoestring budget present their goods. Volumes 1–8 were kept together by a common visual concept. |
The Task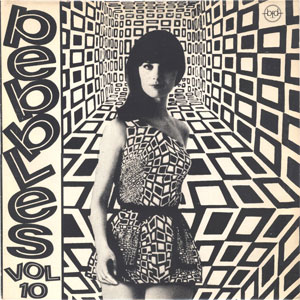 Imagine yourself as a compiler tasked to put together one garage rock LP with the classic format – six songs on each side – from a pool of many candidate songs. This situation is meant to mimic the task an extrovert fan and record collector was facing during the tedious and extensive work leading to a compilation. Instead of sending you to nowadays more and more seldom seen bargain vinyl shops, we will take full advantage of Internet and the digitalization of music. (Avoiding the risk of dust allergy amongst our beloved students is a positive side effect of this approach.)
The resulting 12-song LP got to be the best of garage rock according to your taste. It should not be a surprise to you that it is the first ten volumes of Pebbles that build up the song catalogue you are going to work with. Please refer to the discography in the Wikipedia article on Pebbles to find the correct sample of investigation. Watch out, Pebbles contains a lot of non-garage songs; these are not allowed to be nominated here. Only garage rock is eligible, please. Take a look at the Nuggets map from Lesson 1 if you feel insecure. Or not.
Half of the volumes exist as convenient play lists on YouTube, but you may have to work a bit to find all 170+ songs. Every way to find them is a good way; use the method you personally find most appropriate. To pass with distinction, you as well have to sequence the songs in a well-balanced manner and give the compilation a catchy title and cover. Happy digital dumpster diving! See you in a week or two.
One of many solutions
Welcome back after all this necessary killing of darlings! My deepest sympathies and humble solution to the task, called Pebbliest of Pebbles – 12 tracks that will blow you away (slightly more fitting than the über academic "Sieving Pebbles From Sand – An Audio-logical Grain Size Analysis").
First side contains testosterone inflated contemplations regarding the opposite sex while side two adds to the garage rock idiom by a downright mayhem that escalates during the course of listening.
Side 1.
1. The Chocolate Watchband – Sweet Young Thing
2. The Lollipop Shoppe – You Must Be A Witch
3. The Zakary Thaks – Bad Girl
4. The Starfires – I Never Loved Her
5. The Rockin' Ramrods – She Lied
6. The Dirty Wurds – Why
Side 2.
1. The Groupies – Primitive
2. The Litter – Action Woman
3. The Moving Sidewalks – 99th Floor
4. The Ugly Ducklings – Just In Case You Wonder
5. The Banshees – Project Blue
6. Steve Walker & the Bold – The Train Kept A-Rollin'
PopDiggers' Garage Rock School wants to extend all its gratitude and thankfulness to Suzy Shaw for her kind support. We hope that you all had as much fun attending as I had in putting this lesson together.