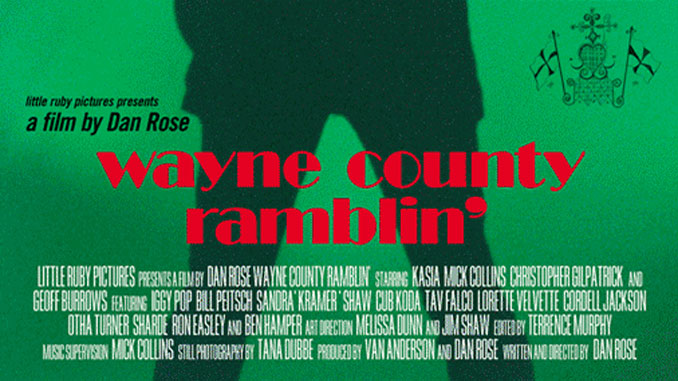 If rough edged road movies with cameo appearances of excellent musicians is your cup of tea, this film seems tailor made for you. Wayne County Ramblin' is a looong labor of love by Dan(iel) Rose who tells PopDiggers that he started writing the script in 1987 and that:
"We shot the flashback scenes in 1994, I believe, in 16 & Super 8 mm film, with Iggy Pop and the young girl and then we shot the main body of the story in digital video summer of 2000, feeling that the different formats would not hurt the overall story, and perhaps even enhance dream like flashback quality. Then came recording the remainder of the original soundtrack and editing… we had our premiere screening in New Orleans in 2005, six weeks before Hurricane Katrina."
Wayne County (Michigan, not the person that became Jayne) Ramblin' revolves rather freely around complications that emerge after Kaisa leaves Detroit with her boyfriend to find her grandfather (Iggy Pop) in Mississippi, unaware of that they are guided by three mystic West-African spirits along the way; Mick Collins (The Gories/The Dirtbombs), Lorette Velvette (Hellcats) and fife player Otha Turner.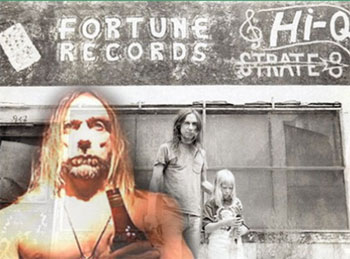 Particularly memorable is acting performances by a number of individuals that has widened our music horizon. Apart from already mentioned – and amongst others: Otha Turner's granddaughter Sharde Thomas, Cub Koda (Brownsville Station), Tav Falco (The Panther Burns), Jeff Conolly (Lyres), Cordell Jackson (Moon Records, Memphis) and Ron Easley (musician and producer). Unique soundtrack is by Chan Marshall (aka Cat Power), Eddie Kirkland, Iggy Pop, Fan Fan & Jou Jou. Mick Collins also handles music production. Nathaniel Mayer (Detroit soul legend) is narrator.
It seems appropriate here to mention Lorette Velvettes' White Birds (1993), produced by Alex Chilton (who also plays drums, bass and piano). This album contains the single Eager Boy; a further appetizer of the movie. It is too bad that The Gories split before the making of Wayne County Ramblin' or else they would have been performing live in the movie. We have to be content with this explosive music video made in 1990 by Dan Rose.
This film is unfortunately not easy to get hold of. It was first after Robert Gordon kindly forwarded my request to the director, Dan Rose, I managed to get a copy on DVD. If anyone is interested in obtaining one of the few remaining Region 1 DVDs of Wayne County Ramblin', please drop a line to Dan Rose: roastingears_AT_gmail_DOT_com. He is prepared to help you out.